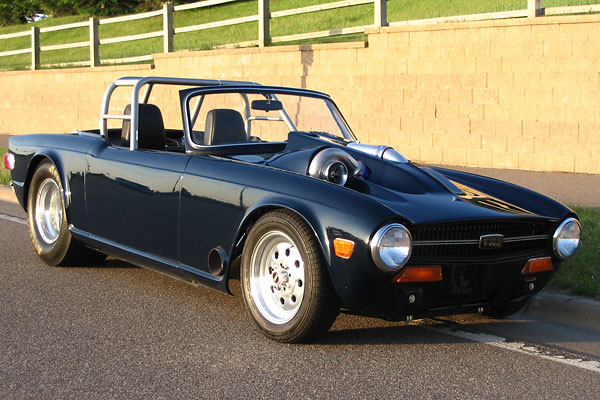 Ed Olson's 1969 TR6 with Pontiac V8 engine
as published in British V8 Newsletter, Volume XV Issue 3, December 2007
Owner: Ed Olson
City: St Paul, MN
Model: 1969 Triumph TR6
Engine: 487 cubic inch Pontiac (4.15 bore 4.5 stroke)
Conversion performed by: Owner
Engine:
487 cubic inch Pontiac (4.15 bore 4.5 stroke). Lift: 477/477 Duration at 0.050: 231/226 at 0.050".

Induction:
Garrett TV75 turbo with a upgraded T88 compressor wheel. CSU Holley 850 carburetor.

Exhaust:
stainless log manifolds, 2.5" crossover, 5" exhaust.

Ignition:
HEI / MSD 6al.

Cooling:
Ron Davis radiator, Spal extreme 16" fan, PRP remote water pump.

Transmission:
T400 reverse pattern manual valve body with a transmission brake. 9.5" PTC converter.

Rear Axle:
9" Ford, with 3:1 gear, Detroit Locker, and 31-spline axles.

Brakes:
(front) stock calipers with Hawk pads and drilled/slotted rotors.
(rear) Ford 11" drums.

Wheels/Tires:
Quick Time Pro tires: (front) 175/65/15's, (rear) 29/14.5/15.

Weight:
2550 lbs.

Chassis:
tube frame, and 102" wheelbase.

Performance:
the turbocharged Pontiac motor hasn't been tested yet, but with a previous 455cid engine this car achieved a 6.02 second, 120mph 1/8th mile.

Instruments:
Autometer and stock.

Audio System:
the car had stereo pipes, but now with the single turbo I guess its back to mono!

Comments:
This is a home-built, father-son project. The first time the car saw the street it was a bunch of used parts, the motor and nitrous borrowed from my 68 Firebird. It was a 5 color Frankenstein with the doors just welded on, but it ran a 9.99s quarter mile.

My son and I built the frame and chassis, I had bars bent to patterns and then did all the fish mouthing and fitting and tack welded the chassis together. The final welding and tig welding was done by two of my friends Brian and Mike, the car would never have been completed without their help.

The doors were stretched 8", rear wheel openings moved rearward 5.5", hood contours are made from steel from a TR4 hood and a fiberglass cowl scoop.

I had planned to have a Bondo party and just have a few friends over and do a quick body work and paint job, but my friend Jim who does body work made me a offer I couldn't refuse. Way too many hours of the two of us working in my garage, and we finished up the job. It's a single stage PPG color called "Nightwatch Blue" - the closest color PPG had to Triumph's original "Royal Blue".

My buddy Brian and I built the fuel cell. It has two sides with about 8.5 gallons each: one for pump gas and one for race gas.

The main frame sections were welded-up using a heavy steel table and a bunch of C-clamps as a jig and then most of the rest of the chassis was tacked together.

A forklift makes welding up the chassis a lot easier! It keeps the welding in convenient working positions. We also flipped the chassis over a couple of times.

The front suspension uses stock TR6 A-arms, steering rack mount, and rack. QA1 adjustable coilovers with 450 lb. springs were installed. The 450 lb. springs are a bit to light but are working for now.