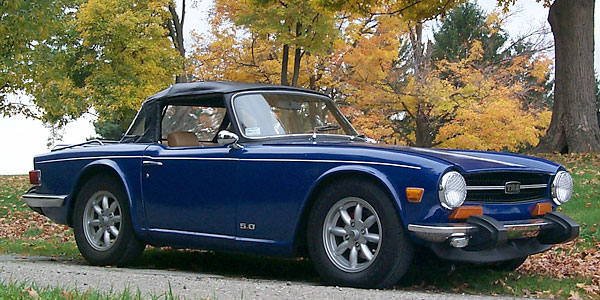 Don Watson's 1974 TR-6 with 1992 Ford 5.0 H.O. V8 Engine
as published in British V8 Newsletter, Volume XV Issue 3, December 2007
Owners: Don and Debi Watson
City: Wheeling WV
Model: 1974 Triumph TR-6 ('71 frame, was '76 driveline...)
Engine: 1992 Ford 5.0 HO
Conversion performed by: Owners.
Induction:
Edelbrock 650 carburetor.

Exhaust:
Hedman headers, dual SS Monza mufflers.

Cooling:
Ford Mustang radiator.

Transmission:
Ford AOD (automatic / overdrive) transmission, Lokar shifter, custom driveshaft.

Rear axle:
Richard Good Nissan 300Z differential / carrier.

Suspension:
HD front springs, front sway bar. Richard Good bushings, and HD rear springs.

Brakes:
(front) Brembo rotors and Toyota 4-piston calipers.
(rear) Nissan 240SX rotors and calipers on custom brackets.

Wheels/Tires:
8-spoke aluminum wheels.

Chassis Mods:
Frame reinforced in the rear. Bolted-in (removeable) front crossmember.
Roll bar.

Electrical:
Autometer gauges, including speedometer and tach.
New 18-circuit "Easy Harness" plus a full grounding harness.

Completed:
May 2004. Driven approximately 10k miles, as of November 2007.