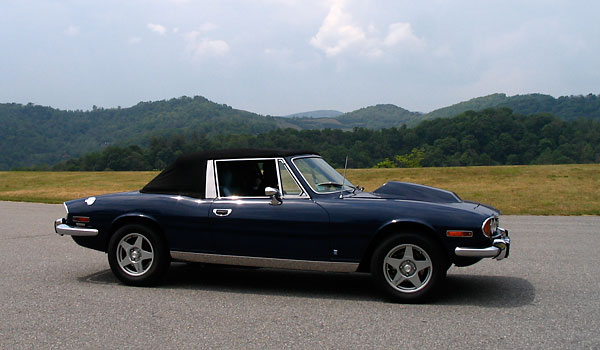 David Graham's 1972 Triumph Stag with Ford 5.0L Engine
as published in British V8 Newsletter, Volume XV Issue 3, December 2007
Owner: David and Janet Graham
City: Sherrills Ford, NC
Model: 1972 Triumph Stag
Engine: Ford 5.0L V8
Engine:
Ford 5.0L 345 HP "GT40" crate engine (part number SVOM6007XE3M). 5.0 Cobra fuel injection. Ford hydraulic/roller cam (part number M-6250-B303). A remote oil filter was installed, but isn't really required.

Exhaust:
two left side Bronco Headers were adapted to the original stag exhaust. (From there back it's stock.)

Cooling:
custom aluminum radiator, and custom hoses.

Transmission:
Ford (T5) 5-speed, with 0.681:1 fifth gear. Ford 10.5" heavy duty clutch (part number SVOM7560C302). Quarter Master hydraulic throw out bearing (part number 721100). Custom drive shaft.

Rear Axle:
Corvette / Dana-36 differential/carrier, with 3.7:1 final drive ratio and Triumph Stag sub axles.

Front Susp.:
new stock springs, Spax shocks, modified sway bar, Mustang II rack and pinion, and polyurethane bushings.

Rear Susp.:
new stock springs, Koni shocks, polyurethane bushings.

Brakes:
(front) up-rated slotted rotors and pads,
(rear) Mustang II discs and emergency brake kit.

Wheels/Tires:
Motor Sports Specialist 15 X 6 "MO Series" wheels.
Michelin Exalto A/S, 185/70 Front and 215/60 Rear.

Chassis Mods:
no real chassis modifications were required. In front, the sway bar had to be modified to clear the engine oil pan. Although I used the Corvette rear end, the stock unit would probably hold up just fine. The floor pan had to be notched for the Corvette rear end. The floor was also opened slightly to clear the shifter I selected (B&M).

Body Mods:
a hood scoop was added to accommodate the fuel injection. Even with the hood scoop, a lower-profile piece of tubing had to be custom fitted from the upper manifold to the throttle body. The hood scoop wouldn't be required if you ran a carburetor and planed-down the intake.

Electrical:
Painless engine wiring harness (part number 60510, for Ford 5.0 86-93),
Painless universal street-rod harness (part number 10201).

Weight:
approximately 3020 pounds, without hardtop. (The Mustang engine weighs 50 pounds less than the original Triumph V8, so the balance is real sweet.)

Completed:
June 30, 2006.

Comments:
one of the technical challenges of this conversion is that the cooling system needs to be carefully chosen, especially if you want air conditioning. Ford Racing's water pump kit (SVO85001A50, or an equivalent) is required to fit the space limitations of the Stag engine bay. The kit includes a "special" timing chain cover and short water pump. (A used Bronco engine may have the required pieces. If you got all the accessories with it, that would help a lot cost-wise!) The whole mess uses about the entire engine compartment, so a little advance planning would be good.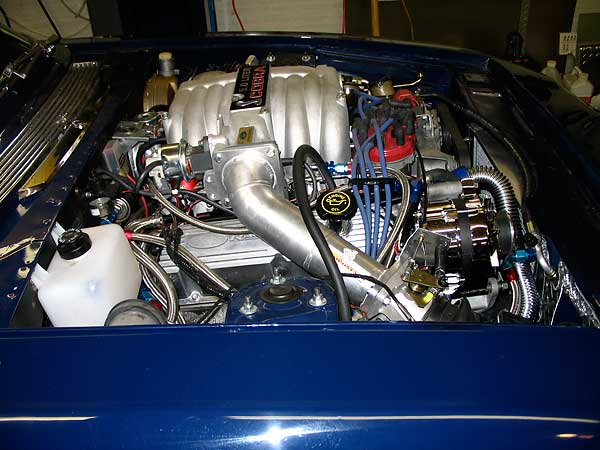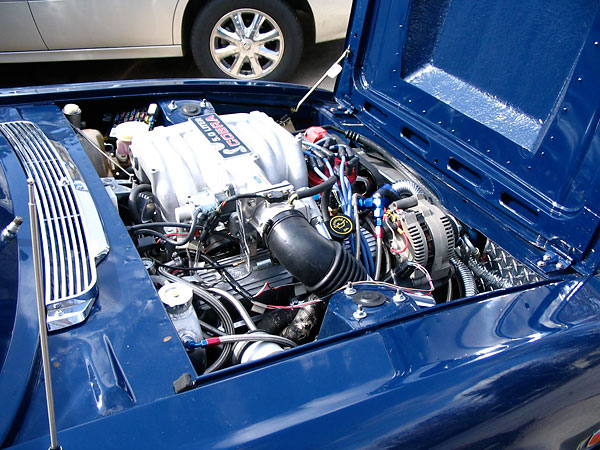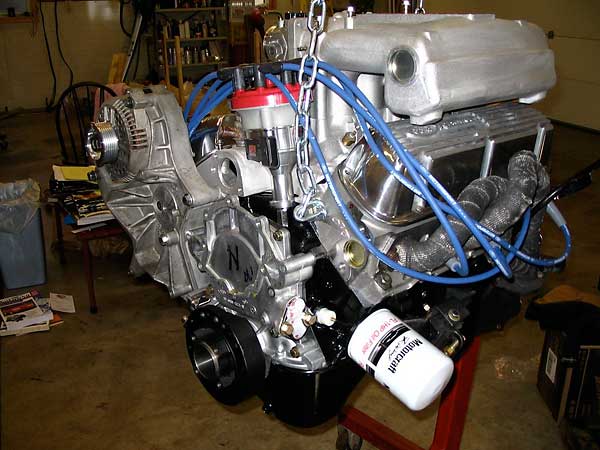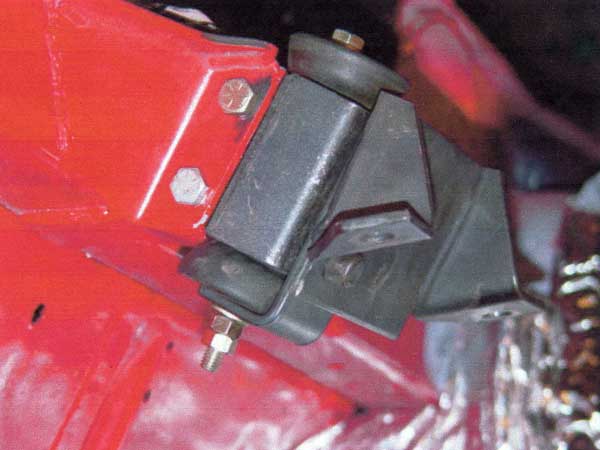 Motor mount.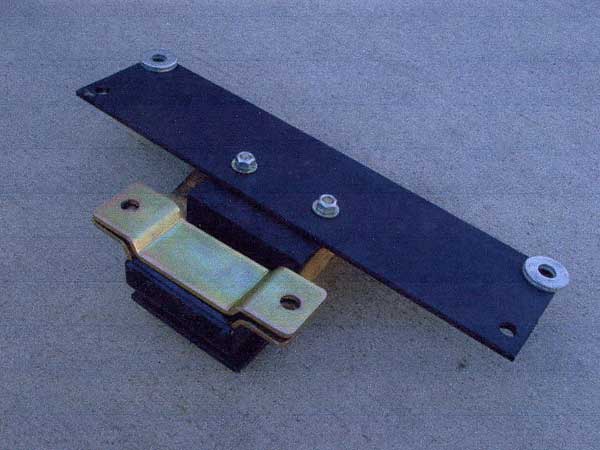 Transmission mount.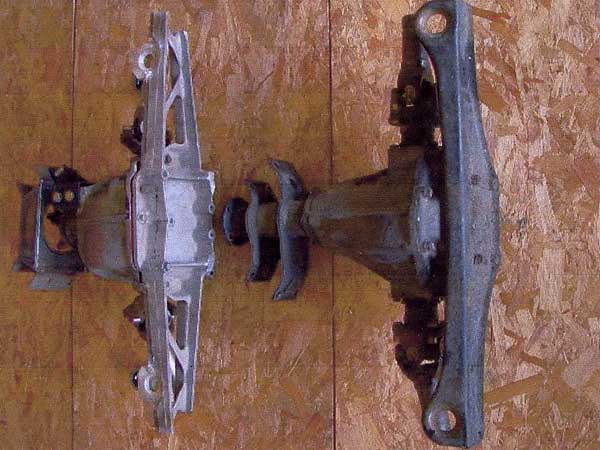 Stag and Corvette rear ends, compared.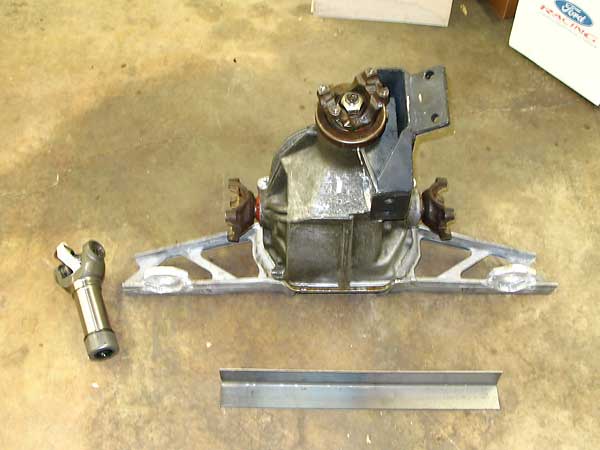 The Corvette rear end requires minimal modification.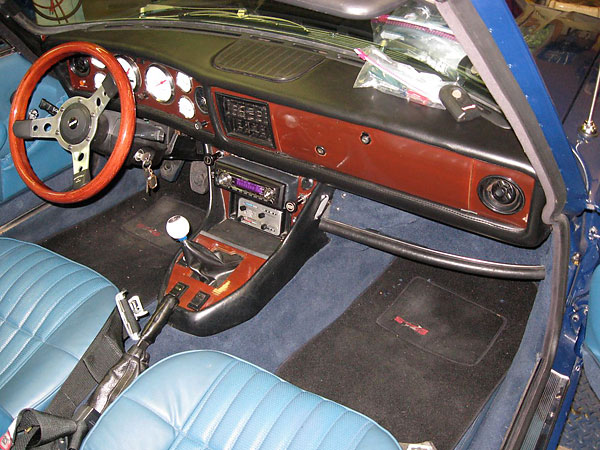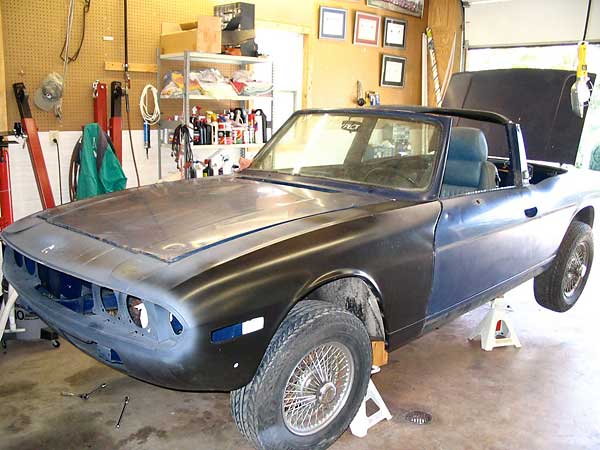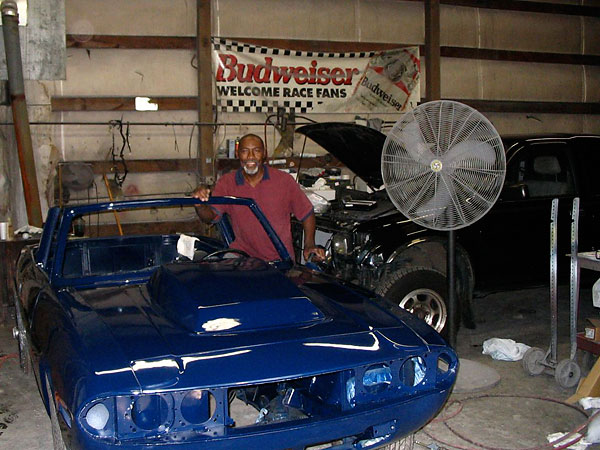 Leo, the Body and Paint Man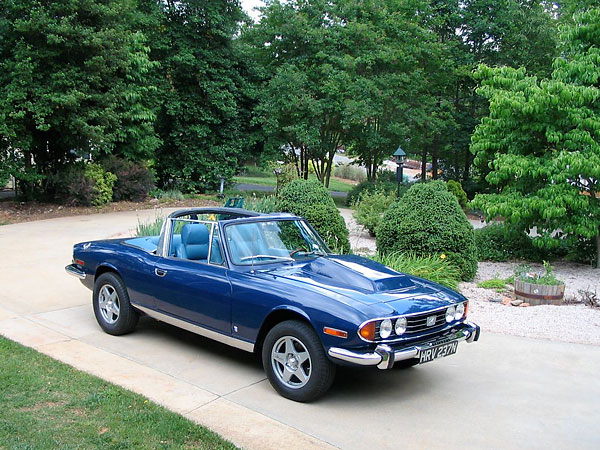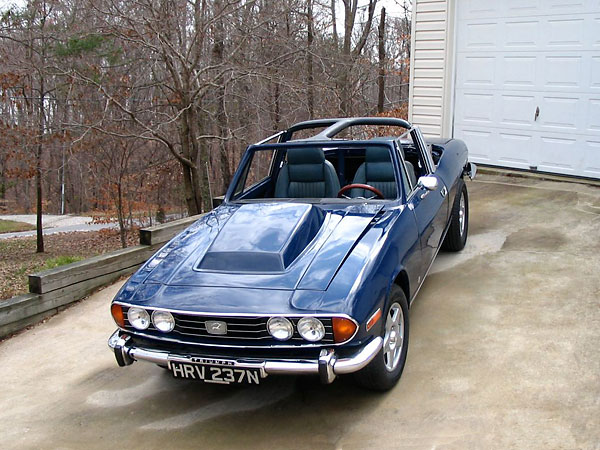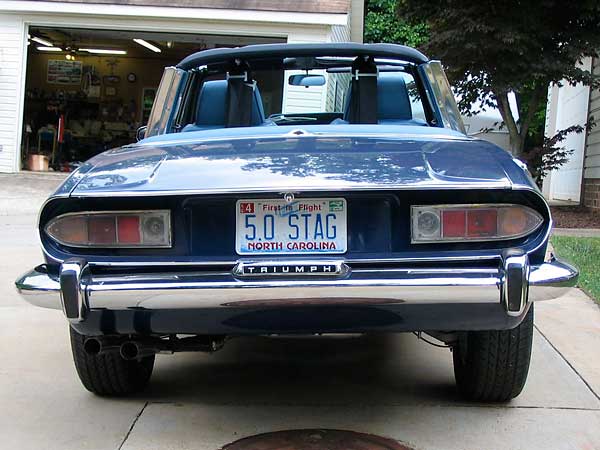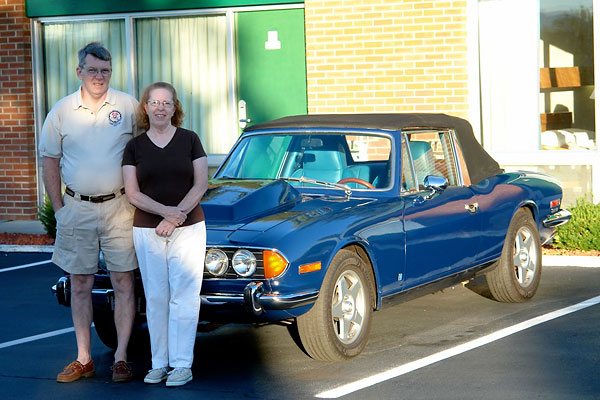 David and Janet Graham