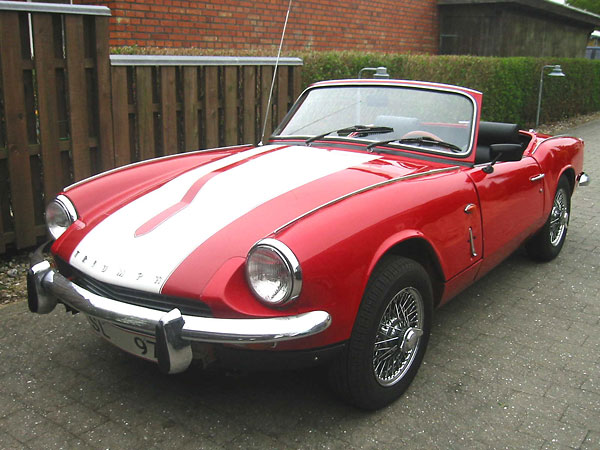 Carsten Ullerup's Spitfire - Rover 3.5L V8 Engine Conversion
as published in British V8 Newsletter, Volume XV Issue 1, April 2007
Owner: Carsten Ullerup
City: Vodskov, Denmark
Model: 1967 Triumph Spitfire MKIII
Engine: 1987 Rover SD1 Vanden Plas 3500cc V8
Conversion performed by: Owner
| | |
| --- | --- |
| Engine: | Rebuilt. |
| Intake: | Edelbrock 500cfm carburetor and Edelbrock "Performer" intake-manifold. Custom air filter mounting. |
| Cam: | Standard, but with new lifters and valvetrain. |
| Exhaust: | Homemade stainless steel block-hugger 4-into-1 headers. |
| Cooling: | Custom radiator made by Nordjysk Kølerfabrik. Custom fabricated thermostat-housing/water-neck. Large electric fan, pushing. |
| Transmission: | Borg Warner Type 65 (3-speed automatic with 1.00:1 top gear). Custom-made gear selector. |
| Driveshaft: | Rover (cut to fit, plus the flange was re-bored to match). |
| Rear Axle: | Original Triumph. |
| Instruments: | VDO "Cockpit Royale" gauges. |
| Completed: | April 15, 2007. (Driven 50km as of April 16, 2007.) |
| Comments: | The car and engine run very well on the street, I have driven nearly 50km for test purposes now, and it's VERY quick with the original 4.11 final gear ratio. The engine has a lot of power-reserve, so I plan to convert the final drive to BMW or Mercedes with approximately 3.10:1 final gear ratio. I've calculated the speed to be 1000 rpm to 27 km/h. Going to 3.10:1 will change that to 38 km/h, which will be much more convenient for cruising. With this higher ratio, I think my gearbox will work better too. Driving in "D", it shifts to third gear at just 25 km/h. Nonetheless, (due to the tremendous torque and awesome power-to-weight ratio) it's very fun to drive! |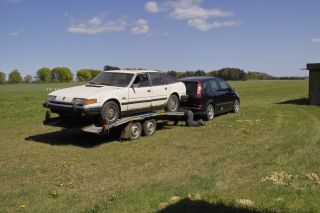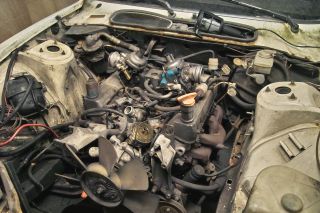 1987 Rover SD1 Vanden Plas donor car (stock, its 3.5L V8 engine is rated 156 bhp)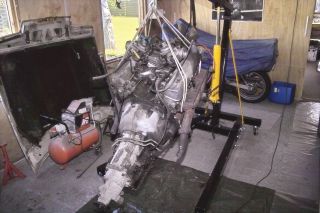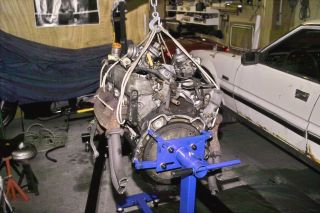 One of the first steps was to pull the engine from the donor car.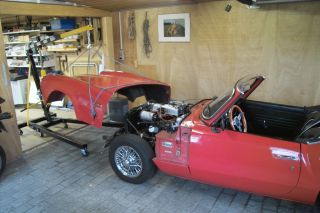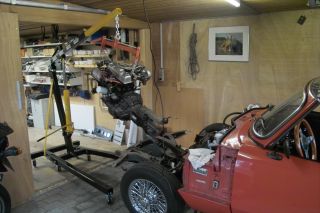 Another early step was to pull the Triumph engine and transmission.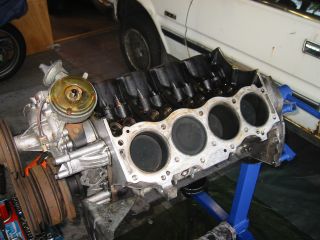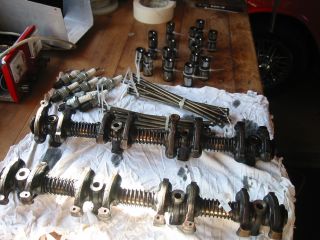 Very careful disassembly of the Rover engine.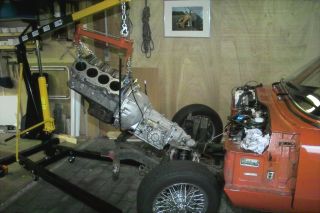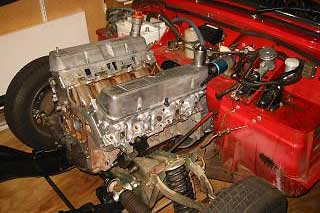 The first trial installation was just for investigational purposes.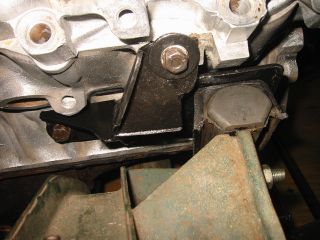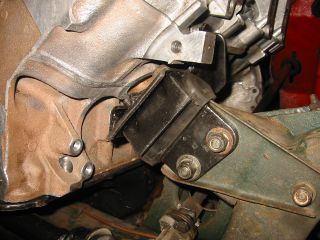 Carsten designed, fabricated, and installed his own motor mounts.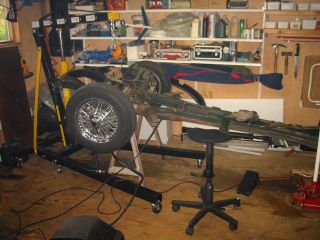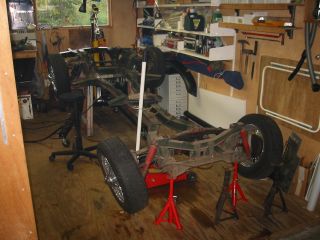 Now the Spitfire body was removed so Carsten could begin over-hauling the chassis.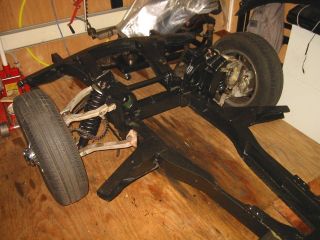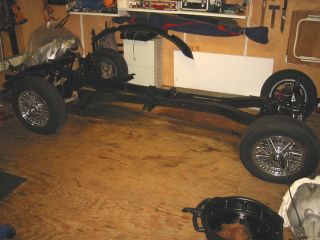 Now the suspension and frame were refreshed.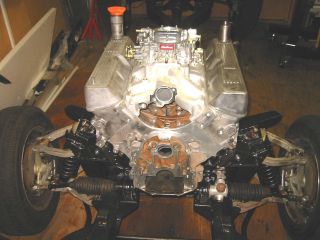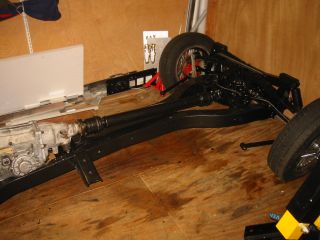 The next step was to work-out drivetrain issues.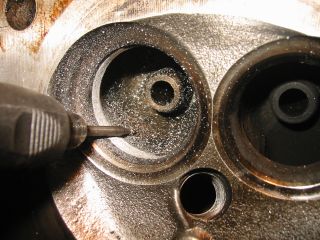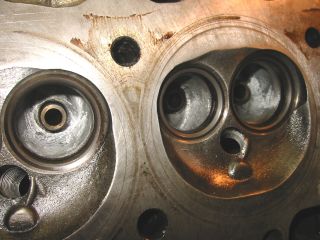 Turning attention back to the engine... and the subtle art of head porting.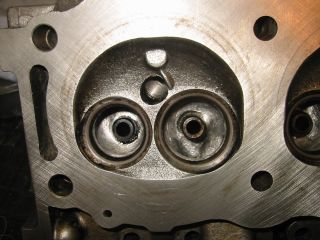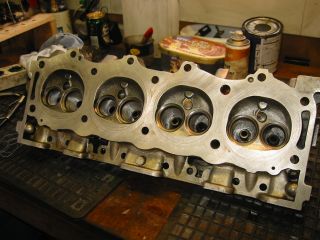 Here you can get a glimpse of the cleaned-up heads before reassembly.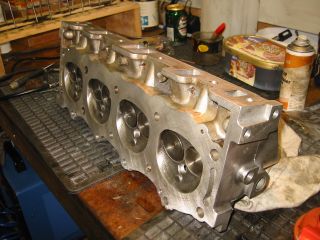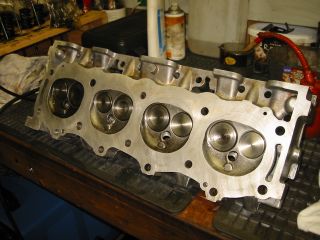 Before you know it, the valves are ready to go back in.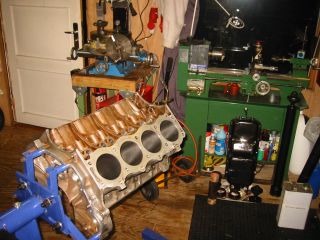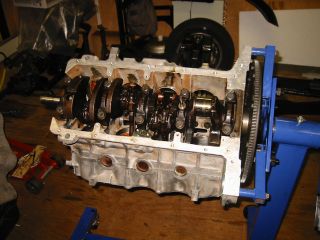 After honing the cylinders, the short-block begins going together.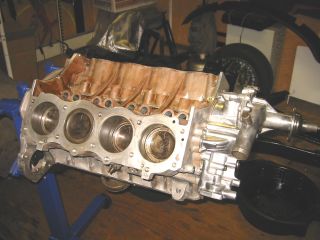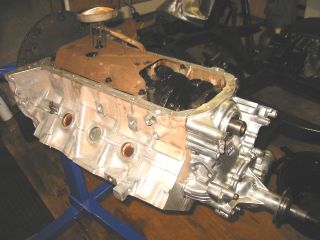 Continued reassembly includes fitting timing gear, chain, oil pick-up...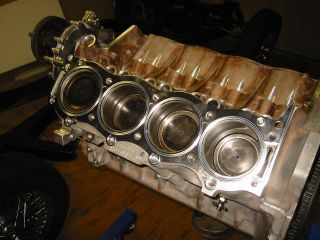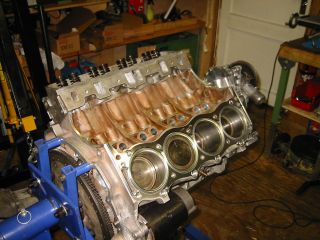 Here we have a couple nice views of the head gaskets as the engine continues coming together.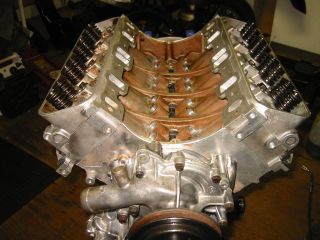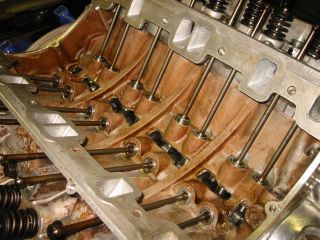 Now the heads go on, and the hydraulic lifters and pushrods go in.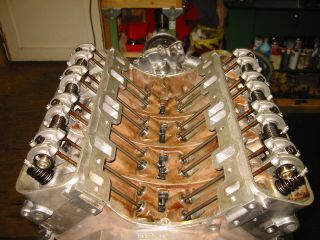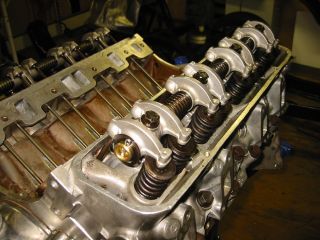 Carsten bought and installed new rocker-arm assemblies.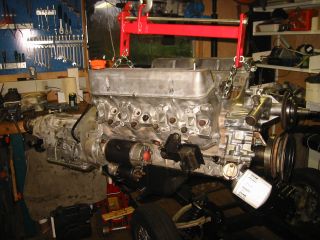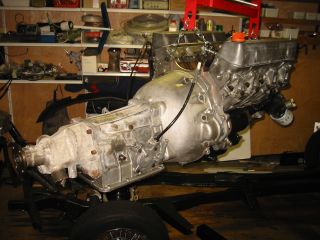 The Borg-Warner T56 automatic transmission will make this an easy-to-drive car.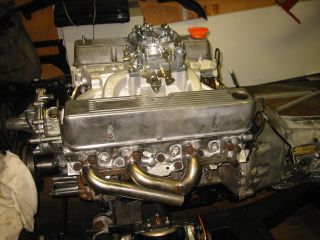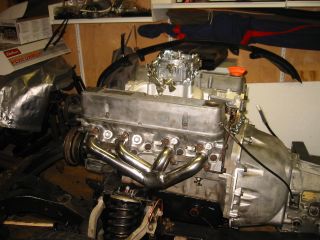 Next step: fabricating up a set of custom 4-into-1 headers!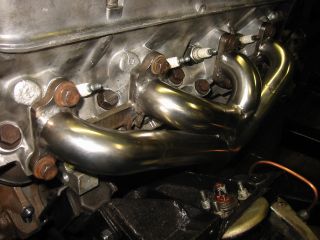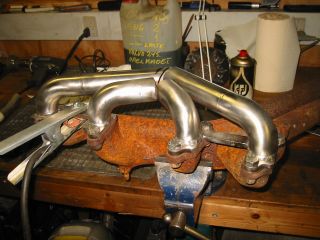 These header flanges leave plenty of room for spark plug access.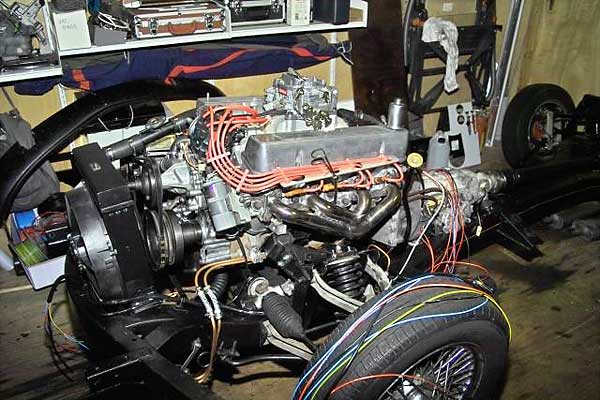 Finally, the engine is on its mounts and modeling beautiful brand-new headers.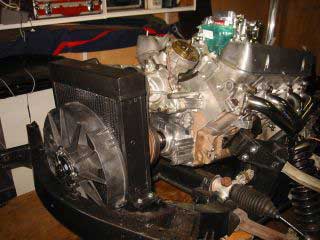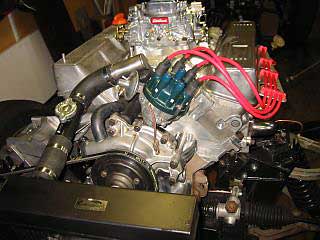 Custom radiator by Nordjysk Kølerfabrik, and remotely mounted pressure-cap bung.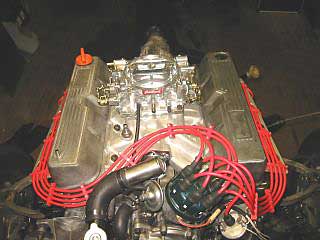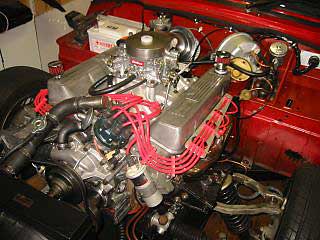 Home-fabricated thermostat-housing/water-neck, and home-made spark plug wire routing guides.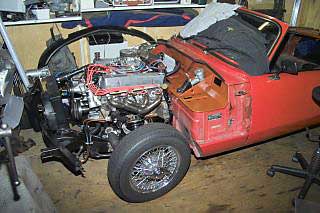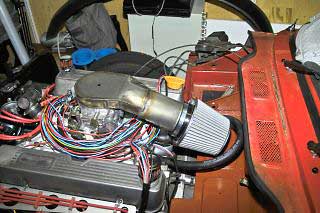 With the Spitfire body back on, attention turns to the induction tract.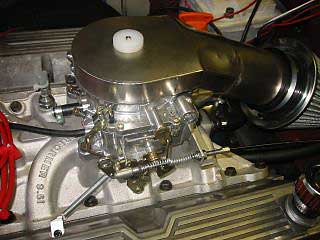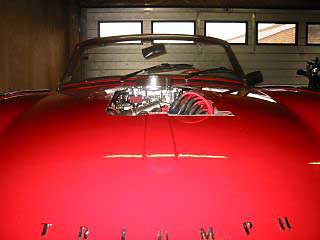 Carsten fabricated a "cobra head" for the carb to place the air filter low and back.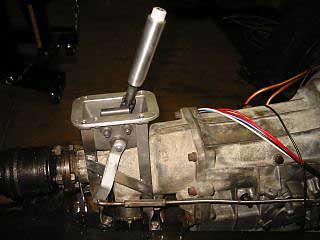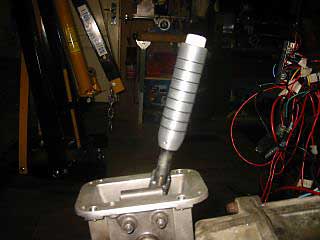 Check out Carston's distinctive turned-and-knurled aluminum shifter/selector!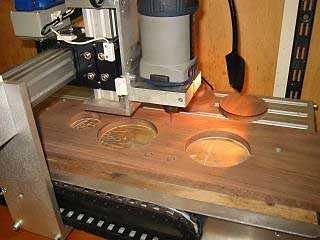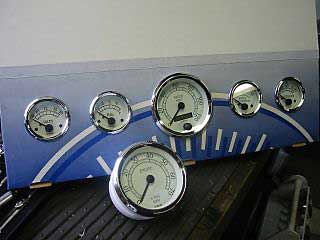 VDO "Cockpit Royale" instruments were fitted into a custom designed, milled, solid-walnut console.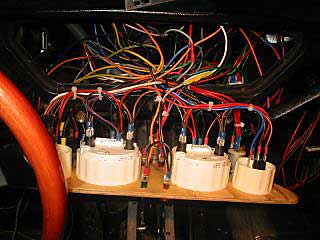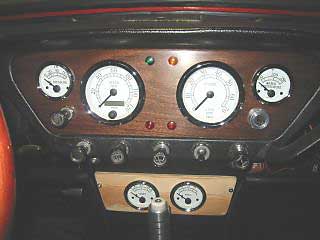 The main console in solid walnut is VERY handsome! (Prototype lower console is shown too.)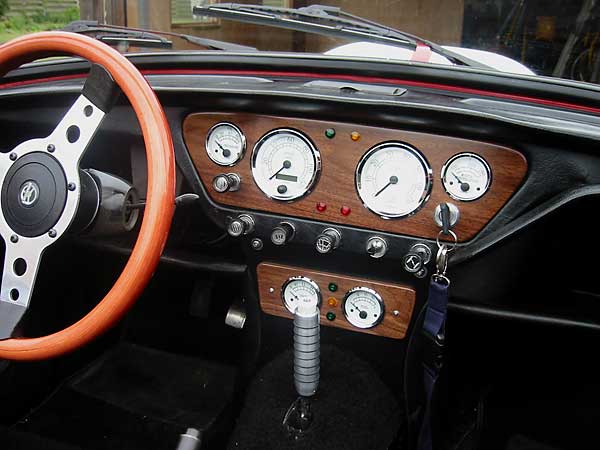 Completed custom instrument panel, with walnut upper and lower consoles.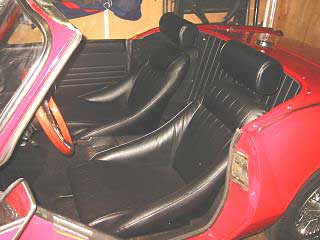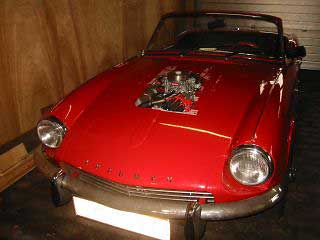 New seats from "Tuningleader" of Belgium - fitted on custom made frames!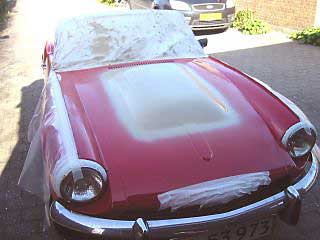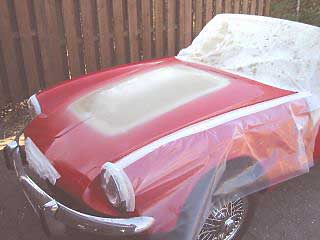 It took lots of sanding & priming to get the finish right on the streamlined, custom-made fiberglass bonnet bulge.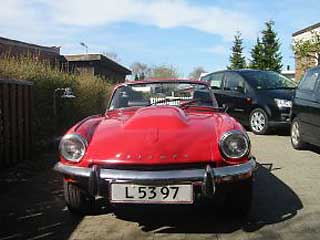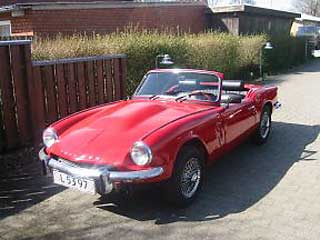 Carsten completed this very extensive project in just seven months, start-to-finish!