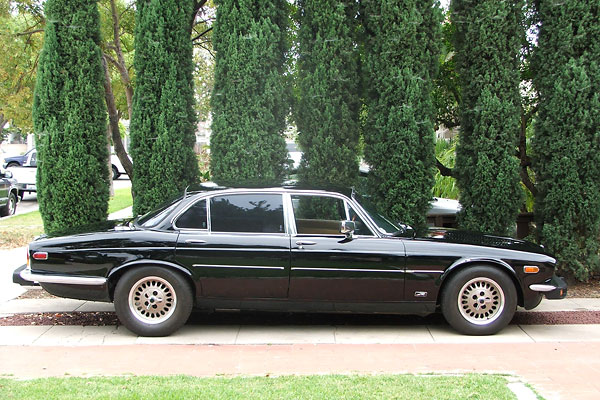 Tim Hoffman's 1979 Jaguar XJ6L with Chevrolet 383 Stroker
as published in BritishV8 Magazine, Volume XVIII Issue I, December 2010
Owner: Tim Hoffman
City: Orange, CA
Model: 1979 Jaguar XJ6L
Engine: Chevrolet 383 stroker V8
Conversion performed by: owner
| | |
| --- | --- |
| Engine: | Chevrolet 383 stroker V8. Balanced. ~9.5:1 static compression ratio. Comp' Cams #12-235-2 camshaft (0.447"/0.462" lift, 210°/218° duration, 111° separation.) World Products S/R Torquer cylinder heads. 2.02" intake and 1.60" exhaust valves. Z28 springs. Edelbrock Performer EGR intake manifold. Edelbrock Performer 600cfm carburetor. Delco HEI ignition, augmented with MSD6AL capacitive discharge system. |
| Cooling: | 4-row GM radiator. Perma-Cool oil cooler with 180° thermostat. |
| Exhaust: | Sanderson CC2 headers with air injection added. 2.5" exhaust system with mandrel bends and a crossover pipe. Magnaflow mufflers. |
| Transmission: | high performance 700r4 automatic transmission from Phoenix Transmissions. One piece drive shaft from Inland Empire Driveline. |
| Rear End: | 3.54:1. |
| Front Suspension: | stock, except lowered about 2". |
| Rear Suspension: | stock Jaguar independent suspension, rebuilt with all new bearings, bushings, u-joints, etc. |
| Wheels/Tires: | '88 Jaguar XJ6 (15"x7") wheels. BFGoodrich T/A tires (front: 215/70-15. rear: 225/70-15). |
| Brakes: | stock (Jaguar ventilated discs front, solid discs rear.) |
| Instruments: | stock Jaguar gauges, plus Auto Meter oil temperature gauge and Edelbrock air/fuel ratio meter. |
| Weight: | approximately 4000 lbs. (i.e. ~200lbs. less than stock.) |
| Other: | Louvered hood. Outer headlights converted to ram-air intakes. |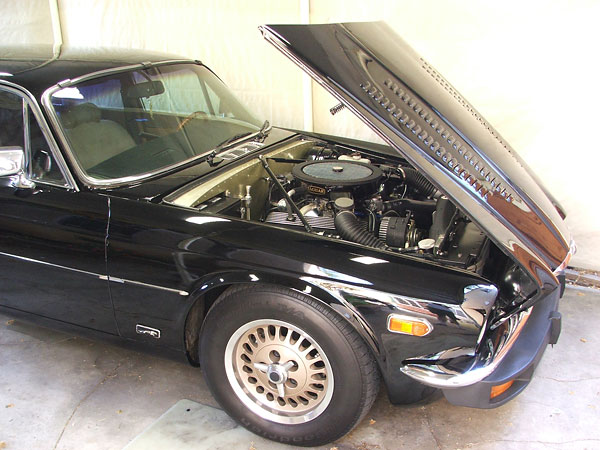 Chevrolet 383 stroker V8 with World Products S/R Torquer cylinder heads.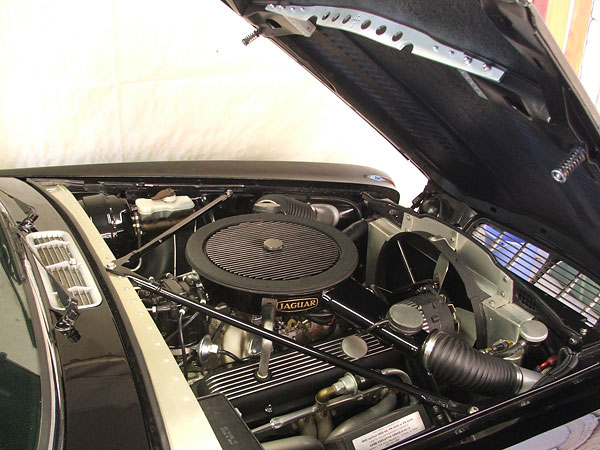 4-row GM radiator. Perma-Cool oil cooler with 180° thermostat.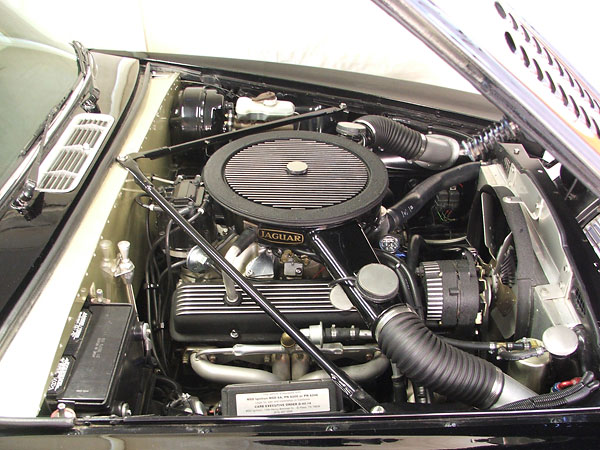 MSD6AL capacitive discharge ignition system, mounted on the passenger side inner fender.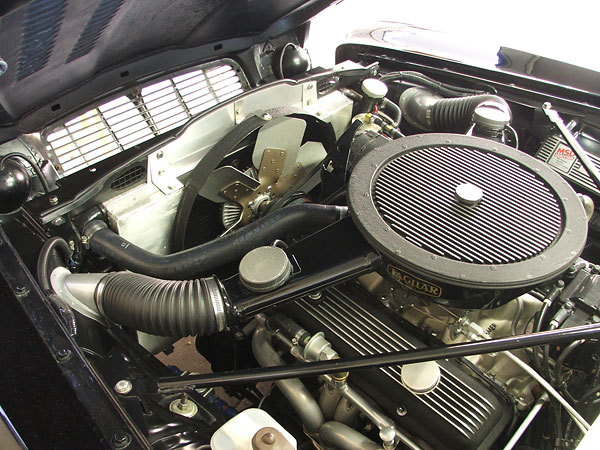 Sanderson CC2 headers with air injection added.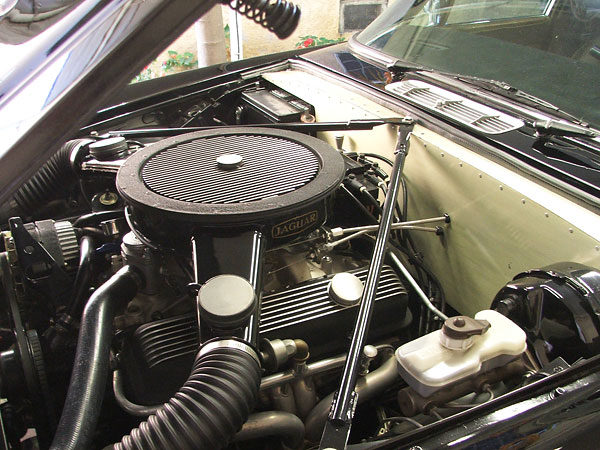 Aluminum firewall.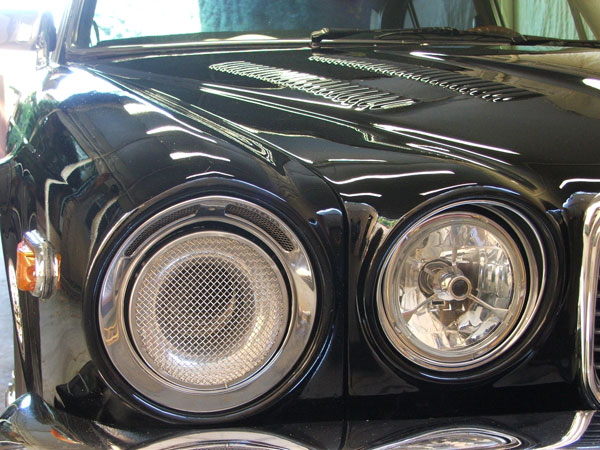 Outer headlights have been replaced with ram-air intakes.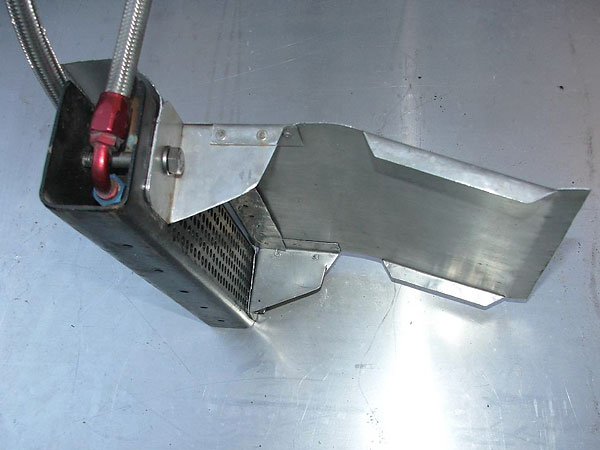 Fuel cooler duct and protective grille.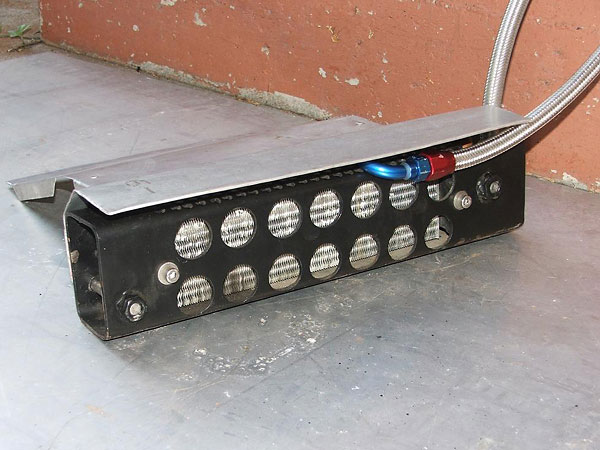 Rear view of the fuel cooler, and of its protective bracket.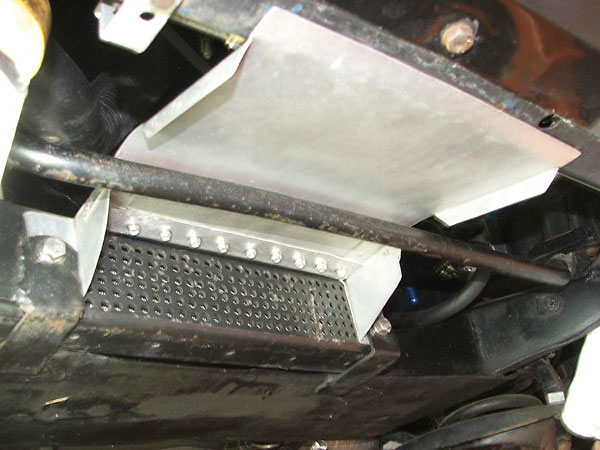 Fuel cooler, installed.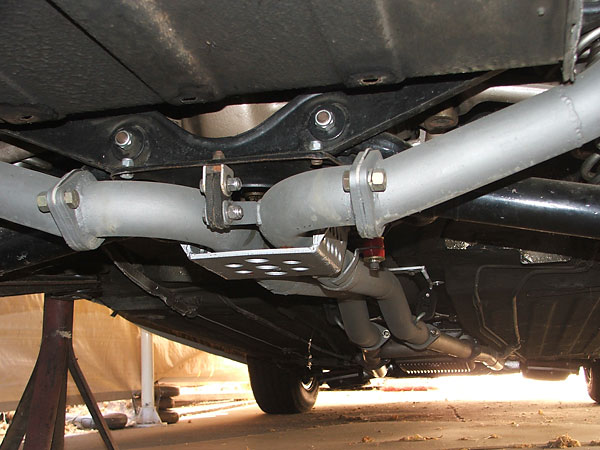 2.5" exhaust system with mandrel bends and a crossover pipe.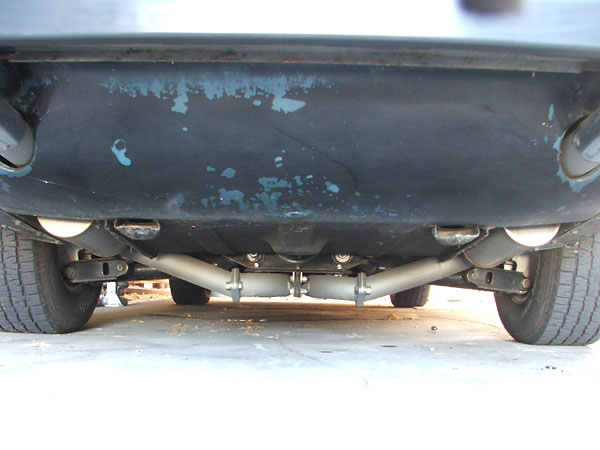 Dual Magnaflow mufflers.


Enjoying this article? Our magazine is funded through the generous support of readers like you!
To contribute to our operating budget, please click here and follow the instructions.
(Suggested contribution is twenty bucks per year. Feel free to give more!)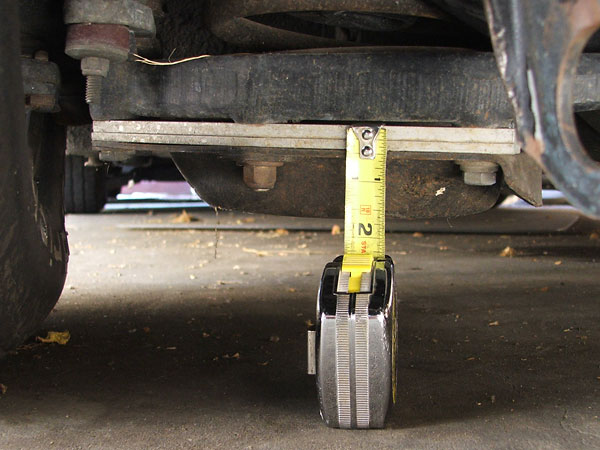 The front suspension has been lowered approximately two inches.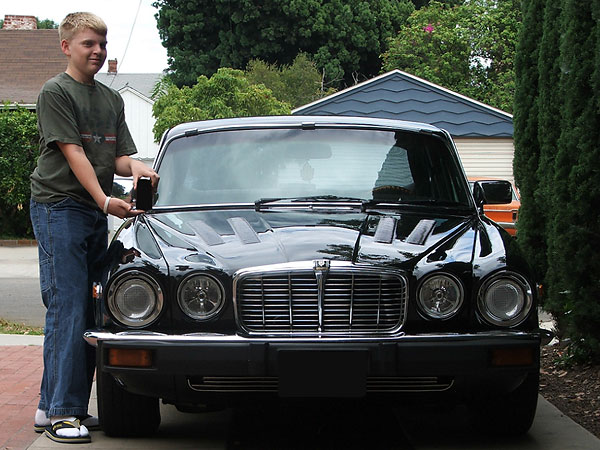 Louvered hood.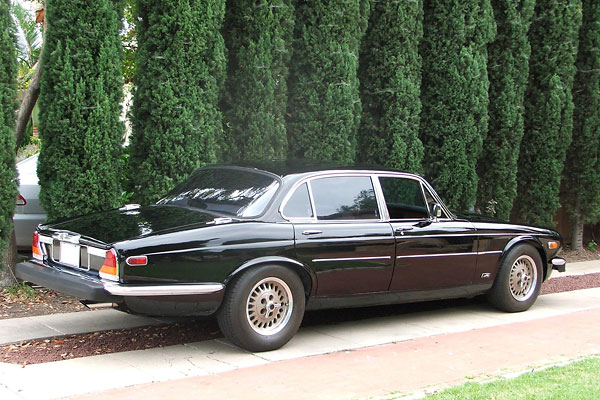 '88 Jaguar XJ6 (15"x7") wheels. BFGoodrich T/A tires (front: 215/70-15. rear: 225/70-15).