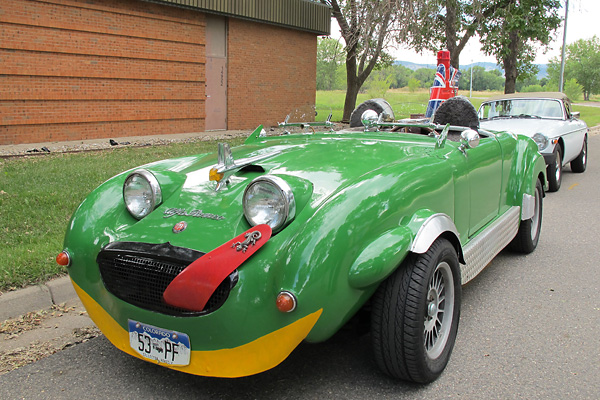 Tadpole: Steve Schweitzberger's Folk Art Austin Healey Frogeye Sprite
Owner: Steve Schweitzberger
City: Littleton, Colorado
Model: 1959 Austin Healey Sprite
Engine: Alfa Romeo 2.0L I4
Conversion by: owner
Features and Specifications
| | |
| --- | --- |
| Engine: | stock 1974 Alfa Romeo 1962cc, dual overhead camshaft, inline-four. Stock SPICA (Societą Pompe Iniezione Cassani & Affini) mechanical fuel injection system. |
| Cooling: | stock 1974 Alfa Romeo Spider copper and brass radiator. Engine driven six-blade plastic fan, without shroud. Finned aluminum oil pan. |
| Exhaust: | stock 1974 Alfa Romeo Spider cast iron exhaust manifold. |
| Transmission: | stock 1974 Alfa Romeo Spider 5-speed manual. |
| Rear End: | stock 1974 Alfa Romeo Spider differential and 4.56:1 gears. |
| Front Susp.: | stock 1974 Alfa Romeo Spider wishbones, coil springs, and telescopic dampers. |
| Rear Susp.: | stock 1974 Alfa Romeo Spider live axle, radius arms, coil springs, and telescopic dampers. |
| Brakes: | stock 1974 Alfa Romeo Spider tandem master cylinder, power brake booster, and 4-wheel disc brakes. |
| Wheels/Tires: | Made in Britain, 14x6, 12mm offset, aluminum wheels. Dunlop SP Sport A2 tires, size P195/60R14. |
| Interior: | stock Alfa Romeo Spider "Personal" steering wheel. |
| Instruments: | stock 1974 Alfa Romeo Spider instruments, left to right: tachometer (0-8000rpm), speedometer (0-140mph), coolant temperature (100-260F), fuel level (0-1), and oil pressure (0-114psi). Artificial horizon, air speed indicator, and altimeter. (All are functional.) |
| Body: | 1959 Austin Healey Sprite body. Custom air dam. Custom tongue-shaped front nerf bar. 1953 Pontiac Chieftain hood ornament. Custom hood scoop. Dual Brooklands-style windscreens. Custom front and rear fender flares. Custom headrest cowls. Custom tail fin with functional rudder. |
| Electrical: | stock 1974 Alfa Romeo Spider alternator. |
| Completed: | 2013. Driven about 500 miles as of BritishV8 2014. |
Engine Installation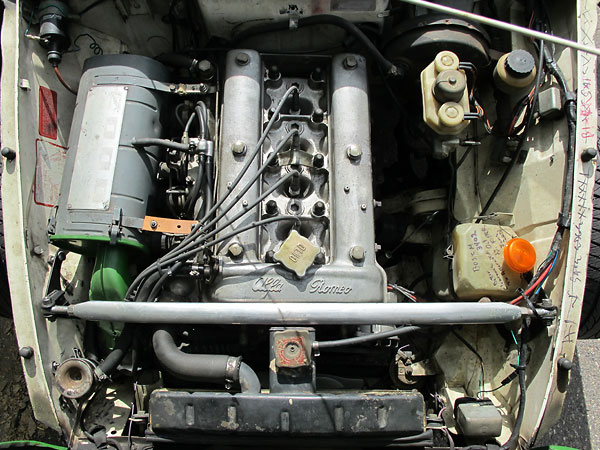 Good things about Alfa Romeo Spider engines: aluminum engine blocks with cast iron liners, forged
steel crankshafts with five main bearings, aluminum cylinder heads with hemispherical combustion
chambers and centered spark plugs, and dual overhead camshafts driven by double-row timing chains.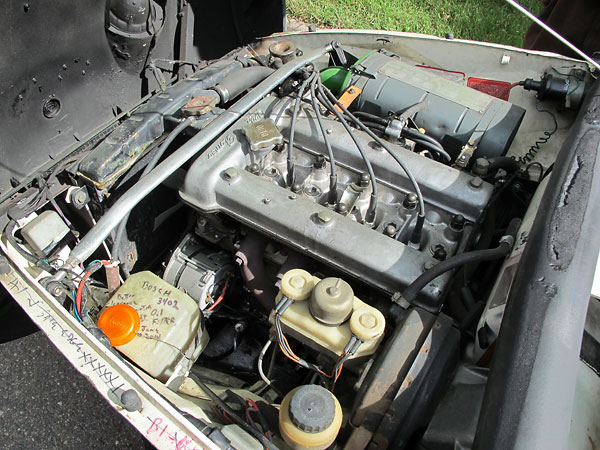 There was no need to upgrade this car's radiator or cooling fan. Alfa Romeo Spider engines
feature a large, finned, 7-quart capacity oil pan. They have a reputation for running cool.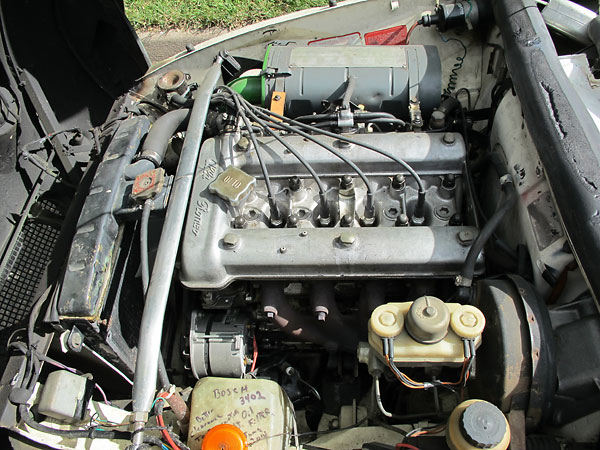 The stylish aluminum brace across this engine bay would tie together the strut
towers, if only there were strut towers. It was adapted from some other car.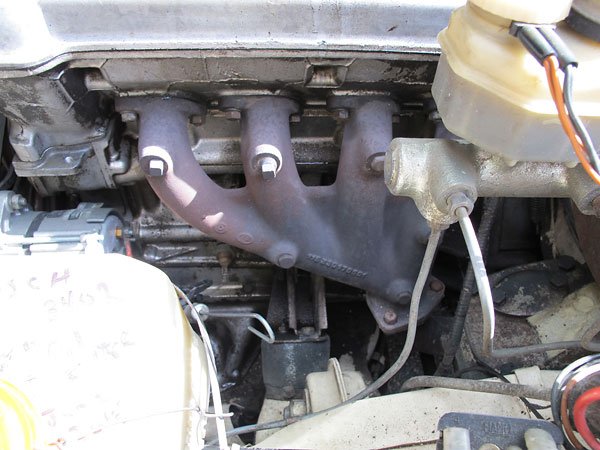 Stock 1974 Alfa Romeo cast iron exhaust manifold.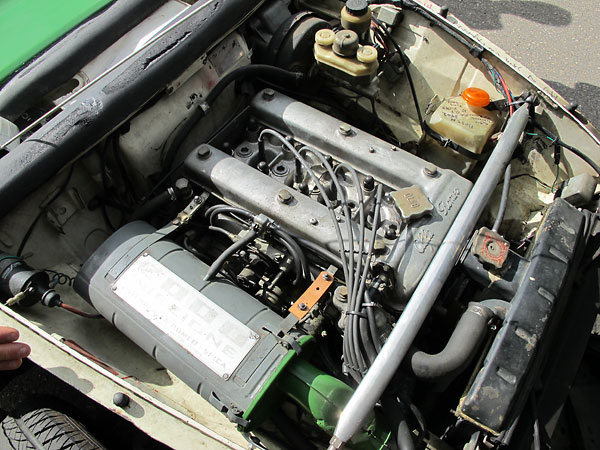 SPICA (Societą Pompe Iniezione Cassani & Affini) mechanical fuel injection.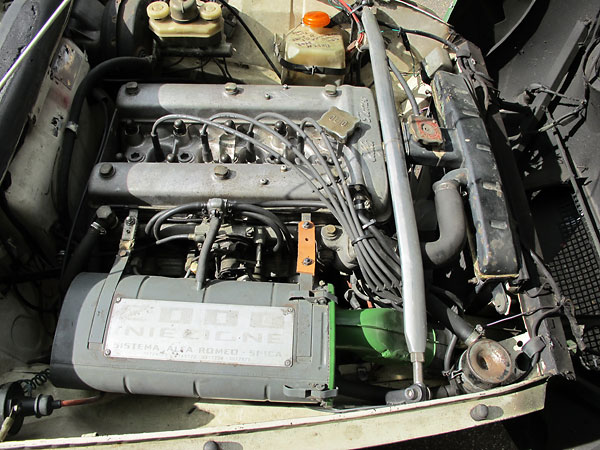 Decal: "2000 Iniezione Sistema Alfa Romeo - Spica, Patented 3146770 - 3312208 - 3577978"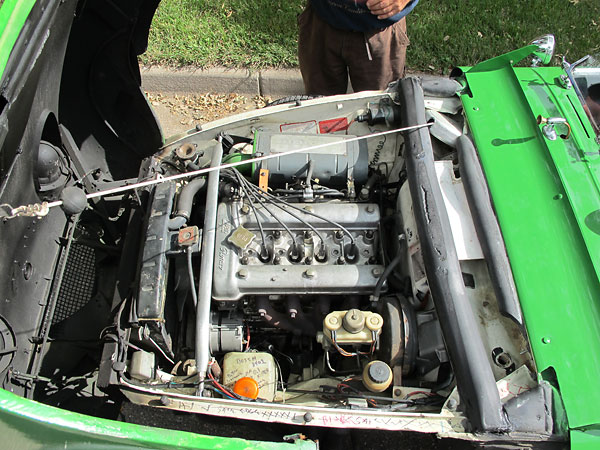 A clothesline reel is used to limit travel of the front clip.


Suspension and Brakes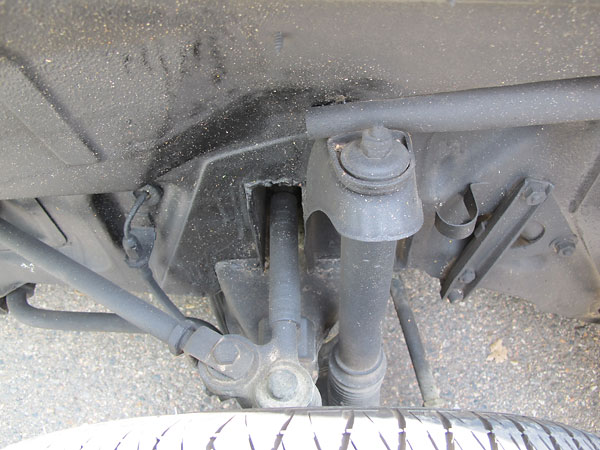 Stock 1974 Alfa Romeo Spider wishbones, coil springs, and telescopic dampers.


Enjoying this article? Our magazine is funded through the generous support of readers like you!
To contribute to our operating budget, please click here and follow the instructions.
(Suggested contribution is twenty bucks per year. Feel free to give more!)
Interior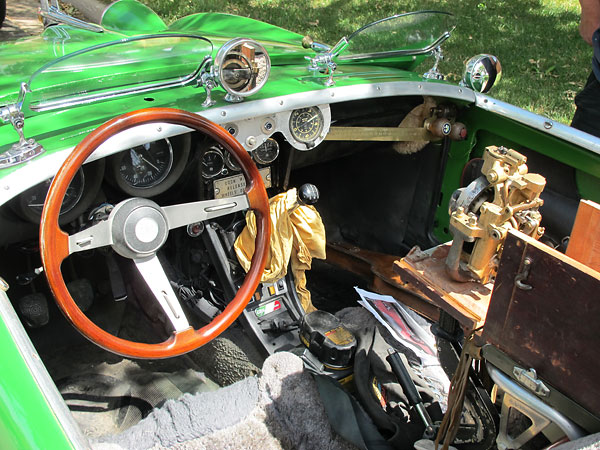 Alfa Romeo "Personal" steering wheel.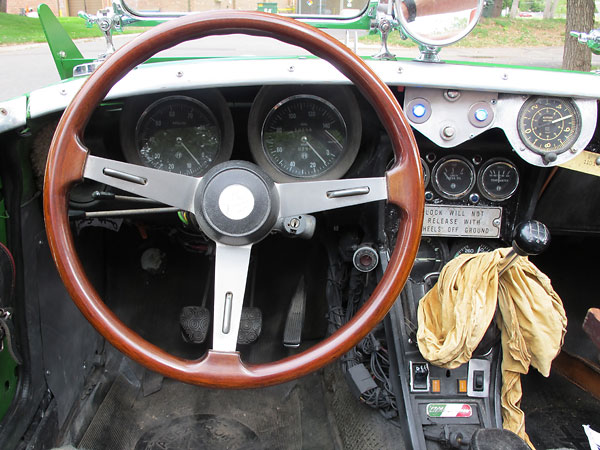 Stock 1974 Alfa Romeo instruments, left to right: tachometer (0-8000rpm), speedometer (0-140mph),
fuel level, oil pressure, and coolant temperature gauges plus an air speed indicator gauge,
an artificial horizon, and an altimeter. (All these guages are functional.)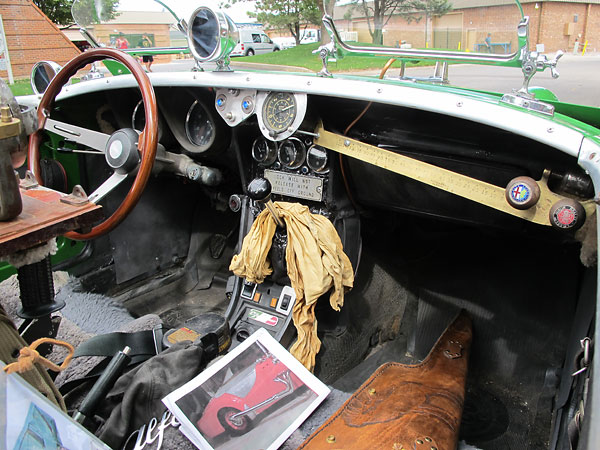 Plate in center says: "Lock Will Not Release With Wheels Off Ground".
At right, a graduated brass lever from a Fairbanks Scale.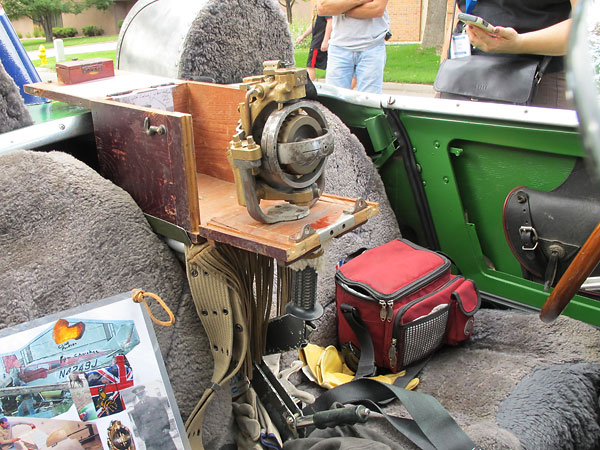 18-pound brass gyroscope off a Japanese WWII-era 3000 pound torpedo.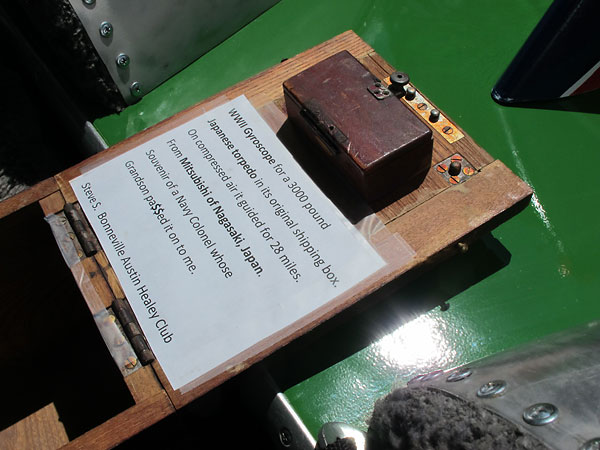 Manufactured by Mitsubishi in Nagasaki Japan, it's still in its original wooden shipping box.
A U.S. Navy Colonel brought it home as a souvenir.


Exterior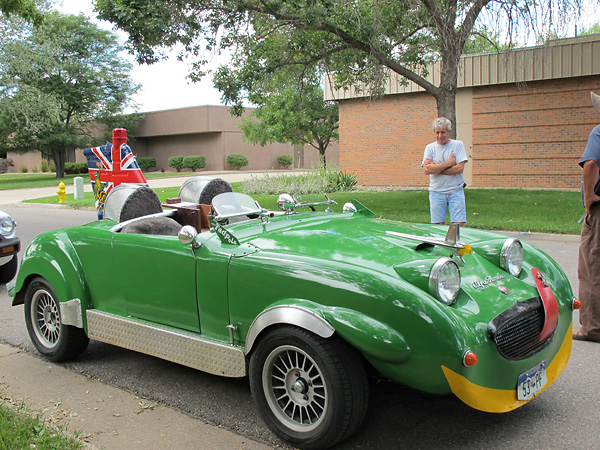 Steve's Tadpole - "a little frog with a tailfin" - weighs about 600 pounds less
than the original 1974 Alfa Romeo Spider did before the body transplant.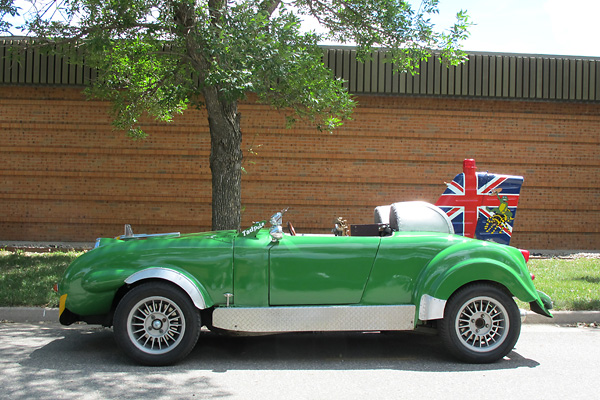 Steve commented: "It's amazing how much rubber bumpers and roll-up windows
add to the weight of a sports car."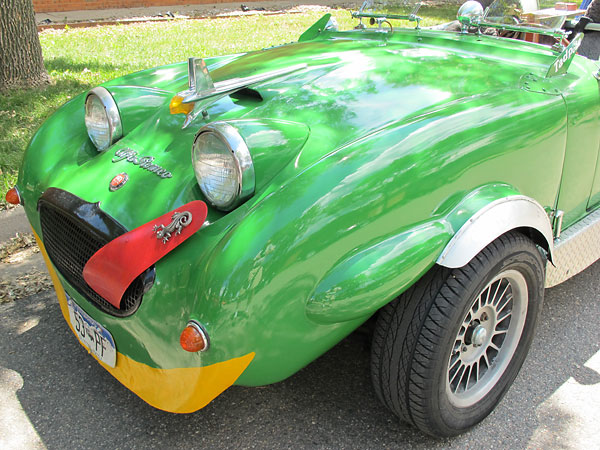 Especially since the Tadpole is so much lighter than a regular Spider, it will benefit from
a change of rear end gearing. Currently, it's using stock 4.56:1 gears. Steve has a 3.60:1
ring and pinion set from a rare automatic-transmission Spider to install when time permits.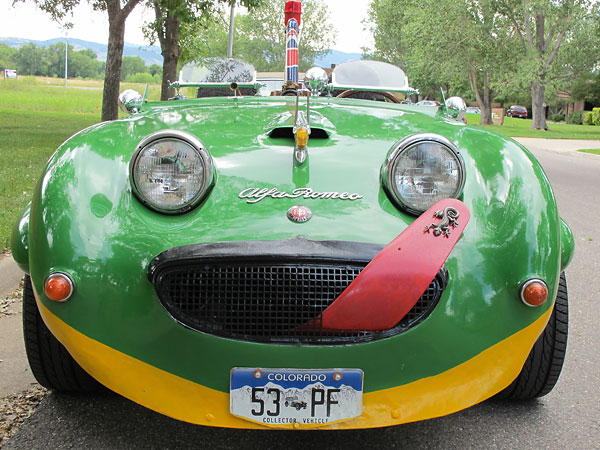 "Yes, I mated an Italian Spider with a British frog. Foreplay took 4 years."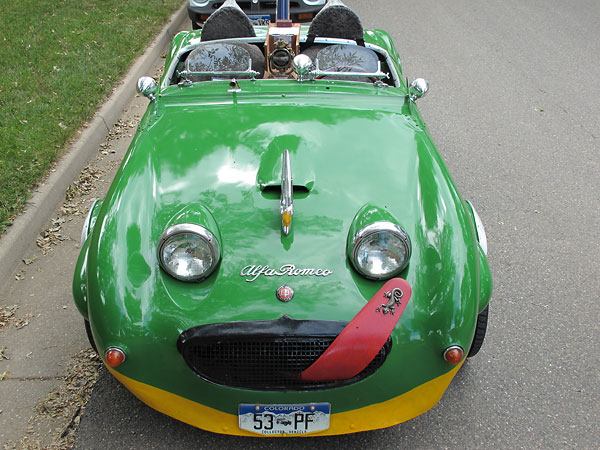 The red tongue is a bent propeller tip. Steve notes that it serves as a
nerf bar and "it's stronger than the plastic bumper on any new car."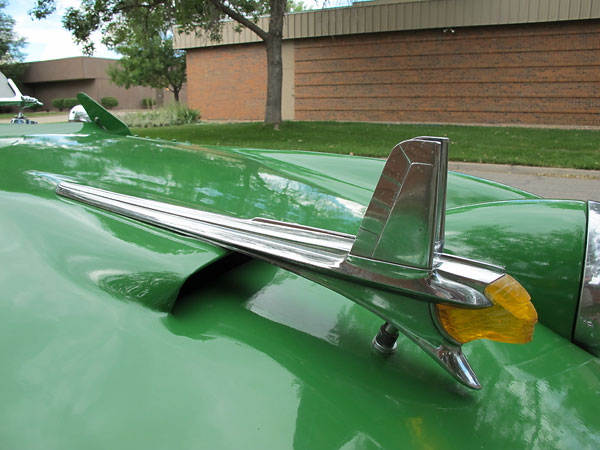 1953 Pontiac Chieftain hood ornament.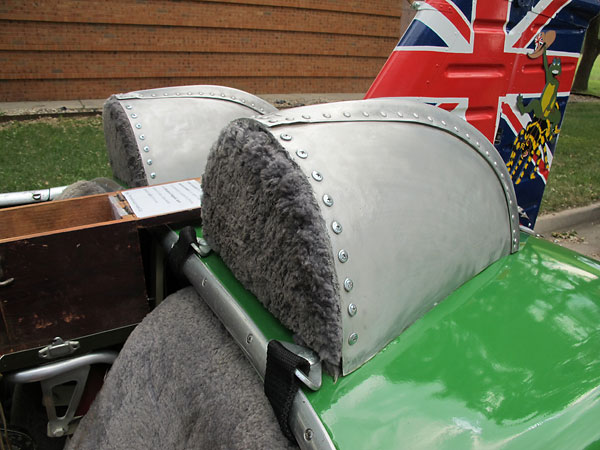 Steve made headrest fairings out of the tips of an aluminum canoe.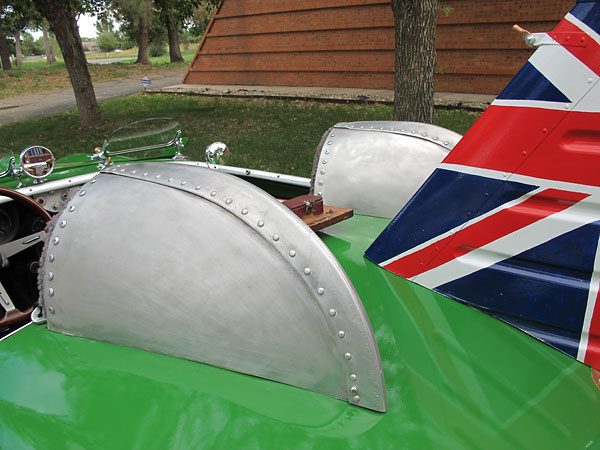 Steve purchased the canoe for the price of the scrap aluminum.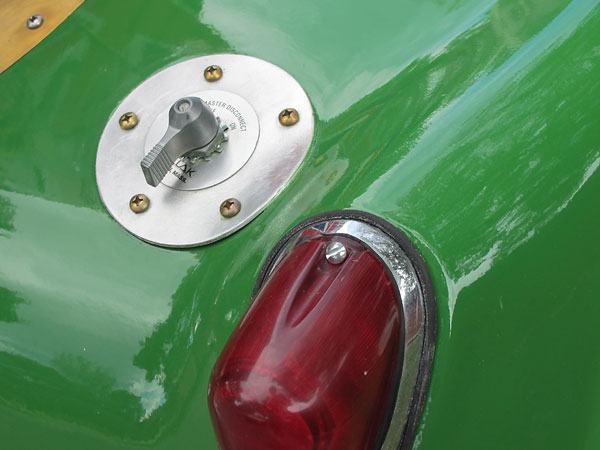 Joseph Pollak Co. of Boston Massachusetts manufactured this battery disconnect switch.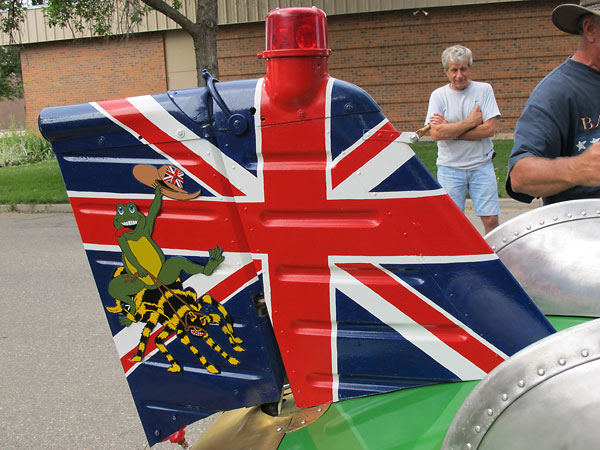 The tailfin is off a Piper Cherokee from North Dakota that died when a tornado destroyed its hanger.
It swings left and right with the turn signal indicators, via Mercury outboard motor choke solenoids.
The strobe atop the tailfin runs on a separate 18-Volt DeWalt battery. 12 Volts proved insufficient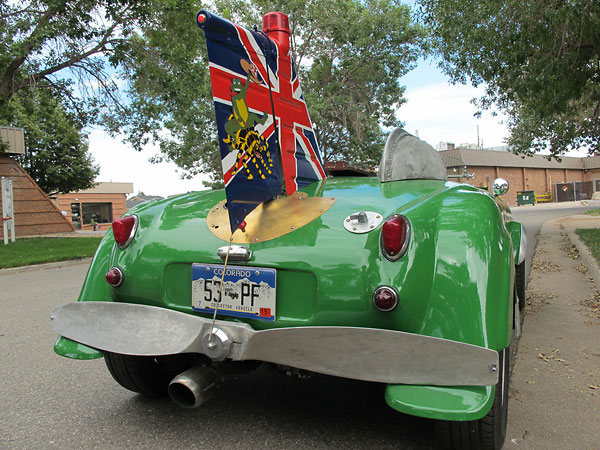 Steve: "The rear bumper is an airplane propeller that 'fell red hot from the California sky one night'
according to the guy who sold it to me while camping with buddies out in the desert. That's my story
and I will stick to it."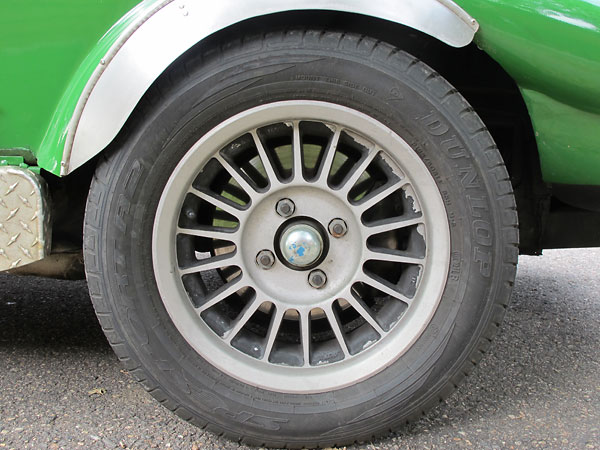 Made in Britain, 14x6, 12mm offset, aluminum wheels.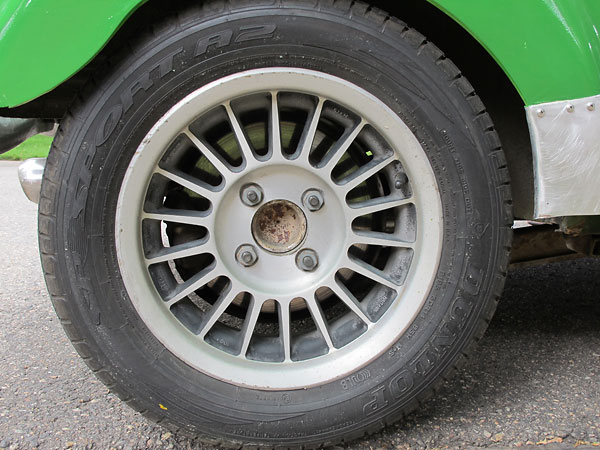 Dunlop SP Sport A2 tires, size P195/60R14.


Photos by Curtis Jacobson for BritishV8.org. Copyright 2014. All rights reserved. Use by written permission only. (Do not print, copy to your hard drive, or post these online without permission.)