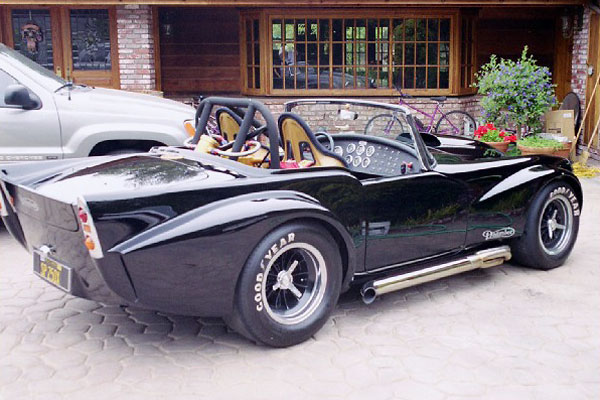 Steve Sanett's 1962 Daimler SP250 with aluminum Chevy 427 V8
as published in BritishV8 Magazine, Volume XVII Issue 1, July 2009
Owner: Steve Sanett
City: Chatsworth, CA
Model: 1962 Daimler SP250
Engine: 427cid Chevy/Dart aluminum V8
Conversion performed by: owner
Background Information
Daimler was a British specialty car manufacturer. They built their first car in 1896. Historically, Daimler was probably best known as the preferred supplier of limousines to the British royal family.

The company's name has caused much confusion over the years. In Daimler's early days, they built their own engines using patents licensed from the more famous German company of the same name. However, in terms of actual ownership and management, the two companies were entirely seperate.

Toward the end of a long series of distinctive up-market cars, Daimler introduced a fast new roadster called the "Dart" at the 1959 New York Motor Show. The Daimler Dart was met with interest, but the model name had to be abandoned because Dodge had already trademarked it for their hugely successful economical compact. Daimler re-named their Dart model "SP250" for the U.S. market. (They continued using the name "Dart" in other markets.)

The SP250's fiberglass body was mounted on a tubular steel, ladder chassis. In 1960 Daimler was acquired by Jaguar. Jaguar frankly felt that the original Daimler SP250 chassis was crude and dangerous, so they immediately redesigned it. They even went so far as to have all unsold, exported SP250's shipped back to England to be torn down and rebuilt. The improved SP250 was designated "B Series".

All Daimler SP250's were built with 2.5L V8 engines which produced about 140 BHP and featured aluminum cylinder heads, hemispherical combustion chambers, two valves per cylinder, and a single camshaft. By many accounts this was an excellent engine, but it had no hope of being popular in the power-hungry U.S. markets due to its small displacement, high cost, very limited service and parts support, etc. Performance enthusiasts had to modify the engine to get the most out of it: from stock it had a compression ratio of only 8.2:1. At about 419 pounds, the Daimler V8 weighed over 100 pounds more than a 3.5L Buick/Rover V8.

When production of the SP250 sports car was cancelled at the end of 1964, only 2654 had been sold. Although the cars are rare, it's not uncommon to find SP250 engine conversions, or to find potential project cars offered for sale without engine.

The Daimler 2.5L engine was somewhat more successful than the SP250 car. It was used in a Daimler-badged variant of the Jaguar "Mk II" saloon through 1969. Total production of the engine surpassed 20,000 units. Reportedly, after Jaguar merged with BMC the Daimler V8 was considered for use in other sports cars, including an MGB variant.

Steve Sanett imagined what an SP250 might be like with comfortably more than 250 percent more engine displacement, power, and torque.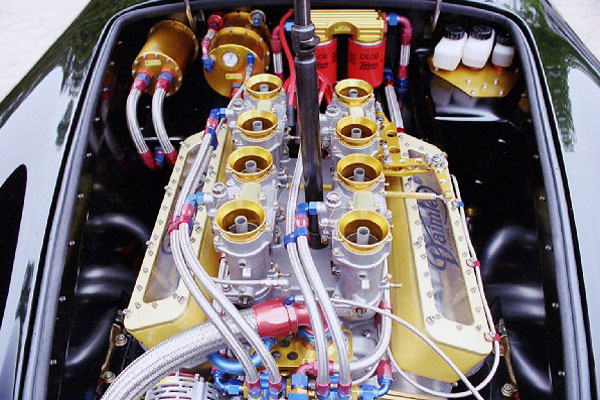 Dart all aluminum 427cid Chevy engine block with Air Flow Research 225cc heads.

How It Was Done
| | |
| --- | --- |
| Engine: | Dart all aluminum 427cid Chevy with Air Flow Research 225cc heads and titanium valves. J.E. pistons (12.5:1), Carrillo rods, Cola crankshaft, Jessel belt drive. Solid roller cam by Comp Cams (252 degrees intake, 248 degrees exhaust, at 0.050"/ 0.610" valve lift. 108 degree lobe separation.) MacKay magnesium intake manifold. 48IDA Weber carbs bored to 51mm with custom 46mm secondary venturis. Mallory Super Mag (magneto transformer) 80-amp ignition. Aviaid 4 stage dry sump oiling system. Custom billet aluminum valve covers with clear Lexan inserts back-engraved with the Daimler logo. Custom billet aluminum surge and breather tanks. |
| Cooling: | Ron Davis custom aluminum radiator, plumbed with dash 24 Aeroquip hose and fittings. Dual electric fans. |
| Exhaust: | custom polished stainless steel headers with 1.750" primaries. 3.5" stainless steel side pipes. |
| Transmission: | Borg Warner Super T10 close-ratio 4-speed. (Top gear is 1:1). Custom driveshaft. Tilton triple organic clutch disc. Aluminum flywheel. Hydraulically actuated. |
| Rear Axle: | Speed Way Engineering quick change with Detroit Locker and 3.11:1 gears. |
| Front Suspension: | modified Daimler double wishbones (converted to Heim joints). Koni double adjustable aluminum coilover shock absorbers. Custom anti-sway bar. Converted to rack and pinion steering. |
| Rear Suspension: | Koni double adjustable shock absorbers. |
| Chassis: | re-welded all factory tubing. Surprisingly, we were able to re-use the original (Daimler V8) engine mounts. The rear section of the frame was modified for stiffness and also to accept telescoping shocks. The upper shock mountings are actually mounted to the roll bar in the trunk area. An ATL fuel cell was installed in a custom aluminum enclosure. Custom billet aluminum gas cap. All bolts are 12-point MS21230 Mil spec. |
| Body: | all quarter panels were pulled. The rear quarter panels were vented. (See photo.) All handles were shaved. Stainless steel trunk and hood hinges were custom made. Cobra reverse hood scoop. Front blinkers were removed. Front grille was reshaped. |
| Interior: | custom aluminum dashboard. Sparco (Kevlar composite) seats with 5-point Sparco harnesses. Door panels and dashboard custom upholstered in Connely hide. Custom roll hoop with Petty bar. |
| Wheels/Tires: | PS Engineering "Cobra" (Halibrand style spline drive aluminum wheels with tri-wing knock-offs) 15x8.5 front / 15x10.5 rear. Goodyear "Blue Streak" racing tires. |
| Brakes: | Girling aluminum "18-4" 4-piston calipers and 11.5x1.25 vented rotors. |
| Electrical: | custom wiring featuring Teflon insulated silver wire and aluminum MIL STD connectors. All switches feature silver contacts. MIL STD aircraft circuit breakers. Stewart Warner mechanical gauges. Jones Motrola Corp. mechanical tachometer. Dual SLA (sealed lead acid) batteries on custom aluminum battery trays. Onboard fire suppression system. |
| Performance: | engine dyno specs are 540 HP at 7100rpm, 575 LB FT torque at 4150rpm. 52% / 48% weight distribution. Engine was moved back about six inches from the original (Daimler V8) location. 0-60mph in 3.3 seconds. |
| Weight: | 2400lbs. |
| Completed: | driven about 1020 miles since the conversion was completed in 2000. |
| Comments: | building this car was a 10 year project and a substantial learning experience. Our concept was to show what might have been if Daimler had wanted to go racing against Shelby in the 1960's. The project touched on many aspects of automotive and aerospace technology - all merged into an old British car! It was fun, tedious, and VERY expensive, but worth every penny and every minute spent. |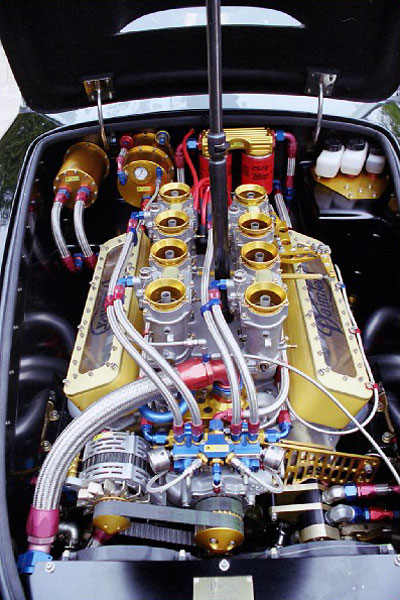 48IDA Weber carbs bored to 51mm with custom 46mm secondary venturis.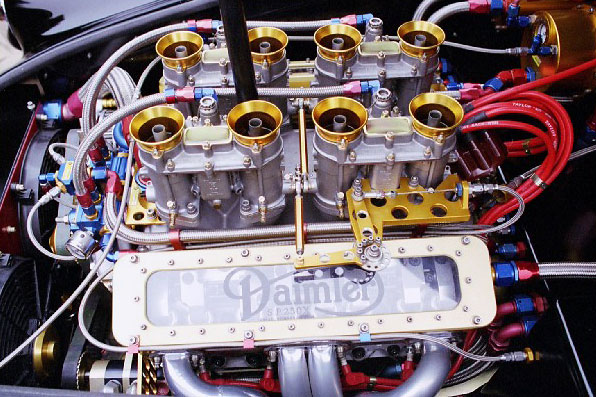 Custom aluminum valve covers with clear Lexan inserts.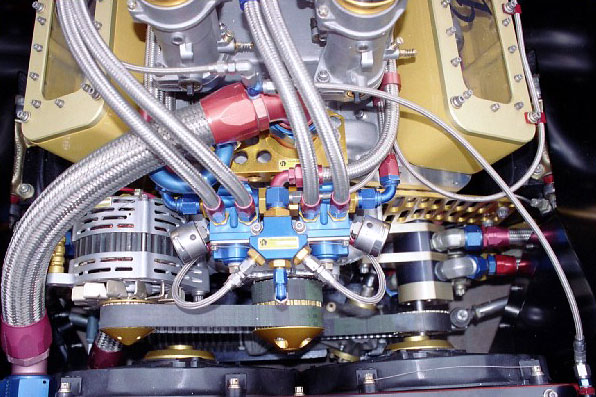 Aviaid 4 stage dry sump oiling system.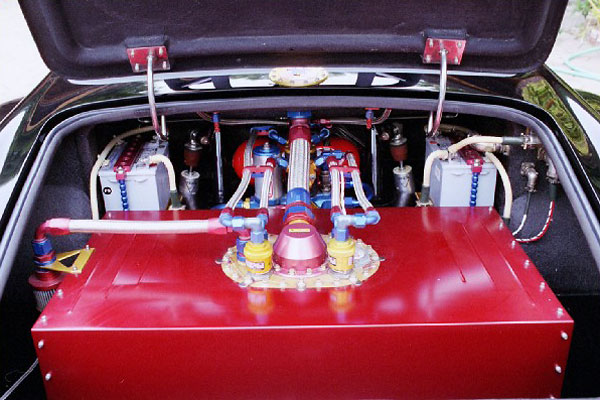 ATL fuel cell installed in a custom aluminum enclosure.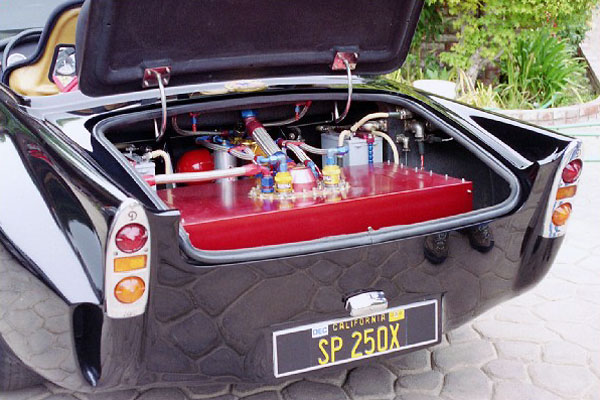 Vents have been carved into the rear fenders, outboard of the tail lamps!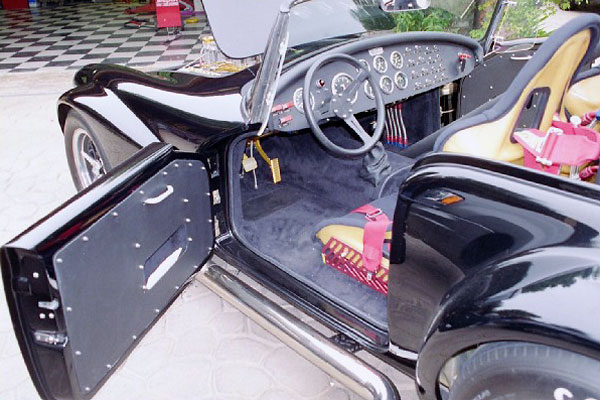 Custom door panels and dashboard. Modern Sparco composite seats.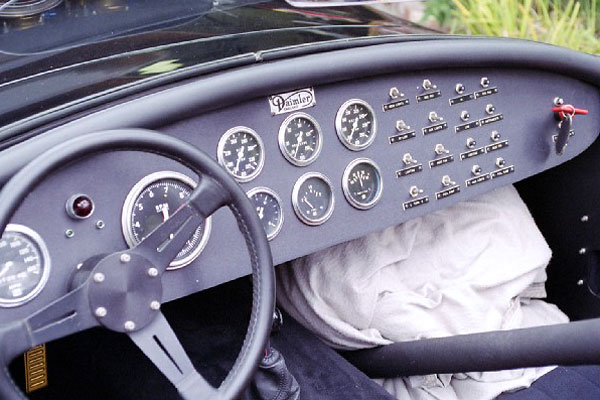 Stewart Warner mechanical gauges. Jones Motrola mechanical tachometer.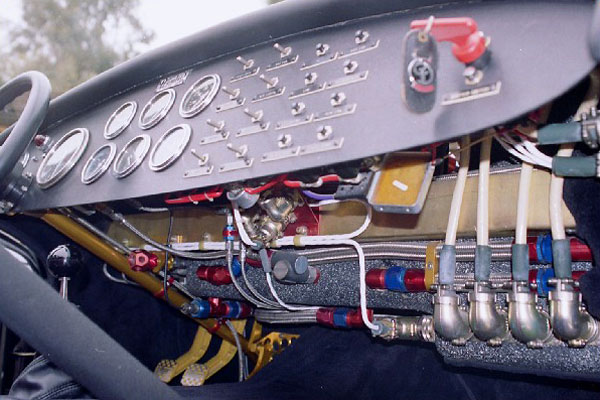 Teflon insulated silver wire and aluminum MIL STD connectors.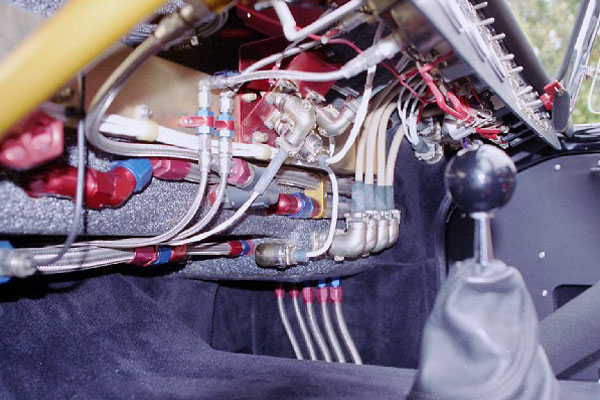 Extensive Aeroquip plumbing, as required for the mechanical gauges.