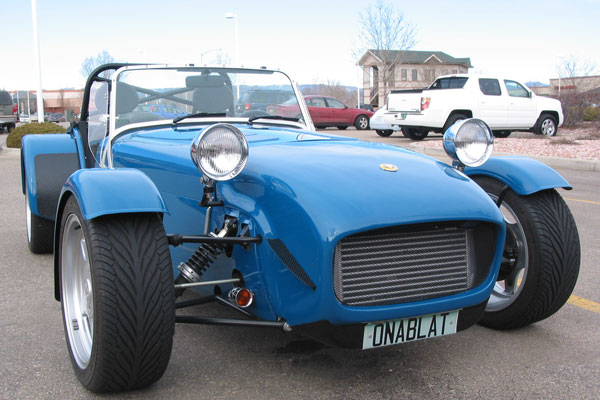 Skip Cannon's Caterham Seven SV with Mazda 1.8L Turbo Engine
as published in British V8 Magazine, Volume XVI Issue 1, May 2008

Owner: Skip Cannon
City: Erie, Colorado
Model: 2004 Caterham 7 SV
Engine: Mazda Miata 1.8L turbo.
Background Information:
Caterham Cars was licensed to continue production of Colin Chapman's "Lotus Super 7" nearly immediately after Lotus discontinued production in 1973. Since introduction in 1957, Super 7 cars have always featured feather-weight tubular steel frames with simple aluminum body panels. Later models featured honeycomb side-impact protection panels hidden under the bodywork and composite nose cones.

For the British home market, the Caterham Seven can be purchased complete as a factory-assembled automobile, or in kit form to dramatically reduce tax cost. Due to more rigorous U.S. safety standards and liability issues, the Caterham Seven is only available in kit form for U.S. customers. (Some dealers will also arrange professional assembly.)

Several firms make or have made Super 7 replicas, but Caterham can legitimately claim to build the most authentic Super 7. Caterham purchased Lotus's original tooling. Although the design has evolved over time, Caterham retained Lotus' original chassis dimensions until the new "SV" version was added to their range in 2000. The SV's wheelbase is stretched a modest 3.2 inches in length, and the cockpit has been widened about 4.3 inches. The footboxes are about 2.2 inches wider and the windshield and convertible top are about 1 inch taller. Cruising range is extended with a larger fuel tank, and baggage space is larger too. The weight penalty for added comfort and touring convenience comes to about 55 pounds.

Traditionally, most Super 7 cars have been fitted with Ford "Kent" four cylinder engines, or with Cosworth engines for racing. Newer Caterhams have been fitted with MG-Rover K-series 1.4L engines. Current Caterhams are usually fitted with Ford 2.0L "Zetec SVT" or 2.3L "Duratec" engines.

This article is about the only Mazda 1.8L turbocharged Caterham SV that we know of!


How It Was Done:
Engine:
1.8L inline four cylinder, DOHC, 4-valve-per-cylinder engine from a 2000 Mazda Miata, with aftermarket turbocharging.

Controls:
Link stand-alone ECU (dual processor with keypad and laptop interface).

Induction:
Mazda Miata intake manifold with 550cc RC fuel injectors. Flyin Miata (Garrett 2650) turbo and exhaust manifold, Track Dog Racing intercooler.

Cooling:
Caterham double-row, triple-pass aluminum race radiator with one 12" Spal electic fan (pulling).

Exhaust:
downpipe with divorced wastegate graduates to 3" diameter and flows into a 3" polished side pipe with metal catalytic converter and glass-pack muffler, then divides into two 2" tailpipes. (Designed by owner, and constructed by Hanksville Hot Rods in Littleton CO.)

Transmission:
5 speed Miata transmission. The tailshaft was modified for transmission tunnel clearence and to suit Caterham-style transmission mounts. 8.5 lb ACT flywheel, 2005 Mazdaspeed turbo clutch (hydraulically actuated). Custom driveshaft fabricated from a Caterham rear weld yoke and U-joint, and from a Miata splined yoke combined with an RX-7 front weld yoke and U-joint. 2" high strength steel driveshaft tube.

Rear axle:
the car retains the Caterham deDion rear suspension, with Caterham-supplied British Ford "Sierra" 3.92:1 ratio gears and differential carrier, but with a Quaiffe limited slip differential substituted.

Front Susp.:
stock double A-arm with Caterham (Bilstein) adjustable coil-over shocks and sway bar.

Rear Susp.:
deDion semi-independent rear suspension with adjustable coil-over shocks, Watts links on both sides, and an adjustable sway bar.

Brakes:
Caterham supplied 9" disks on all four wheels, 2-pot calipers on the front, single pot calipers with parking brake on rear. No power assist.

Wheels/Tires:
street: 7 x 16 5 spoke Caterham wheels with 205/45-16 Avon ZZ3 tyres.
track: 7 x 15 Kosai K1-TS wheels with 205/50-15 Kumho Victoracer V700 tires.

Body/Chassis:
The only unusual or irreversible modifications to the chassis were two holes cut in the transmission tunnel to allow access to the Mazda speedometer sensor and the neutral switch. The standard roll-over structure was upgraded to a cross-braced, thicker walled one. A five-point, 3" racing harness was added on the driver's side for track day use. Multi-layered spacecraft insulation was placed under the carpets and a heat shield was installed in front of the driver-side foot box.

Weight:
just 1,338 pounds wet! (with 1/2 tank of fuel). That comes to 5.7 lb/hp!

Electrical:
motorcycle headlights and popsicle parking-light/turn-signals. Caterham supplied rear lights. Tachometer, speedometer, oil pressure, water temperature and fuel level gages. The only audio system is the exhaust. The ignition switch has been relocated from the steering column to the dashboard, and a home has been found for the Link engine management system controller under the dashboard. (Notice below how it can easily be pulled loose on its tether for convenient engine tuning.)

Completed:
road legal in July 2007.

Miles Driven:
about 2100 miles as of March 1, 2008.

Comments:
The single most difficult part of the conversion was modifying a Miata wiring harness to remove unnecessary circuits, shorten it, and integrate it into the chassis wiring. About 80 hours was required for this task. The engine started on the very first attempt. The biggest physical modification was removing mass from the Mazda transmission tailshaft to allow it to fit inside the very narrow transmission tunnel and to mate with the Caterham transmission mount. The shifter fits through the original hole in the transmission tunnel. New motor mounts were fabricated - they're similar in design to the Caterham/Zetec mounts except somewhat stouter to handle the additional torque of the Mazda engine. All powder coating was done by the owner. This car has already participated in several track days, and won its class in the concours at the 27th annual Lotus Owners Gathering.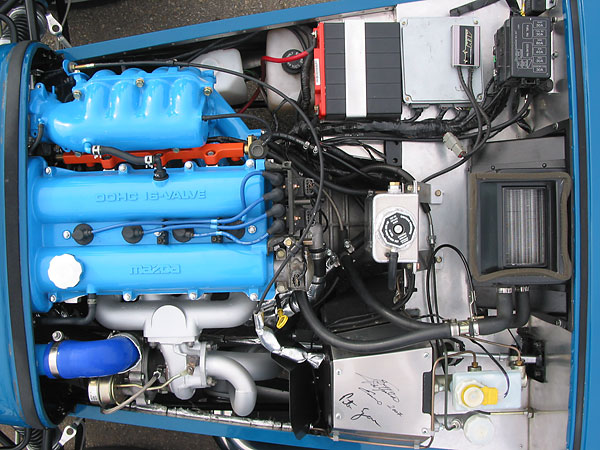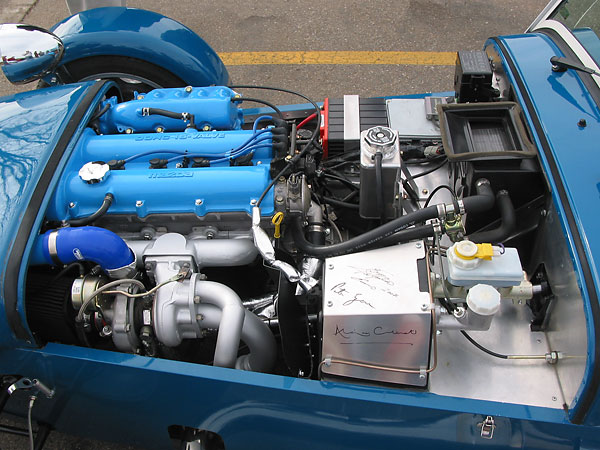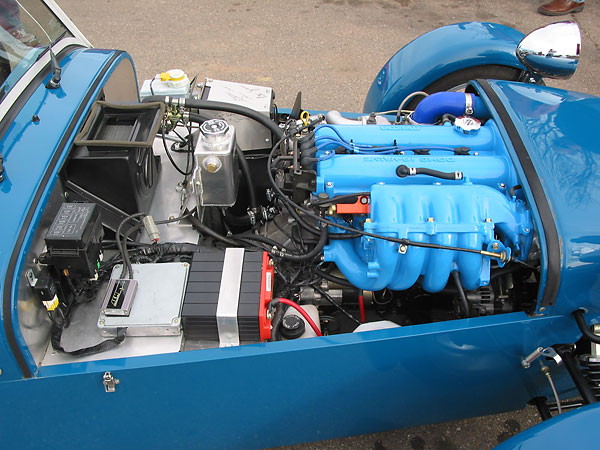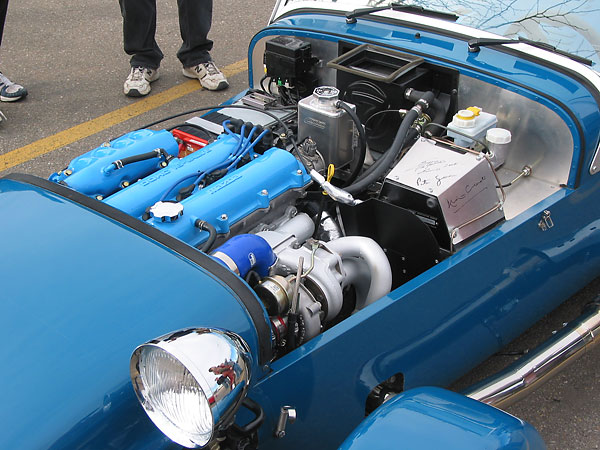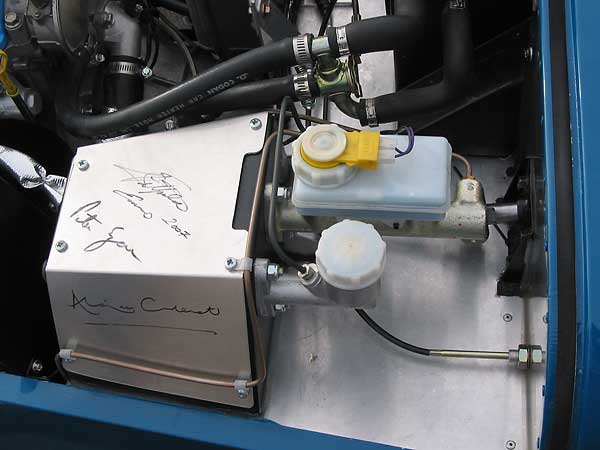 Autographs of celebrities associated with Lotus racing history : (top to bottom)
Emerson Fittipaldi - won his first Formula 1 championship at Team Lotus in '72,
Peter Egan - author and "Road & Track" magazine columnist, and
Alain de Cadenet - race car builder, driver, and TV show host.
Peter Darley - Team Lotus photographer and Jim Clark biographer -
also signed, but his autograph is on the other side, out of view.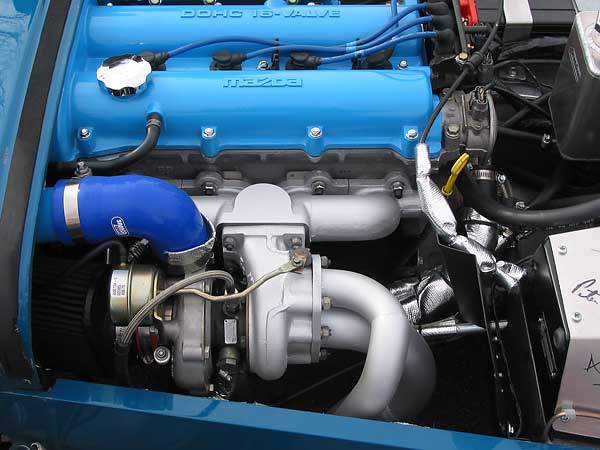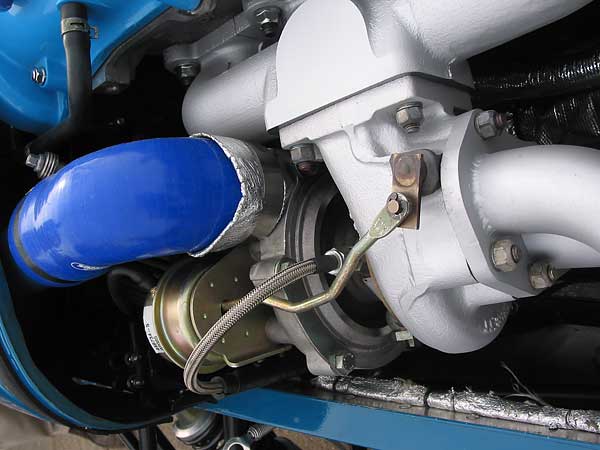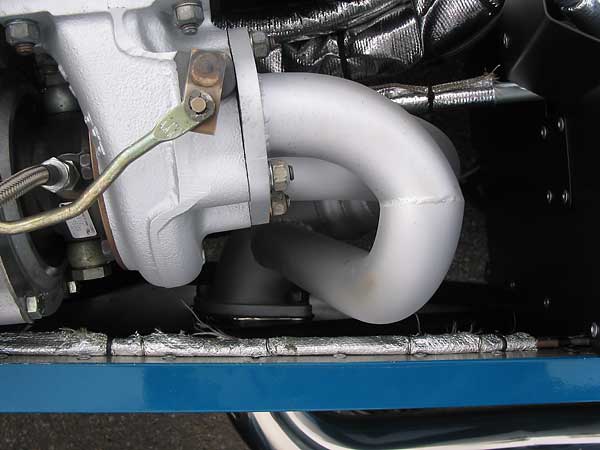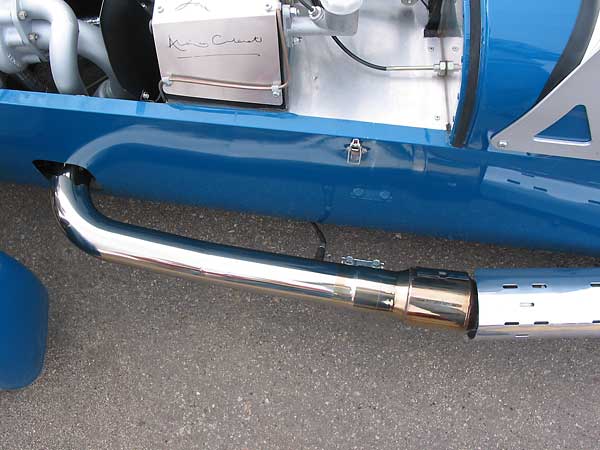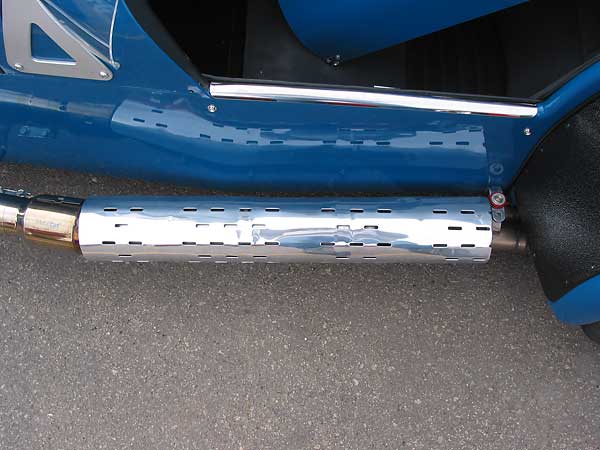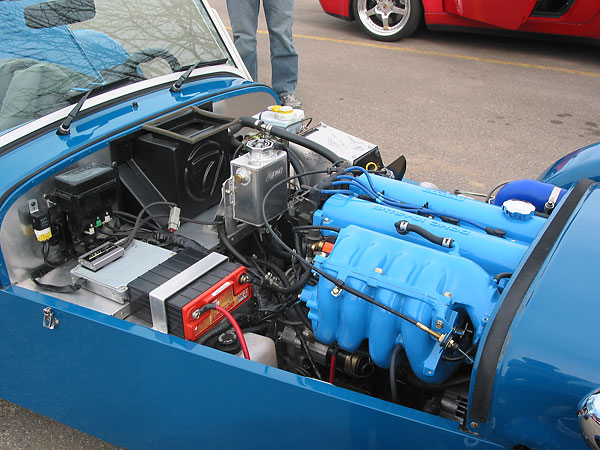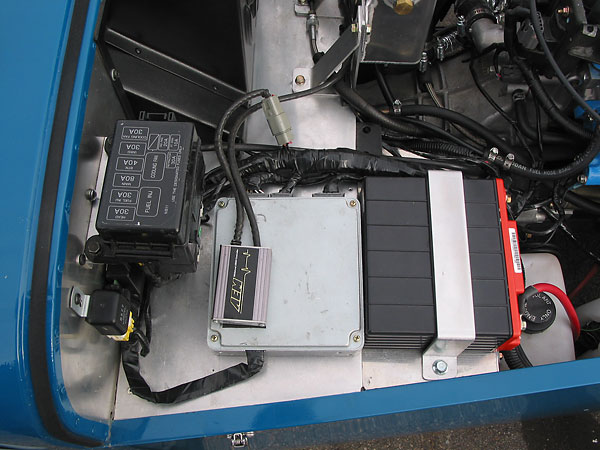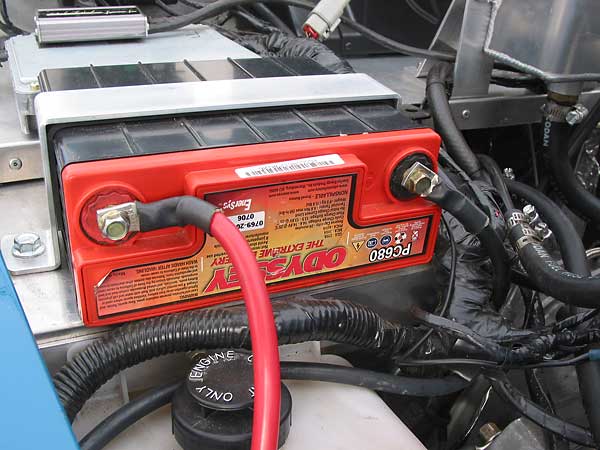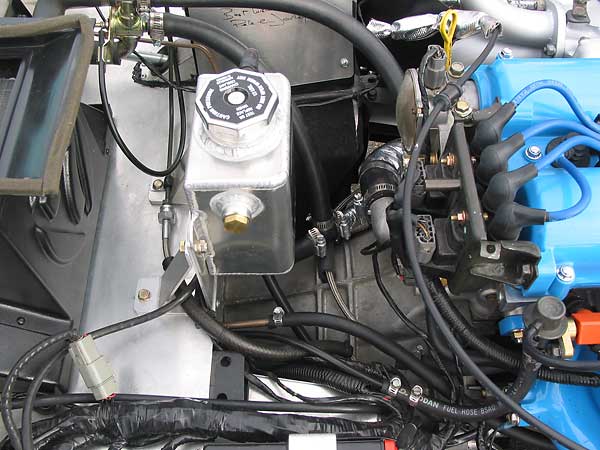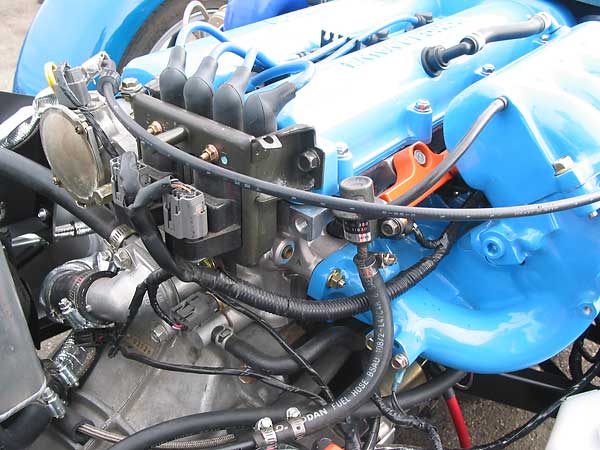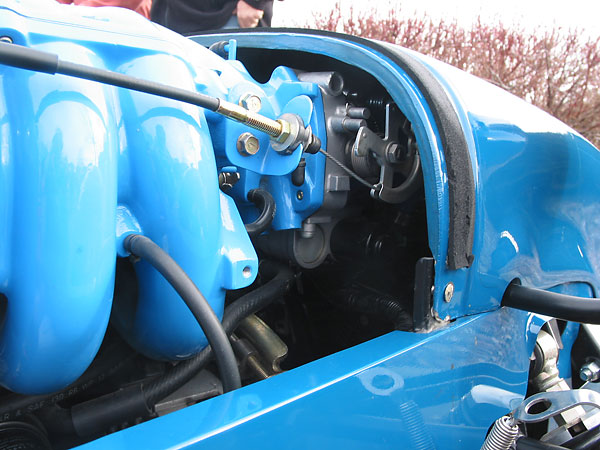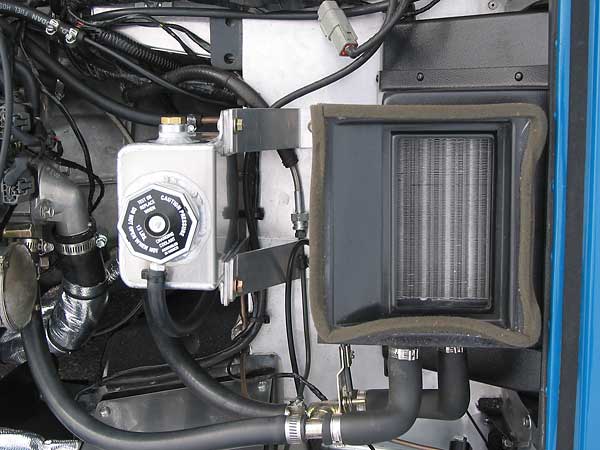 Enjoying this article? Our magazine is funded through the generous support of readers like you!
To contribute to our operating budget, please click here and follow the instructions.
(Suggested contribution is twenty bucks per year. Feel free to give more!)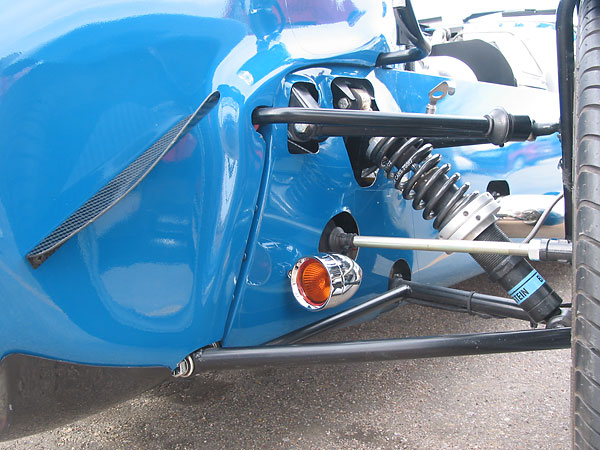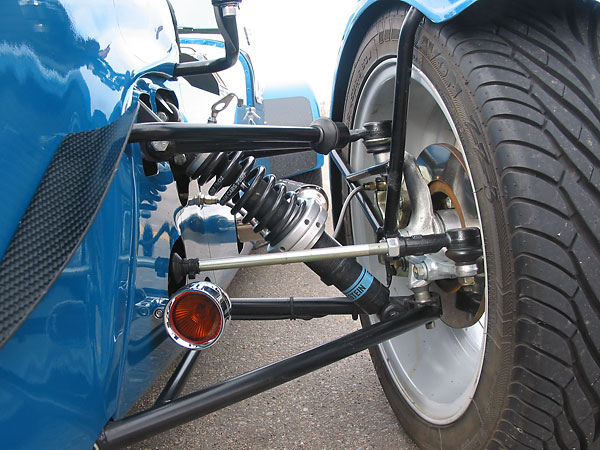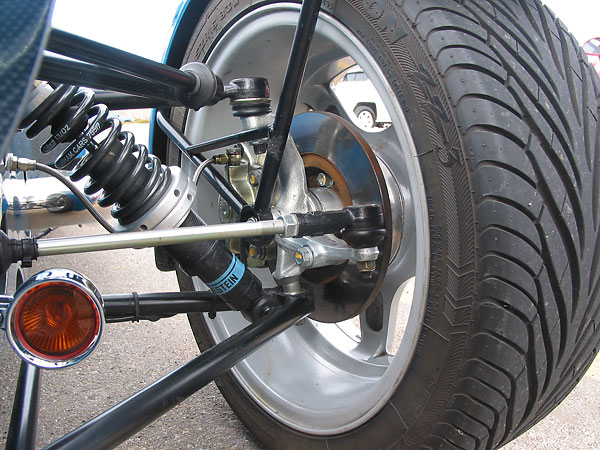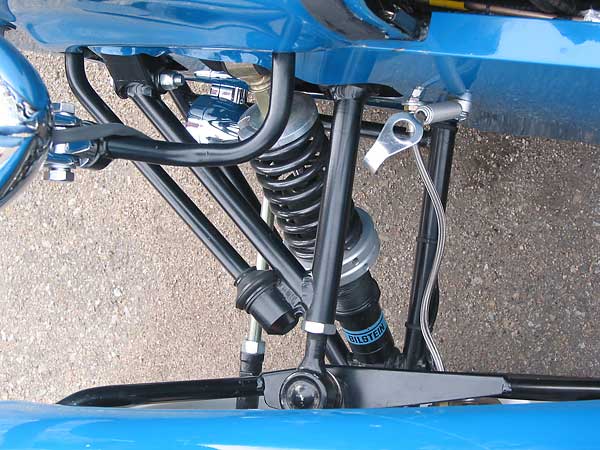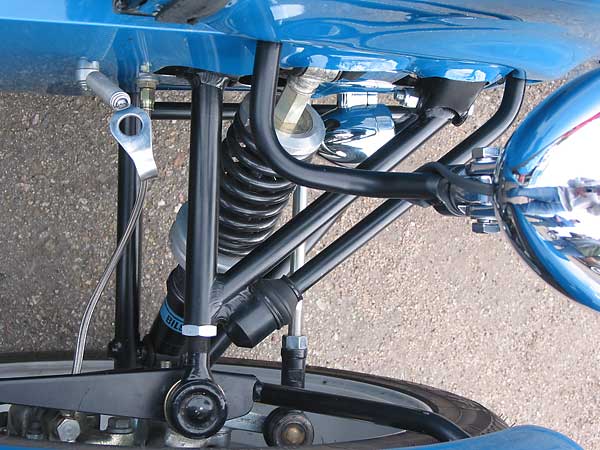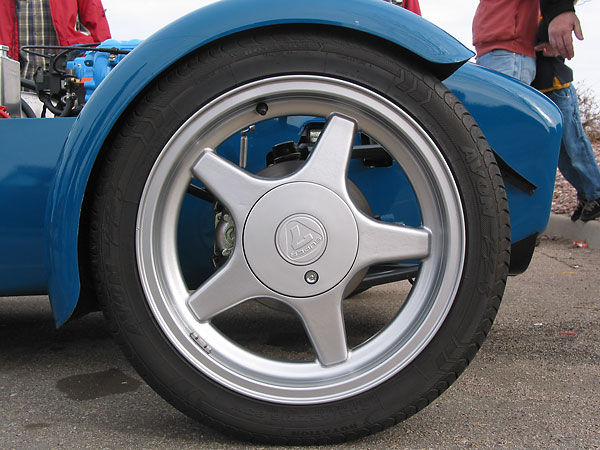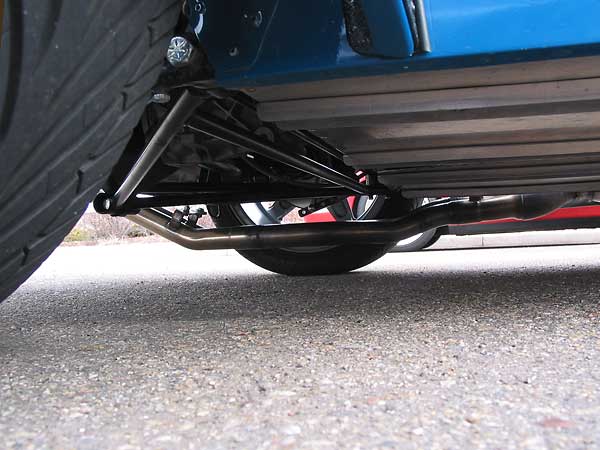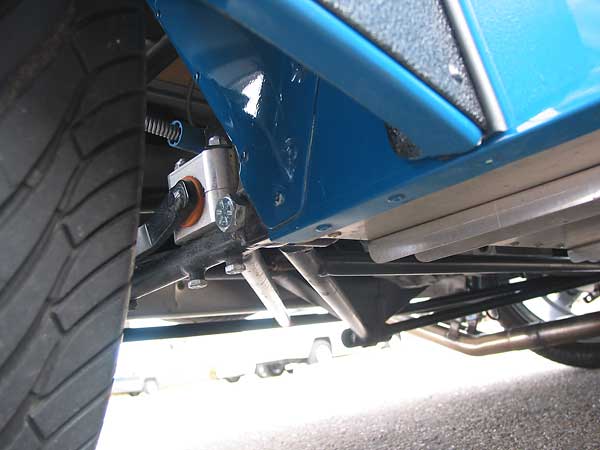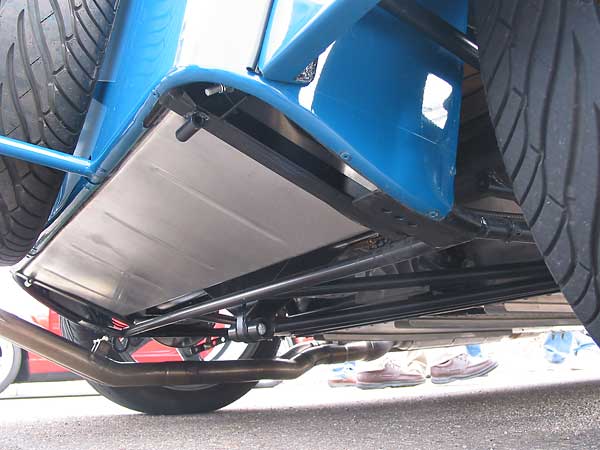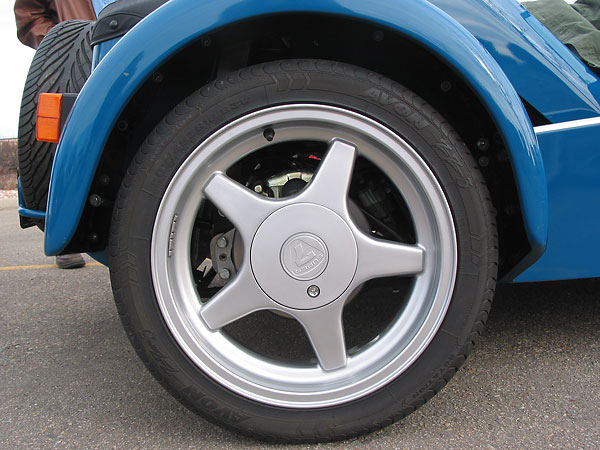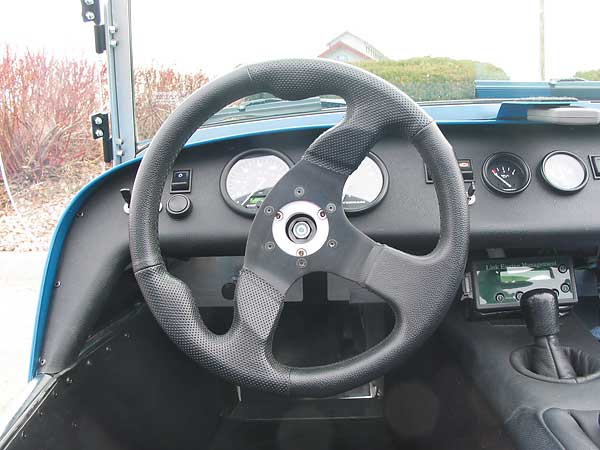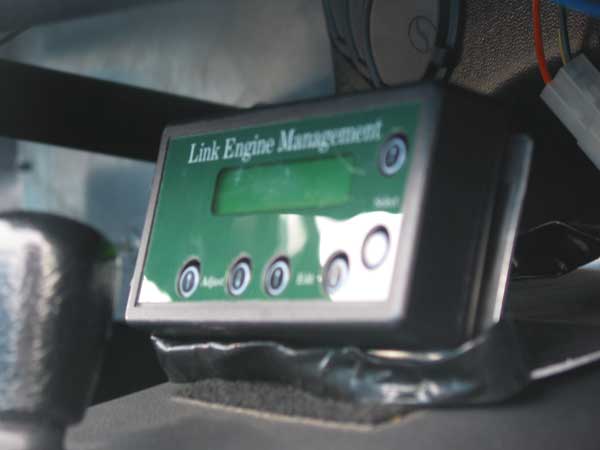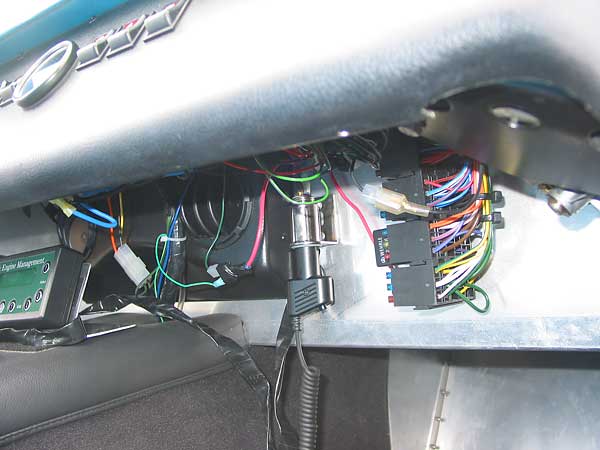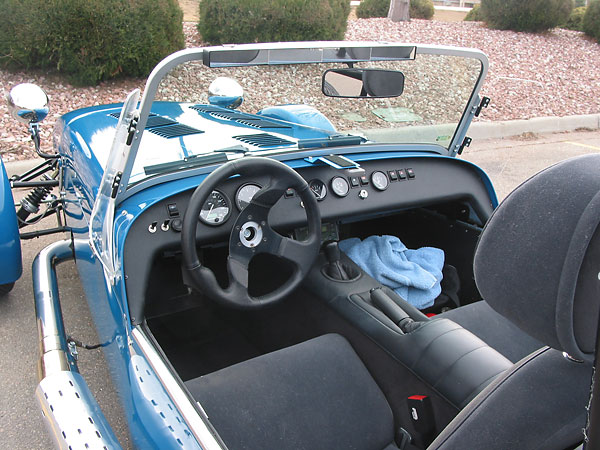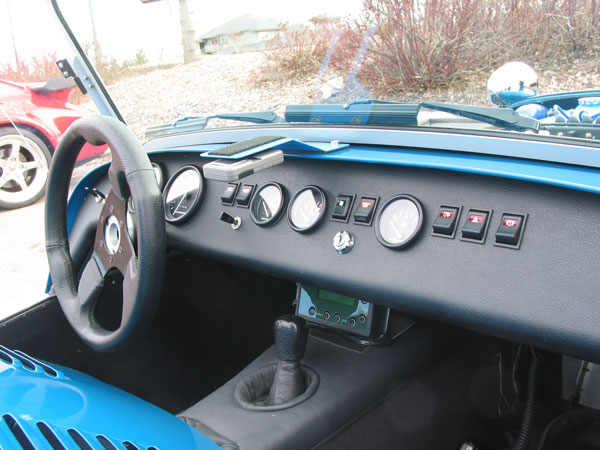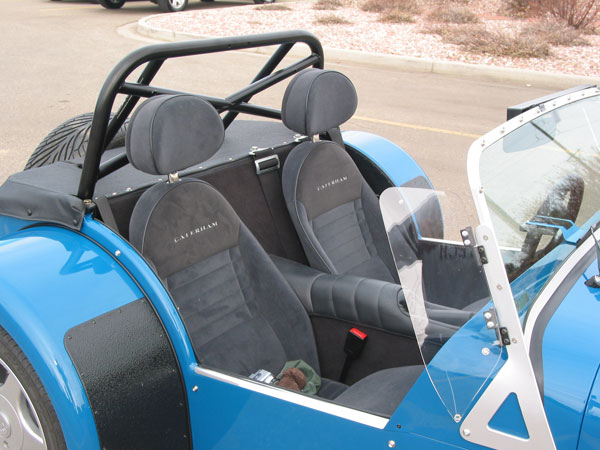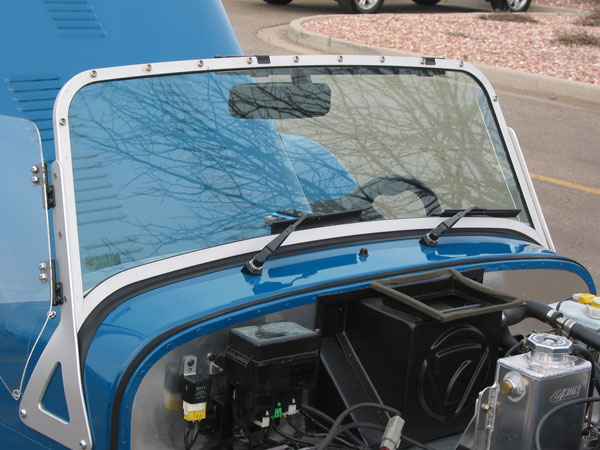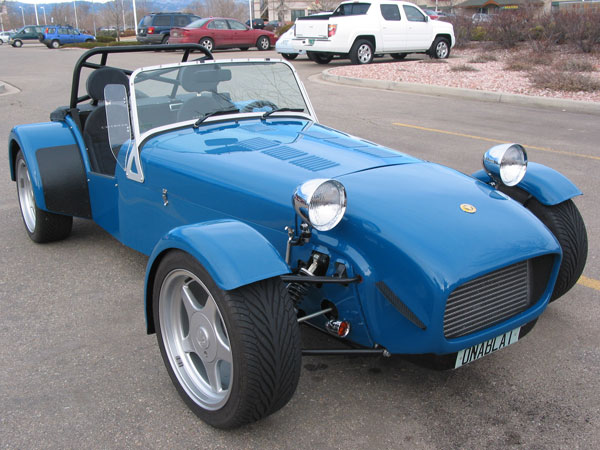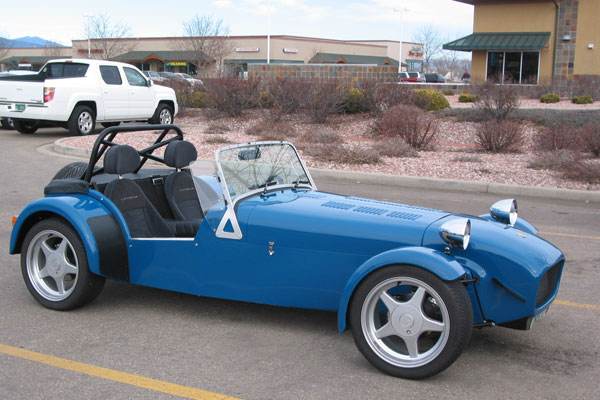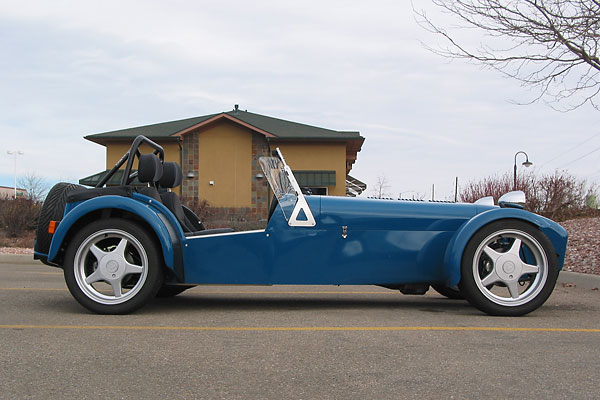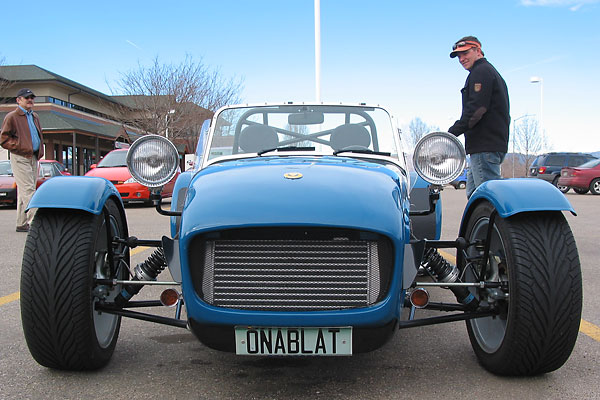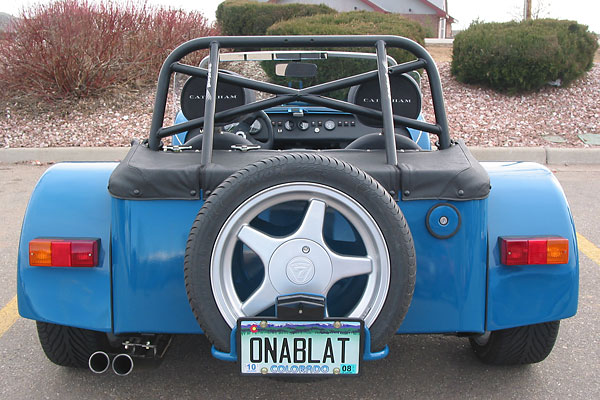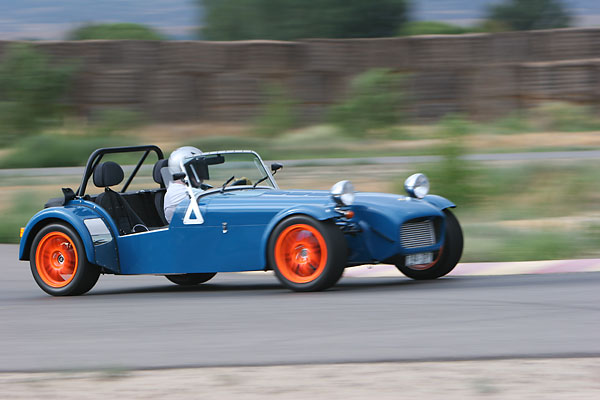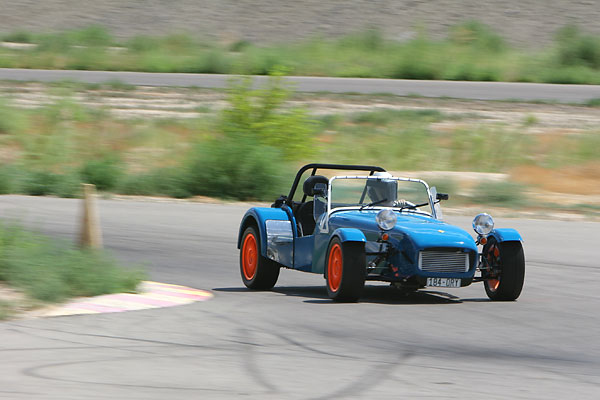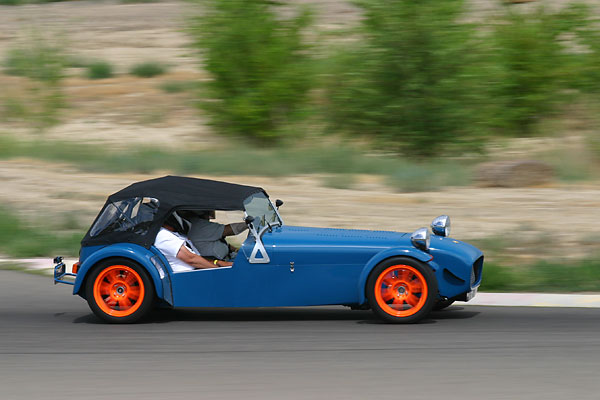 Skip Cannon's Five-Eighths Scale Lotus Seven Replica
Built by Tom Beauchamp of Beauchamp Racing in Colorado Springs, this "Baby Seven" is a fairly faithful 5/8ths scale model of the early Lotus Seven sports car. The frame is constructed of box-section mild steel tubing, following the original Lotus Seven concept. The body is all hand formed aluminum with the exception of a fiberglass nose cone. Trent at Colorado Performance in Brighton painted the Baby Seven to match Skip's Caterham. Since Skip's Caterham is bigger than the early Lotus Sevens, this "Baby Seven" is closer to a half scale model of it.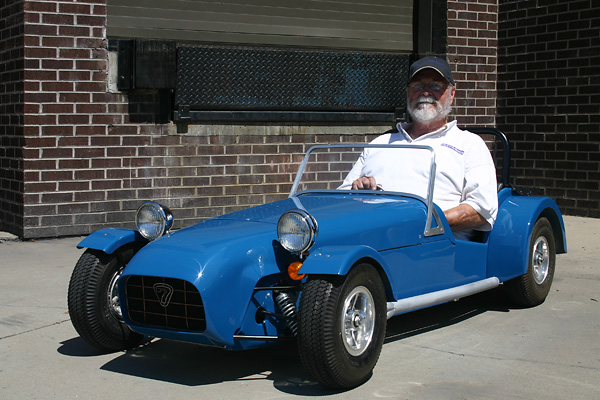 The Baby Seven is a single seater, though with enough legroom for an adult driver.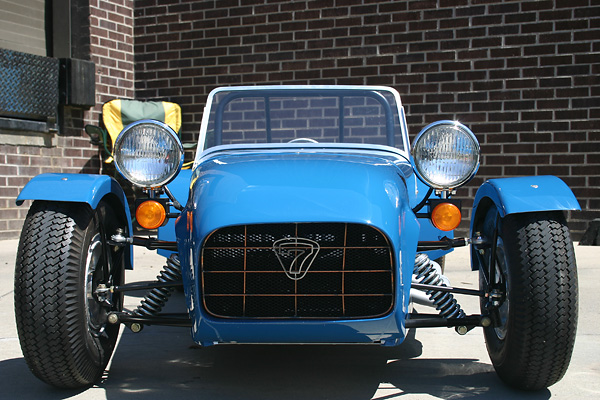 Front suspension is independent, with coilovers and tubular A-arms. Forward legs of the upper
A-arms are extensions of the front anti-sway bar. That's an authentic feature of early Sevens,
following Colin Chapman's idea that every component should serve more than one function.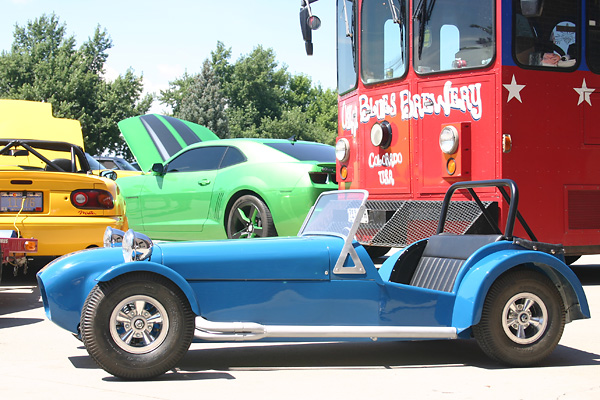 Throttle and brake pedals function conventionally, and both pedals are adjustable for driver comfort.
The throttle is connected to the engine via a cable. A single hydraulic wheel cylinder from a
mountain bike acts on a lightweight rotor that's attached to the lefthand half of the rear axle.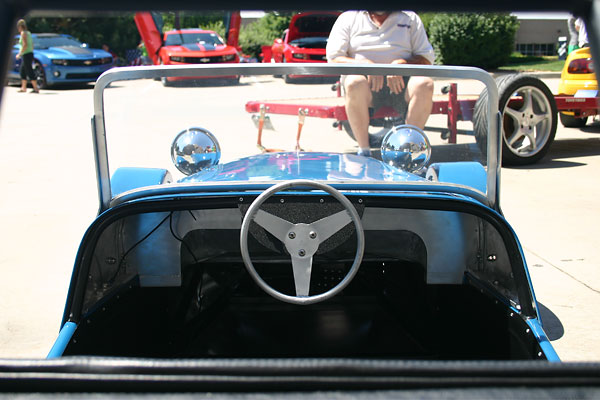 The steering wheel only spins one third turn, lock-to-lock, so steering is extremely sensitive.
The wheel turns a shaft with a lever welded to its forward end. Tie rods connect to the lever.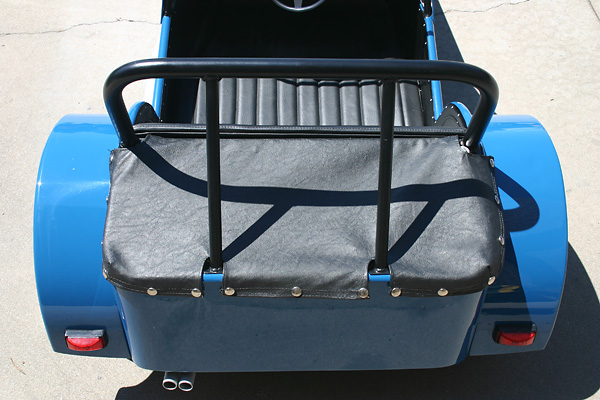 A Predator 100cc 4-stroke 3.5hp engine is hidden behind the cockpit beneath a vinyl cover.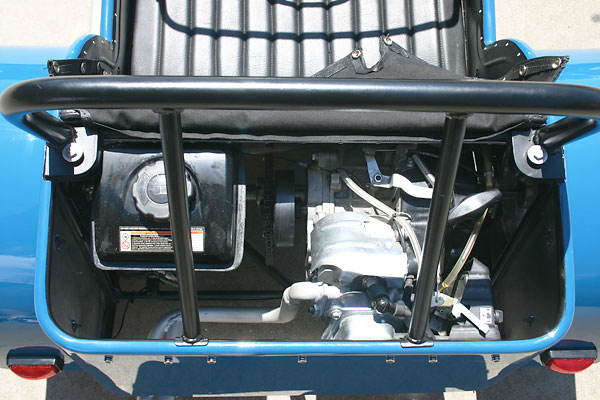 A solid axle on pillow block bearings is connected to the engine via chain and sprockets.
One wheel is keyed to the axle shaft while the other is free wheeling.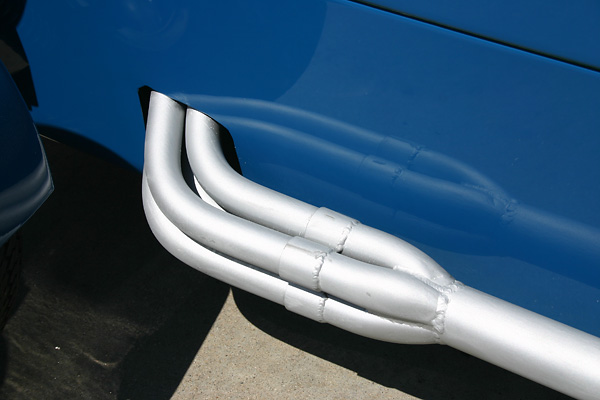 Drive is engaged via centrifugal clutch, so there's no clutch pedal.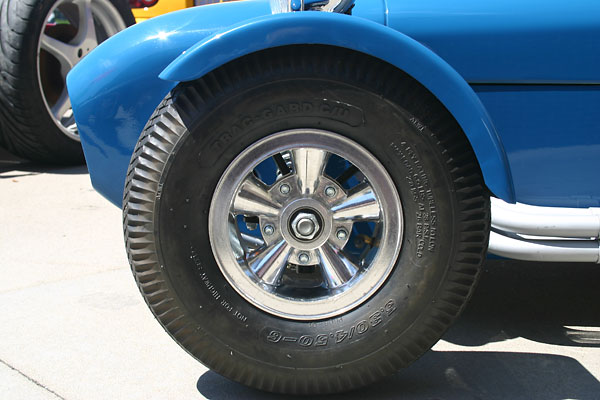 Top speed is close to 35 mph!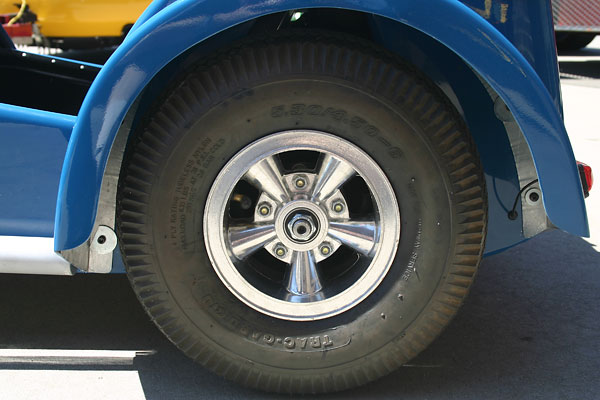 This is the fourth miniature Seven that Beauchamp has constructed. The earlier ones
used either 25cc 2-stroke weed whacker engines or small electric motors.