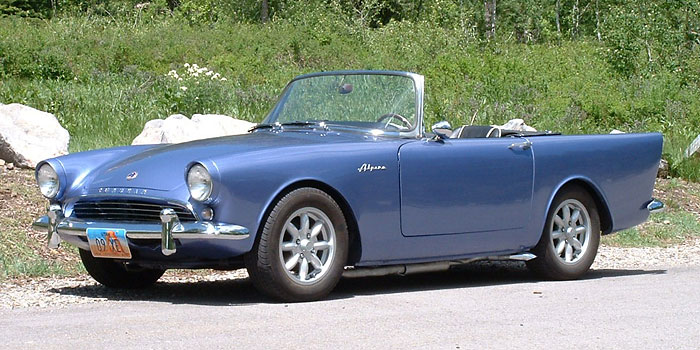 Rob Wiseman's Ford V6 Powered 1961 Sunbeam Alpine
as published in British V8 Newsletter, Volume XIV Issue 3, December 2006
Owner: Rob Wiseman
City: Provo, UT
Model: 1961 Sunbeam Alpine Series I
Engine: Ford 2.8L V6 (from a 1974 Mustang II)
Conversion performed by: Owner
Intake:
Stock Mustang II carburetor.

Cam:
Mild, but not stock.

Exhaust:
Custom headers, dual exhaust and turbo mufflers.

Cooling:
Stock Alpine radiator (re-cored with heavy duty core).

Transmission:
Borg Warner T5 five speed from a V8 Mustang. Mustang II clutch. Driveshaft from a Ford T-bird.
To fit the T5 transmission, the tunnel has to be cut up to the firewall on the drivers side and pushed out about 1.5 inches. The rear of the tunnel has to be cut and re-shaped to fit the transmission too.

Rear Axle:
Stock Alpine.

Suspension:
Stock Alpine (rebuilt) front and rear, including rear lever shocks.

Brakes:
Stock Alpine.

Wheels:
Minitor (Minilite replica 8-spoke) 14x6 wheels with 185/65R14 tires.

Electrical:
Painless Performance wiring harness. Dolphin Electrical gauges. Neat trick: Rob had a local machine shop make tapered aluminum adapter rings to accomodate the smaller outer diameter of the aftermarket tachometer and speedometer. The rings have been highly polished, and they look great!

Body/Interior:
Stripped to bare metal, repaired, and painted with basecoat/clearcoat (about four layers each.)
New windshield, new dash, new seat covers (on old seats) and new carpet.

Curb Weight:
2450 pounds.

Miles Driven:
Approximately 2000 since completed in May 2004.

Sources:
Most of the conversion parts (including engine mounts, transmission mount, headers, steering linkage, and pilot bearing) were purchased in a kit from "V6 Joe" (aka Jose Rodriguez). The kit components worked well.

Comments:
When I was thinking about doing this conversion, I'd never even worked on an engine or other car parts. I called V6 Joe and he said he could talk me through the conversion on the phone. He did just that! I spent many nights talking to Jose about how to do this or do that.
When it was all said and done, I had so much fun that I have started another conversion from a parts car I bought. This one will have upgraded performance in the engine, brakes, clutch, lighting, brakes, etc.