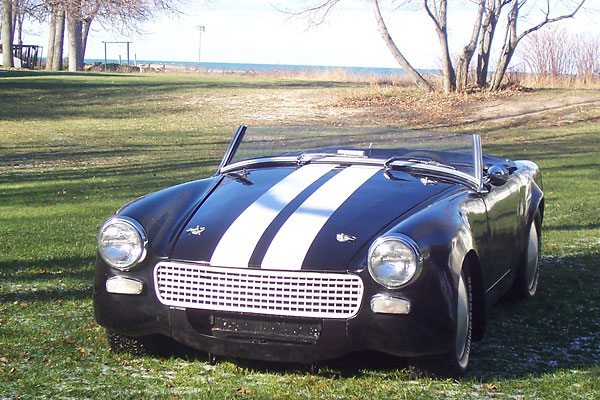 Rick Bondy's Zetec Powered 1961 Austin Healey Sprite
as published in BritishV8 Magazine, Volume XVII Issue 1, July 2009
Owner: Richard Bondy
BritishV8 UserID:
rickbondy
City: Northville, MI
Model: 1961 Austin Healey Sprite (MkII)
Engine: Ford 2.0 liter "Zetec"
Conversion performed by: owner
Saga of the Zetec Sprite
In 1992 our family was building a second home. There were plenty of cars, both old and new, and I was doing everything possible to avoid another automobile purchase. I was pounding nails; not spinning wrenches. I was buying construction materials, rather than car parts. Of course the inevitable happened and I purchased another project that could not be justified to anyone, not even myself. A medical doctor who lived next door to my father decided to end his SCCA racing career.

The car was a 1961 Sprite Mark II, built to compete in SCCA's "H-Production" class. A fresh 948 cc engine had just been returned from the engine builder and was still in the wooden crate. The Sprite had been raced since 1977 and all of the original metal was in superb condition with the exception of the front fenders that had been involved in way too much nudging to be saved. The price was reasonable. We pushed the race car into my father's garage.

The plan to let the car sit vanished within a couple of days and it was suddenly all over the driveway. We decided to restore the car with a minimum number of modifications: just enough to drive the Sprite on the street. At that time, our two daughters were teenagers and we thought the Sprite might provide a great opportunity for the kids to drive an old sports car through the rural area around our vacation home. It would be a very inexpensive project. If the car incurred a little damage here or there the world would not fall apart.
The Sprite was stripped to bare metal, and new fiberglass rear fender flares, front fenders, and hood (all from Winner's Circle) were fitted. We painted the car in black lacquer. The Sprite looked pretty dull in black without any chrome trim, so a white racing stripe went over the top. BR60x13 radial tires went on Vega 5 inch wheels and they were covered in Moon full wheel hupcaps. Cobra seats, lights, and all of the required stuff just fell right into place. We installed a Painless hot rod wire kit (#90501), and decided to locate the fuseblock inside the trunk on the bulkhead.

The car now looked great, but the "full race" motor had an unacceptable idle and shifting at 9,000 rpm didn't suit driving in the real world (even in an area with little more than mother nature's critters!) We quickly moved into "Phase Two".

The next major step was to attempt to civilize the motor. The full race cam was replaced by an autocross spec unit and a different cylinder head was substituted to reduce the compression ratio. Predictably the car became somewhat easier to drive - but it still wasn't much fun. It had high rpm power, but not enough torque! The little 948cc was somewhere between stock and full race. It made plenty of noise but the car didn't accelerate as well as we hoped. The rear axle ratio was changed from 4.22 to 4.55 to one - and then back to 3.72 to one. All in all, it really didn't change the prognosis.

Although Phase One and Two had transpired with reasonable speed, Phase Three would require more substantial investment in both time and money. I was employed at the Ford Motor Company at this time, and I developed an interest in potentially installing a Ford Zetec 2.0 liter engine in the tiny Healey. Cosworth Engineering had originally been involved it the engine's design. It was very robust and it could be modified up to 250 horsepower. Although peak power usually occurs at 6,000 rpm, it could be spun up to 7,100 rpm. The motor has double overhead cams and four valves per cylinder in an aluminum head. The Zetec was manufactured in both England and Germany, in various displacements from 1.3 to 2.0 liters, and it was installed in Ford products around the globe. Here is the US it was used in the Contour, Cougar, and Focus. With wide applications in the US, the wrecking yard prices for complete low mileage examples are cheaper than purchasing a single performance part for some other makes. (Typical recycler prices range from $400 to $1,250.) On the other hand, one can purchase a complete, new "SVT" (Special Vehicle Tuning) engine from Ford.

One negative of the Zetec engine is that it was always installed by Ford in an "east /west" (transverse) configuration for front wheel drive products. The engine cants rearward at approximately a 7.5 degree angle to allow for a low hood line and increased vision line to the pavement ahead. Thus, the oil sump and oil pickup assembly aren't really well suited for a rear wheel drive application. There are no side motor mounts, and the engine attaches at the front through the serpentine belt.

These issues can all be overcome, I knew, because various "Super Seven" derivatives utilize the Zetec engine. The next step was to visit Great Lakes Caterham in Milford, Michigan. The owner Jim Constas assisted me in measuring various configurations. I came to the conclusion that with modifications the motor might fit, but it was going to be very close. I decided to purchase a Zetec engine and give it a try. If everything failed, my fallback position would be to use the engine in a Super 7.

My 2.0 liter Zetec was removed from a wrecked 1999 Cougar with 11,642 miles. The difference between the automatic and manual motors are the ignition trigger sensor (flywheel-mounted tone wheel) and the length of the pinion on the starter motor.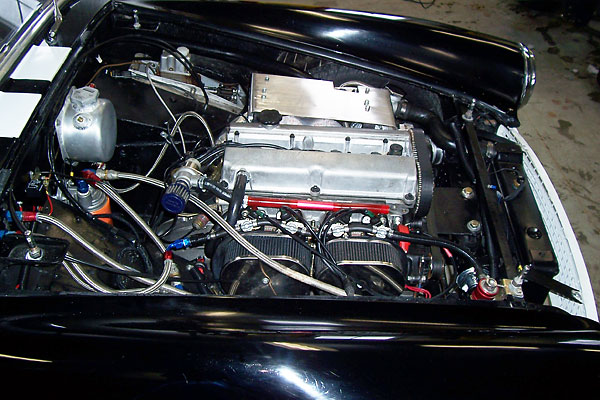 Many Super Sevens use a Borg Warner T9 transmission. (It's sometimes referred to as a Ford "Type 9".) The T9 is a 5-speed manual transmission with overdrive. In North America the Borg Warner T5 5-speed is more common and inexpensive because it was used in many more cars including both Mustang and Camaro, but there are advantages to choosing the T9. The T9 was originally a four speed unit that was subsequently redesigned with an additional overdrive ratio in a larger tailshaft housing. Subsequently, it's a very narrow package. It easily fits in the extremely narrow Sprite transmission tunnel. Unfortunately the only T9 product imported into the U.S. market was the Merkur. The T9 was widely used in Ford products throughout England and Europe.

The T9 transmission had different gear ratios for four and six cylinder applications, and different input shafts too. The six cylinder versions are generally more suitable for performance applications, due to gear ratios. I purchased mine from Caterham. (It has the following ratios: 1st = 3.36:1, 2nd = 1.81:1, 3rd = 1.26:1, 4th = 1.00:1, 5th gear 0.82:1.)

To install the transmission, I purchased everything need from the Morris Minor Center in Birmingham, England. This included the drive shaft (29.25 inches), speedometer cable, cross-member, and various bits of incidental hardware. Everything came with great instructions, and the installation was quite simple. This was in early 2001 and by now these items are available through various vendors in the U.S. A new speedometer cable hole was drilled in the side of the transmission tunnel, and the top of the tunnel was enlarged just in front of the shifter location to compensate for the increased height of the tailshaft. A new tunnel cover and boot were fabricated and the shifter was shortened. The shifter location is perfect.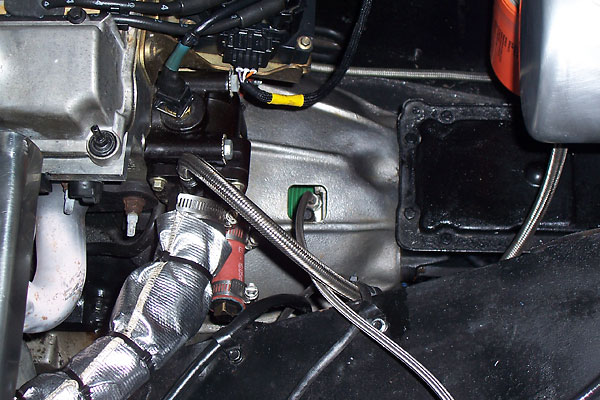 My order to Caterham included an alloy bellhousing, clutch and flywheel kit, sump kit, and many other items included in their basic Zetec installation kit for a Caterham. For the Sprite many items from this kit were not utilized, plus I went back and purchased other Caterham pieces along the build process.

The Caterham alloy bell housing and clutch pieces include a number of fabricated pieces to utilize an annular clutch bearing (aka: HTOB or "hydraulic throw-out bearing"). For the Sprite, this is terrific since very little space exists for a clutch release arm. I found out the hard way after two annular release bearing failures (motor removal) that the capacity of the stock Sprite clutch master cylinder exceed the hydraulic capacity of the release assembly. I've finally determined the exact distance the clutch pedal can travel without blowing the bearing seal, and I've fabricated a pedal-stop on the floor. Finally no more clutch failures! Looking back, this was one of the most frustrating events during the development mileage.

The Zetec motor won't fit without some custom fabricating - but with careful modifications to accomodate engine placement I was able to get the engine low enough that the hood would close. The Sprite features a unibody chassis with frame extensions in the engine compartment area. The frame extensions are stamped sheetmetal with a spot welded flange. This flange interfered with the width of the Raceline sump assembly which had been purchased through Caterham. I cleaned and folded the small flange over. Seam sealer and paint completed the modification. The pan will just fit between the rails. The oil drain plug is on the passenger side of the pan. Once the installation is completed, you'll just be able to loosen the drain. If you want to remove it completely you'll have to loosen the engine mounts and slide the motor towards the driver's side.

The cast aluminum sump is quite short and allows the engine to fit under the hood. The engine oil filter will not fit and a remote oil filter was installed on the cowl. With a Fram HP-1 filter, the oil capacity is 5.75 quarts. I found that 5w30 oil really does work best. 20w50 racing oil creates extreme pressure.

The next step to fit the motor between the main rails is notch in both rails about 4 inches long and a half inch wide and tall. This notch was subsequently boxed-in with 1/8 inch angle iron. This allows the bell housing to sit low enough between the rails and insure a proper relationship between the tailshaft and the differential pinion.
There is a chrome moly round tube roll bar under my Sprites instrument panel. The tubing extends from the floor up behind the dash and terminates again at the floor. From each side main front frame rail at the suspension pickup point tubing extends rearward and ties into this hoop. All of the remaining SCCA tubing was removed and the car is amazingly rigid.

The main front cross member which ties the frame rails together and serves as the mount for the steering rack was permanently removed. This was required since there is not enough room for the Zetec oil pan and crank pulley. The new crossmember was puts the steering rack in an ideal position to avoid bump steer, and also locates the front motor mounts and the radiator. It is generally box-like in shape, with the top sloped at 7.5 degrees to mount squarely to the front to the motor. It was designed to be removable; it simply bolts to the frame extensions. The motor and transmission are removable now by sliding them forward on dolly once the crossmember is unbolted. No more lifting! Caterham rubber motor mounts were used along with a custom steel bracket which attaches through the center of the serpentine belt.

To keep the serpentine belt rotating correctly, an idler pulley and billet bracket were purchased from Caterham. A Caterham radiator was also used. A miniature single wire alternator was attached using fabricated brackets.

There's little room between the engine block and the steering shaft, so I used a Ford Focus exhaust header. The four tubes sweep upward and then join into a collector allowing sufficient space. I used 1 7/8 pipe for the remaining exhaust system. Because of the proximity of the header to the hood, I used a stainless steel heat shield over the header and also installed an aluminum multi-layer blanket to the underside of the fiberglass hood.

The most difficult part of the conversion was the engine management system. For years I attempted to use the Ford ECU and harness. I considered every option I could research. Eventually I purchased a complete Alpha Gold System from Webcon UK (www.webcon.co.uk). This kit supplies absolutely everything you'll need.

The main features are Webers modified for port fuel injection, ECU, and entire engine harness. All of the numerous components are original equipment quality and the entire kit was labeled and came with the best installation manual I've ever seen.

Webcon UK does not have any US dealers although 57 of the above kits were installed on Superformance S1's which were sold here. I spoke at length were their sales and engineering director prior to my purchase. The stock motor grows from 135 hp to 171 hp with this kit according to dyno tests. I did some serious porting and polishing of the intake manifold and coupled with my exhaust header 175 to 180 hp is probably a conservative estimate for my engine's performance. This is a costly investment, but knowing what I know now I wouldn't entertain any other course of action.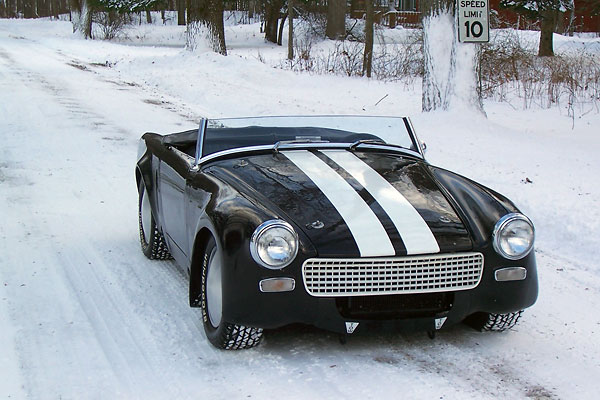 The Michigan climate provides weather extremes, but the modern electronic fuel injection system can't be beat for starting, idling and running in all conditions. I have all of the wonderful handling attributes of an H-Production Sprite racecar with the engine performance of a very hot modern sports car. 180 HP divided into 1,450 pounds is a little over 8 pounds per horsepower. A 4,000 pound car would require about 497 hp to run with my little Sprite.

I'm currently using the 3.72 ring and pinion which is a great street combination with the T9 transmission. 60 mph can be reached without leaving second gear (at 6,000 rpm). Top speed at 6,000 rpm is estimated at 133mph. At 6,600 rpm, the car could be 146mph.

The stock Sprite speedometer only goes up to 100 mph. I destroyed mine in short order, and subsequently fitted an MGB speedometer which registers to 120 mph.

At the completion of the project I achieved my major goal of keeping the weight of the Sprite at 1,450 pounds and thus not diminishing the balance, steering feedback, or road holding.

Knowing what I know today I would describe this conversion as quite "do-able" for most garage freaks. The amount of cutting of the Sprite's bodyshell was relatively minor. The final outcome greatly exceeds my initial expectations. Boy, how 16 years can blow by!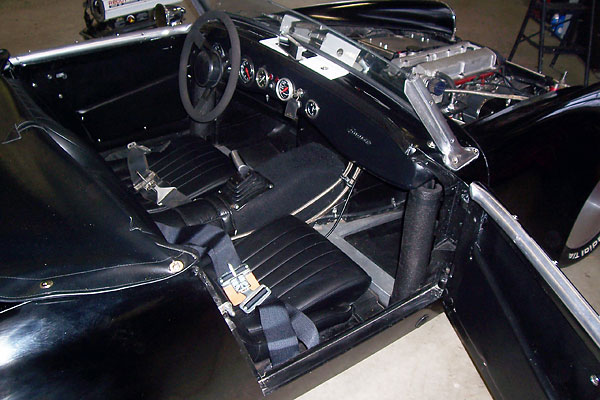 How It Was Done
Engine:
Ford "Zetec" 2.0L DOHC 4-valve-per-cylinder (1999 Mercury Cougar) with Webcon "Alpha Gold" induction and engine management system (PN: K20016 - ECU & port fuel injection). Engine redlines at 6,000 rpm, Rev-limiter (in ECU) is set for 6,600 rpm. 45mm throttle bodies. Pico fuel injectors. Stock Ford camshafts. (Note: the servo for variable exhaust timing has been disabled.) Raceline (5.75 qt) low-profile, cast aluminum oil pan with windage tray. Fram HP-1 remote oil filter with Aeroquip braided lines. Lotus engine idler system and serpentine accessory drive belt. High output one-wire mini alternator mounted on custom brackets.

Cooling:
Caterham "Super 7" radiator and electric fan. Spun aluminum coolant overflow tank.

Exhaust:
modified Ford Focus header, stainless heat shield, and custom (1 7/8") straight flow exhaust system.

Fuel system:
ATL Fuel Cell, filler foam, and anti-tip valve. Aeroquip fuel lines including return circuit. Inertia switch for the fuel pump is located in passenger's footwell. (Note: safety foam in the fuel cell prevents use of a lever-arm fuel sensor, but it also dissipates returned fuel. If the foam were removed, a swirl pot will be required.)

Transmission:
new Borg Warner (Ford) T9 5-speed transmission (as used in the Sierra and Merkur, 1st:3.36, 2nd:1.81, 3rd:1.26, 4th:1.00, 5th:0.82, R:3.87.) Lotus bell-housing. Annular (HTOB) clutch release (Ford PN: F5RZ-7A508-B). Caterham lightweight flywheel, heavy duty clutch, & pressure plate. Custom driveshaft (29.25" long) with safety hoop. Clutch master cylinder has been re-sleeved in stainless steel.

Rear Axle:
stock axle with 3.72:1 gear and open differential in aluminum carrier. (Current ratio will get car to 60mph in second gear. 4.22 and 4.55 gears are kept in reserve.) High strength axle shafts. New bearings and seals.

Front Suspension:
reduced height racing coil springs. Adjustable bushings for setting camber. (Currently running about 2 degrees of negative camber.) 7/8" roll bar.

Rear Suspension:
offset racing-spec leaf springs. Rose jointed radius arms. Custom Panhard bar.

Wheels/Tires:
Chevrolet Vega 13x5, 4-on-4", 0.20" offset, steel wheels with BF Goodrich "Radial T/A" 205/50 tires. Oversized wheel studs and 0.25" aluminum spacers.

Brakes:
(front) Sprite MkIII front disc brakes.
(rear) stock drum brakes.
Master cylinder has been re-sleeved in stainless steel. Aeroquip brake hoses.

Chassis:
main frame rails have been modified for increased width. A cowl hoop is hidden under the instrument panel, with diagonal supports running forward from it to the front subframe (all constructed from chrome-moly steel tubing.) Custom front crossmember with Caterham motor mounts and revised steering rack location. Custom transmission crossmember and modified tunnel.

Body:
fiberglass front and rear fenders with large flares. Mark I doors (no window mechanisms). Reinforced fiberglass hood (mounted on pins.) Original floor and trunk (no rust). Custom aluminum rear bulkhead. Bumpers removed and bumper holes filled. All chrome trim removed. Front valance with enlarged air intake. Chopped windshield (4.5"). PPG lacquer (no clear coat). White stripes (tape).

Interior:
fiberglass instrument panel with Stewart Warner gauges except for a Smiths speedometer from an MGB (with 120mph top speed instead of 100mph). Cobra bucket seats with Simpson competition seat belts. Race steering wheel with chest pad. Custom armrest, carpet, and rubber mats. Aluminum floor trim. Fire extinguisher.

Electrical:
ECU is located under the instrument panel on the passenger's side. Painless wiring system (PN: 90501) installed with fuse panel in the trunk. Trunk mounted battery. Battery tender. Exterior-mounted master cut-off switch.

Weight:
1,450 pounds (wet) - approximately 8# per horsepower!

Performance:
approximately 175-180hp at the wheels. (Webcon dyno-tested the engine before installation of the current exhaust header, and before porting and polishing of the intake manifold. It was at 172hp in that configuration.)

Completed:
June 2006.


Comments:
From 1977, this car was SCCA "H-Production" race car. (It was purchased by Richard Bondy in June 1992.)

A modern multi-port fuel injection system with a custom programmed ECU is the only way to go if you want your Sprite to perform perfectly each and every day. It's wonderful never having to make excuses. This was my first Sprite conversion; the next one could actually be quite painless. Try it, you will like it!

Engine Installation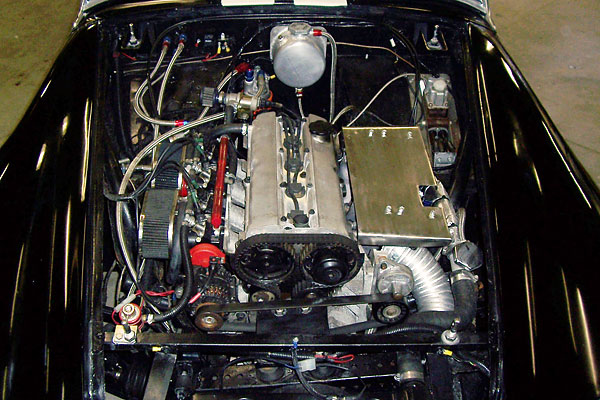 Ford Zetec 2.0L DOHC (1999 Mercury Cougar) with Webcon Alpha Gold induction/engine management.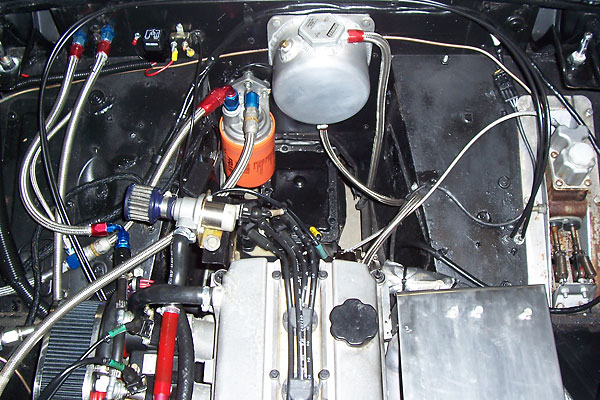 Fram HP-1 remote oil filter with Aeroquip braided lines. Aluminum coolant tank.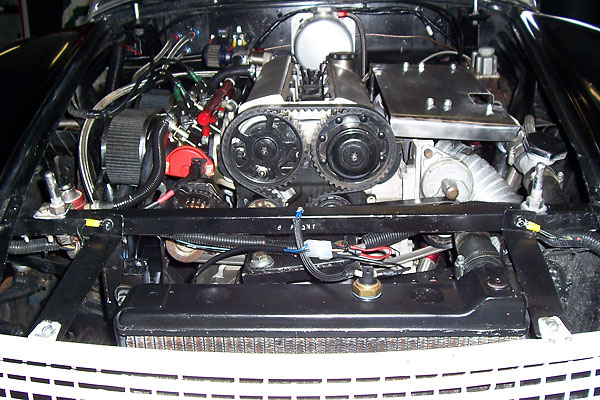 Stainless steel exhaust heat shield.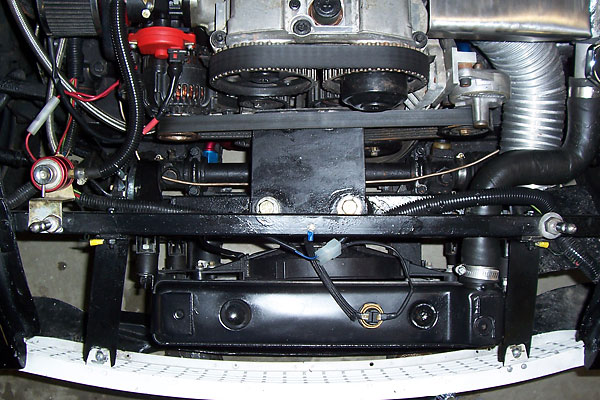 Caterham Super-7 radiator and electric fan.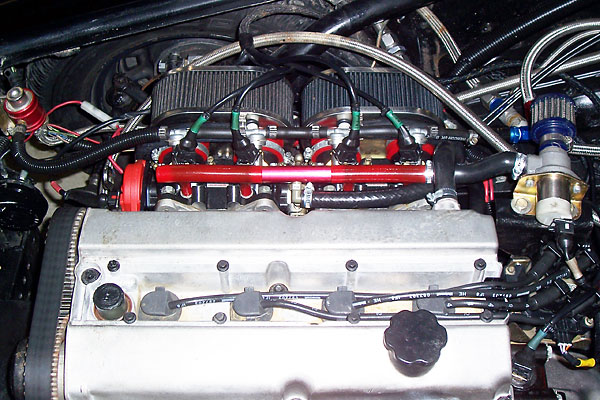 45mm throttle bodies. Pico fuel injectors.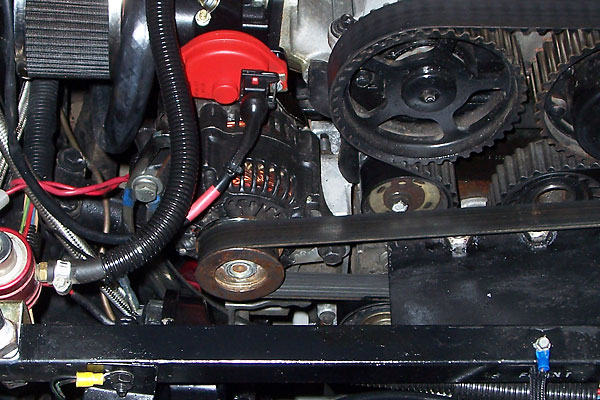 High output one-wire mini alternator mounted on custom brackets.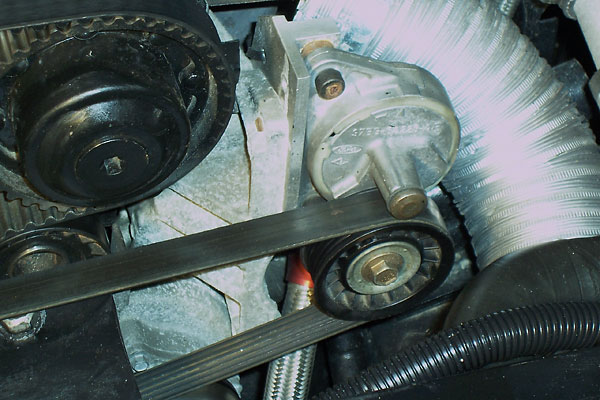 Lotus engine idler system and serpentine accessory drive belt.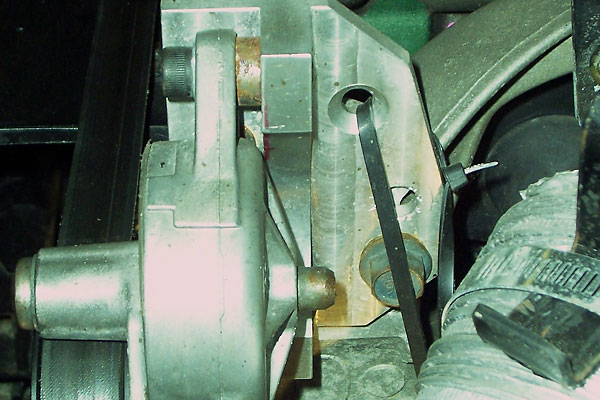 Side view of Lotus idler pulley.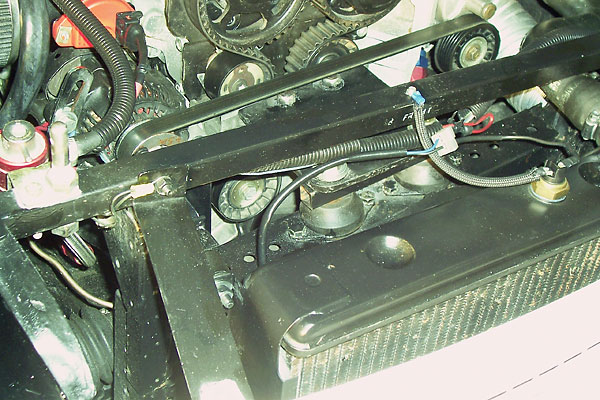 Custom front crossmember with Caterham motor mounts.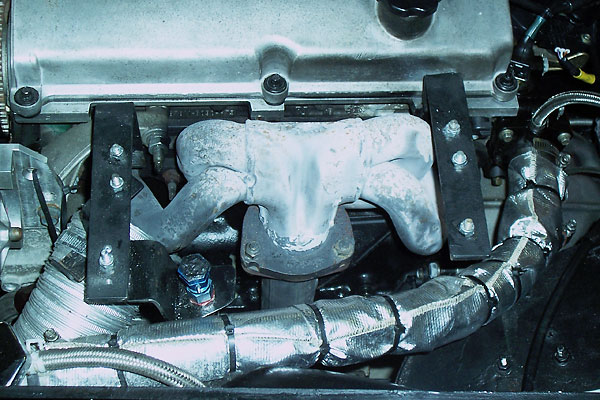 Modified Ford Focus header.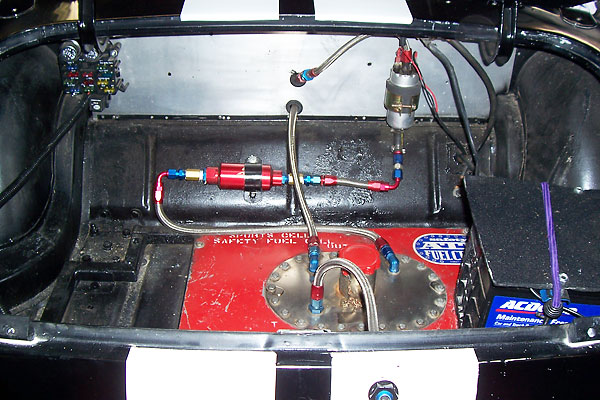 ATL Fuel Cell, filler foam, and anti-tip valve.


Suspension Details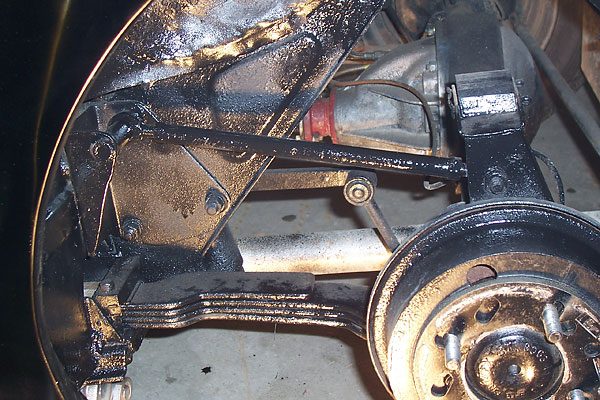 Offset racing-spec leaf springs and rose-jointed radius arms.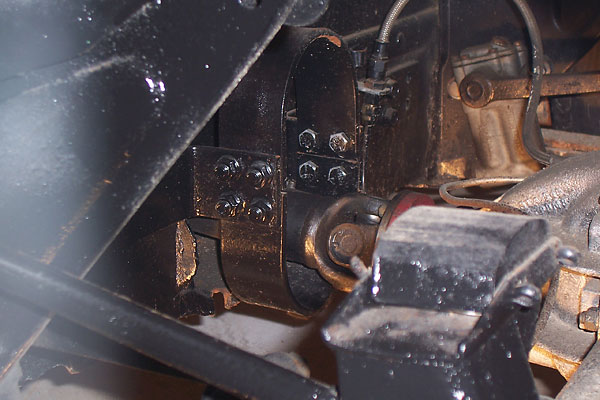 Custom driveshaft (29.25 inches long) with safety hoop.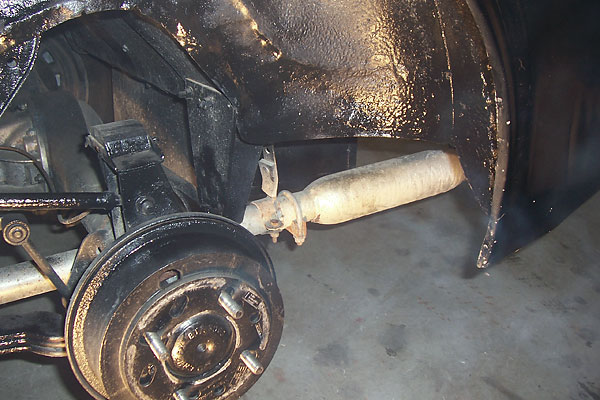 Stock Sprite drum brakes, and custom 1-7/8 exhaust system.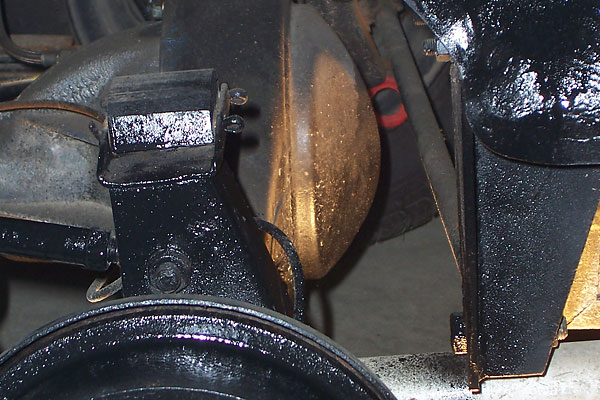 Custom Panhard bar.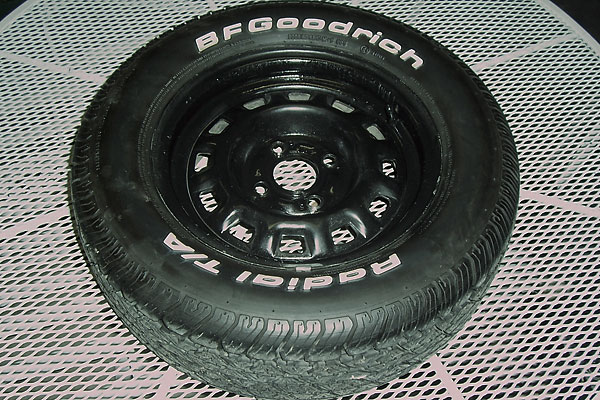 Chevrolet Vega 13x5 steel wheels with BF Goodrich Radial T/A 205/50 tires.


Enjoying this article? Our magazine is funded through the generous support of readers like you!
To contribute to our operating budget, please click here and follow the instructions.
(Suggested contribution is twenty bucks per year. Feel free to give more!)
Interior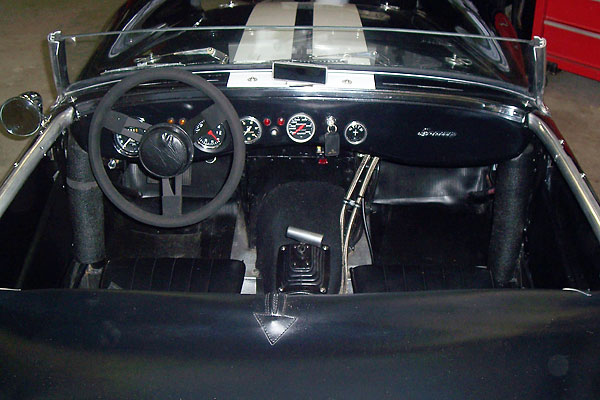 The cowl hoop from the old roll cage is hidden behind the instrument panel.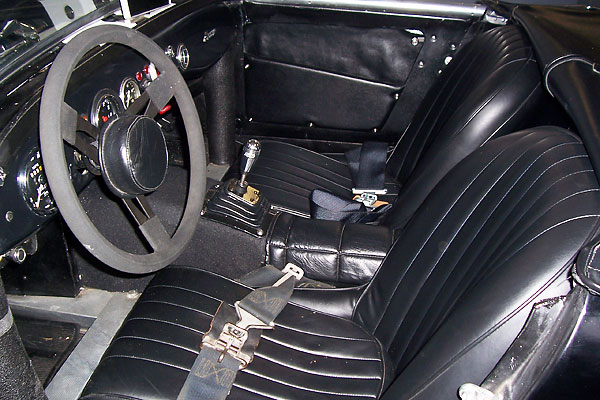 Cobra bucket seats with Simpson competition seat belts.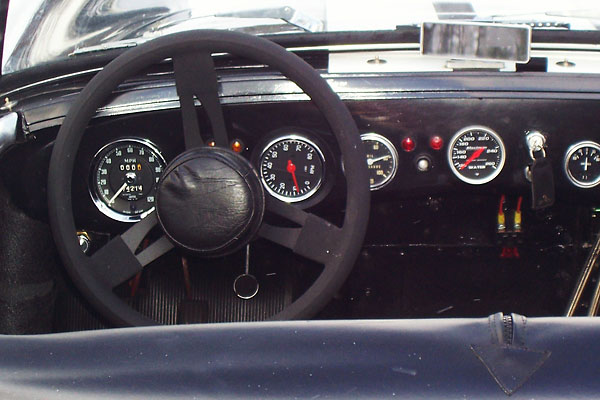 Stewart Warner gauges except Smiths MGB speedometer (120mph top instead of 100).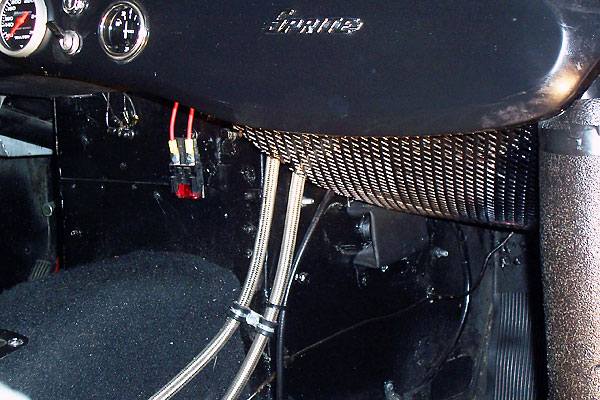 The engine ECU is located under the instrument panel on the passenger's side.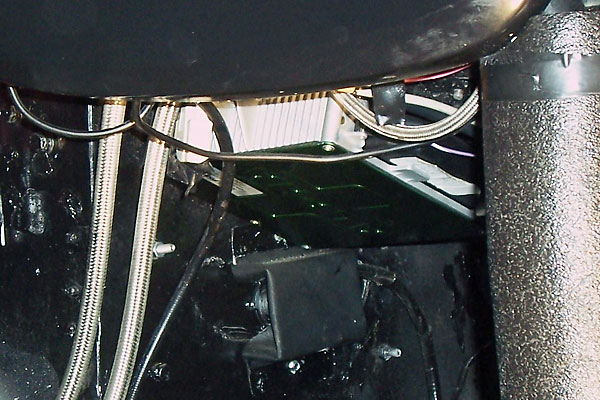 A screen protects the ECU and wiring.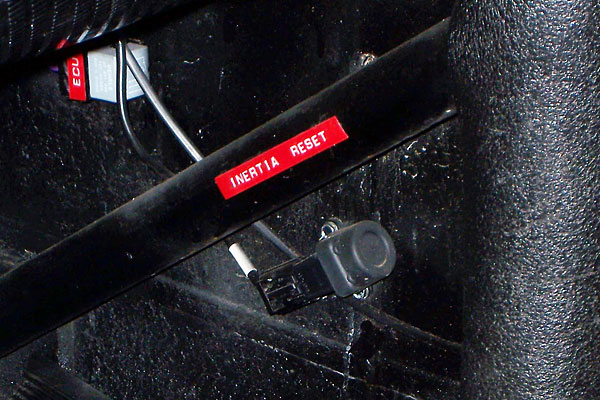 Inertia switch for the fuel pump is located in passenger's footwell.


Exterior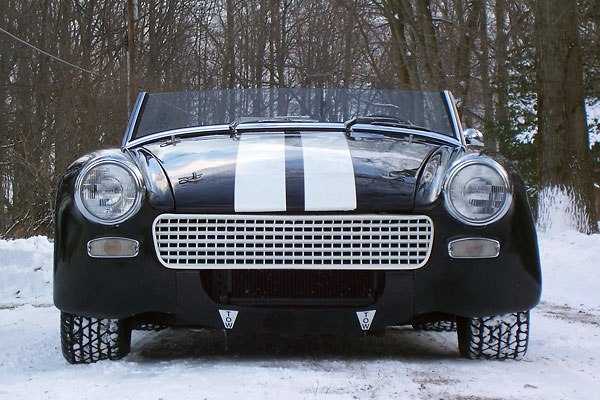 Fiberglass hood, front fenders and valance (with enlarged air inlet and filled bumper holes.)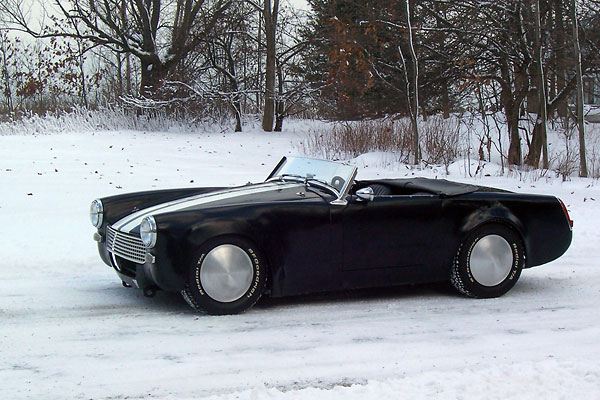 The windshield has been chopped 4.5 inches, and the top trim has been removed.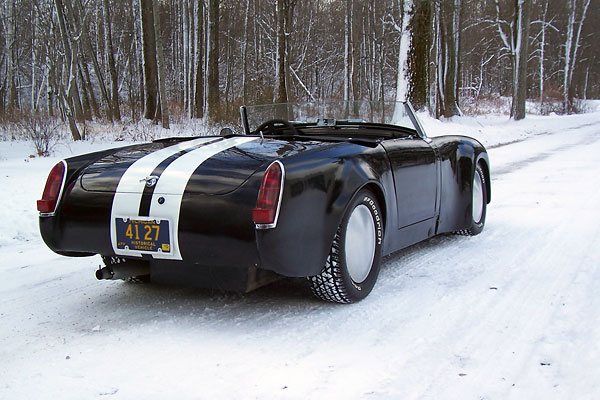 Fiberglass rear fenders with generously sized flares complete the racecar look.