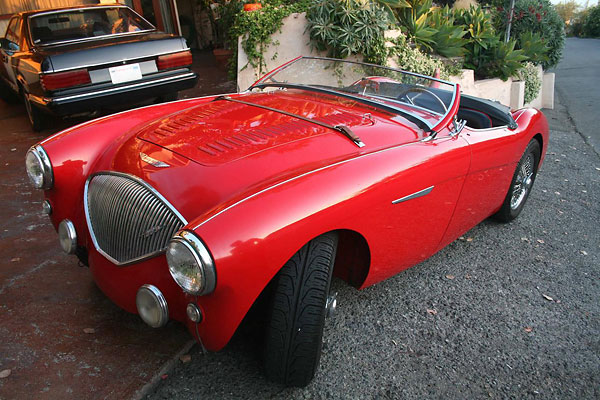 Norman Rest's 1956 Austin Healey 100 with Ford SHO V6 Engine
as published in BritishV8 Magazine, Volume XVI Issue 2, October 2008
Owner: Norman Rest
BritishV8 UserID:
HEALEY
City: Laguna Beach, CA
Model: 1956 Austin Healey 100 (BN2)
Engine: Ford SHO 3.0 DOHC V6
Conversion by: Rich Grauman
Executive Overview
Engine:
Ford SHO 3.0L (2986cc / 182cid) DOHC/24-valve (dual overhead cam, four valve per cylinder) sixty-degree V6, with iron block and aluminum heads, and with a forged crankshaft.

Cooling:
AFCO dual-pass aluminum radiator. Spal electric fan.

Exhaust:
custom 3-into-1 headers (1.625" primaries to 2.375" collectors). Dual Dynomax mufflers. 2" exhaust pipes.

Transmission:
Borg-Warner T5 5-speed transmission (from a 1994 Mustang GT), mounted to an Aerostar bellhousing, subsequently mated to the engine via a milled 1/2"-thick aluminum adapter plate. (See below.) The pressure plate is stock "SHO". Mustang II (2.8L V6) clutch disc. Note: the original SHO design didn't utilize a pilot bearing due to its short transmission shaft, but as installed here additional support was required so a bronze pilot bushing from a small block Ford V8 was turned-down to fit the SHO crankshaft. Hydraulic throw-out bearing.

Rear End:
10-bolt GM rear axle (1962/4 version) with posi-traction and drum brakes. New 4.11:1 gear set.

Suspension:
(front) stock, except with telescoping shocks and modified MGB steering rack. (See below.)
(rear) stock, except with telescoping shock absorbers.
Brakes:
CNC 7/8" master cylinder mounted on a custom bracket. Wilwood 2 lb residual pressure valves. Front disc brakes utilize the original calipers except with spacers to accomodate Porsche 11" vented rotors. Rear disc brakes feature Ford SHO calipers and 10.5" Cadillac vented rotors.

Wheels:
Dayton SS 15x5 wire wheels with Pirelli 195/65 tires.

Completed:
first driven in March 2003, with subsequent modifications (steering, cooling, etc. through about July 2006), completed before purchase by Norman Rest.

Comments :
see below.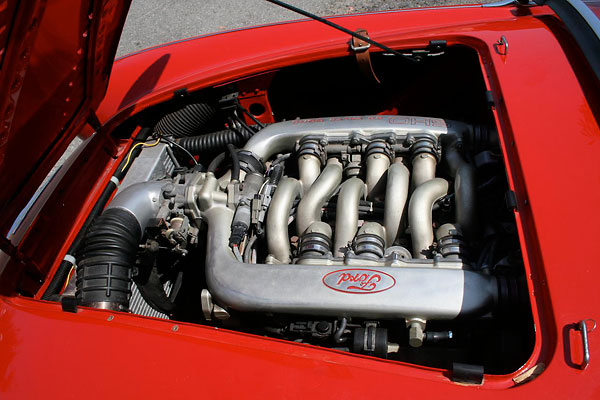 How It Was Done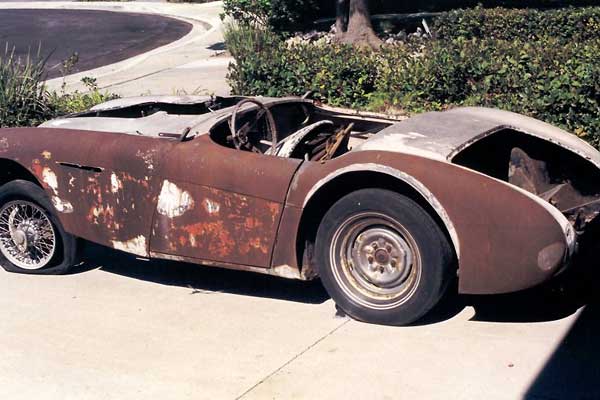 The Healey had been sitting in a backyard in the California desert for about 20 years.
Apparently it had been a drag racer in the sixties, with a Chevy big block and rear axle.
The axle remained in place: a 10-bolt with posi and 4.56 gears - but the engine and
transmission had been parted from the car many years ago.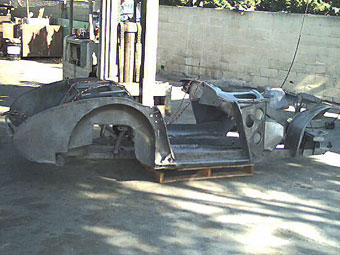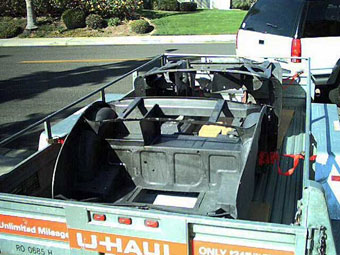 The body was disassembled and the frame and steel panels were acid-dipped to remove rust.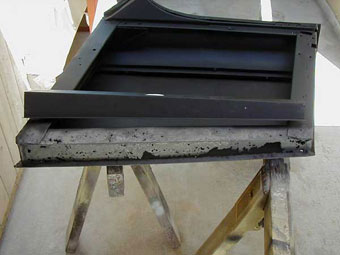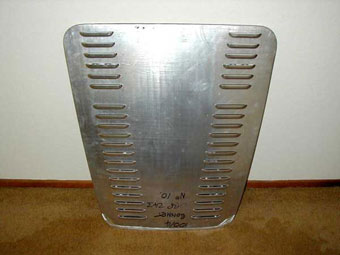 Obviously, many rust repairs were necessary. For example, the bottom of this door needed replacement.
Since the original bonnet was crushed beyond repair, an aftermarket aluminum bonnet was selected.
Modeled after the Le Mans racers, it came with 36 louvers and space for a leather "safety" strap.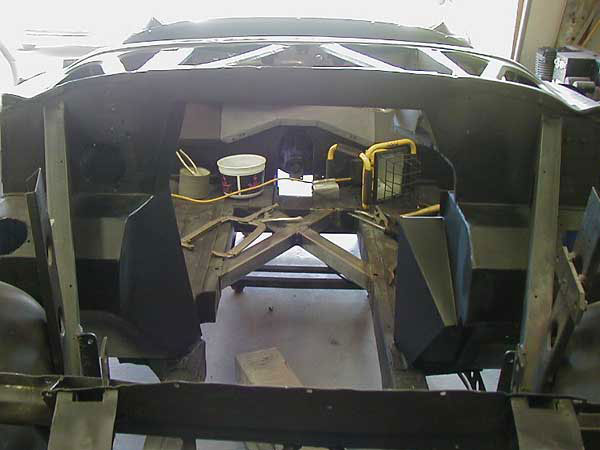 The car was put on jack stands at the axles to duplicate chassis loads when on the road.
This allows replacement of chassis parts without having them go out of alignment afterwards.
The main frame rails were in good condition, but reinforcements were strategically added.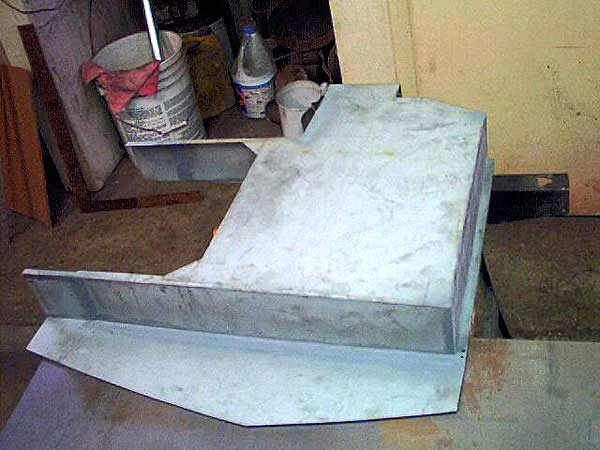 Since the engine bulkhead was removed for the Healey's previous life, I just built a new
one around the engine. Reinforced with a 2x2 box frame with a removable panel from the
inside of the vehicle. It actually intrudes less than the original. The footwells were
already narrowed, so I angle them toward the center of the vehicle at the new bulkhead.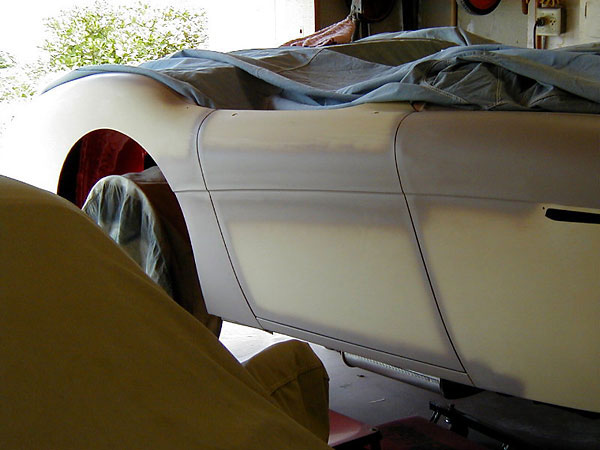 After getting the chassis correctly-stressed and repaired, it was time to carefully align all the parts.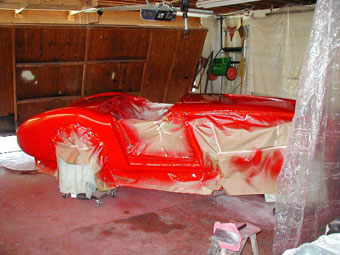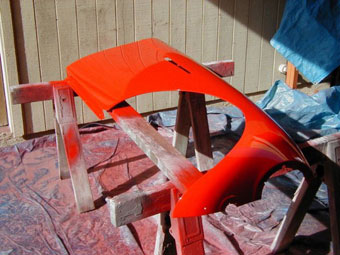 The body was chemically cleaned and derusted, then coated with a phosphate solution for protection. Seams were
sealed and the entire car was primered in PPG "DP90" epoxy. The frame was painted in color, and then body panels
were painted with a two-part urethane primer/surfacer for buildup and sanding to achieve a refined surface for
final color coats. The front fenders, hood and trunk lid were painted off the car. A single stage PPG catalyzed
urethane in Ferrari "Rosso Red" was selected (instead of a more modern basecoat/clearcoat paint system) to give
a more authentic "vintage" appearance. The paint flowed out so well that color sanding with 2000 grit wet/dry
was all that was needed to remove surface dust and traces of "orange peel".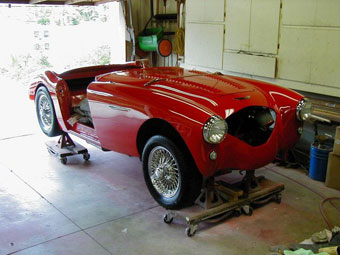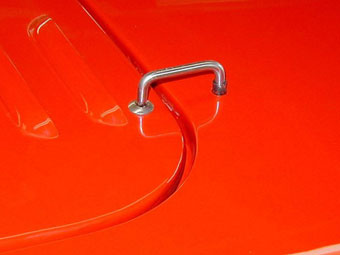 With color sanding done, assembly of the body came next. A few details were inspired by vintage racers
and Healey's own limited-production "100S" model, including these custom fabricated hood latches.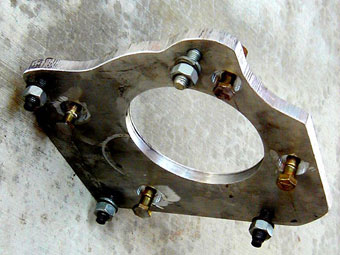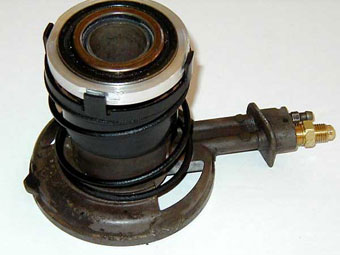 The Ford Taurus SHO was a front-wheel-drive car with a transverse-mounted engine installation. To convert
the engine for longitudinal installation rear-wheel-drive use, a 1987 Ford Aerostar bellhousing was mated
to a 1994 Mustang GT's Borg-Warner T5 transmission with a home-made 1/2" thick aluminum adapter plate. It
should be noted that the 1994 and 95 Mustang transmissions had a longer input shaft than other models, which
is preferable to accomodate the added thickness of the adapter plate in the overall system. To actuate the
clutch, a modified Aerostar hydraulic throw-out bearing ("HTOB") type slave cyclinder was placed inside
the bellhousing. (The modification involved substituting the bearing part from the Taurus's HTOB.)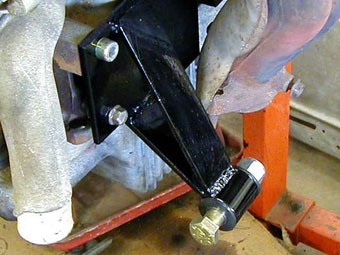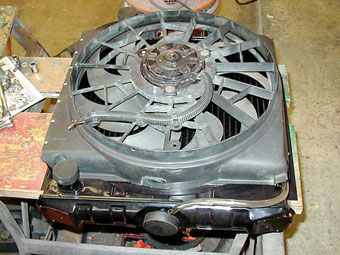 The motor is mounted to the chassis with custom motor mounts and Energy Suspension bushings.
The righthand mount (not shown) was modified to accomodate alternator bracket and belt tensioner...
A 1966 Mustang V8 radiator was initially installed (upgrading to a four row core instead of two).
The electric cooling fan from the SHO was used, with its shroud cut to match the Mustang radiator.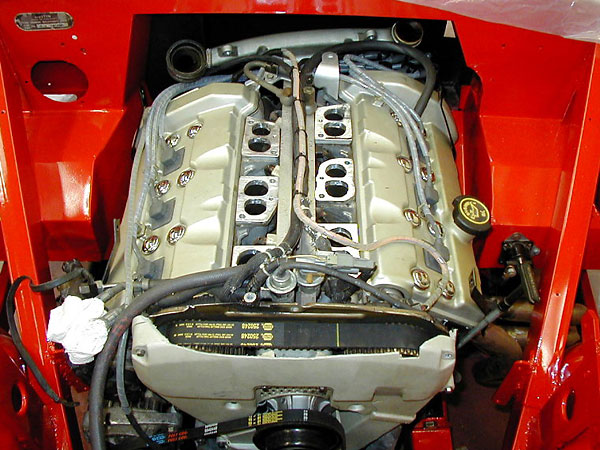 The 12-runner intake manifold is symmetrical, and was rotated 180 degrees to face the throttle-body
forward. Eight 3/8" spacers were added to raise the manifold enough to clear the cam belt.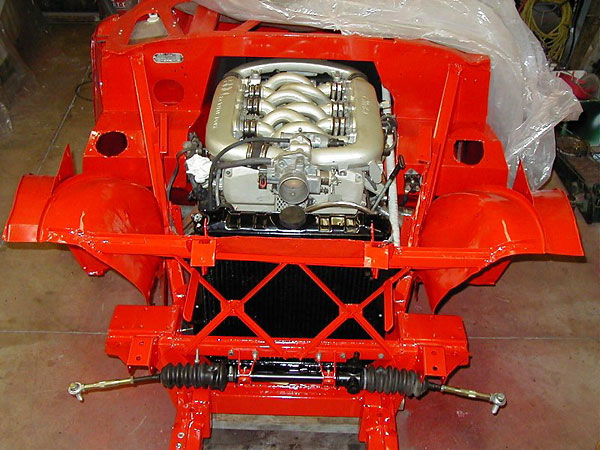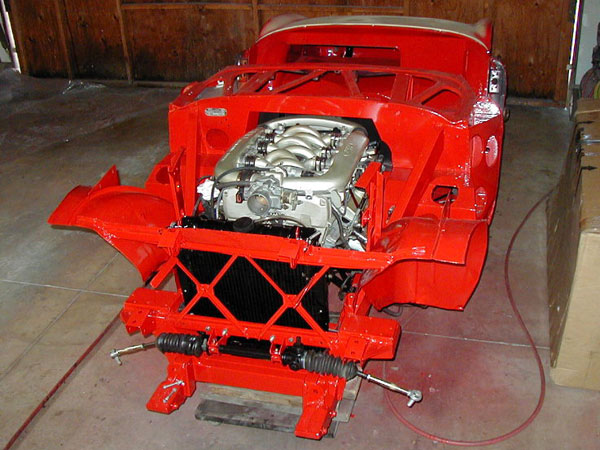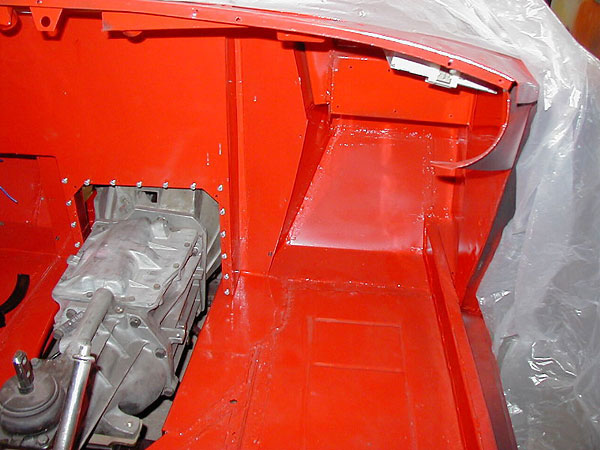 The stock Taurus SHO engine management computer was mounted under the passenger-side of
the dashboard, and the original engine wiring was simply trimmed down to fit the Healey.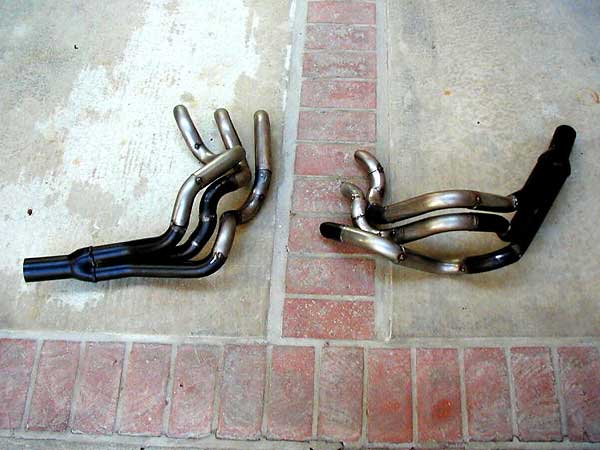 Custom equal length 3-into-1 1-5/8" headers wind their way around the frame and pedal
assemblies to 2.375" collectors, and onward to dual Dynomax mufflers and 2" pipes.
The headers were sand blasted and painted them Techline 2000 degree satin black ceramic coating.
The pipes come out the rear together with angle cut chrome covers, similar to stock.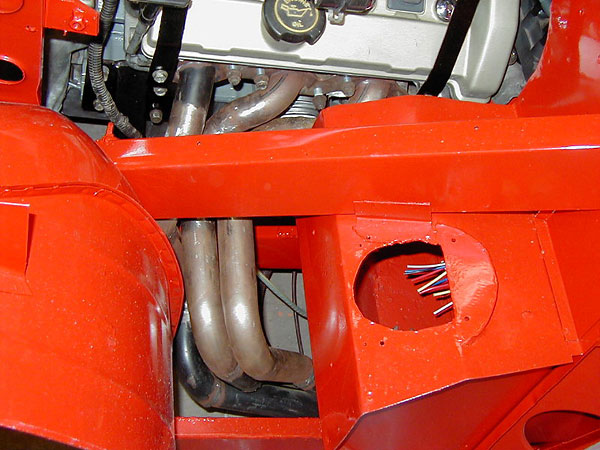 Enjoying this article? Our magazine is funded through the generous support of readers like you!
To contribute to our operating budget, please click here and follow the instructions.
(Suggested contribution is twenty bucks per year. Feel free to give more!)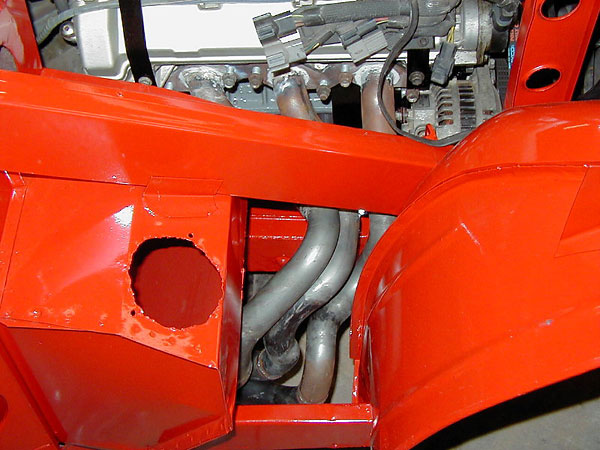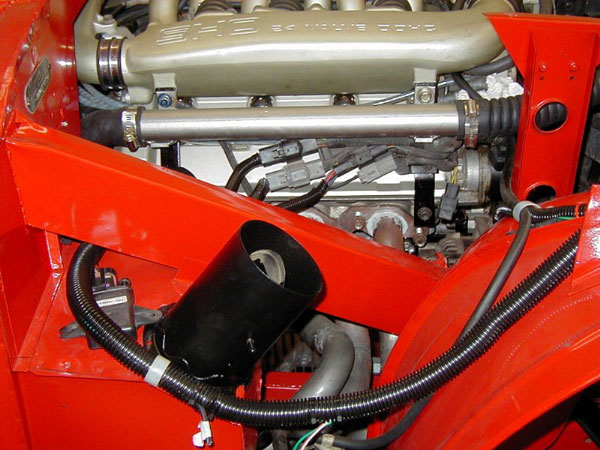 Since the SHO engine was designed for transverse installation, the radiator water outlet faces rearward
(as installed here). A 1.5" steel water line was fabricated and installed to connect it to the radiator.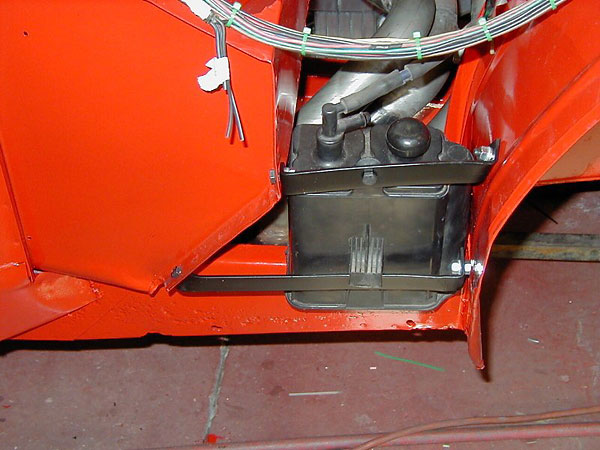 For fuel injected engines to operate correctly, it's best to connect all the original emissions control
equipment. The SHO is inherently a particularly "clean" engine, so no smog pumps, EGRs, or other band-aid
fixes were ever needed. It does, however, still have vapor lines from the fuel system and a purge canister.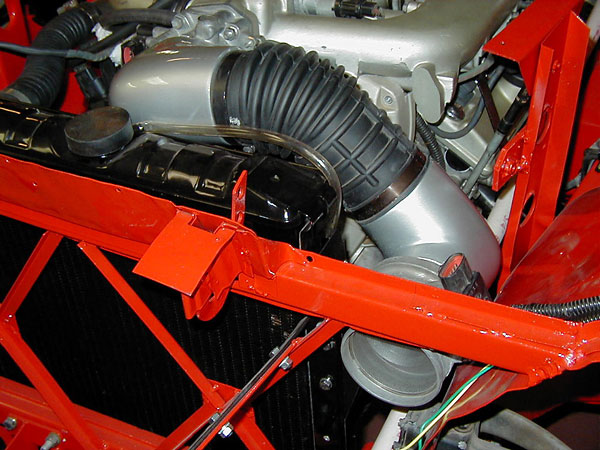 The engine's Mass Airflow Sensor ("MAS") was installed between the radiator and inner fender. A steel mount
was fabricated to support the MAS, and a tube was installed to connect the MAS to the throttle body. The
tube end pieces were formed with foam, glassed with epoxy resin and cloth, and painted metallic silver. The
rubber flex coupling is original to the Taurus SHO.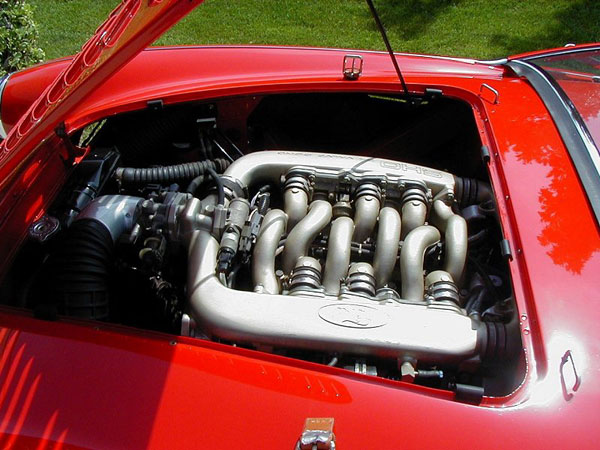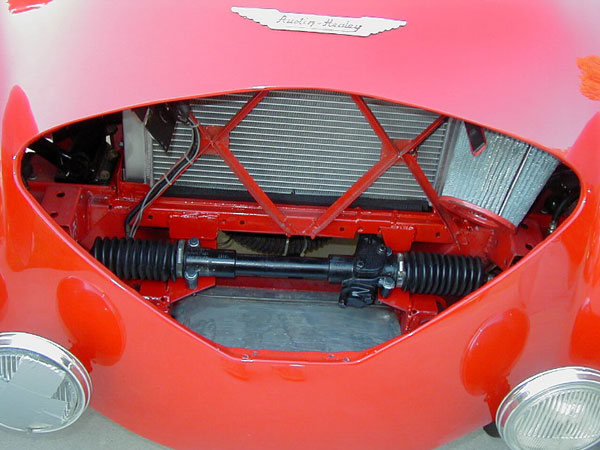 Once the car was on the road and getting driven, the Healey steering system was determined to be
lousy... Ultimately, a decision was made to replace it with an MGB rack-and-pinion system. An MGB
rack doesn't simply bolt into a Healey, however. It had to be shortened two inches, and the input
shaft was shortened about a foot. Custom mounting brackets were fabricated and welded to the frame.
With a couple of u-joints and some shortened Healey steering column, it was done.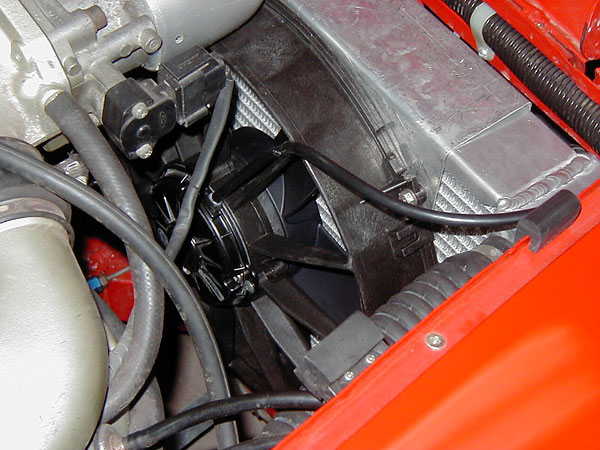 Actually, re-engineering the steering system is far more complicated than it sounds, because to
many other parts are affected. For the steering shaft to pass through, the Mustang radiator was
replaced by a custom AFCO dual-pass aluminum radiator. The MAF sensor mounting also had to be
modified, and a new SPAL cooling fan was installed in lieu of the Taurus fan.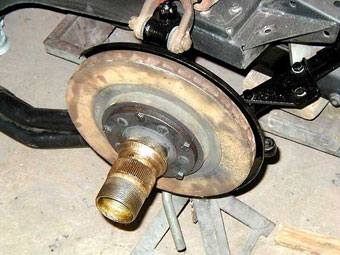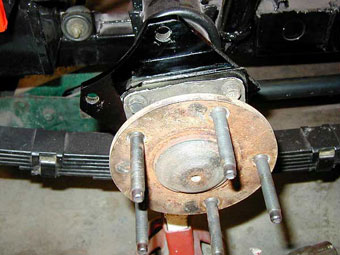 The Healey had already been converted to early disc brakes in front. The Healey brake caliper pistons
were surprisingly large, so a decision was made to try to use them, but to install bigger rotors. A set
of 11" diameter Porsche 911 vented rotors were selected, and adapters were machined-up so they could
be bolted on. Spacers were also made for the Healey calipers to accomodate increased rotor thickness.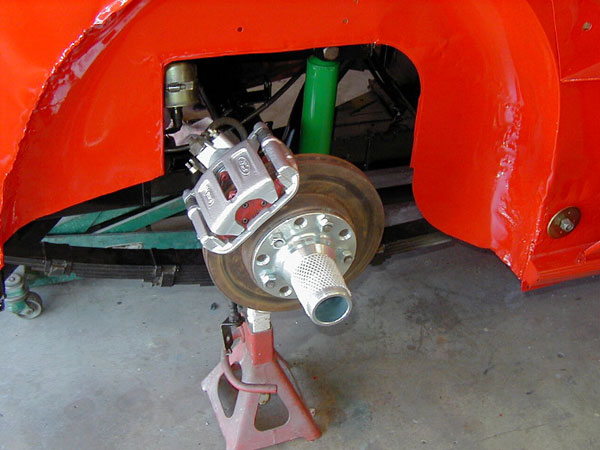 Custom brackets were fabricated and welded to the rear axle to mount SHO rear calipers (complete
with parking brake feature). The 10.5" diameter by 1" thick vented rotors are from a 1985 Cadillac.
Wire wheel hubs were redrilled to match the Chevy bolt pattern.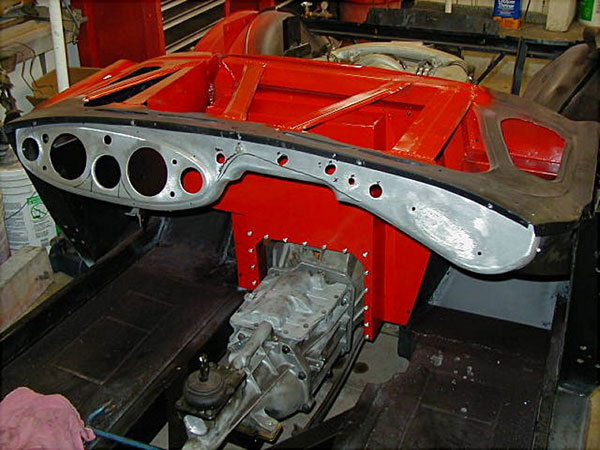 The original dashboard had been damaged. A later-model Healey aluminum dashboard was located and purchased;
the marks shown here indicate where it needed to be modified to match the shape of an earlier dashboard.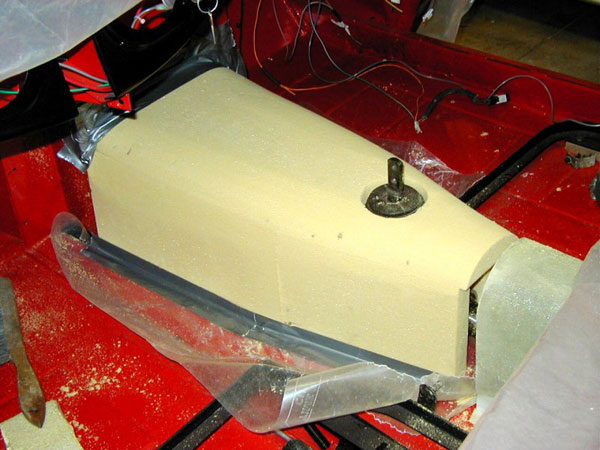 Making a custom fiberglass transmission tunnel from scratch turned out to be easier than modifying an
old BJ8 tunnel. Polyurethane foam was placed over the transmission, and sculpted to make a plug.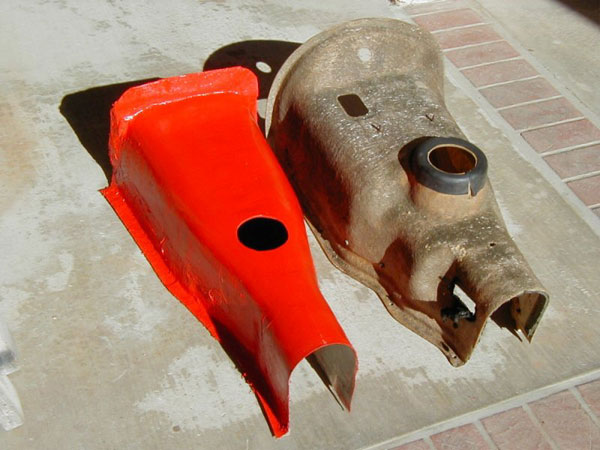 The resulting tunnel is quite a bit smaller than the original. Surprisingly, a new stock carpet set fit perfectly.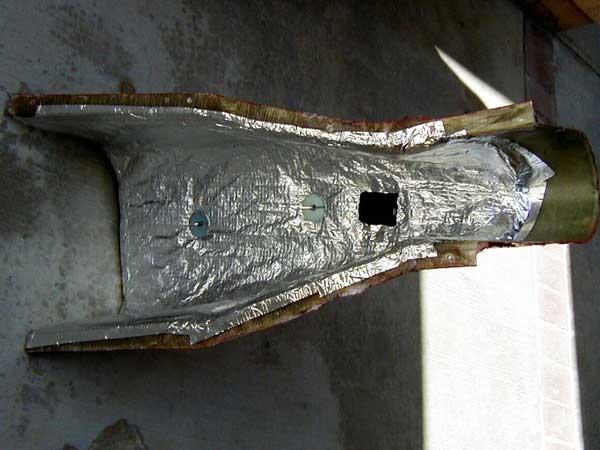 The transmission tunnel is lined with insulation.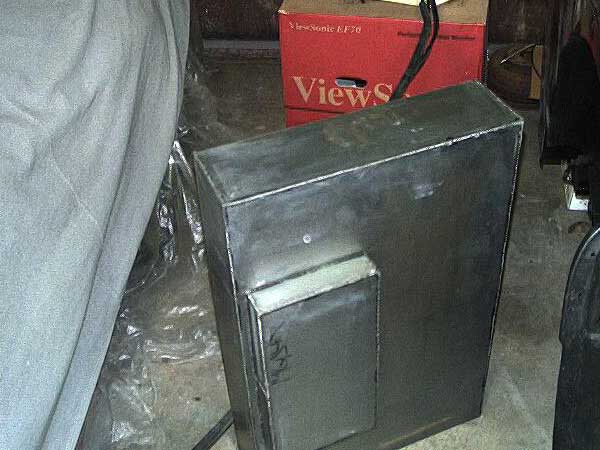 A custom steel fuel tank fits in the original location, but holds 14 gallons instead of the stock 10 gallons.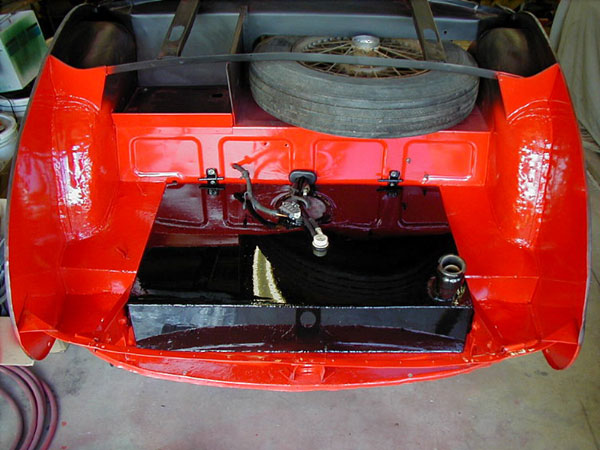 The spout came from a Porsche 911 and flows into a baffled plastic sump from a Ford Taurus, where the fuel
pump pickup is. This prevents fuel starvation when cornering. A high pressure pump is submerged in the tank.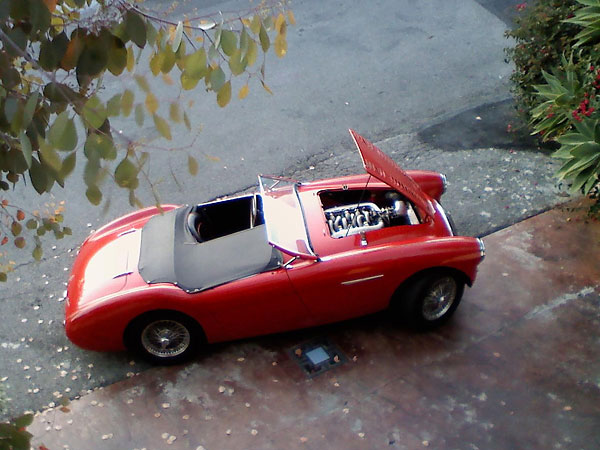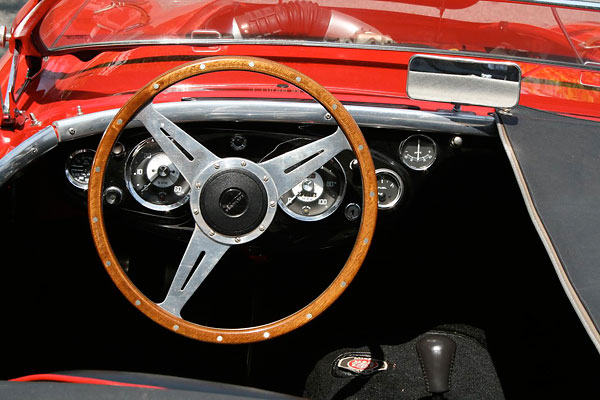 For the tachometer, the guts from a used Porsche 911 gauge were salvaged and installed inside the
Healey's original housing. For the speedometer, the electrical transducer from the T5 was replaced
with a cable and gear from a 1992 Mustang GT, and then spliced to the original Austin Healey cable.