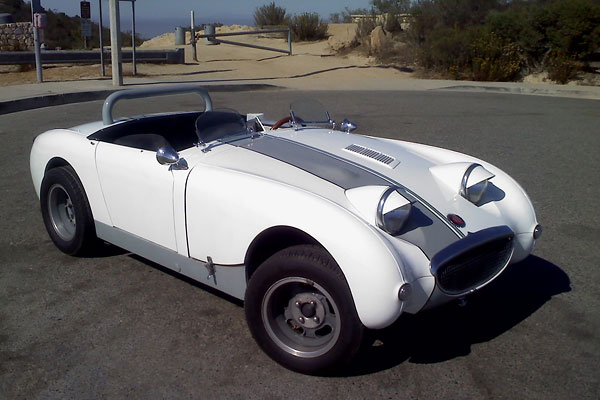 Norm Rest's 1960 Austin Healey Sprite with Nissan DOHC Engine
as published in BritishV8 Magazine, Volume XVII Issue 2, December 2009
Owner: Norman Rest
BritishV8 UserID:
HEALEY
City: Laguna Beach, CA
Model: 1960 Austin Healey Sprite
Engine: 1999 Nissan Sentra 1.6L DOHC/EFI
Conversion by: Norman Rest, with help from Ron Hewitt
How It Was Done
This Austin Healey Sprite came to me around 1987 when my wife found it on an early morning walk in Newport Beach. It was a project car with a Datsun 1200cc motor and five speed to match, but it was only about one third complete.

I spent the next few weeks under the hood. It was off to a paint shop one day, then we were on the road! Over the next few years I decided to upgrade to a Datsun B210 1600cc motor. I found twin sidedraught carbs from a Datsun 2000. I also added a roll hoop and some mags, and front disc brakes from a newer MG Midget. (I had to modify the hub splines, but all and all a quick improvement.)

As my skills and finances improved, I also acquired more cars, including a BN2 Healey and a 1940 Tudor Ford. The cheerful little Sprite seemed to need spritzing-up just to keep up with the rest of the stable, so early this year I removed the stock windshield and installed Brooklands style windscreens. I treated the car to a new interior, courtesy of Moss Motors and Roberto's Trim Shop, and a fresh one day paint job.
After the cosmetic makeover, the Sprite's engine compartment started looking a bit tired to me, so I went to Costa Mesa Auto Dismantlers and began shopping for engine upgrade alternatives. I also made a bunch of phone calls to pals and surfed around the huge BritishV8 website. I considered everything from the small block Ford V8 to Mazda rotary and Miata engines but I already had the Datsun B210 five speed, so that seemed like a place to start. I chose the 1999 Nissan 1.6L fuel-injected DOHC engine. After taking some preliminary measurements, it just seemed like a good fit. I decided to just go for it!

The Nissan engine was from a front wheel drive car, and that was probably my first mistake. I consoled myself that Richard had managed to put a Ford/Yamaha SHO motor in my BN2. I knew I had some smart friends to fall back on if I got into trouble. I was confident that we could prevail. We pulled the push-rod 1600 and put it on Craig's List. I had the new motor dropped off at Laguna BMW on the Coast Highway. This would be my home for the next 21 days.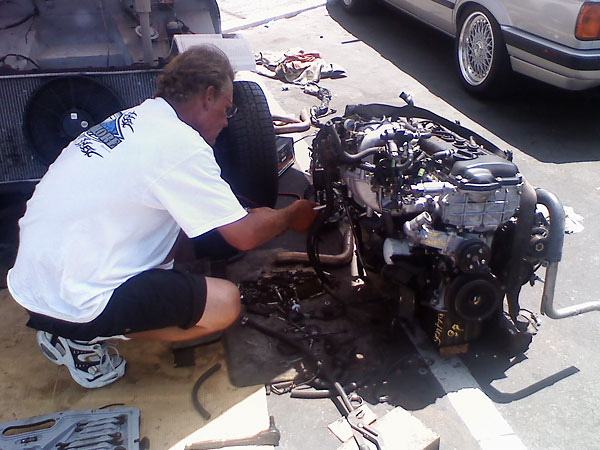 The first installation problem was the starter motor. It was mounted on the wrong side and faced the wrong direction. Front wheel drive... Well, I took the old transmission plate, matched it up on the dowels, and checked the pinion. Two dowels and three bolt holes lined up. My smart friends told me that if the two dowels and the pinion line up, it will work. Well, the new pinion bushing was bigger but we pressed the old bushing onto the new one and had it. Also, the transmission's input shaft was too long and had to be cut shorter by approximately a half inch. The flywheel had the ring gear installed facing the wrong way, so I took it to Zero's Machine Shop. (Zero really is his name!) After some lathe work and welding, I'm in. Same number of teeth and same thickness/distance from the throwout bearing, so still okay. The Nissan engine had a big cast iron ear on the block for the front engine mount, right in the way of the new starter location. Oh well! I broke out the Sawzall and the sidegrinder. A half a day later, I had the starter mounted.

The engine mounts I'd previously made for the B210 engine were adjustable, and could be slid into position on the framerails, so I found some bolt holes and hooked them up.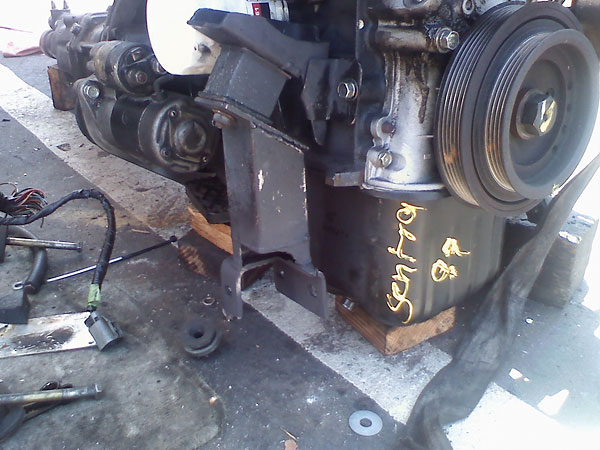 Custom fabricated motor mounts.


I wanted a bigger, lighter radiator. I had seen other conversions where people had mounted the radiator on a slant, and all the way across the front of the car. I went back to the Auto Dismantlers and Voila! I found a Mitsubishi Eclipse aluminum radiator that would fit nicely - 19" by 34". I also found a Volvo header tank. With some creative plumbing and a big electric fan, I had a closed, high capacity cooling system.

I had to remove about five pounds of bracketry and sheetmetal from the hood and frame, but all for the better, and I was even able to utilize the scraps of metal other places during the built.

We decided to start fresh on the engine wiring. All the old engine compartment wiring was cut out and thrown away. I built a 14" by 18" shelf to go on the passenger's side of the engine compartment for the engine ECU and the new fuse holder and relays. I cut a hole in the top of the firewall to pass wires through. To make room for the air filters and mass airflow sensor, I relocated the battery to the car's rear storage compartment (passenger's side). I'm fortunate to have Ron Hewitt - a master race car builder - as a helper, especially for wiring and electrical/electronics work.

To supply fuel to the fuel injection system, a high pressure pump was sourced and installed back next to the fuel tank. A return hose was installed, with the return tapped into the base of the filler pipe.

I had to create a small teardrop-shaped bulge in the hood. Previously, I had installed an old 240Z vent on the exhaust side to let heat out. It looks great, and I've found that form does follow function.

I had a custom speedometer cable fabricated for connecting the Nissan transmission to the Smiths gauge. I used a newer, smaller tachometer from an MG Midget, but I installed it with a larger bezel so it looks fine. (I relocated the speedometer to the right side of the steering wheel for a more balanced appearance, and its convenient there anyhow on account of where the cable hole in the firewall is.

We decided to abandon the big tumbler starter switch, as my old one had a dead position, and a new one had only lasted for twenty minutes before giving out. We are going to use stainless steel toggle switches and a Cole Hersee 3-position ignition switch. We put an Austin Healey jacket patch over the old hole in the dashboard. It's a big improvement.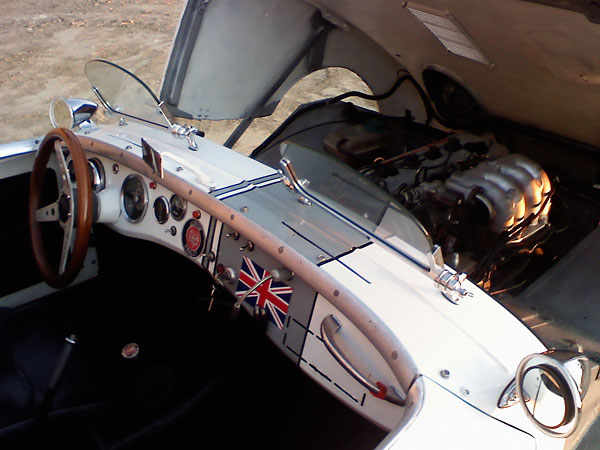 We mounted the hood to open from a cockpit located release, and to hinge from the front using the same telescoping braces. Also, we re-wired the headlamps and blinkers, using a six prong bayonet plug so that pulling the hood off is a really quick job - four bolts and one electrical interconnection.

The headers were fabricated with two 2.25" diameter stainless 90 degree bends, manifolded into one pipe, and then straight out through a free flowing tailpipe muffler.

The whole deal was a 21 day build for two guys, with long days and a few beers. A few re-do's, but all-in-all it was a really enjoyable process with great results. I hope readers enjoy it as much as we did.

The car was on the road now, and it ran great, but pretty soon a weak link was discovered. The clutch failed. I replaced the stock Nissan clutch with a "SPEC" racing clutch and resumed driving the little car.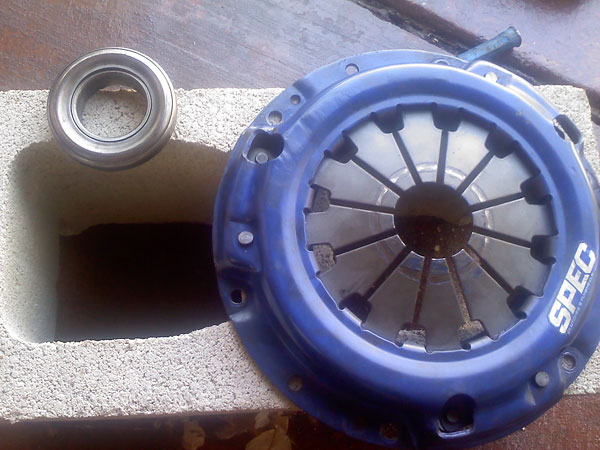 Damaged SPEC pressure plate.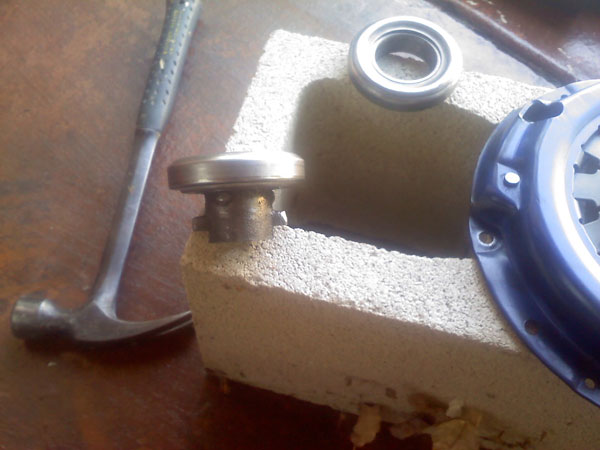 Modified throw-out bearing.


After the initial shakedown, it became obvious that my 5-speed transmission was tired. Also, much to my dismay, the new clutch continued to slip. The transmission, which I'd always thought to be from a Datsun B210 actually turned out to be an older, rarer "Euro Dog Leg" 310 and although I was able to replace all the numbered bearings (with new parts from Impact Bearing Co.), the caged ones were collected from Nissan parts rooms all over the U.S.A. Even then, 100 roller bearing pins had to be shortened 0.020" and reinstalled in old cages. After that, we figured out that when we shortened the pinion we caused the throw-out bearing to encroach on the free-play zone. It wasn't disengaging. This was solved by removing the shoulder on the throw-out bearing keeper and moving back a half inch to match the new configuration. I got very good at removing and replacing the transmission: the cycle was repeated five times in just two weeks.
Executive Overview
Engine:
1999 Nissan Sentra 1.6L DOHC/EFI, purchased from Costa Mesa Auto Dismantlers. Custom fabricated motor mounts. Disabled rev limiter.

Cooling:
modified 2001 Mitsubishi Eclipse radiator mounted on custom brackets. Electric fan. Volvo header tank.

Exhaust:
custom 2.5" exhaust system by Powertone or Laguna Beach CA.

Transmission:
1979 Datsun 310 5-speed (Euro-spec). SPEC high performance clutch.

Rear End:
stock axle with limited slip differential and heavy duty axle shafts.

Suspension:
(front) stock.
(rear) stock, except for lowered springs.
Brakes:
(front) MG Midget disc brakes.
(rear) stock Sprite brakes.
Wheels:
US Mag wheels, mounted inside out. Goodyear Eagle tires (175/60R13 front, and 205/60R13 rear).

Instruments:
stock Smiths speedometer and fuel gauge. Sun tachometer with oversized bezel (adapter). Smiths fuel gauge.

Electrical:
Battery re-located to boot area. Healey BN2 front blinkers. Headlight "eyelids". New relays and switches, and new custom wiring for electronic fuel injection. Newly rebuilt starter, modified to mount "RWD style" (ring gear on flywheel had to be removed and reversed too.) Rebuilt alternator.

Other:
Datsun 240Z hood vent. Bulge added to hood for clearance to fuel injection system. Roll hoop. Brooklands-style wind screens.

Construction Details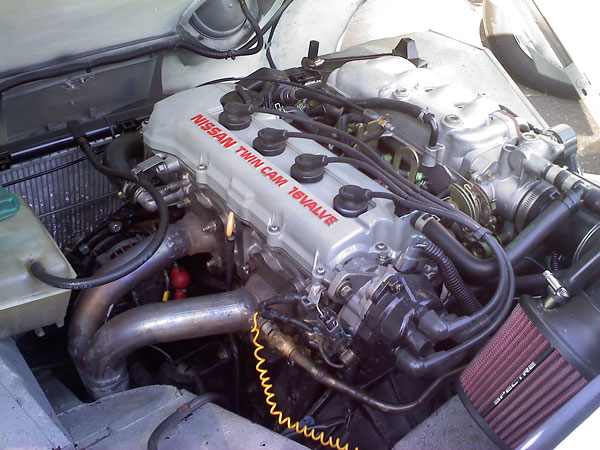 1999 Nissan Sentra 1.6L DOHC/EFI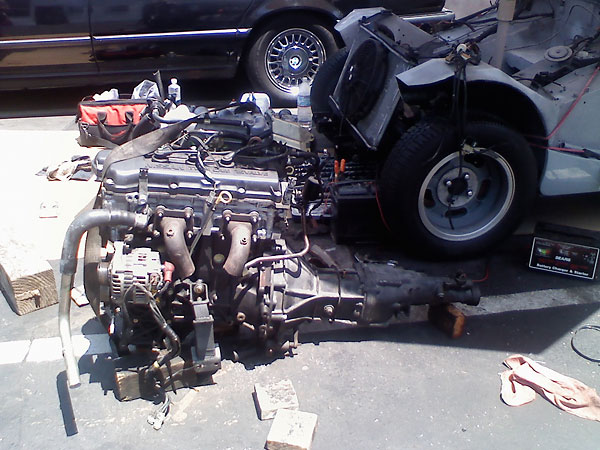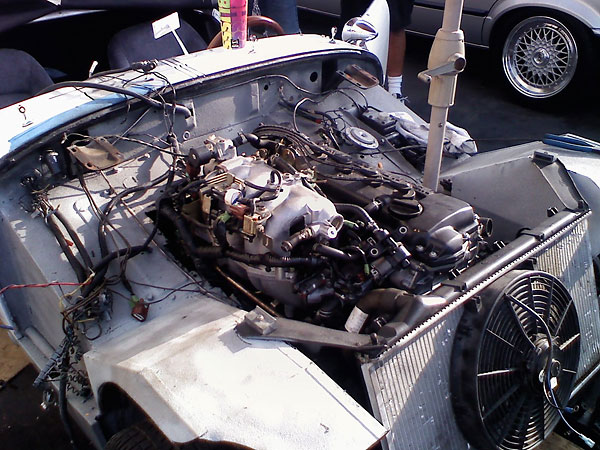 2001 Mitsubishi Eclipse radiator mounted on custom brackets. Electric fan.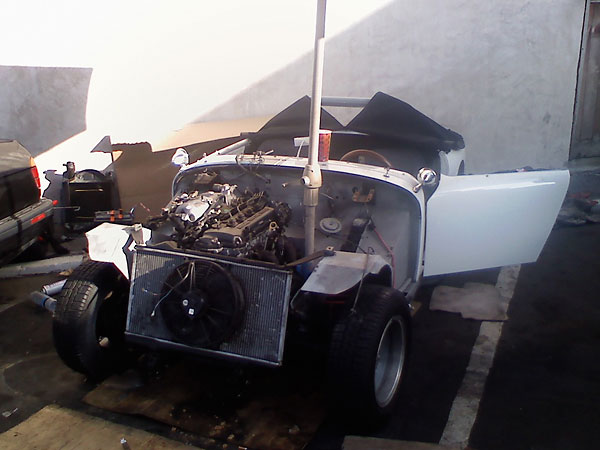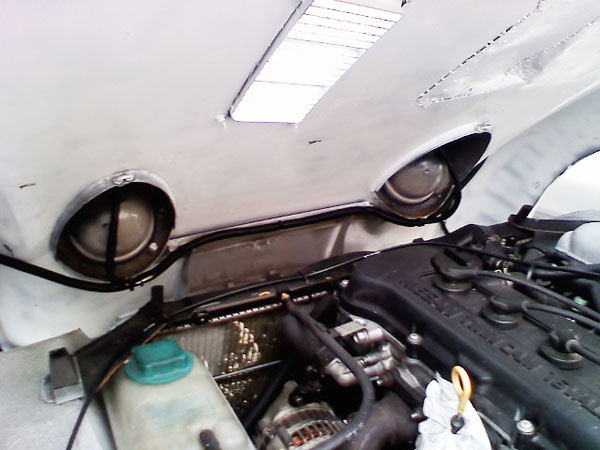 Volvo header tank.


Enjoying this article? Our magazine is funded through the generous support of readers like you!
To contribute to our operating budget, please click here and follow the instructions.
(Suggested contribution is twenty bucks per year. Feel free to give more!)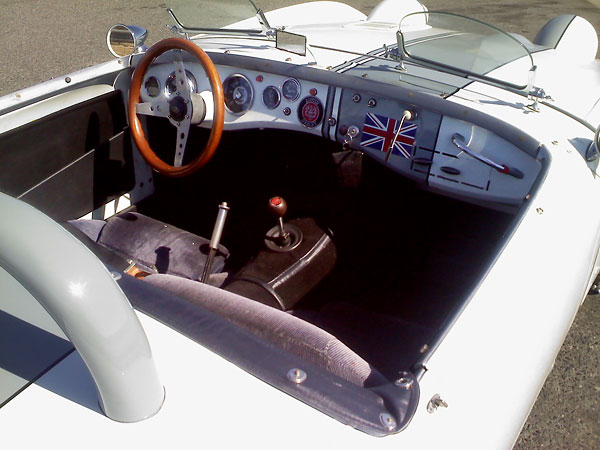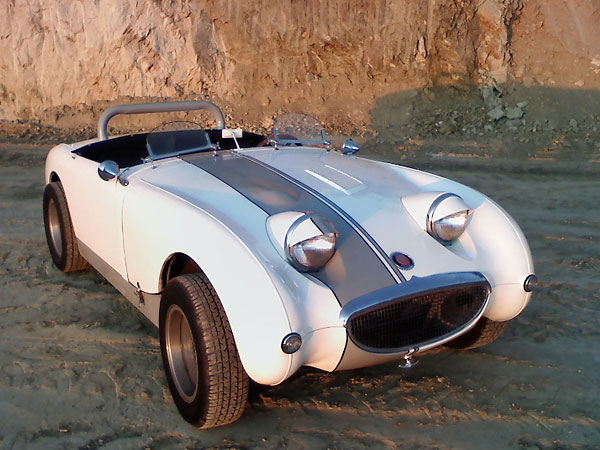 Brooklands-style wind screens.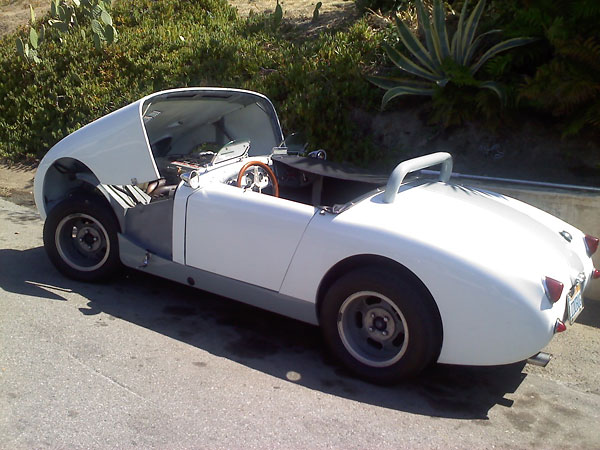 US Mag wheels, mounted inside out.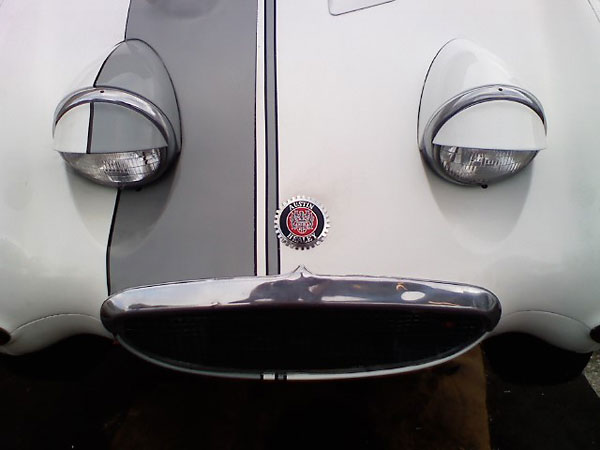 Headlight "eyelids".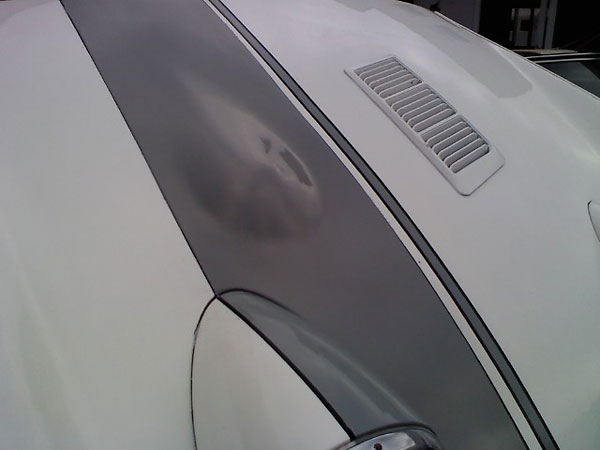 Bulge added to hood for clearance to fuel injection system, and Datsun 240Z hood vent.