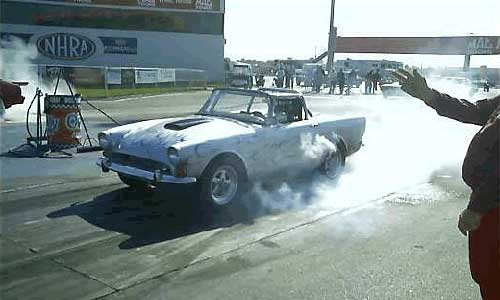 Matt Jennings's Ford V8 Powered 1967 Sunbeam Alpine
as published in British V8 Newsletter, Volume XV Issue 2, September 2007
Owner: Matt Jennings
City: Minneapolis, MN
Model: 1967 Sunbeam Alpine
Engine: Ford 302 stroked to 347.
Engine:
Ford 302 stroked to 347. Kaase Canted Valve aluminum heads. MSD ignition. Edelbrock performer intake, 750 Barry Grant carburetor. Crane cam.

Cooling:
Racemate waterpump/alternator (see www.racemate.com). Fluidyne aluminum radiator.

Exhaust:
custom headers with 3 inch collectors.

Transmission:
C4 Automatic. Reverse valve body. Manual shift. 3500 stall converter.

Rear Axle:
Ford 9" axle with 4.11:1 gears, limited slip differential, and Strange axle shafts.

Brakes:
front disc / rear drum.

Front Susp.:
stock Alpine, except Mustang rack and pinion.

Rear Susp.:
stock springs and shocks. Traction bars.

Chassis Mods:
extensive frame reinforcement. Full cage NHRA certified to 7.50 seconds.

Wheels/Tires:
front: Bogart SS drag wheels with M/T ET Drag slicks.
rear: Weld Dragstar with BR Goodrich Drag radials.

Miles Driven:
about 100... a quarter mile at a time!

Performance Data:
about 500 hp. Low 10 second quarter mile times. Still tuning.

Recommendations:
take your time!