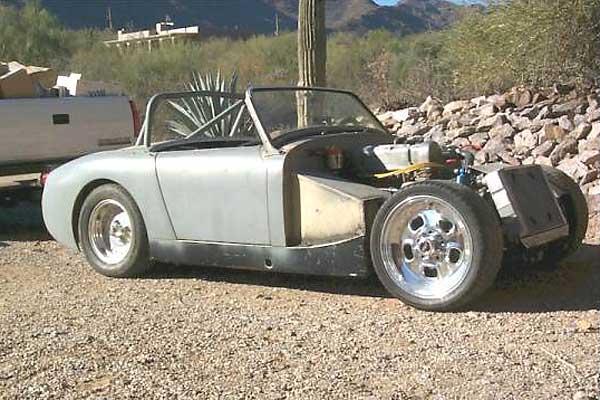 Mark Warner's 1959 Bugeye Sprite with Nissan L18 4-cylinder engine
Owner: Mark Warner
City: Tucson, AZ
Model: 1959 Austin Healey Sprite
Engine: Nissan L18 four cylinder
Conversion performed by: owner
Engine:
mildly "built" Nissan L18 four cylinder, with "peanut" head and all the usual stuff including porting, dual Weber 40 DCOE's on a Cannon manifold, Mallory electronic dizzy.

Cooling:
the radiator is a Griffin Scirroco, modified to fit the car and it uses a large diameter pull-thru electric fan.

Exhaust:
the header is a hand-built, long runner type that dumps into a 2" exhaust and "turbo" muffler.

Transmission:
Nissan 200sx "dog-leg" 5 speed (drive shaft is 6" long from U-joint to U-joint!)

Differential:
Datsun 510 (R160), with 3.7:1 ratio.

Chassis Mods:
tube frame with integral roll-bar and under-dash hoop. Optimized via FEA (finite element analysis) for weight and torsional stiffness.

Front Suspension:
stock Austin Healey bottom A-arm, modified for coil-over. Aftermarket upper A-arms and Carrera-clone coil-overs (actually, they're from a NASCAR catalog). Ford spindles. System is very strong, and fully adjustable for camber, caster, toe, and ride-height.

Rear Suspension:
based on the Datsun 510's 3.7 ratio R160 (R160 and half-shafts are not installed in the under-car rear-end photo). Very light/strong rear suspension, including custom, unequal-length 4130 A-arms and coil-overs. Hub/bearing carriers are from an early Datsun 280z. Half-shafts are shortened to fit narrow width of car. The entire suspension is fully adjustable for toe, camber and ride-height.

Steering:
fast-ratio Sweet Engineering rack and pinion. It's fully adjustable and currently has zero bump steer, though a good alignment on the car is still needed. For the time being, I've installed a cheapo, small diameter steering wheel on a quick release adapter.

Brakes:
the front brakes are Ford, 10.5" vented disks with Chevy calipers. Rear brakes are 200sx solid disks and JFZ calipers on custom mounts. Dual CNC-made master cylinders on Neal mount with bias bar. Braided stainless steel flex-lines at all four corners. Weighing less than 1600 lbs, this car should STOP.

Wheels/Tires:
(front) Weld Racing 5-lug 16x7's w/Yokohama A520's (205/40VR16s).
(rear) currently, old 4-lug Centerlines with BFG rubber. (5-lug hubs / Weld rims & 225 Yokos are planned.)

Weight:
1590 lbs w/ perfect 50/50 F/R and side/side distribution.

Interior:
Paddy Hopkirk racing bucket seats. Aluminum dash (though I'm thinking about building a carbon-fiber version. (I've always wanted to try that.) Custom electrical harness is being built this month. Full complement of VDO gauges (speedo, tach, oil pressure, volts, amps, water temp, fuel).

Date Completed:

not quite completed as of 2000... when we lost touch with Mark.

Comments:

The only pieces that remain original British are the body, wipers, rear-view mirror, front and rear lights, and gas tank. Everything else on the car is either custom-made, from another car, or heavily modified from the original. The car is essentially the result of 12+ years of on-and-off work. Lately, I've been motivated to work on it. I'm hoping to get it road-worthy soon and to bring the car to Shasta this year.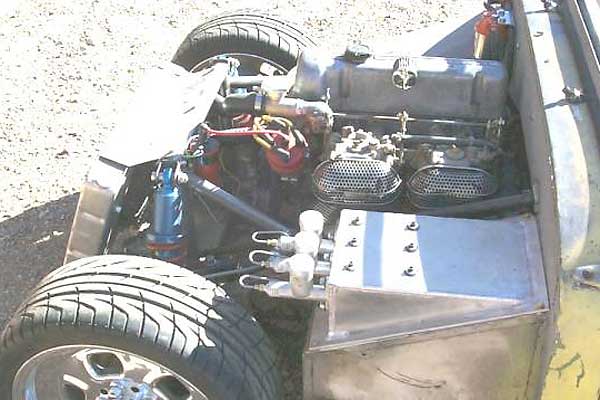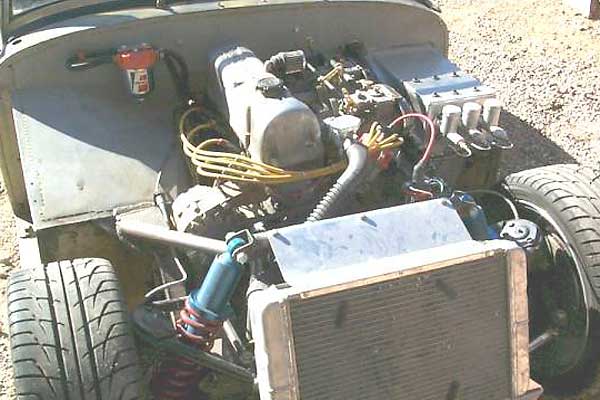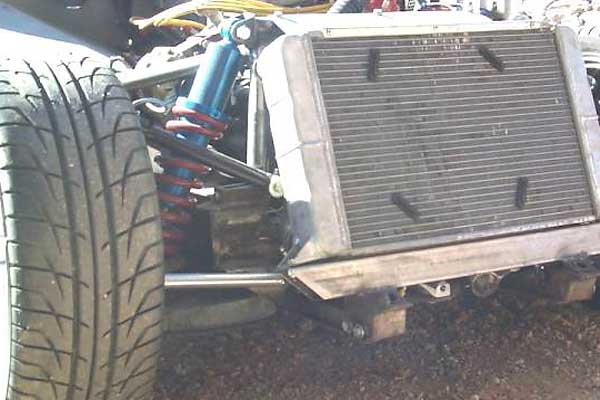 Enjoying this article? Our magazine is funded through the generous support of readers like you!
To contribute to our operating budget, please click here and follow the instructions.
(Suggested contribution is twenty bucks per year. Feel free to give more!)