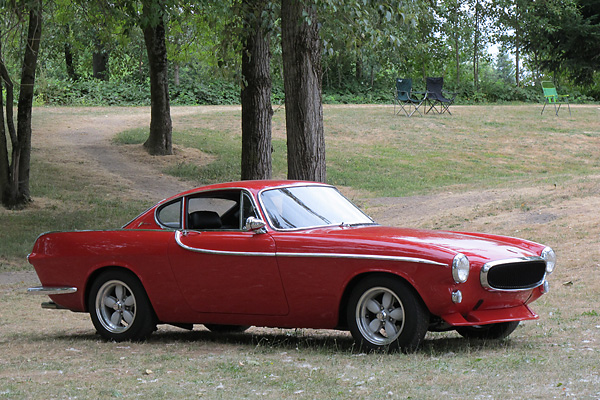 Larry Rembold's 1962 Volvo P1800 with Ford 289 V8
Owner: Larry Rembold
BritishV8 UserID: ldrembold
City: Gresham, Oregon
Model: 1962 Volvo P1800
Engine: 1966 Ford 289 V8
Conversion by: see below


Features and Specifications
Engine:
1966 Ford 289 V8 from a Mustang. Professional Products "Typhoon" intake manifold. Barry Grant "Speed Demon" 575cfm four barrel carburetor. Mallory Comp 70 electric fuel pump. Aeromotive 5-12psi adjustable fuel pressure regulator and 0-15psi gauge. Edelbrock foam air cleaner. MSD Pro Billet E-curve electronic distributor. MSD 8222 Blaster High Vibration ignition coil. Accel Hi-Temp Super Stock 8mm spark plug wires. Finned cast aluminum valve covers.

Cooling:
Griffin aluminum radiator. Dual Spal electric cooling fans. Aluminum fan shroud. Earl's Form-A-Flex stainless steel upper hose (24", part# 121242ERL) with two reducers (part# 122104ERL). Earl's Form-A-Flex stainless steel lower hose (24", part# 121242ERL) cut To 21".

Exhaust:
dual with glasspacks. Two Ford C3DE-9431-A drivers-side manifolds (as original to Sunbeam Tiger or 1963-5 Falcon/Comet).

Transmission:
Borg Warner T-10 close-ratio 4-speed manual (from a 1966 Mustang donor.) Girling aluminum clutch master cylinder, with integral reservoir. Girling 7/8" Bore (part# 7-476) slave cylinder. Custom drive shaft, 27" long.

Rear End:
1966 Chevrolet Corvette, narrowed five inches.

Front Susp.:
IPD polyurethane A-arm bushings. IPD coil springs (1.5" lower and 20 percent stiffer than stock). Bilstein shock absorbers. IPD 1" sway bar with polyurethane bushings.

Rear Susp.:
1966 Chevrolet Corvette transverse leaf spring, narrowed five inches. KYB "Gas-A-Just" shock absorbers.

Brakes:
(master) original FAG single circuit master cylinder. Russell DOT-5 silicone brake fluid.
(front) original Volvo solid rotors. 3 piston calipers. Steel braided brake lines.
(rear) 1966 Corvette vented rotors. 4 piston calipers. Steel braided brake lines.

Wheels/Tires:
American Racing "Coke Bottle" 15x7 wheels. Pirelli P6 195/60R15 tires.

Weight:
about 2700 pounds.

Interior:
Italvolanti steering wheel. 1971 Volvo 1800E seats, narrowed 2 inches and reupholstered. Custom transmission tunnel and trim. (See below.)

Instruments:
Smiths tachometer, water temperature, oil temperature, speedometer, fuel level, oil pressure, and clock. (All are original.)

Body:
painted by brother Kevin Rembold, in his home garage. Dupont ChromaOne 2000 Jaguar Signal Red (CFC/JBC48). IPD Fiberglass chin spoiler.

Electrical:
Odyssey dry cell, deep cycle, top post battery (530cca, part# PC1200MJT). Battery relocated to a marine battery box, mounted in trunk. Ford remote starter solenoid. Painless 14-circuit microfuse wire harness (part# 10130).

Completed:
finished 13-year restoration in 2008. (Owned since 1981.)


Engine Installation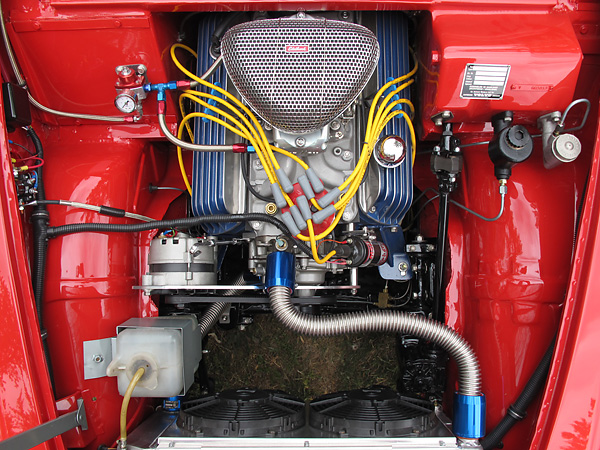 289 cubic inch V8 engine from a 1966 Ford Mustang.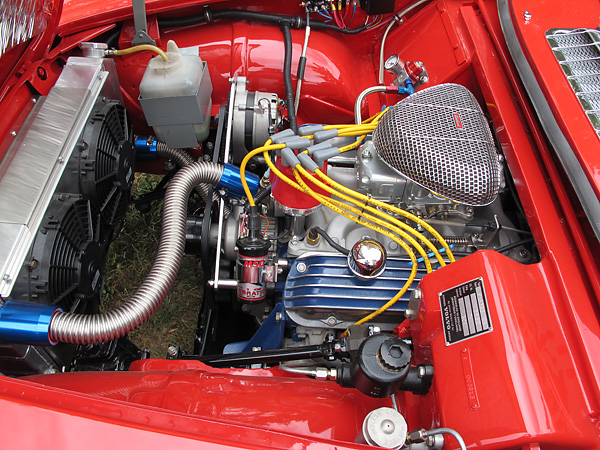 Balance: the V8 engine has been situated entirely behind the Volvo's front
suspension crossmember to achieve an excellent distribution of weight.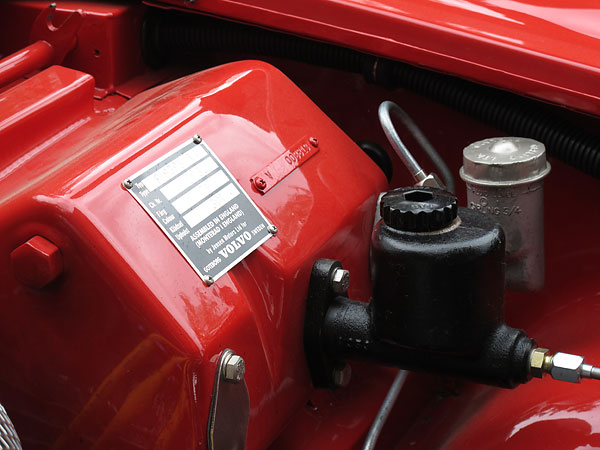 Pedal box widened to facilitate shifting the pedals outboard.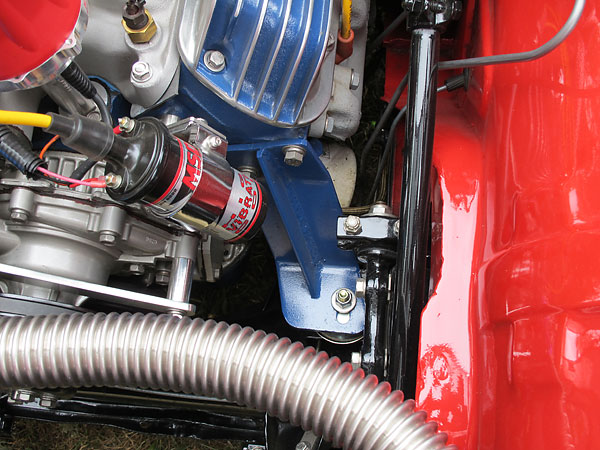 Cylinder head engine mounts. Manufacturer unknown. Left stamped "3765". Right stamped "3766".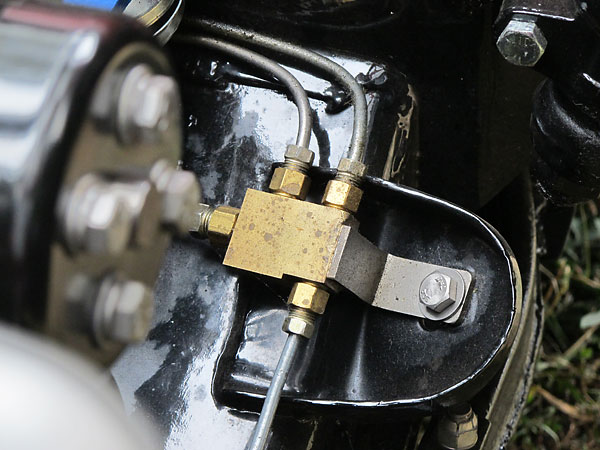 Custom brake line junction block.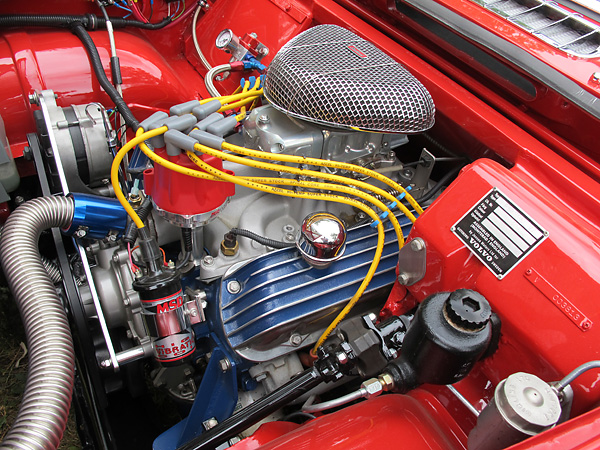 MSD Pro Billet E-curve electronic distributor. Larry says: "The E-curve distributor
is easy to tune and works great!" MSD Blaster High Vibration ignition coil.
Accel Hi-Temp Super Stock 8mm spark plug wires.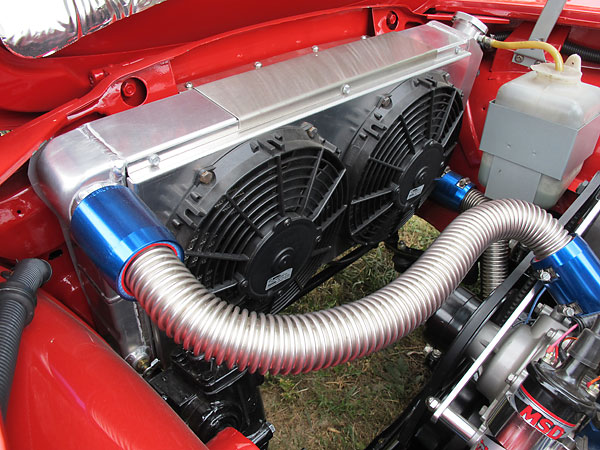 Griffin aluminum radiator mounted in U-brackets over the frame rails.
An 18ga stainless bracket secures the top.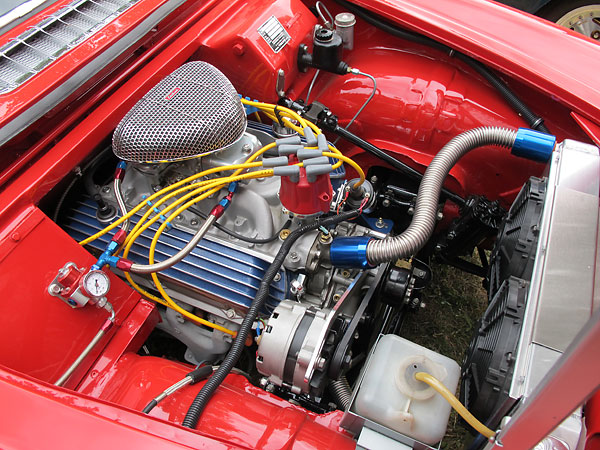 Professional Products "Typhoon" intake manifold.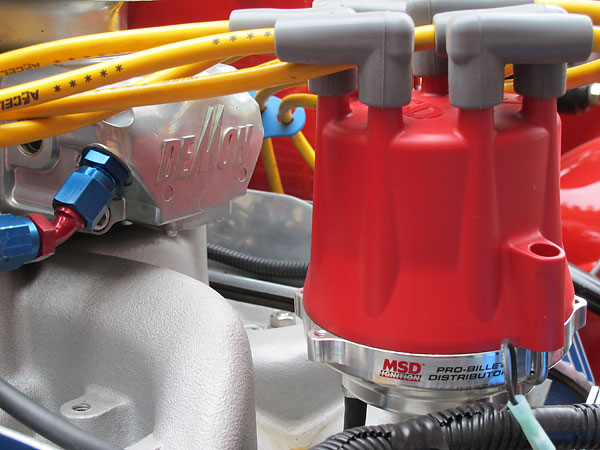 Barry Grant "Speed Demon" 575cfm four barrel carburetor.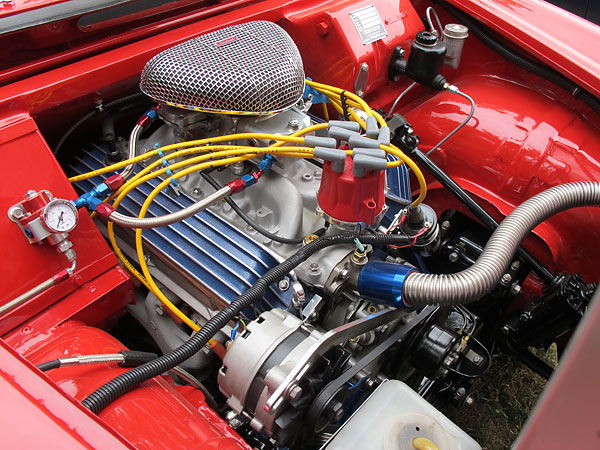 Edelbrock foam air cleaner.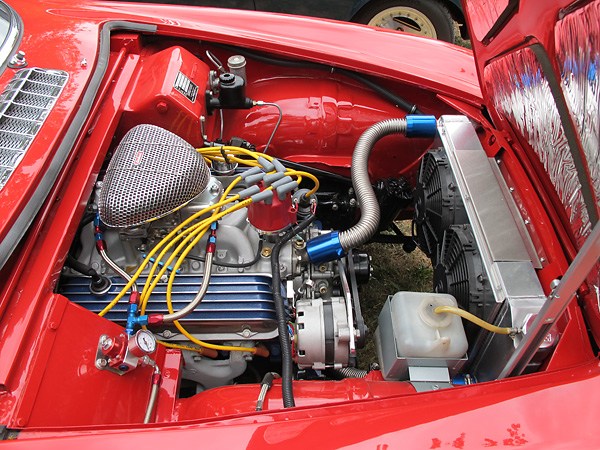 Dual Spal electric cooling fans. Aluminum fan shroud.
Earl's Form-A-Flex stainless steel hoses, with aluminum ends.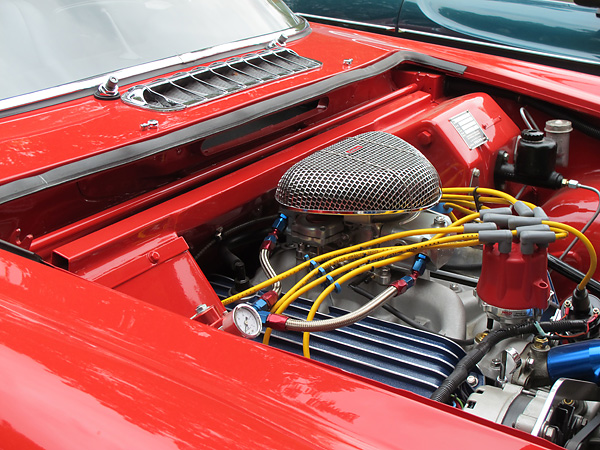 Steel box tubing has been added to reinforce the firewall.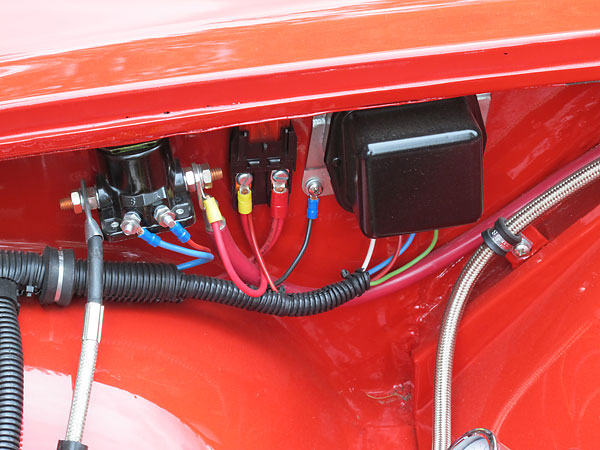 Painless Wiring harness. Ford starter solenoid.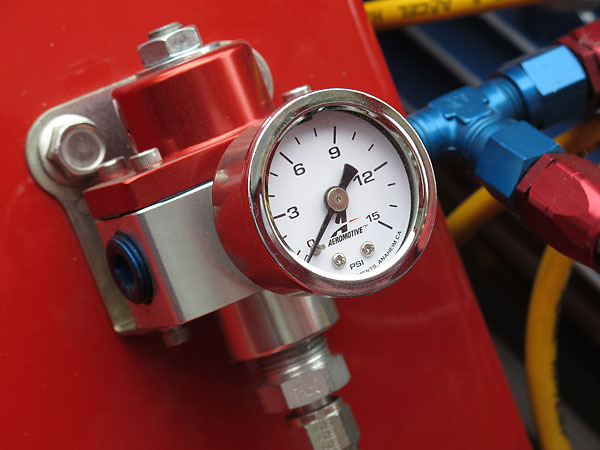 Aeromotive fuel pressure regulator set at about 5psi.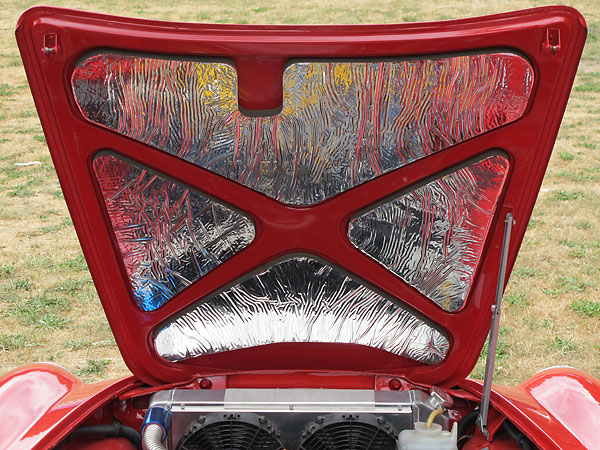 Hood Quiet Kit from IPD in Portland Oregon is about 1" thick and has a peel and stick backing.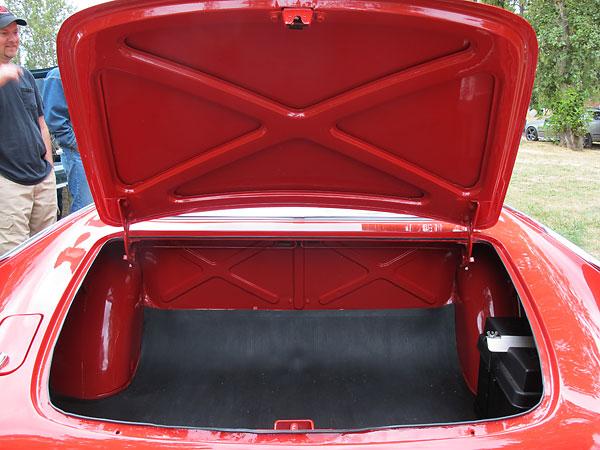 Quality coachwork!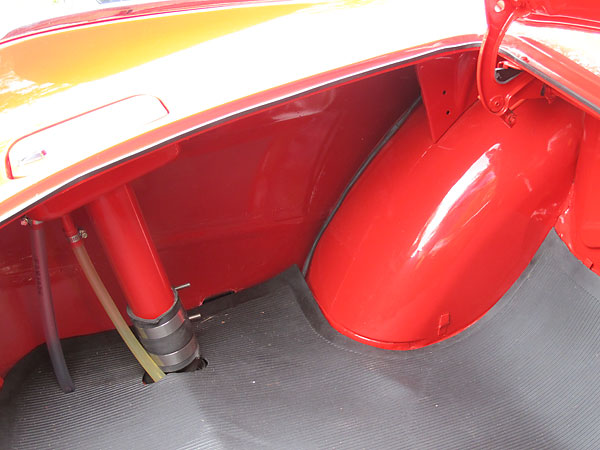 Fuel filler tube.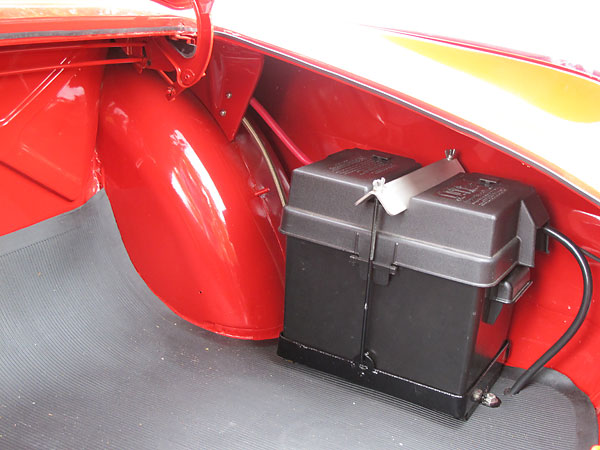 Odyssey battery, located in the trunk.


Suspension and Brakes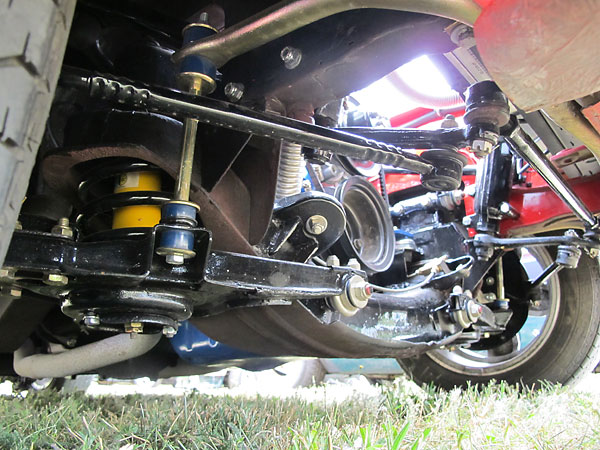 IPD front suspension with Bilstein shock absorbers and urethane bushings.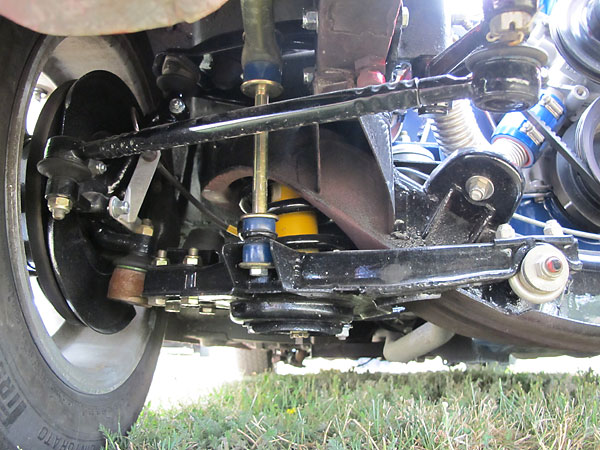 Original mounting brackets for the four cylinder engine may be seen.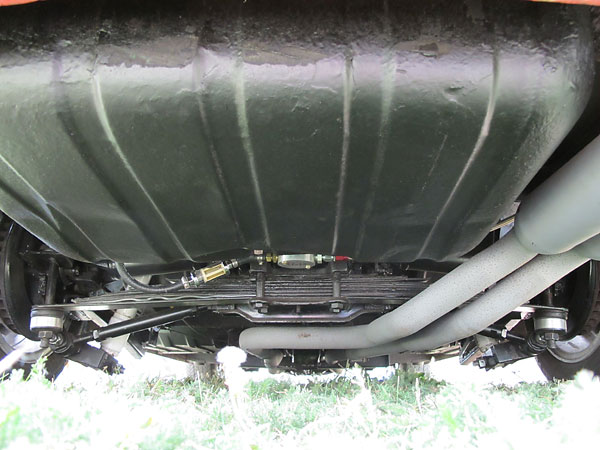 Original 12 gallon fuel tank is a little small for the V8 engine.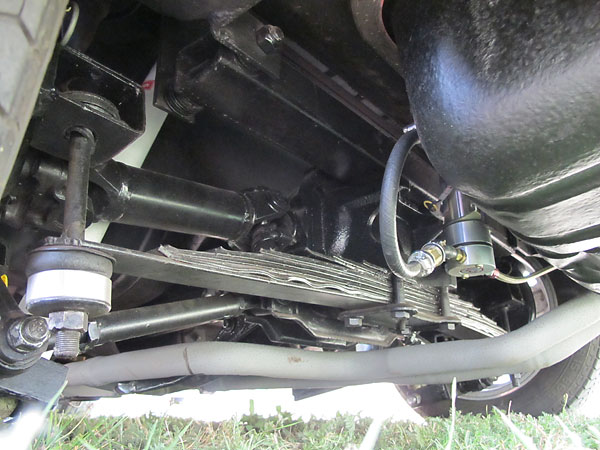 Corvette rear end. Mallory fuel pump.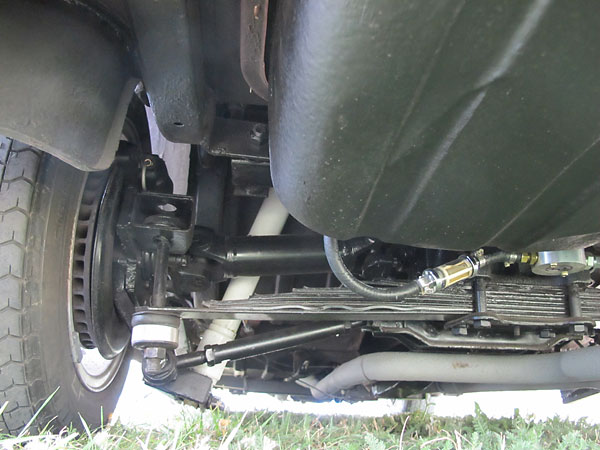 Modified brackets to fit Chrysler Conquest / Mitsubishi Starion shock absorbers.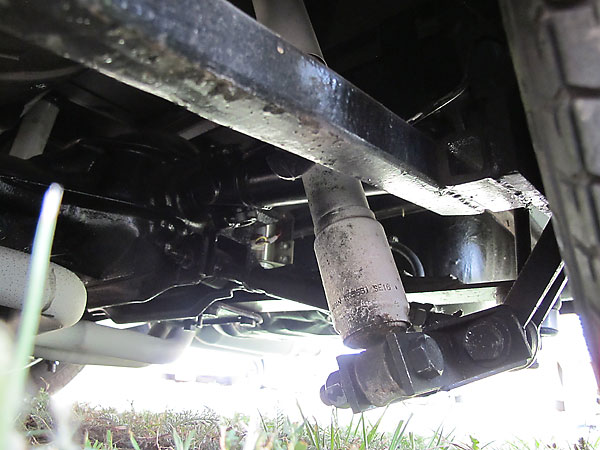 Original upper shock mounts (above differential, under rear package shelf) are used.


Interior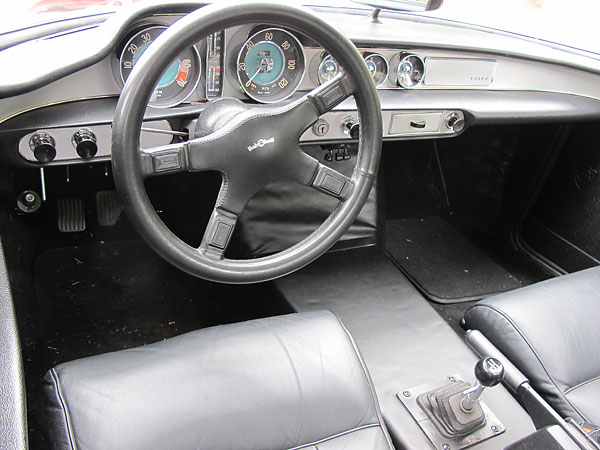 Fabricated tunnel is wider than stock.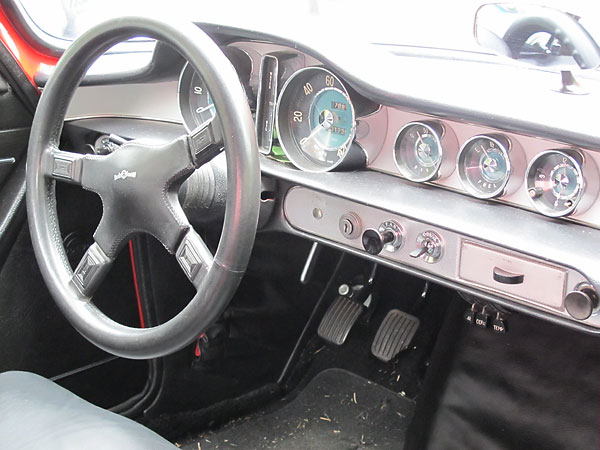 Stock dashboard. Italvolanti steering wheel.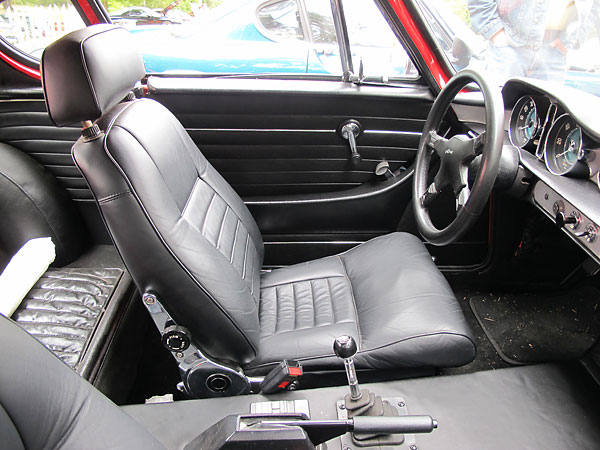 Seats are original from a 1971 1800E, but narrowed 2 inches and reupholstered.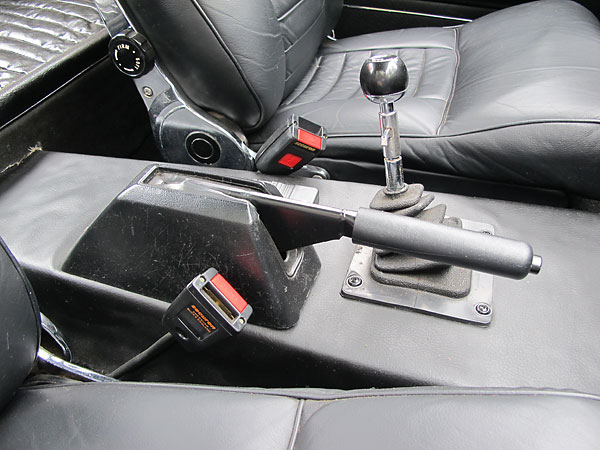 Handbrake assembly from an old Mercedes, shortened. Ford shifter, shortened.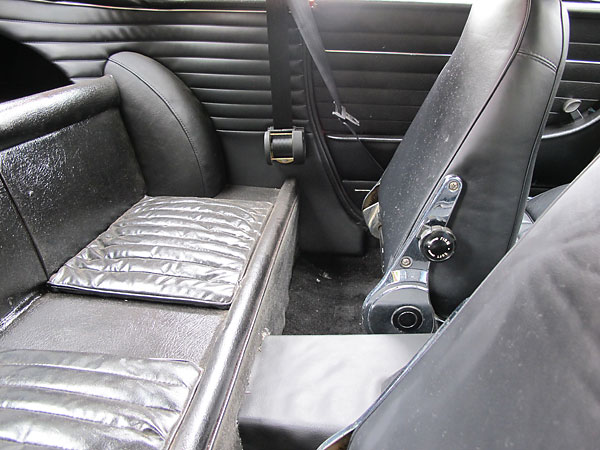 Unusual rear jump/occasional seat arrangement is only found in the first 6000 P1800s,
which were built by Jensen Motors in England.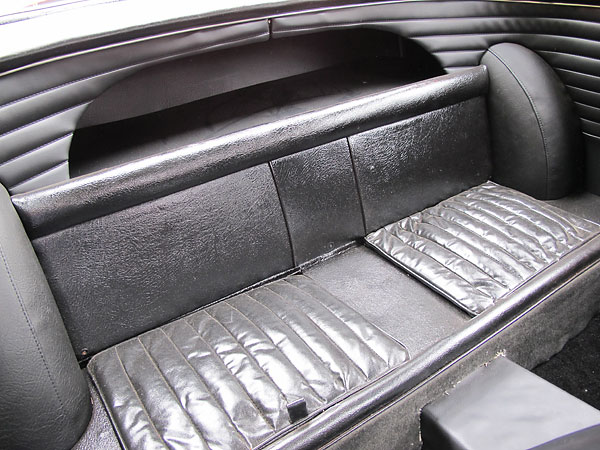 Storage cubby over the jump seat's backrest.


In Process of Restoration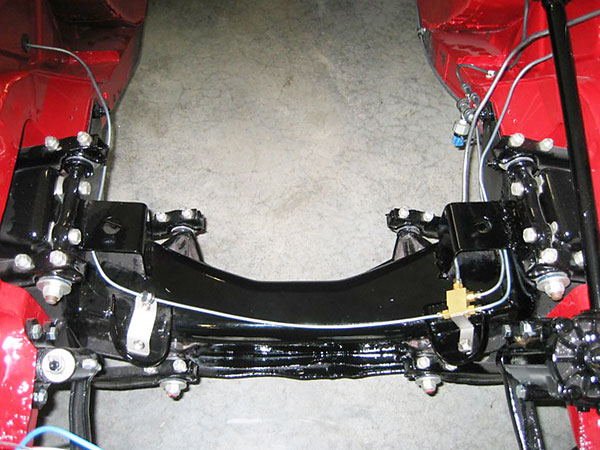 Front suspension assembly in progress.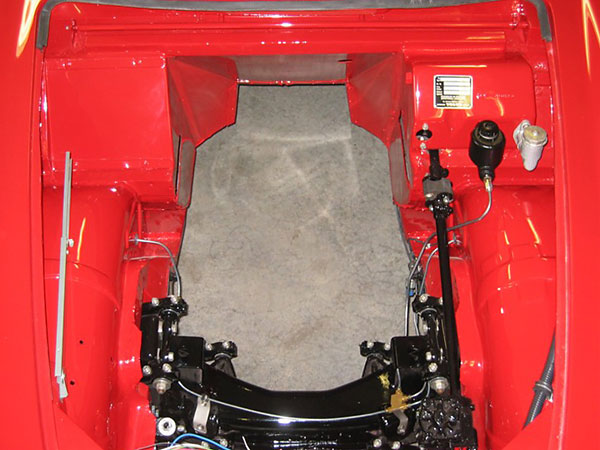 Sparkplug access holes can be seen here.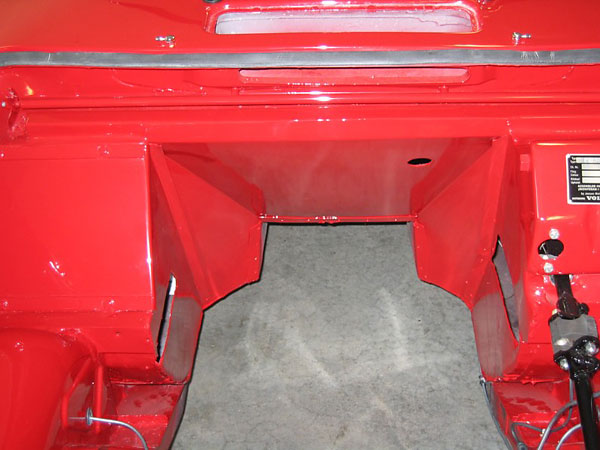 Five of the sparkplugs are changed from the footwells through access plates.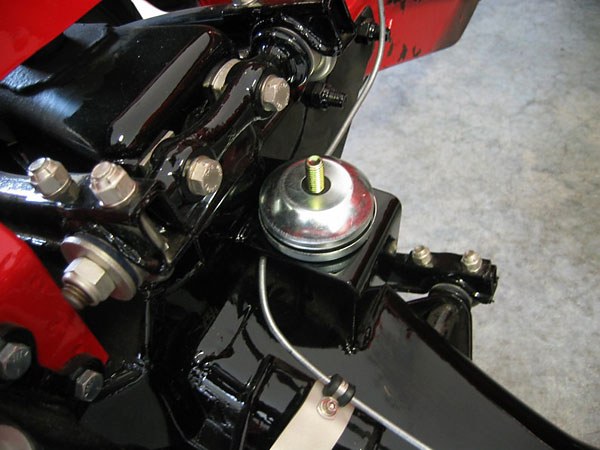 Engine Mounts are Trans Dapt Performance Products part# 9314.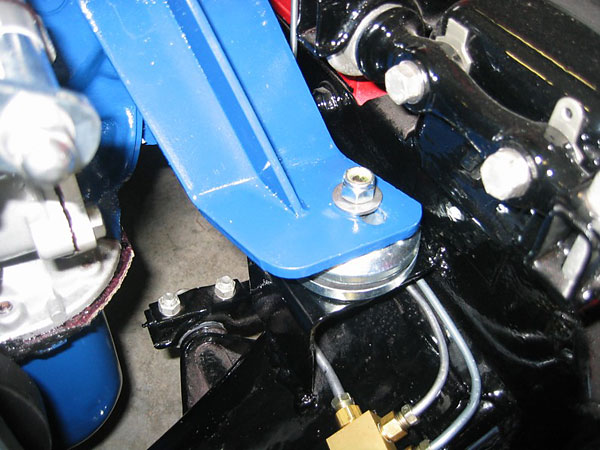 They're rubber sandwiched between steel cups. JC Whitney offers them for installing V8s in Jeeps.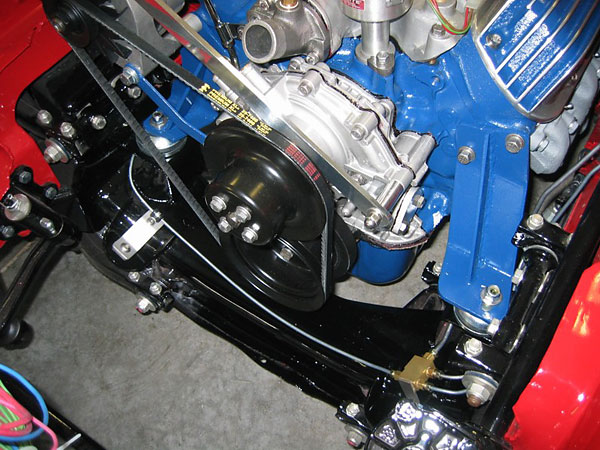 Generous oil pan and pulley clearance to front crossmember.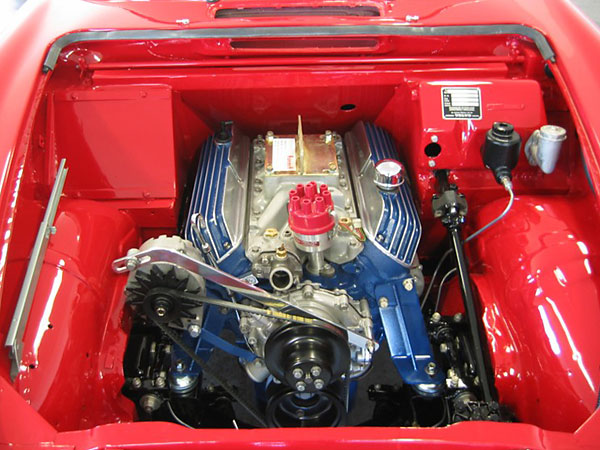 Steering shaft is well outboard of the motor mount and exhaust manifold.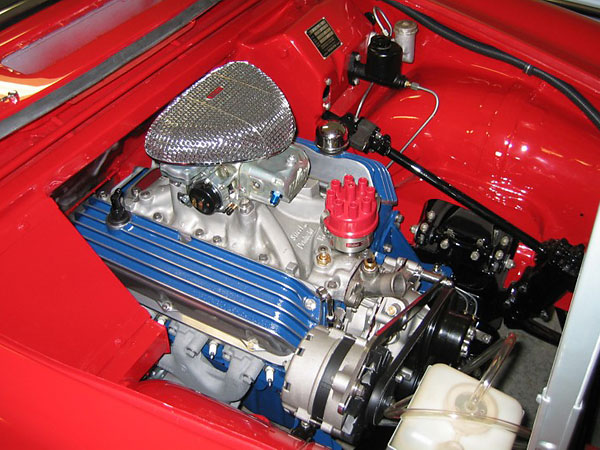 P1800s feature a worm and sector (a.k.a. recirculating ball) steering gear
in lieu of rack-and-pinion steering as on other British sports cars.


Exterior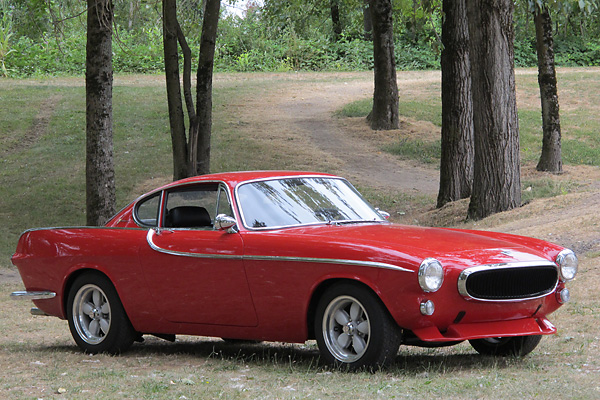 Larry calls his car The Super Peanut!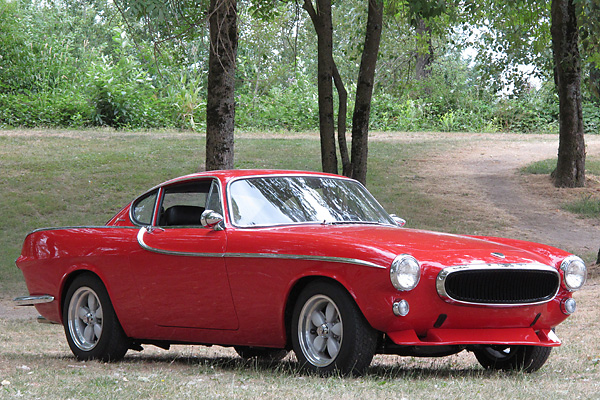 In Swedish: "Lars kallar sin bil De Super Jordnöt!"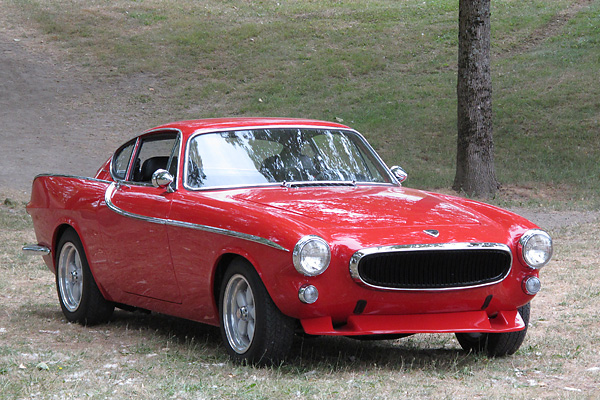 Volvo's original ads for the P1800 proclaimed:
"It's sort of a souped down Ferrari."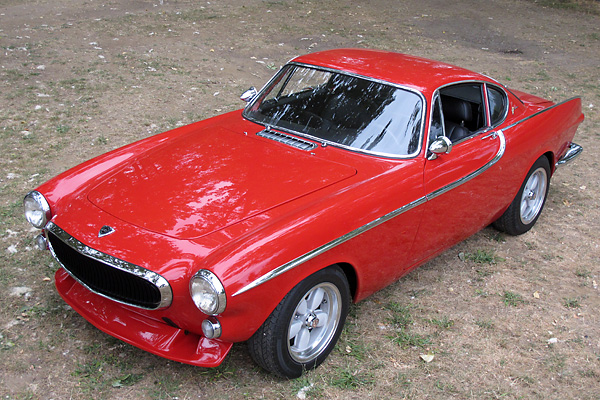 Volvo's P1800 was priced very comparably to Jaguar's E-Type.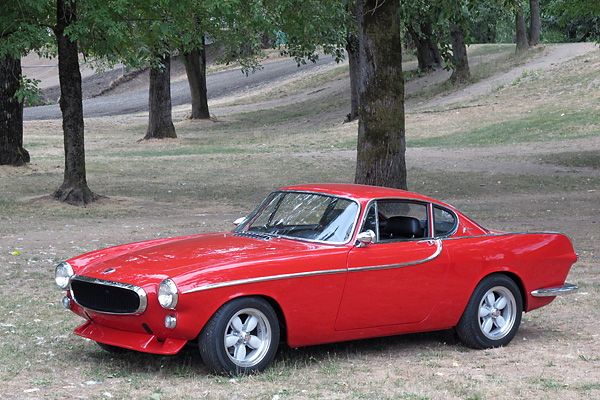 White parking/turn signal lenses were only used on early (1961-1963) cars.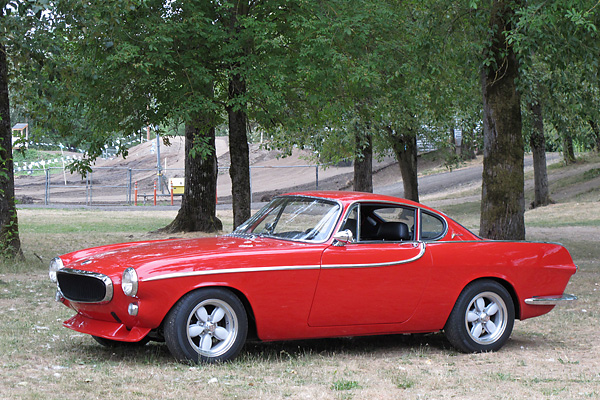 Bold upward-curved side trim was a characteristic feature through 1966.
(From 1967 on, narrower straight pieces of trim were installed instead.)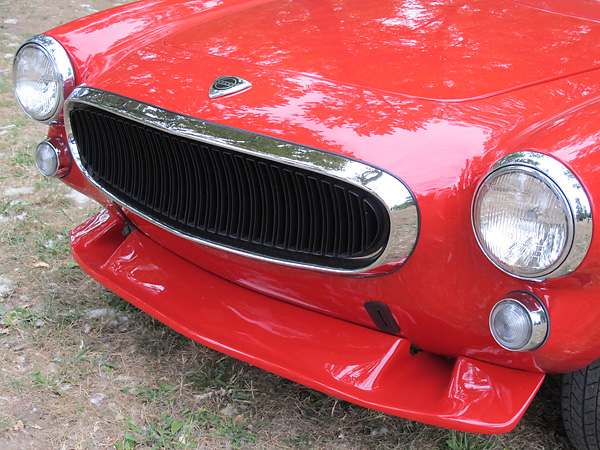 IPD fiberglass front "chin" spoiler from IPD.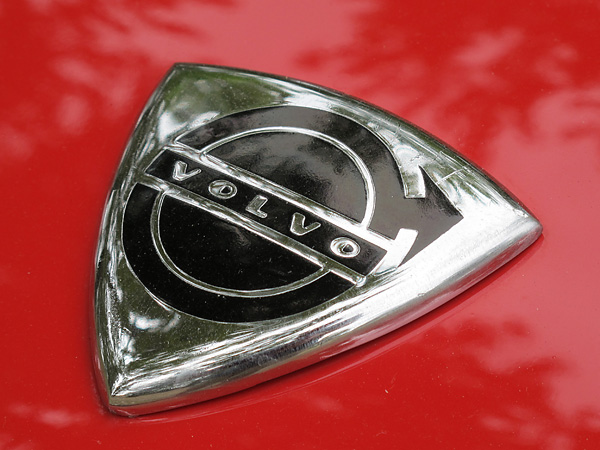 Triangular Volvo badge: installed until a rectangular design arrived for the 1972 model year.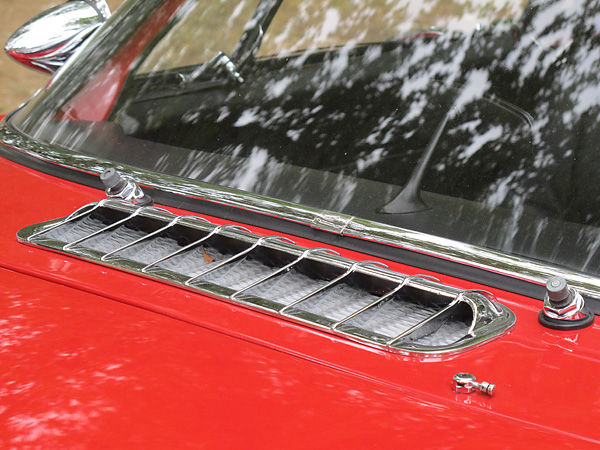 Fresh air inlet grilles were chromed on P1800, but were painted body color on 1800S.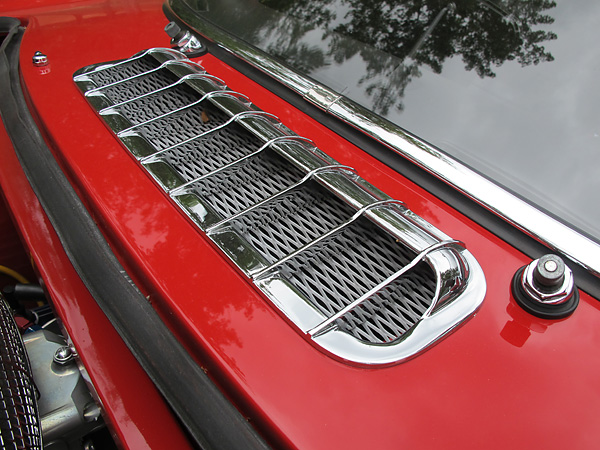 (The expanded metal leaf screen is a factory original detail.)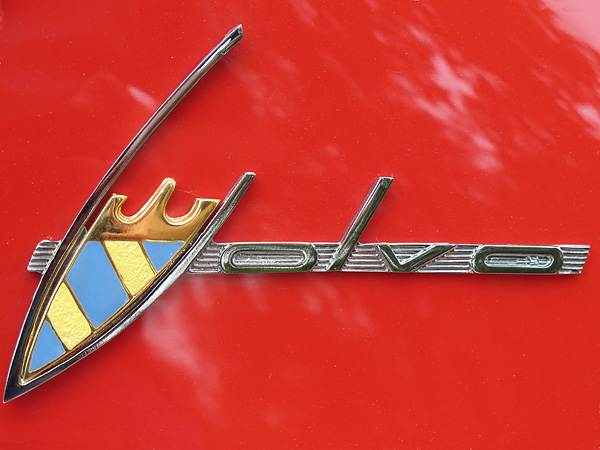 Stylish V-badge on the rear pillar was discontinued after chassis number 6178.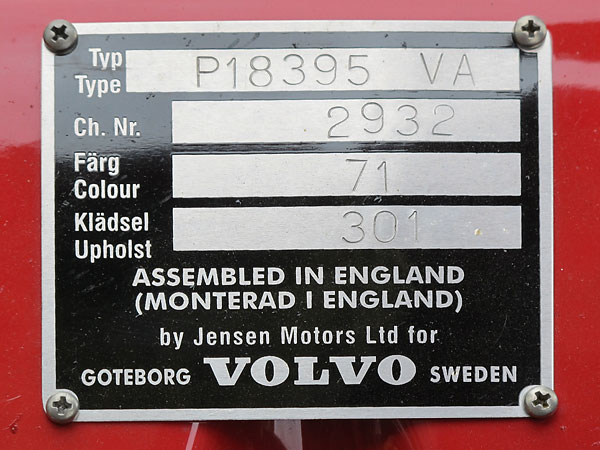 Type P18304 VA, Ch. Nr. 2932, Colour 71, Upholst 301
Assembled in England (Monterad I England) by Jensen Motors Ltd for
Goteborg - VOLVO - Sweden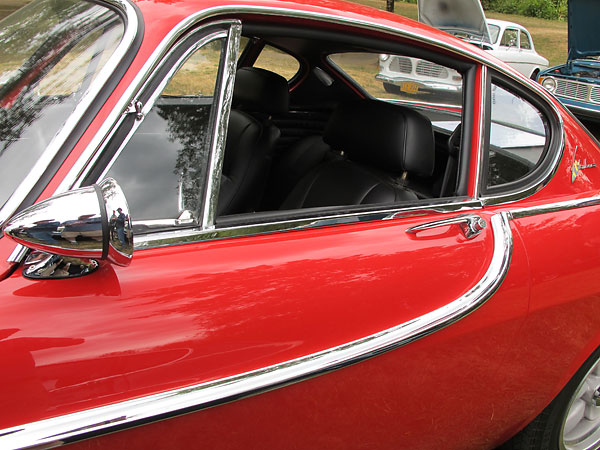 Picture Roger Moore here. Before he was agent 007, Roger Moore drove a white
Volvo P1800 whilst starring as "The Saint" in a popular television show.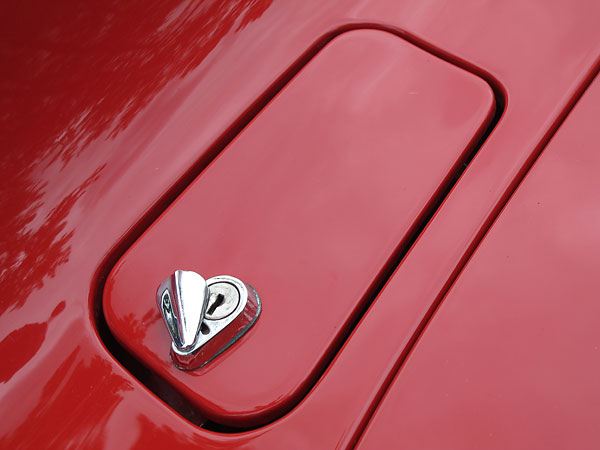 Original fuel filler door as used through the 1969 model year.
Later model years had their fuel fillers on the side of the body.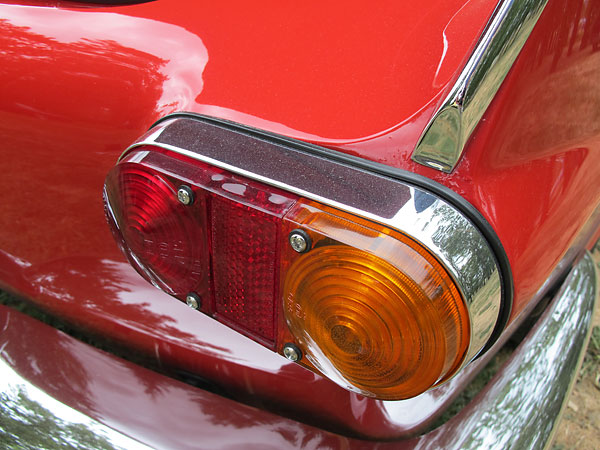 Volvo P1800 tail light assembly. (Current replacement cost: ~$400.)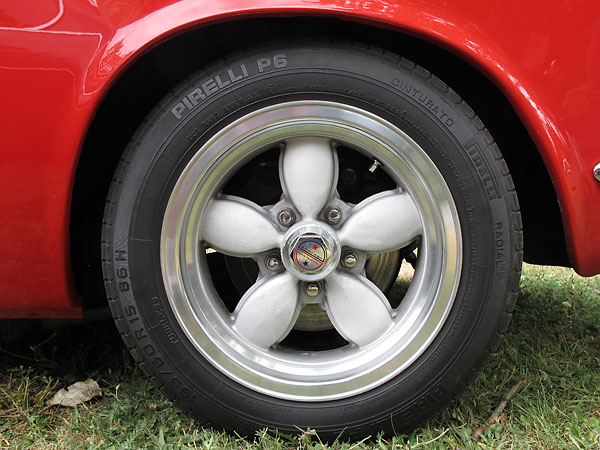 American Racing aluminum wheels.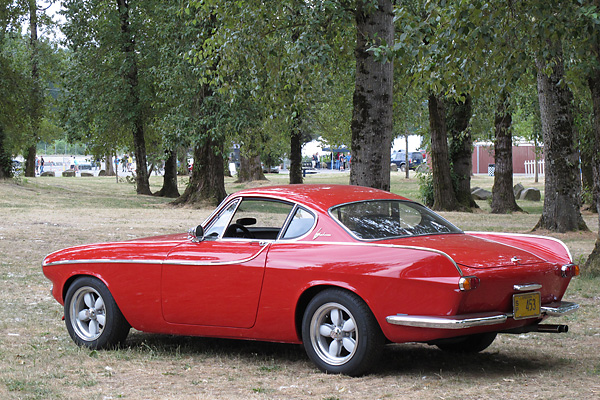 Pirelli P6 tires, size 195/60R15.


Photos by Larry Rembold ("In Process" photos only) and Curtis Jacobson for BritishV8.org. Copyright 2015. All rights reserved. Use by written permission only. (Do not print, copy to your hard drive, or post these online without permission.)