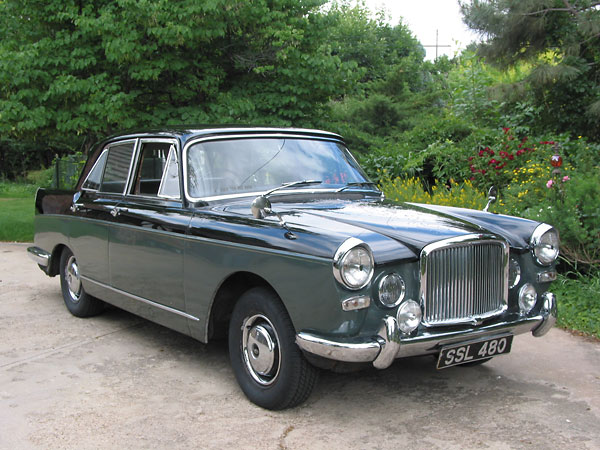 John Crosse's Nissan-Powered 1961 Vanden Plas (Austin) Princess
as published in BritishV8 Magazine, Volume XVI Issue 2, October 2008
Owner: John Crosse
BritishV8 UserID:
Myster John
City: Boulder, CO
Model: 1961 Vanden Plas (Austin) Princess 3 Litre MkII
Engine: 1980 Nissan 280ZX 2.8L inline six
Conversion by: Motorway Ltd., Ft Collins CO
Background Information
Guillaume Van den Plas was an apprentice blacksmith in Brussels Belgium who inherited his uncle's workshop in 1870 and went into business making axles for horse-drawn carriages. Successful at this work, in 1884 Mr. Van den Plas moved to Antwerp and started producing complete carriages. By the early 1900's the company was actively building bodies for installation on Daimler, de Dion Bouton, and Germain chassis.

In 1913, a Westminster England company called "Theo Masui Ltd." began building Van den Plas designed bodies under license, using components imported from Belgium. Theo Masui changed their company name to "Vanden Plas (England) Ltd.", just in time for their business to change radically with the outbreak of World War I. With the war, however, Vanden Plas was absorbed into the Aircraft Manufacturing Company ("AMC"), and their facilities were put into use building aircraft components. After the war, AMC was liquidated, and one of the company's managers, Edwin Fox, bought the Vanden Plas assets (including trademark) for £6000.

The automobile market was taking off, and Fox was able to secure a contract to provide car bodies for the Panhard (French) car company. "Vanden Plas (England) 1923 Ltd." moved into the large Kingsbury Works with this contract in hand. Since the building was larger than they needed, they sub-leased the excess space to another small carmaker, Bentley Motors. Ultimately, Vanden Plas ended up making nearly a quarter of the bodies for all "pre-Rolls" Bentleys, including five LeMans winning race cars.

Vanden Plas continued making bodies for Rolls-Royces and Bentleys from 1931 (when Rolls-Royce acquired Bentley) through the outbreak of World War II. With the outbreak of that war, they once again switched to producing aircraft components. Vanden Plas especially made major components for the de Havilland Mosquito.
At the end of the war, looking toward a return to automotive production, Vanden Plas desired to modernize their facilities. The future didn't look certain for hand-built, very low volume vehicles. Meanwhile, the Austin Motor Company was looking for a partner to build an upscale saloon body for their flagship 4-litre model. Vanden Plas agreed and became a subsidiary of Austin in June 1946. A Vanden Plas bodied Austin was indeed available starting in 1947, and it was named "Princess". The 4-litre Princess was primarily offered as a limousine for "ceremonial" uses.

In 1952, Austin became part of the British Motor Corporation ("BMC"), and from 1956, Vanden Plas cars were no longer badged "Austin" because BMC considered the Vanden Plas name more upscale and entirely sufficient on its own.

As if this decision about badging wasn't confusing enough, however, BMC also decided to simultaneously offer two entirely different Vanden Plas "Princess" models. The 4-litre Princess would continue indefinitely... and in 1959, Vanden Plas introduced an entirely new and more modern 3-litre "Princess". The 3-litre Princess was also a luxury automobile, but it was better suited for a member of parliament than for a member of the royal family. During the 3-litre Princess's seven year production life, 12,703 examples were built.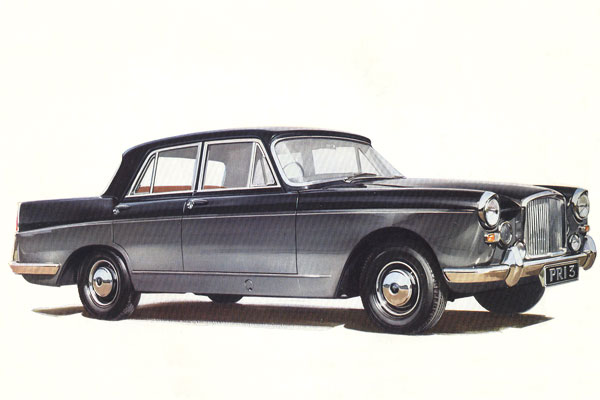 More Luxury for the Princess
Extra refinement added to mechanical improvements in Mk.II version of the Vanden Plas 3-Litre.

The specific automobile featured in this article is a "Vanden Plas Princess Mark II" - a longer wheelbase, higher horsepower version of the 3-litre Princess. The Mk.II variant was introduced in 1961 and built until 1964. BMC summed-up the sales proposition as follows: "One of the most mechanically advanced cars on the road today, this supremely elegant saloon has been provided with the most dependably engineered features for safety and smooth, untroubled performance." The 3-litre Princess featured the same six cylinder engine as the big Austin-Healey 3000 sports car. For the Mk.II Princess (1961 model) BMC claimed 120bhp and a top speed of 102mph.

John Crosse's 1961 Vanden Plas Princess Mk.II apparently traveled with a previous owner from England into Canada sometime in the late sixties or early seventies. It eventually ended-up in California. When John purchased it, the original engine had been blown and was beyond repair, but the body was solid and the interior was nearly entirely complete. John had the Princess transported to Colorado, where he began contracting out aspects of its transformation into a reliable and fun car for Sunday drives and picnics.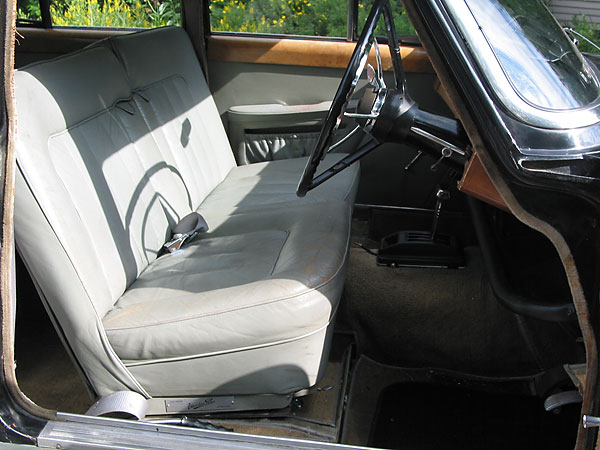 How It Was Done
| | |
| --- | --- |
| Engine: | 1980 Nissan "L28" 2.8L inline six (from a low-mileage California spec. 280ZX donor car) with Bosch L-Jetronic fuel injection. (Stock fuel map chip, cam, etc.) In the 280ZX, this engine was rated 149bhp @ 5,200 rpm and 144lb ft @ 4,000 rpm, SAE net. The Bosch electronic fuel injection system is fairly simple and self contained, but it did require installation of a new fuel tank, high volume/pressure pump, return line, etc. |
| Cooling: | re-cored stock radiator, plus thermostatically-controlled electric fan. |
| Exhaust: | Nissan iron exhaust manifold feeding into a single pipe exhaust system. |
| Transmission: | Nissan 3-speed automatic, with floor-mounted gear selector. The Austin driveshaft was utilized, but with a new U-joint knuckle to suit the Nissan transmission. Note: the Princess originally came with 3-speed manual transmission plus overdrive. That transmission was column-shifted, with a switch for overdrive. |
| Rear End: | stock (3.9:1 final drive ratio and open differential). |
| Suspension: | stock (double wishbone front / leaf sprung rear, with knee-action shocks.) |
| Brakes: | stock (with single circuit master cylinder, servo-assist, Lockheed single-piston front disc brakes, and drum brakes in the rear.) |
| Wheels: | stock 14x7 steel wheels with Michelin "X" 195/75 tires. |
| Weight: | ~3500 pounds (approximately same as stock.) |
| Instruments: | stock, plus an aftermarket water temperature gauge mounted under the dashboard. |
| Body: | stock and original in appearance (in two-tone paint with lots of chrome). Note: although this car was built by Austin, it was marketed as a "Vanden Plas" and no Austin badges appear anywhere on the car. Pininfarina designed the body, and BMC used versions of it for several models of "badge engineered" cars. |
| Interior: | stock and original in appearance (with leather upholstery, wool carpet, and burled walnut wood veneer trim). BMC/Britax three-point seat belts were apparently added in the late sixties or early seventies. The original under-dash parcel shelf and the new floor-mounted gear selector currently have an interference issue, but one or the other could be easily modified. |
| Completed: | 2005. (Driven approximately 1500 miles since conversion, as of June 2008.) |
| Performance: | reliable, practical, and fun to drive! |
| Comments : | a Vanden Plas "Princess" is a very unusual car to find in North America, although these cars are well supported by an active owner's club in the U.K. (Note: only 3344 Vanden Plas Princesses were made, from 1957 through 1968.) This particular example was apparently imported into Canada, and then spent some years in California. With the Nissan engine, this is now a "sensible" car. It's mechanically sound and presentable. An overdrive and air conditioning would be welcome additions for long-distance touring. It's sufficiently strong to pull a trailer. As such, it would be perfect for transporting a V8-powered British sports car or a race car; your tow car might get as much attention as your "baby"! |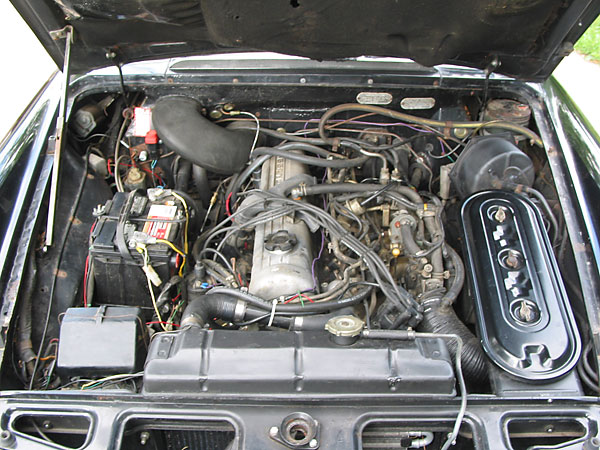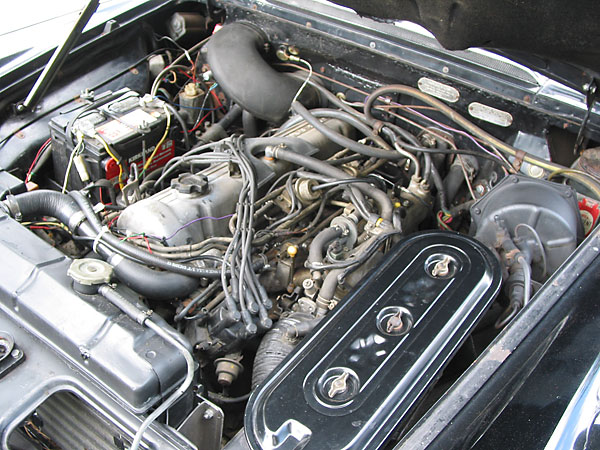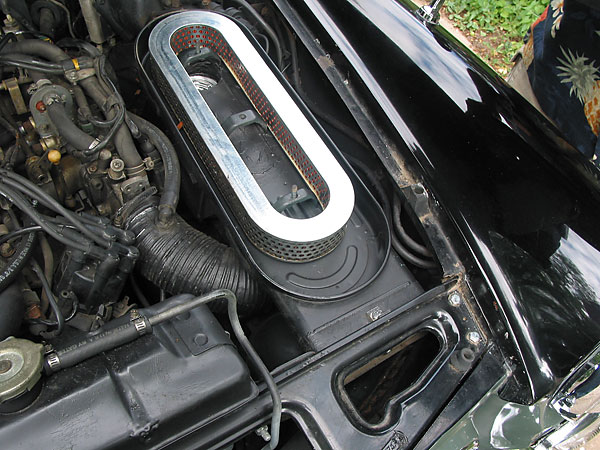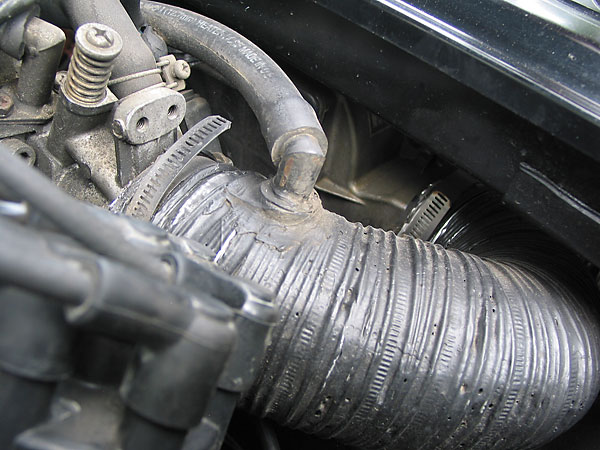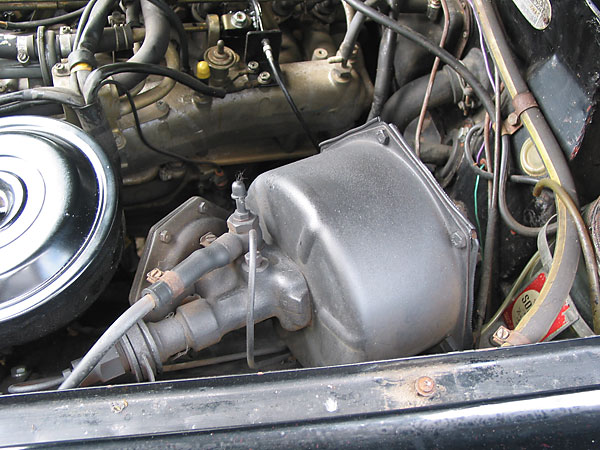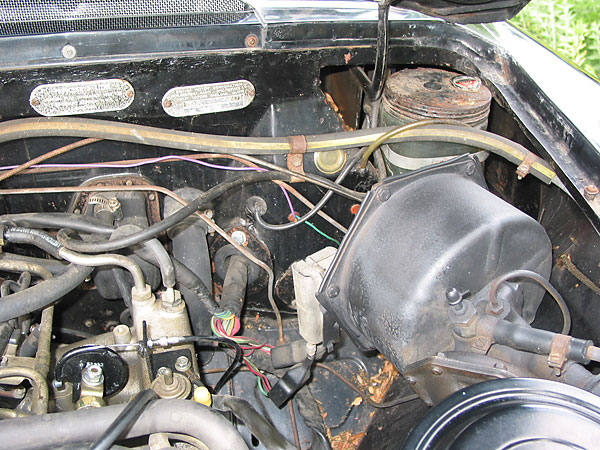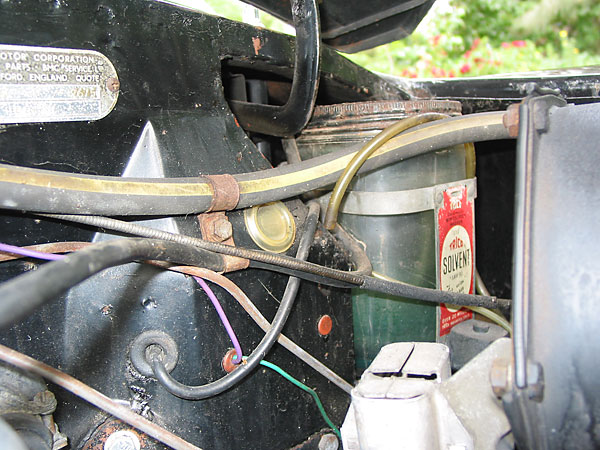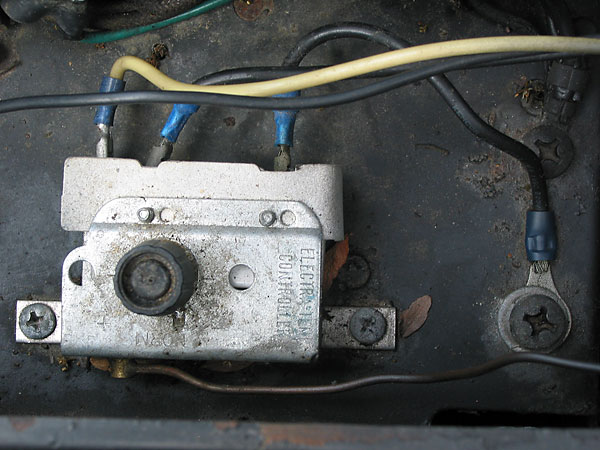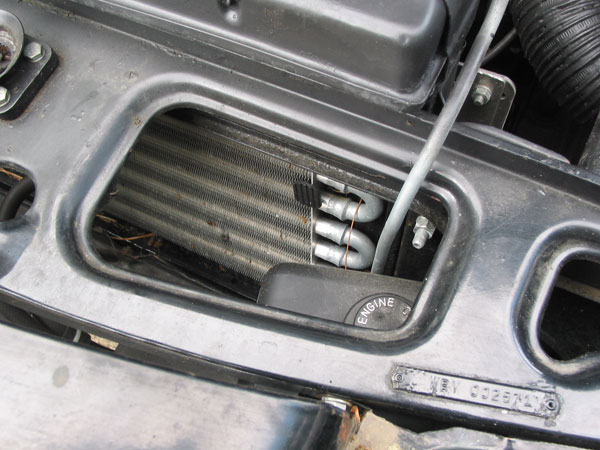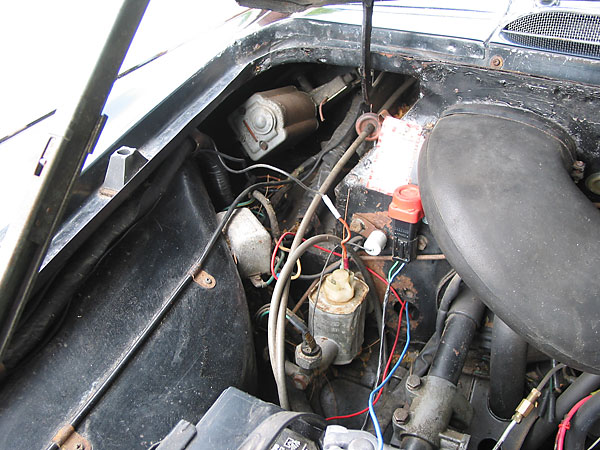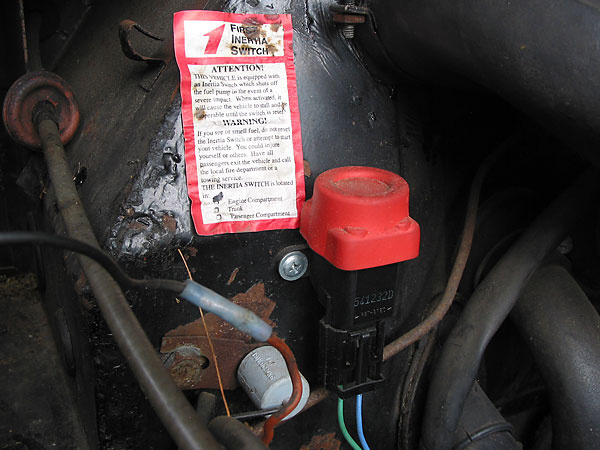 Enjoying this article? Our magazine is funded through the generous support of readers like you!
To contribute to our operating budget, please click here and follow the instructions.
(Suggested contribution is twenty bucks per year. Feel free to give more!)