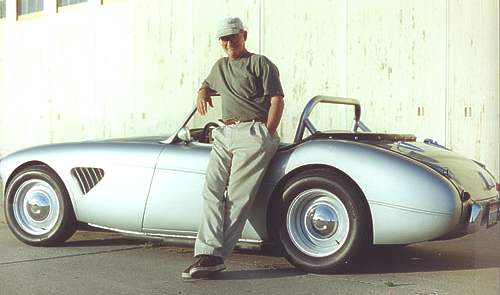 Jim Boles' 1960 Austin-Healey 3000 with a Chevy 350 Small Block
(as recorded by Dan Masters)

Jim wrote:

The motor is a Chev 350cid ZZ3 crate motor with Trick-Flow heads, modified Isky-Crane valve train, and MSD ignition modifications. Horsepower is approx 400.

The car utilizes stock Healey a-arms, but has aluminum Alden coil-over springs and shocks. The steering is a shortened Pinto rack with rod ends and the steering ratio is enhanced with a Howe 1.5/1 ratio gear box. Transmission is a close ratio Richmond 4-speed, rear end is a shortened Ford 8", with 4 spider posi and Carrera race shocks. Wheels are steel and tires are Yokohoma 205/VR/15 in the front and 235/VR/15 in the rear. Fuel tank is a JAZ 16 gal polyurethane in a steel enclosure.

The frame has been extensively stiffened. Car weighs 2350 lb without fuel and driver with a 45% front, 55% rear weight distribution. Radiator is a custom Griffin aluminum model which duplicates the stock Healey radiator. It's driven about 50-100 miles a week and handles very well. Biggest problem is lack of traction launching the car.
A little history on the car. It was purcheased about 20 years ago from one of my graduate students for $100 sans engine and transmission and wrecked in the right front. He was using the car for a parts car. Originally, I had a 215 Olds engine in it with T-10 4-speed. It was fun but parts were hard to find. I discovered that the Chevy 350 had the same external dimensions and of course parts are cheap and horse power is a diffeernt league.

The unusual aspects of his car is the front suspension has been totally modified. The Pinto housing and rack was shortened, and new short steering arms were fabricated with rod ends. The purpose of this was to have a setup with zero bump steer in the front suspension. The frame rails were capped with an "L" shaped piece (perforated with large holes) and stitch welded along the entire frame length. Down tubes from the roll bar also stiffen the frame as well as a number of 0.090" thick box tubing pieces which serve to make the front section a unified structural member of the car.

I have spent a lot of time on this car. Many of these projects turn out to be evil handling and a nightmare. This one has turned out to be beyond my expectations. It captures the vintage retro look of the Healey but has a lot of power. Too much in fact, realistically. It can decimate the 235 tires from 30 mph in first. Beyond 40mph its the E-ticket ride.

I drive the car about 100 miles a week to and from the university as well as week-end excusions into the country. I'll send some construction pictures later.

(as recorded in "The Wheelspinner Newsletter", and also in British V8 Newsletter, Volume 14 Issue 1)

Jim wrote:

The car has an awesome motor in it now. We changed to an RPM Air Gap manifold and hand built headers for it (stepped from 1 5/8 to 1 3/4). This motor dynoed at 509hp and 488ft-lbs torque at the flywheel. The amazing thing is that the torque curve is almost flat from about 3500 to 6500 RPM.


Traction has become even more of a serious issue. With the previous motor I was able to record 3.25sec 40-80 times (G-Tech). With this motor it won't really hook up in second until about 70.

I also made a front air dam by modifying the front dam from a Ford Ranger pick-up. This seems to work really well. There is an aluminum piece that covers the section between the front oil cooler and the radiator. I also built aluminum pieces to isolate the fresh air ducting to the carb from the radiator. The motor runs surprisingly cool with all of this.