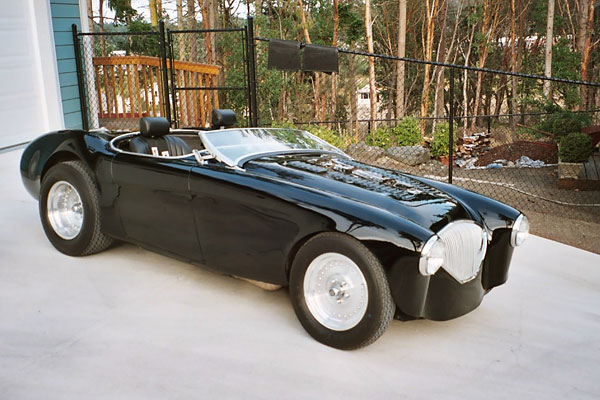 Jerry Johnson's 1955 Austin-Healey 100-4 with Chevy LT-1 V8 engine
as published in British V8 Newsletter, Volume XV Issue 3, December 2007
Owner: Jerry H. Johnson
City: Port Townsend, WA
Model: 1955 Austin-Healey 100-4
Engine: Chevy LT-1 350cid V8
Conversion completed by: Ben Foster and Rob Dvorsky, Ukiah CA
Engine:
LT-1 engine (from ~1970) with Dart heads, forged 10.5:1 pistons, and 7 quart oil pan.
(Built by Baca's Engine Shop, S. San Francisco.)

Induction:
Holley double-pumper carburetor.

Cam:
Crane.

Ignition:
standard GM.

Cooling:
aluminum radiator with two thermostatically-controlled electric fans.

Exhaust:
tubular headers, 2.25" dual exhaust/mufflers.

Transmission:
Borg-Warner Super T10 4-speed.

Clutch:
heavy duty racing clutch.

Rear Axle:
narrowed Ford 9".

Front Susp.:
1979 Triumph TR7, including steering rack.

Brakes:
disc.

Wheels/Tires:
15" Centerline wheels and Mickey Thompson tires.
(I also have an extra set of 14" Centerline wheels with Goodyear tires.)

Weight:
2400 pounds.

Chassis Mods:
additional cross-bracing to stiffen the frame. 10 gallon fuel cell with aircraft type filler.
Custom fabricated transmission/driveshaft tunnel.

Interior:
custom. 1979 Triumph TR7 bucket seats with Simpson safety harnesses. Autometer gauges.

Completed:
March 1999.