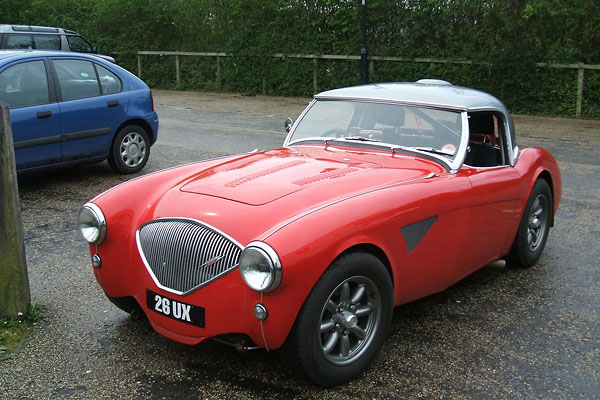 Ian Osborne's 1954 Austin Healey 100
as published in BritishV8 Magazine, Volume XVII Issue 1, July 2009
Owner: Ian Osborne
BritishV8 UserID:
kev_the_mole
City: Wareham, Dorset, England
Model: 1954 Austin Healey 100 BN1
Engine: Chevrolet 383cid V8
Conversion by: Pete Farmer Performance Racing
Editor's note: Ian's Austin Healey was originally converted to Chevy V8 power in about 1965 by Greg Greathouse of California. Greg made many changes and upgrades to the car over the years, including replacing the original 327cid engine with a 350 sometime in the 1980's. After Greg passed away, Ian purchased the car and had it transported to England. There, it was stripped down to the frame and rebuilt, but using that same small block Chevy engine. That 350 has now been replaced with an all-new, 383 cubic inch "crate" engine. This article describes the Healey's development from when Ian bought the car.
Executive Summary
Engine:
383cid small block Chevy engine with 4-bolt mains. Compression ratio is 10.5:1. Eagle ESP steel crankshaft with 3.750" stroke; CNC machined with 0.092" radius on all journals. Keith Black hypereutectic aluminium flat top pistons. Eagle SIR 5140 forged rods (5.700" long) with ARP cap screw bolts and floating pins with bronze bushed small ends. Custom hydraulic cam with duration of 244 degrees at 0.505" lift (both intake and exhaust). TRW Lifters. Serdi CNC-machined Pro-Comp aluminium cylinder heads. Valve diameters are 2.02" (intake) and 1.600" (exhaust). PRW forged aluminium roller rockers, with 1.6:1 ratio. Custom length forged pushrods. Quick Fuel USA (Holley 650) vacuum-secondary, road race carburettor. Edelbrock Victor Junior low profile, single plane intake manifold. MSD Mega-Fire 6AL multi fire capacitive discharge ignition system with Engine Works USA custom HEI distributor. Melling HV-55 high volume oil pump with ARP 4130 forged pump drive. Kevko 7qt road race oil pan with traps and baffles.

Cooling:
Serck 600bhp capacity race radiator with Proform electric water pump and 14" pusher fan. Oil cooler.

Exhaust:
custom 4-into-1 exhaust headers with Maniflow 3" exhaust system and mufflers with stainless side exit pipes.

Transmission:
Tremec TKO600RR 600 ft lbs 5-speed with 0.82 top gear. McLeod StreetPRO clutch set with Tilton hydraulic throw-out bearing. Tilton floor mounted pedal/master cylinder. Engine Works USA 15lb lightweight steel flywheel. Shortened Chevrolet driveshaft.

Rear End:
narrowed Chevrolet 10-bolt with posi-traction diff 3.55:1 and Summers Brother's billet axle shafts.

Suspension:
(front) Healey standard with race springs, 20% uprated lever arm shocks, camber adjustable top mounts, and Ford Escort Mk2 steering rack.
(rear) Race 10 leaf springs with Koni telescopic shocks. Panhard rod and custom anti-tramp bars.
Brakes:
Tilton brake pedal set, featuring twin master cylinders with bias bar. Healey 3000 front discs with Chevrolet 11" rear drums. Electronic line-lock in lieu of conventional parking brake.

Chassis:
capped full length and front shock towers cross braced.

Wheels:
Minilite 15 x 6J fronts, Minilite 15 x 7J rears. B.F. Goodrich tyres

Interior:
wing and oil cooler vents. Pete Farmer hardtop. Miata seats. Willans harnesses. Semi-spaceframe half roll cage. Bonnet bulge to clear air cleaner. Alloy long range foam-filled fuel tank

Electrical:
custom dash with Cobra gauges. 3 mode LED lighting and signaling at rear.

Ian Osborne's Healey V8 Experience
It all started with a desire for more power. I already had a standard Austin Healey 3000 and I didn't want to mess about with it, so I started looking around. I soon found the late Greg Greathouse's "Uncobra" for sale at a dealership in New Jersey. It was a little more unusual than the eponymous 200bhp rally replica or race car. It's a 1954 "BN1" originally converted to small block Chevy power in 1964 or 65. It looked to fit the bill. The engine had 4-bolt mains, and they claimed it would produce about 325bhp. I couldn't travel to see it, so I asked some people who had known the car whether they would buy it. The answer was unequivocally "YES!" Then I had a bit of luck and the guy selling it put it on eBay for less than he was originally asking!

Of course, once it was imported to the UK (with a cracked manifold that neither the dealer, shipper or car transporter would admit to) it went like stink in a straight line, wouldn't corner, tramlined like a bitch, had a duff alternator and regulator, and it came with only three magnesium wheels (plus an unmentioned aluminium replacement). It didn't pass its UK road-worthiness test because of tin worm in both sills and one floor, despite a two month old New Jersey Inspection Certificate.

So instead of road trip, it was tear down time. I took the car to Pete Farmer Performance Racing. During the disassembly phase we found a 1964 newspaper in the left front fender, presumably from Greg's first rebuild! A decision was made to keep and repair all the old panels to ensure the best fit. A 5-6 month build estimate turned into a 14 month marathon due to much saying of "What if we did this now?" Luckily, Pete's reputation of not suffering fools gladly did not affect the growing friendship between the builder and his idiot customer.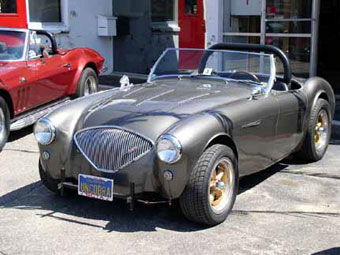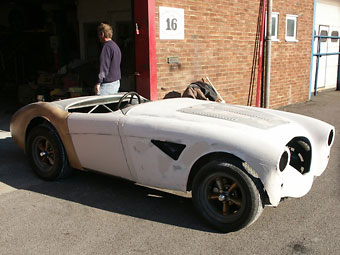 The "before" pictures: (left) as purchased and (right) as stripped down during the new bodywork.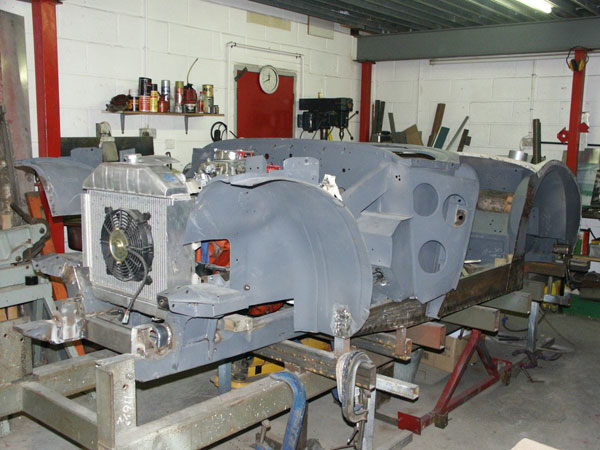 For best results, it's very helpful to have an accurate fixture for working on the frame and body.

The original Hobrecht roll hoop was less than reassuring, so a triangulated half roll cage was fabricated. The height of the main hoop was chosen to accommodate a hardtop. To get enough angle on the rear struts, they were made in two sections and passed through the rear deck. At the same time the rear telescopic shock mounts were re-sited to make them more vertical.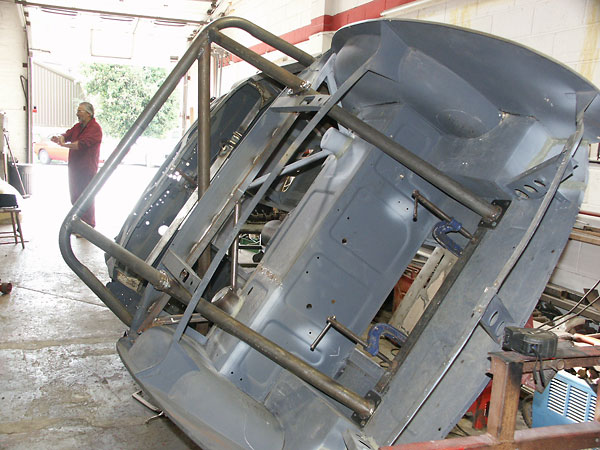 Replacing the roll hoop was one of the earliest steps in the project.

During the rebuild, I decided to convert the car to right-hand drive, and also convert to rack and pinion steering. The new steering column and rally-spec quick-ratio rack came from a Ford Escort (Mk2) and the intermediate shaft is from a Westfield. While the car was on the rotisserie, the chassis was capped full length. Adjustable suspension top mounts were fitted and the suspension towers were triangulated to reduce flex. Pete likes the stock Healey front suspension, so we removed and sold the Koni telescopic shocks that Greg had installed, and replaced them with uprated lever-arm shocks. However, I'm investigating coil-over options for the front suspension.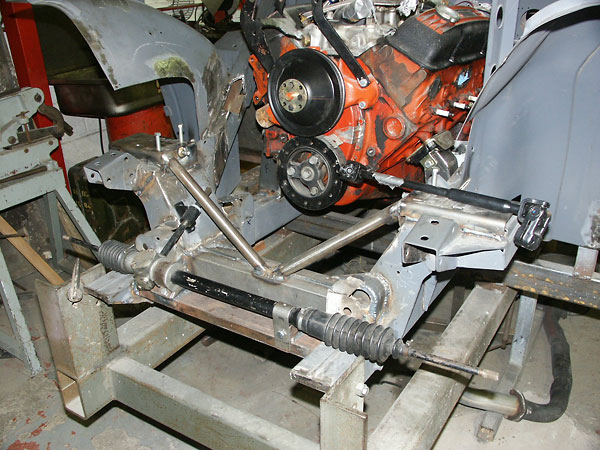 After the front structure is reinforced, the next step is installing a Ford Escort steering rack.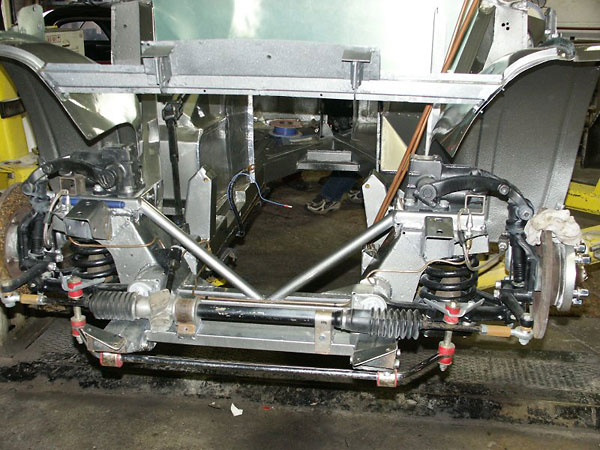 20 percent uprated lever arm shocks and camber adjustable top mounts.

As there was little hope that off-the-shelf headers would fit the very restricted Healey engine bay, custom headers were created.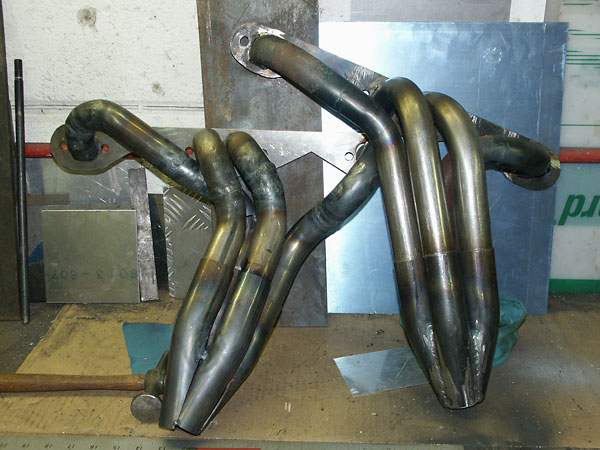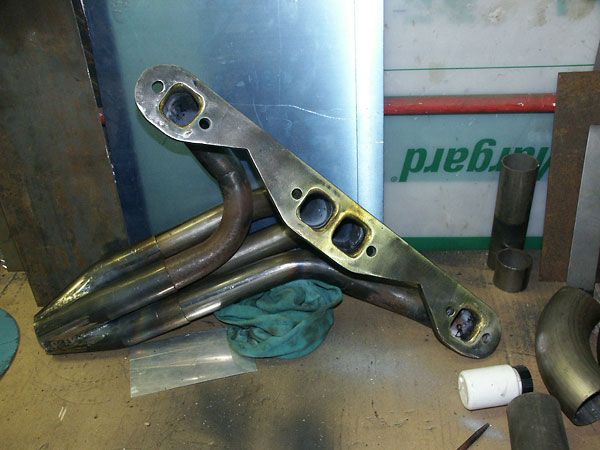 (The next two photos are out of sequence, but they show how the steering threads through the headers.)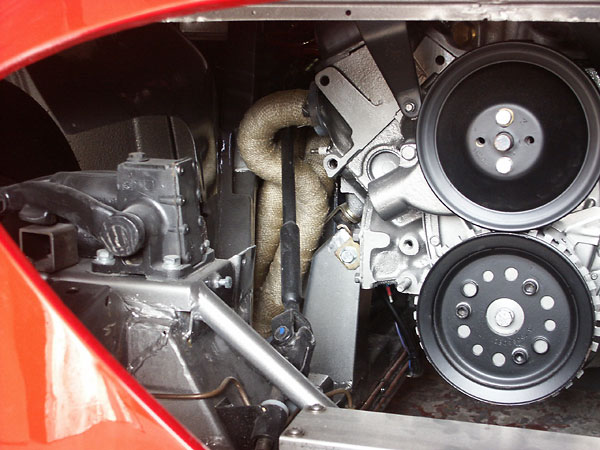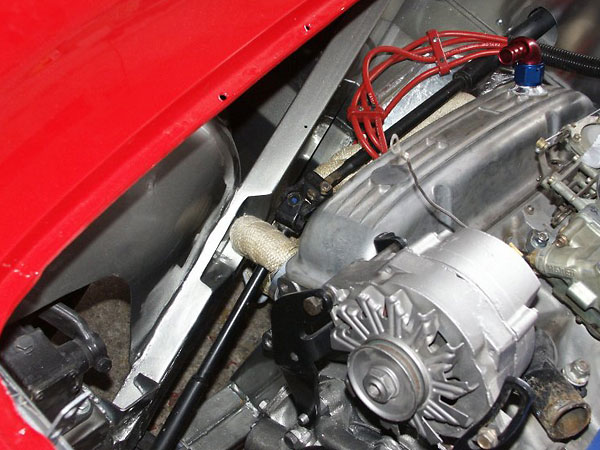 About halfway finished, it looked like this. Behind the crank pulley you can see the timing wheel for a crank sensor, installed in anticipation of a future fuel injection installation. The copper fuel feed and return pipes for the future EFI can be seen standing vertically. Because I insisted on a normal opening bonnet (hood) the stay that holds both the hinges and stabilises the front wheel arches has been made removable to allow easier removal and fitting of the engine.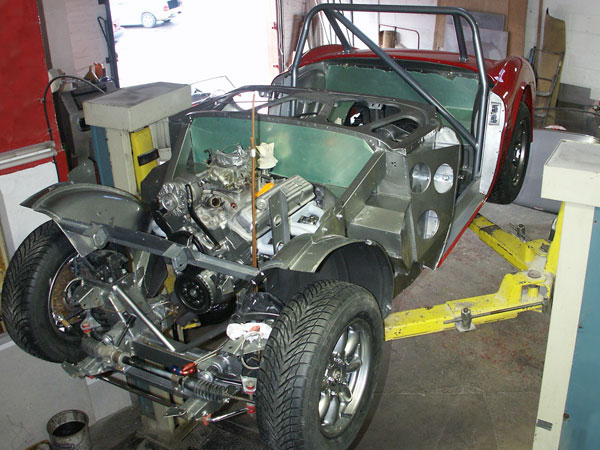 Notice the new aluminum bulkheads.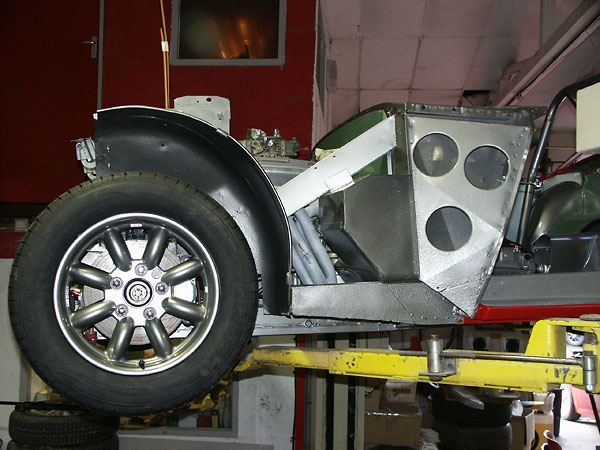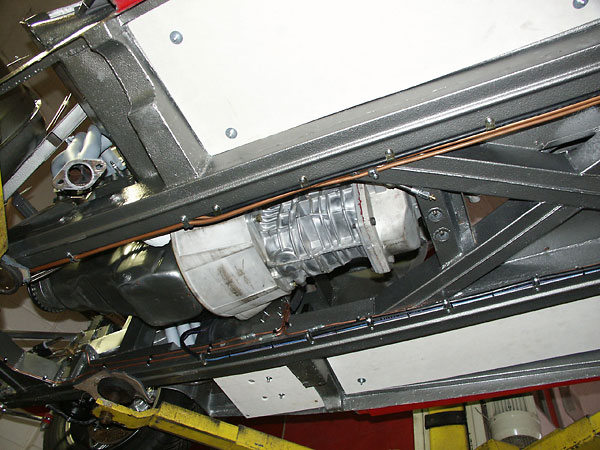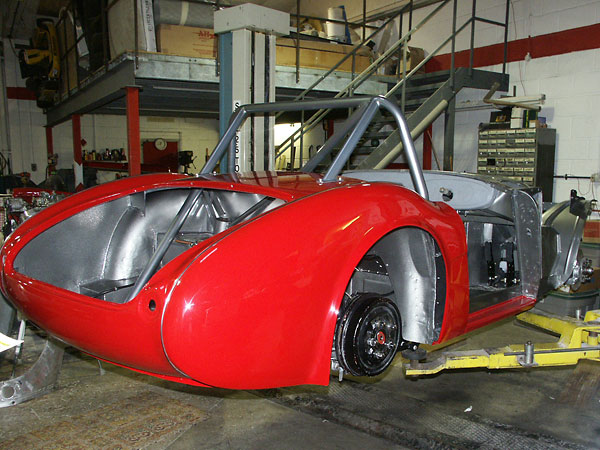 Anti-tramp bars were fabricated and installed to reduce or eliminate wheel-hop during braking due to leaf spring "wind-up". A Panhard rod was installed to restrict side-to-side movement of the body relative to the axle when cornering. Longer term, I'll be looking at a 4-link or maybe a Jaguar rear-end.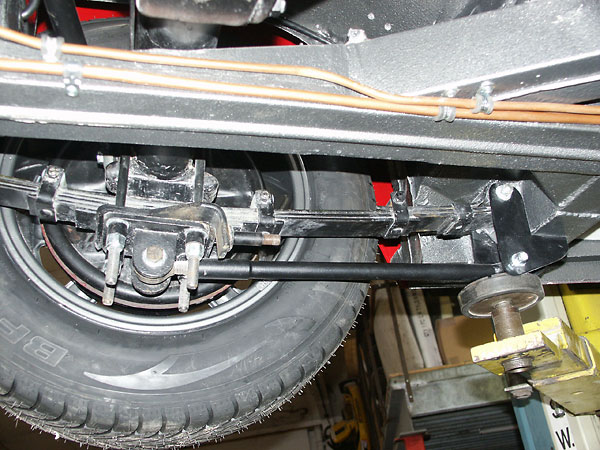 Anti-tramp bars reduce wheel-hop during braking due to leaf spring wind-up.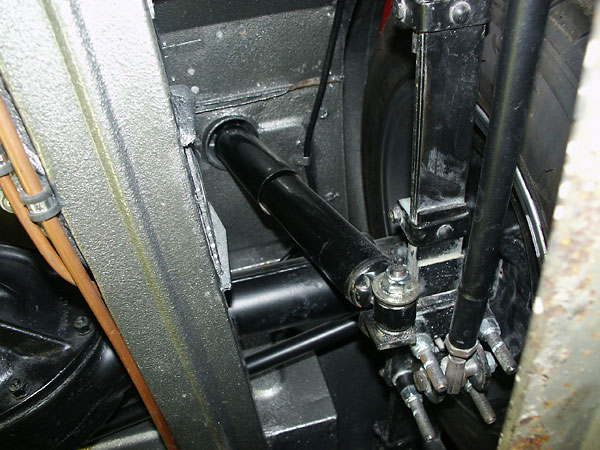 Panhard rods restrict side-to-side movement of the body when cornering.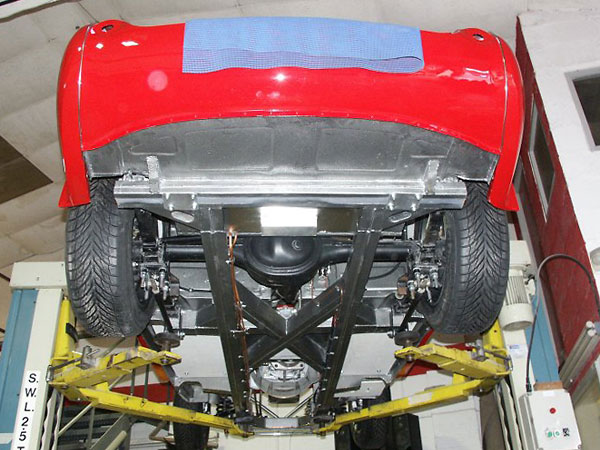 Other parts for the project were coming in left and right. The new transmission is a Tremec TKO600 5-speed. We sold Greg's old Muncie 4-speed, but kept the Hurst shifter. The Tremec transmission is big, so we needed to create a new fibreglass transmission tunnel and at about this time we also installed pedals and built-up a new dashboard.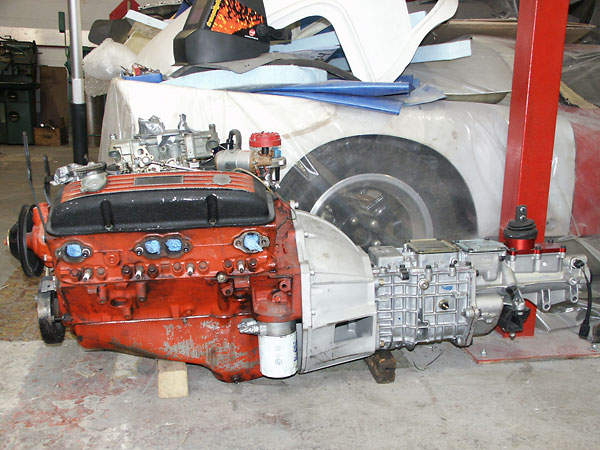 A test fitting of the Tremec TKO600 5-speed to the old engine. The pair are then temporarily installed.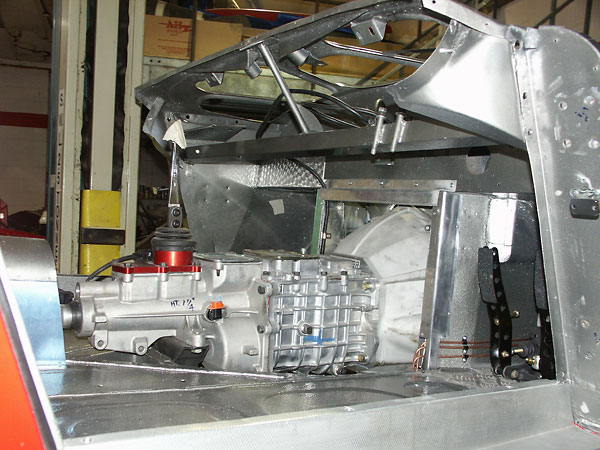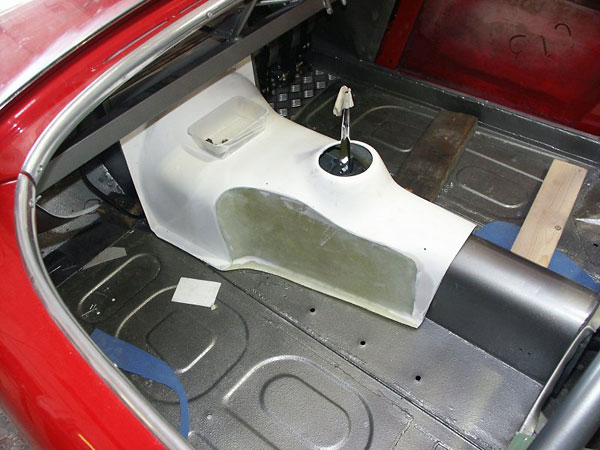 Custom fibreglass transmission tunnel.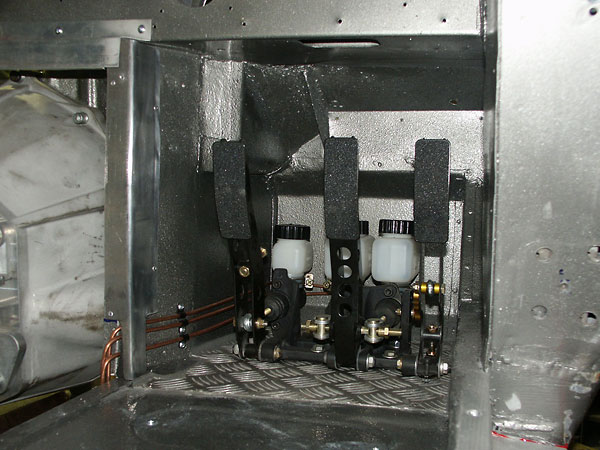 Tilton brake pedal set, featuring twin master cylinders with bias bar.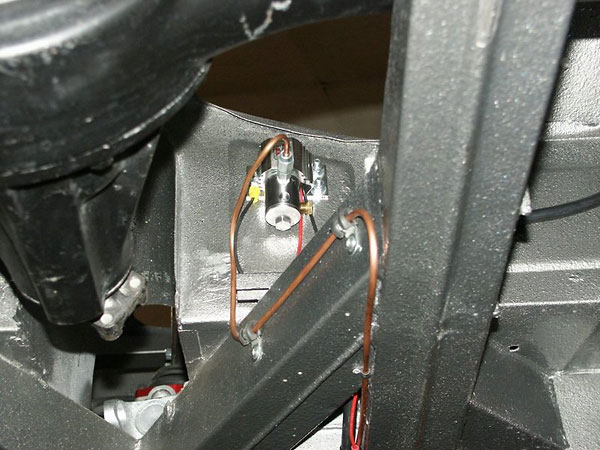 Electrically operated line lock solenoid (installed in lieu of a cable-operated parking brake).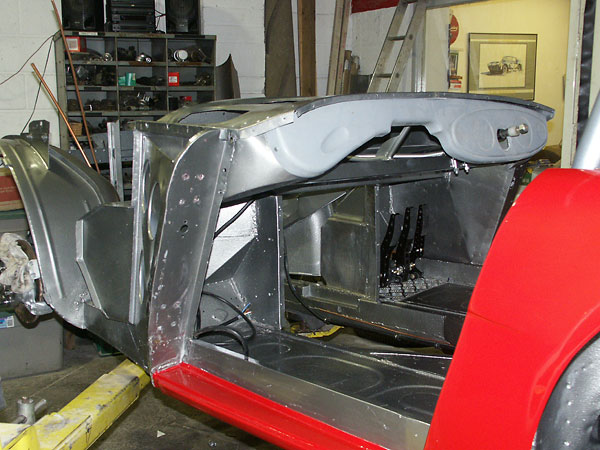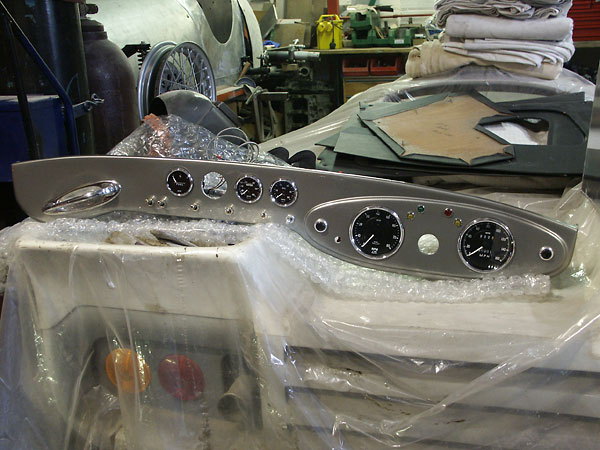 Custom dash with Cobra gauges.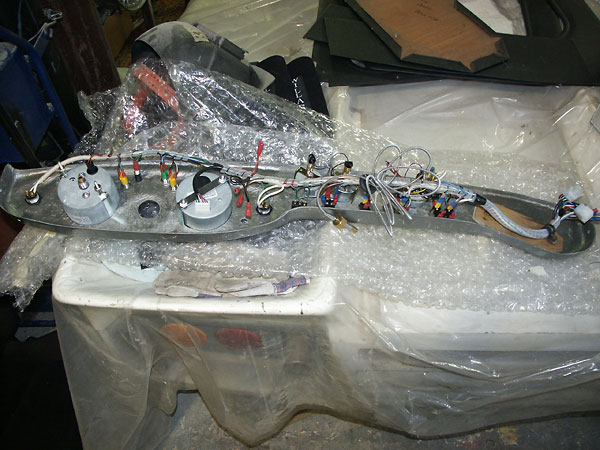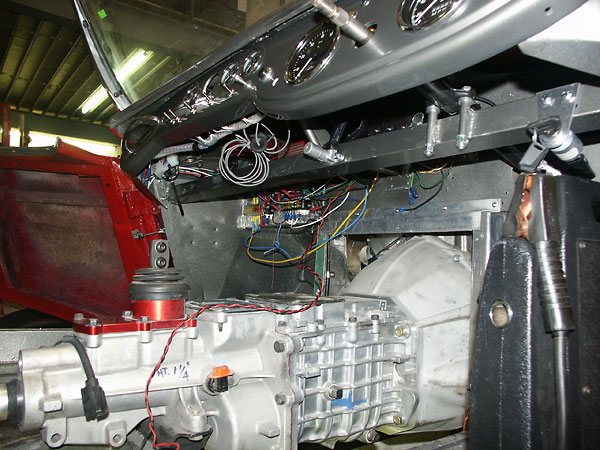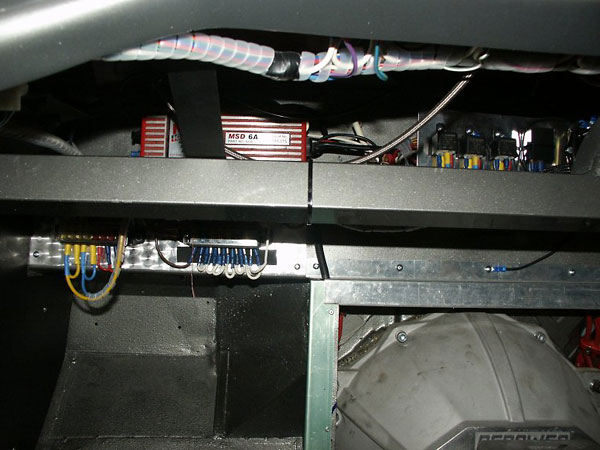 MSD 6A capacitive discharge ignition system.

Meanwhile, work continued on the engine installation and particularly on the cooling system...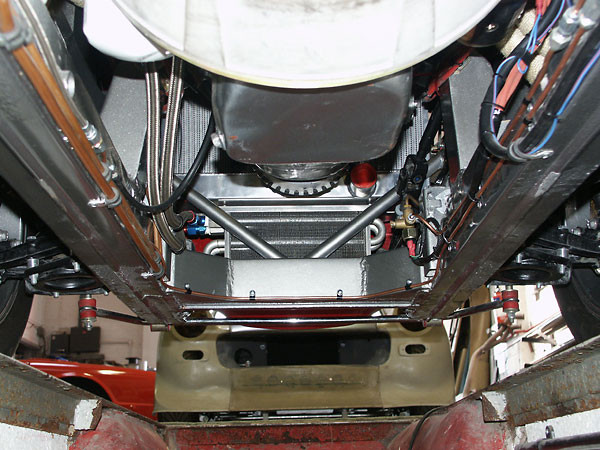 This is what the oil cooler looks like from back side...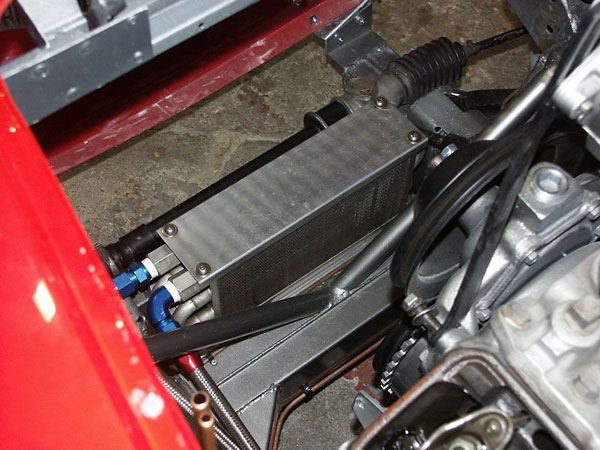 ...and from above. The radiator will ultimately sit immediately above the oil cooler!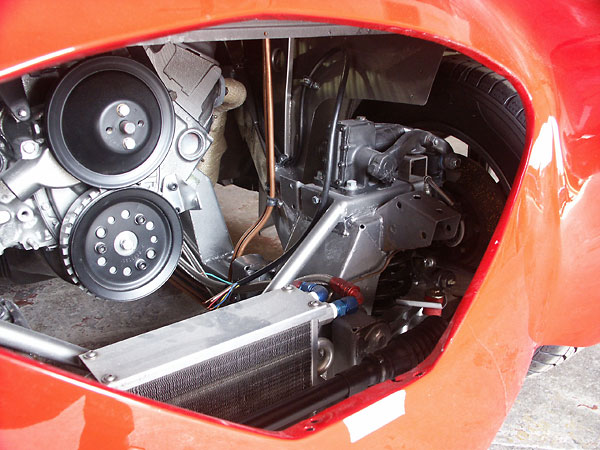 One more look at the oil cooler, before radiator is installed. (Copper lines are for EFI, later!)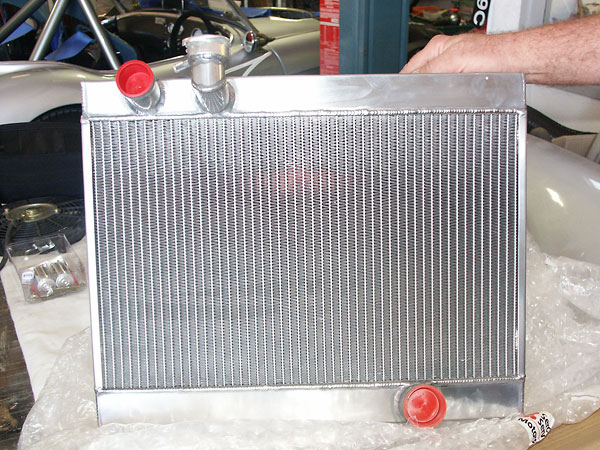 A new, custom aluminum radiator from Serck Services Motorsport.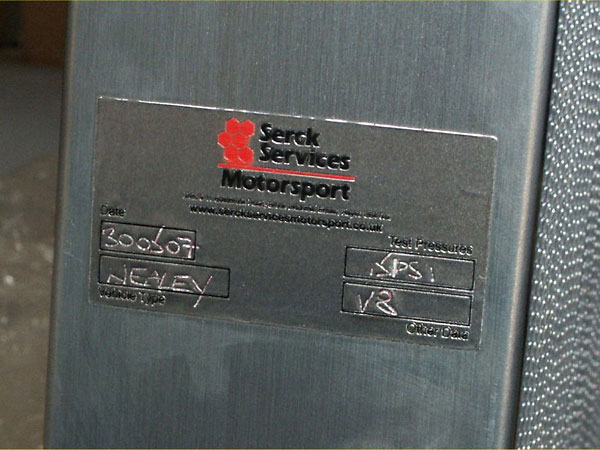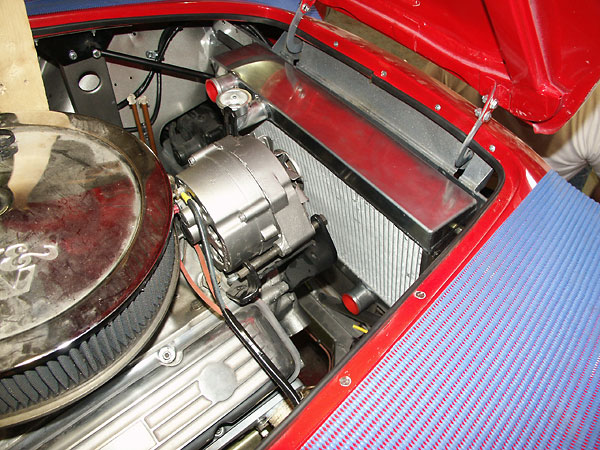 Notice the recirculation shield at the top of the radiator that prevents airflow from bypassing the core.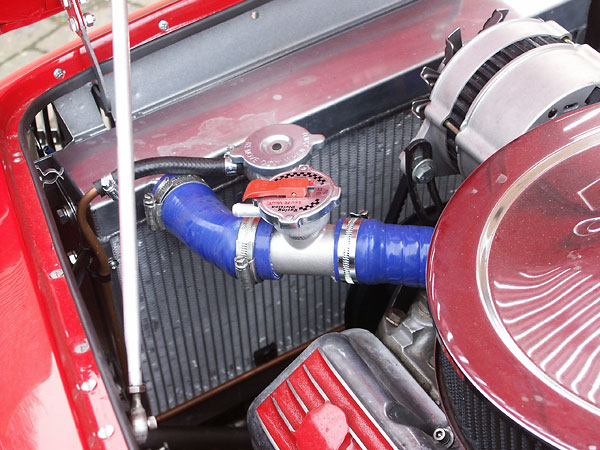 Two radiator caps? Apparently the lever-release pressure cap is mounted at the high point in the system.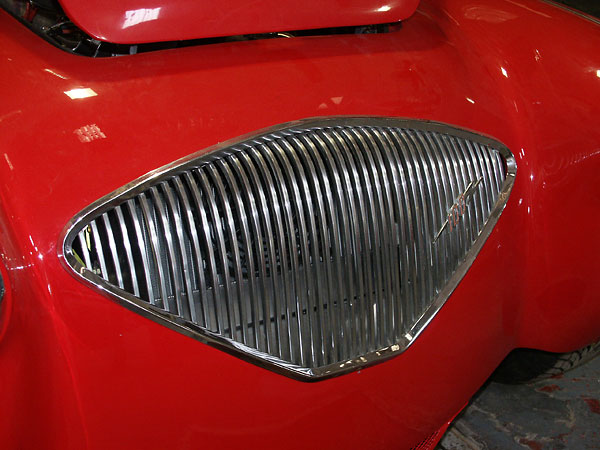 You can just see the fan behind the grille, and a very subtle oil cooler duct added below.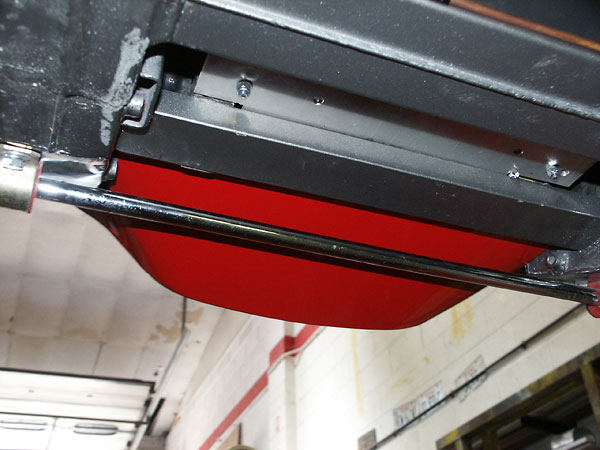 This view shows that same ductwork from below.

Anticipation built as various body panels and trim were reinstalled.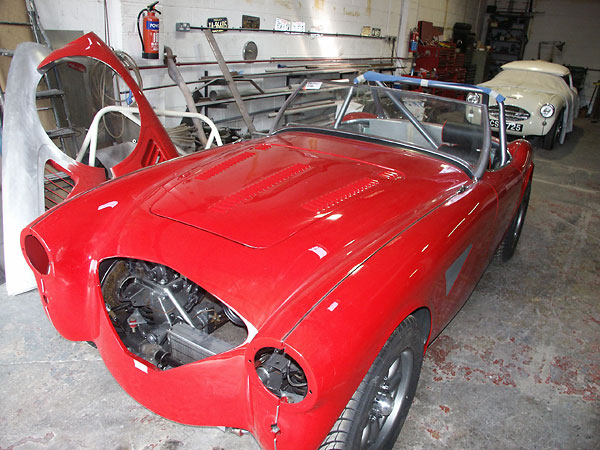 Louvered Austin Healey 100 bonnet.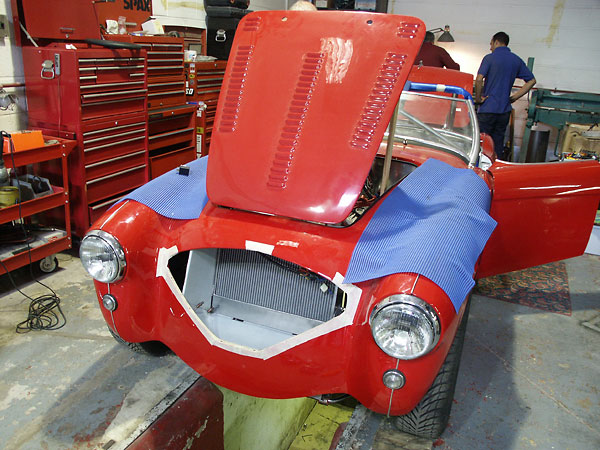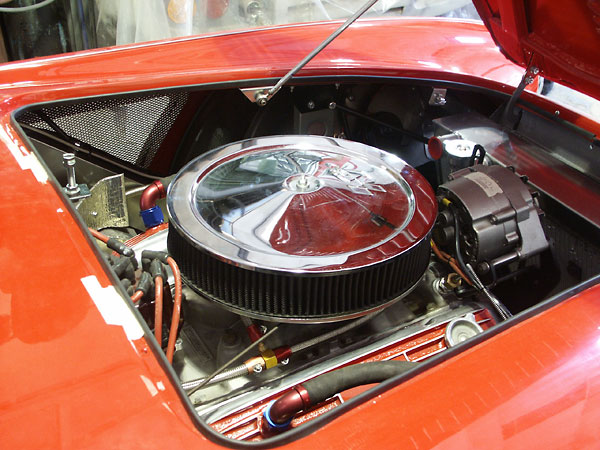 A custom foam-filled high capacity fuel tank was fabricated and installed. The following photos also show the fuel pump wiring, the return lines for a planned/future fuel injection system, the low pressure fuel pump, a battery isolation switch, etc.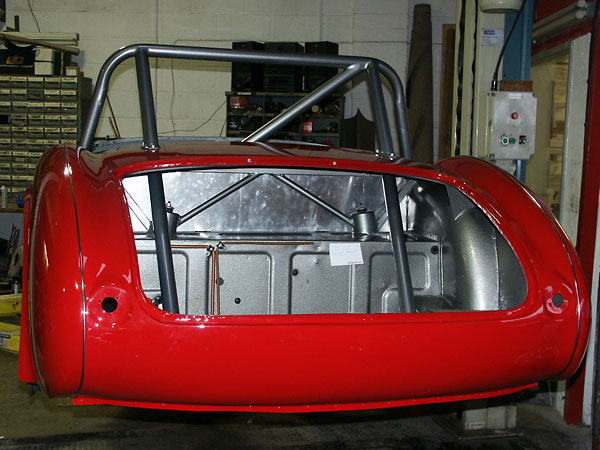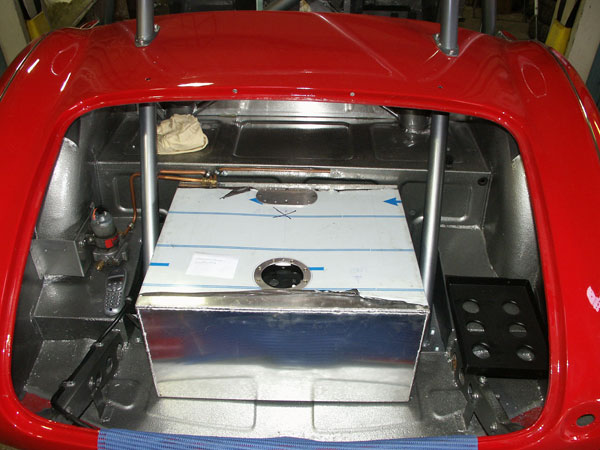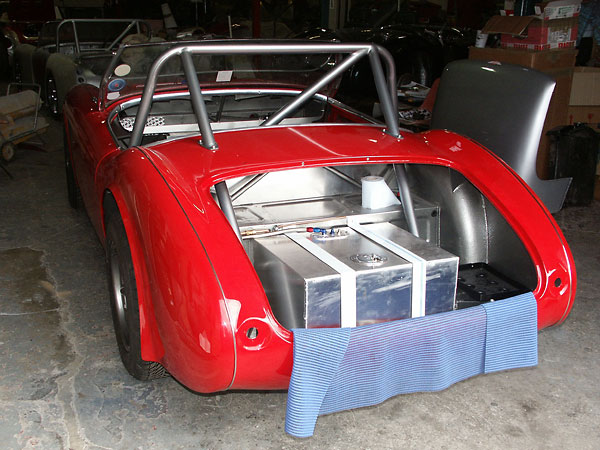 Since the car will be used for track days, safety equipment was a priority. I initially tried Range Rover Discovery seats, as shown below, but Mazda Miata seats were chosen instead. LED taillights (made for retrofitting onto Harley Davidson motorcycles) were also installed at this time.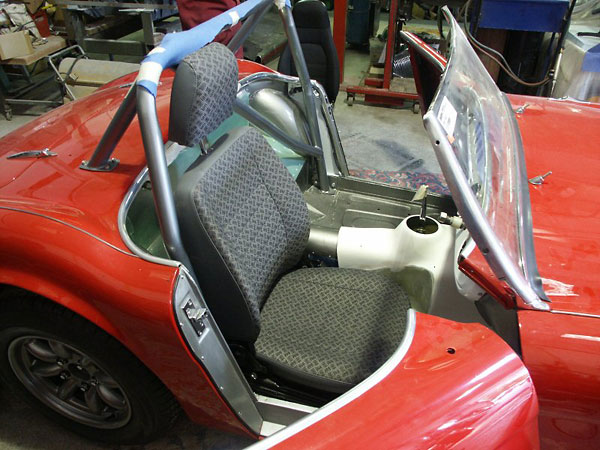 Note that the diagonal support brace of the roll-hoop interferes with the seat's headrest...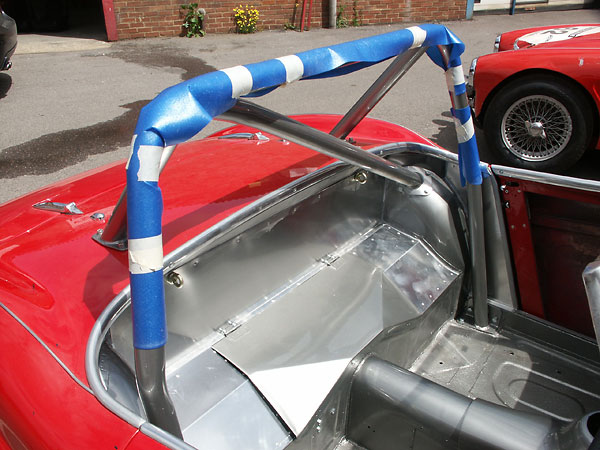 ...so the diagonal was cut out and replaced. Now it goes to the wheel arch.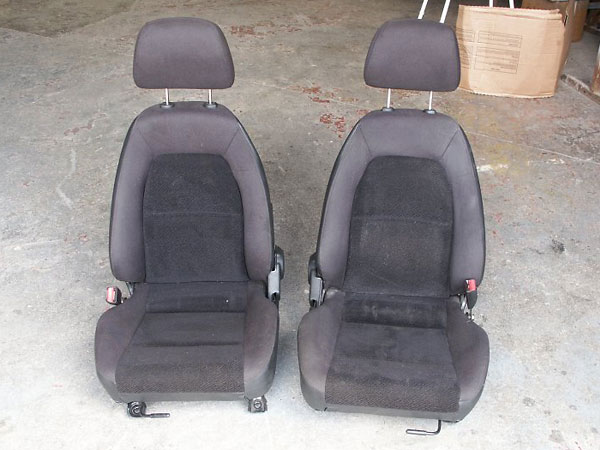 Mazda MX-5 (Miata) seats.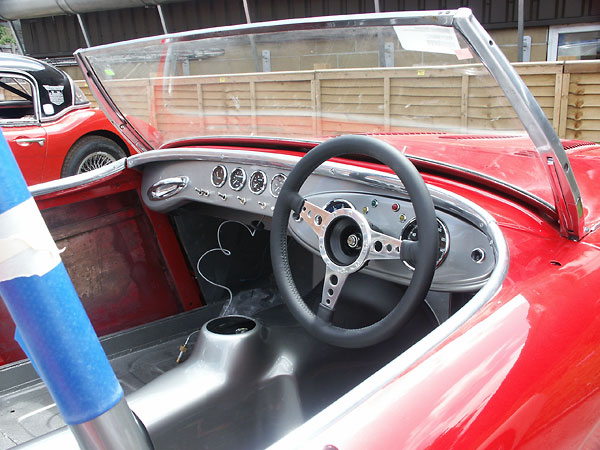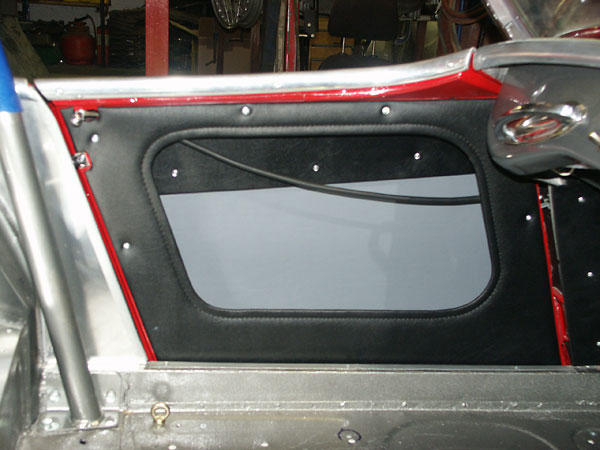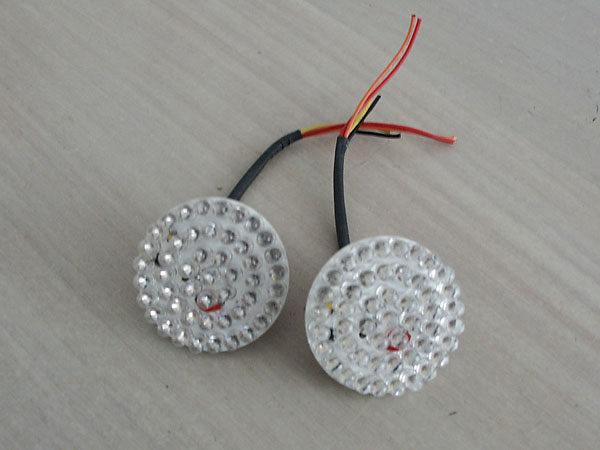 LED taillights for a Harley Davidson.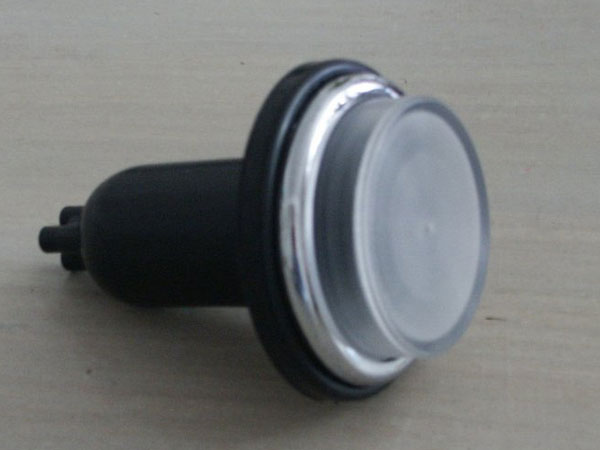 Ian created custom taillight enclosure and lens.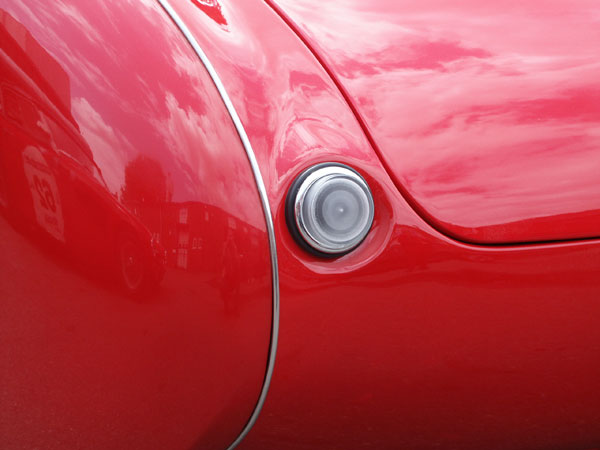 Finally, the renovated Austin Healey V8 was ready for driving!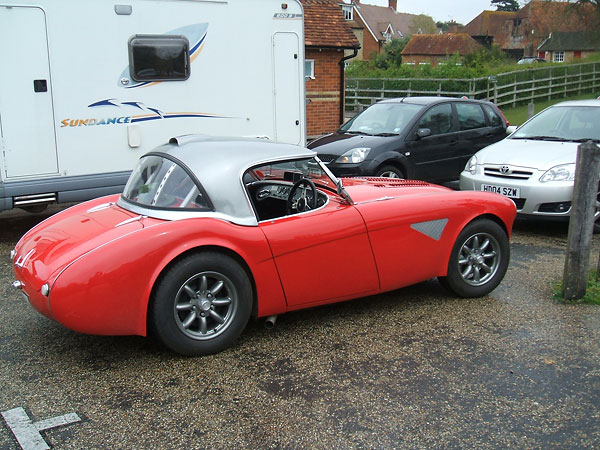 A new hardtop, supplied by Pete Farmer Performance Racing.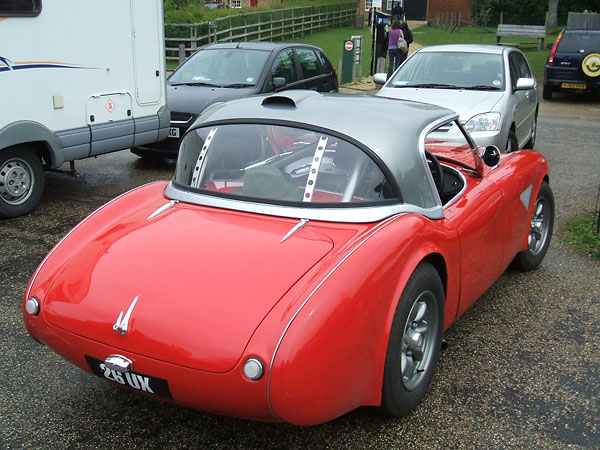 Enjoying this article? Our magazine is funded through the generous support of readers like you!
To contribute to our operating budget, please click here and follow the instructions.
(Suggested contribution is twenty bucks per year. Feel free to give more!)
(Editor's note: Ian's Austin Healey V8 was driven as shown above from about the first of August 2007 through July 2008. The story continues...)

Having lunched the original Chevy 350 at the "Sports and Retro Day" at Castle Combe Racetrack with low oil pressure and a jammed-open throttle, I had a word with Daryl at Fastco Automotive Products in Niagara Falls, New York. They have a waiting list, but Daryl said he had a cancelled-order custom engine that could be modified to my requirements. I snapped it up! My car went back to Pete Farmer Performance Racing for upgrade.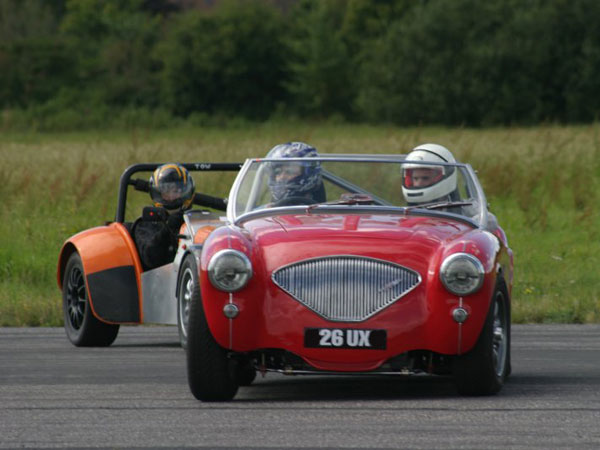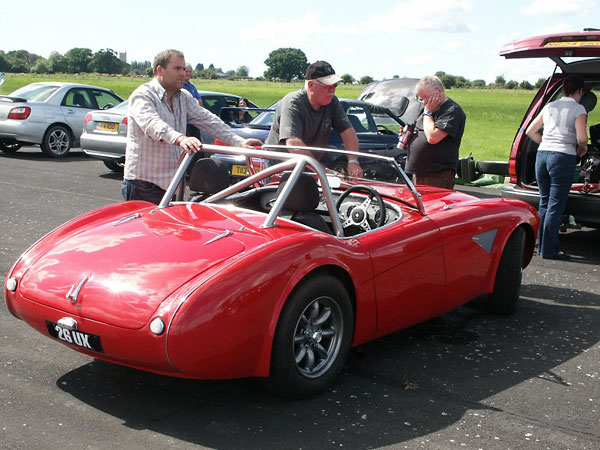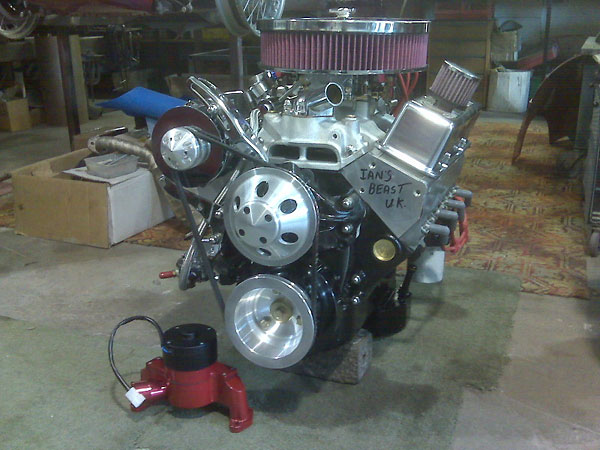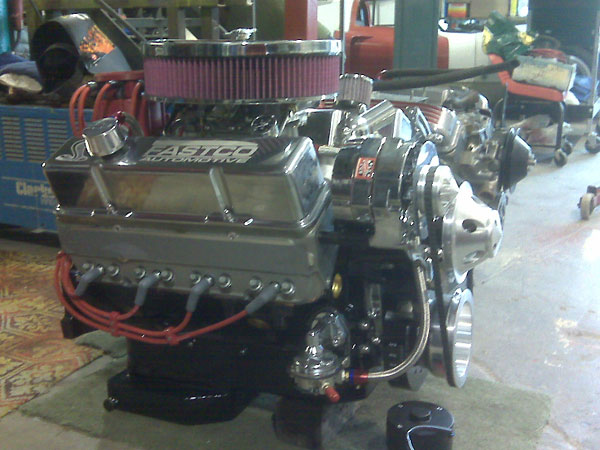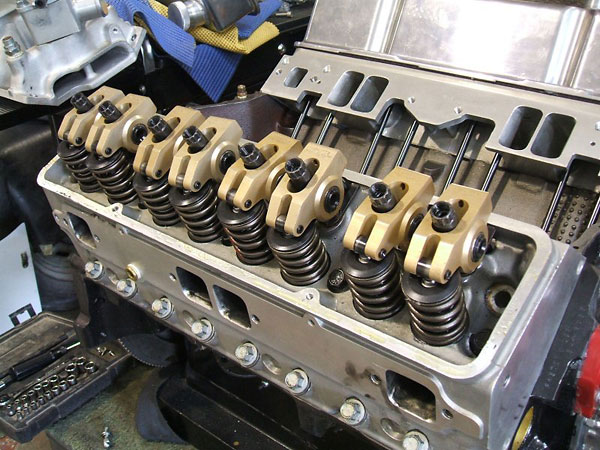 PRW forged aluminium roller rockers, with 1.6:1 ratio.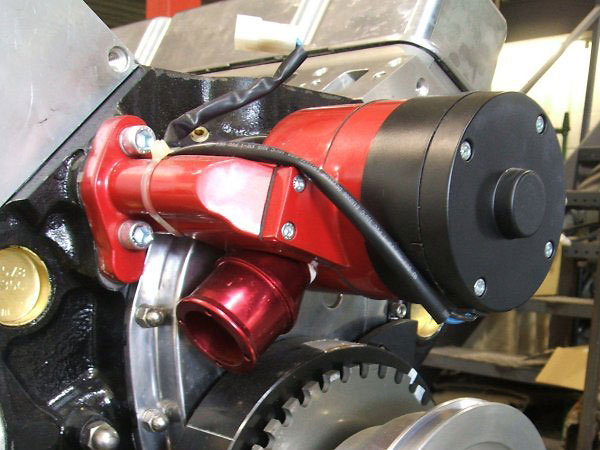 Proform electric water pump.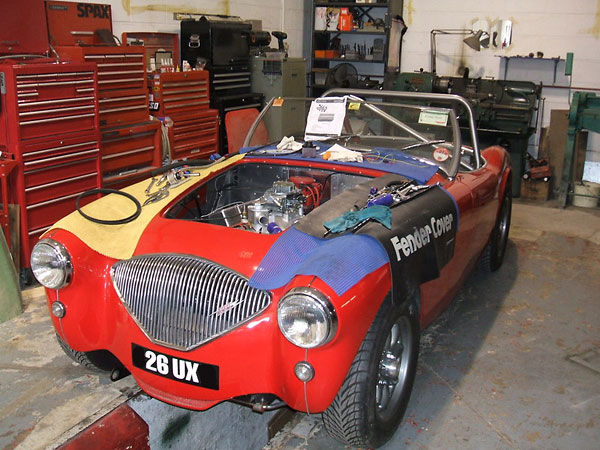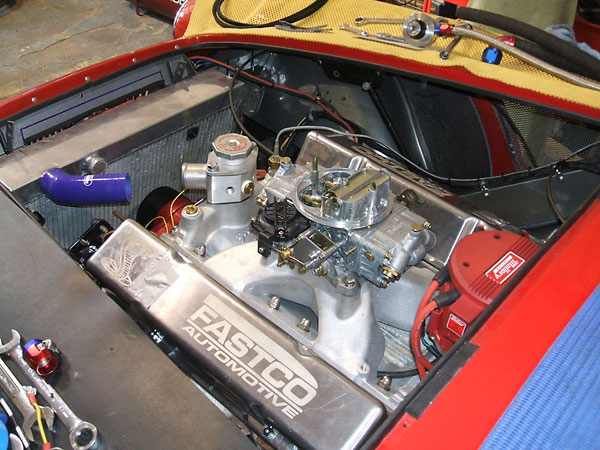 Note the new and improved location for the Moroso coolant pressure cap.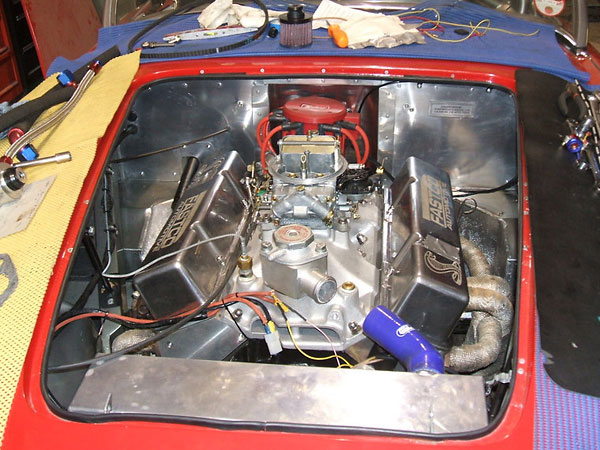 The larger HEI-type distributor forced further modification of the firewall.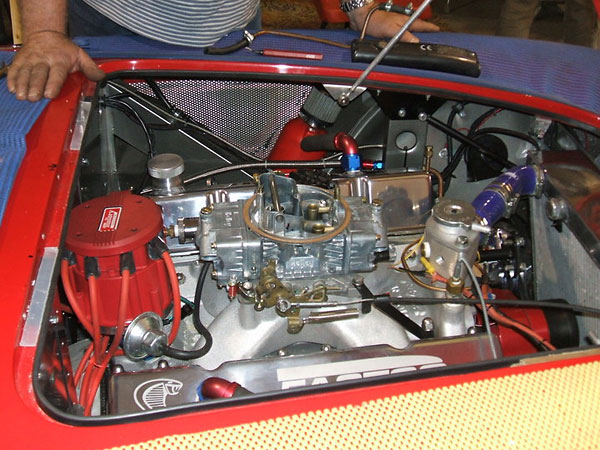 Unfortunately the higher Victor Junior inlet manifold needed a carbuncle on the classic profile of the bonnet (hood). It was the only practical way to go without dropping all the engine and gearbox mounts.