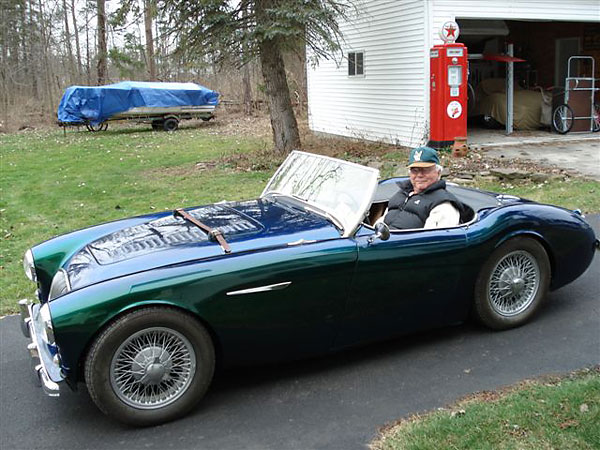 Fred enjoying his Healey on Christmas day 2006.
Fred Schade's 1955 Austin-Healey 100 with Chevy 305 V8 engine
as published in British V8 Newsletter, Volume XV Issue 3, December 2007
Owner: Fred Schade Jr.
City: Buffalo, NY
Model: 1955 Austin-Healey 100
Engine: Chevy 305cid V8
Conversion completed by: Owner
Engine:
Chevy 305cid V8 with HEI ignition. It's getting a 350 crate motor this winter.

Induction:
Air gap manifold with Edelbrock 650 Performer carburetor.

Cooling:
Griffin aluminum radiator, electric water pump, and electric cooling fan.

Exhaust:
dual exhaust (full length and over-the-axle) custom made by Richard Dawson.

Transmission:
Borg-Warner T10 4-speed.

Clutch:
stock old-style with Healey pedals, cast iron bell housing cut to work through the lower left.

Driveshaft:
Chevy.

Rear Axle:
narrowed 1959 Corvette with Posi-traction limited slip differential. 4.11:1 gears were replaced by 3.55:1 gears this year for driveability.

Rear Susp.:
basically stock except with Traction Master radius rods.

Brakes:
(front) Dunlop front disk with dual piston 280Z calipers,
(rear) 11 inch drums.

Wheels/Tires:
195-65 Continental tires on 15x6 Dayton painted wire wheels.

Weight:
2150 pounds.

Body Mods:
louvered hood, slightly flared fenders, and blue/green swfx color change paint.

Interior:
Stewart Warner gauges. No audio.

Comments:
I bought the car in 1979 as a dragster and have worked on it on and off for 25 years. A wile back, I decided to get serious and get it on the road. So, I took it to Richard Dawson in Perry NY and had him help with it. The body and paint are all his work. It's been driven about 3000 miles since completion in August 2006. This car has probably always been a race car of some sort. It has sockets for a removeable roll bar. I have an hour commute to my business and love driving it any time weather permits.