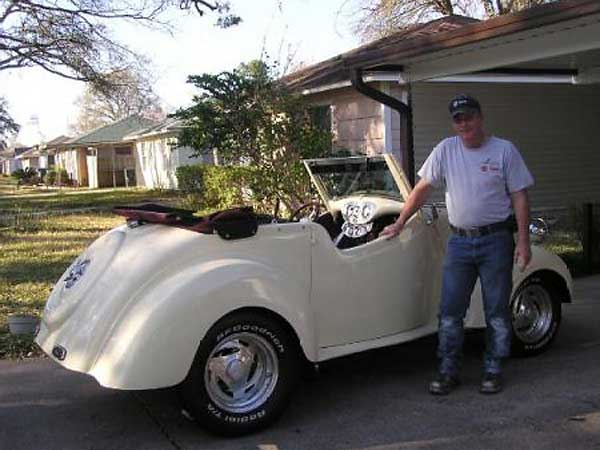 Carey Demers' 1947 Standard "8hp" Street Rod (with SBC V8)
Owner: Carey Demers
City: Newbury NH
Model: 1947 Standard 8hp
Engine: Chevy 355cid V8
Conversion by: (previous owner)

Background Info:

Standard Motor Company was founded in Coventry in 1903. Possibly the most important thing Standard ever did, from our point of view, was purchase Triumph out of receivership in 1945. The "Standard-Triumph Company" continued until 1960 when they were taken over by Leyland. The Standard nameplate only stayed in use in Britain until 1963, but it remained in use in India until the 1980s. (The Triumph Herald was called "Standard Herald" in the Indian market.) BMW now owns both the Triumph and Standard nameplates.

The automobile you're looking at here was officially called the Standard "8hp" (as in "eight horsepower", although actually its engine did make a little more than that.) This model was the successor to the Standard "Flying Eight" and the predecessor to the Standard "Eight". Interestingly, its main rivals in the market were the "Austin 8" and the "Morris Eight". These model names are all a reference to the tax class that these cars fell into. The Standard 8hp had a 1009cc engine and a four speed transmission. About 53,000 were made between 1945 and 1948. They came in several body styles, of which this is the "tourer".
About This Street Rod:

The car you're looking at here was sold at auction in March 2007 by a gentleman in Texas who offered the following description.

"I purchased this 1947 Standard from the original builder about four years ago. He made it into a street rod because the original chassis and drivetrain weren't savable, but the body was excellent. The car has tilt wheel and the crank-out windshield is still functional. The tilt front end is the original steel which has been welded together and dyna-glassed. The hood is louvered.

When this street rod was originally built (12 years ago) the finish body work was never completed. The previous owner had the body shop clear coat the primer with several coats of clear.

This is a very small car with a 86 inch wheelbase, tube axle with coilovers front suspension, Vega cross steering, and disc brakes. The rear suspension is a narrowed and chromed Jaguar Independent with inboard disc brakes and coilovers.

The drive train is a 355 inch Chevy with less than a thousand miles and a Turbo 400 transmission with a Lokar shifter. The block was prepared properly, bored 0.030" over, fitted with new pistons, rings, cam bearings, etc. The cam is a Competition Cams 280-h with new lifters and valve springs to match. The heads were given a 5 angle valve job. The engine has a polished aluminum intake with an Edelbrock carb, chrome headers, chrome water pump, chrome alternator, polished billet pulleys, etc.

This car runs and drives great but is a fair weather car due to no windshield wipers and being a touring car, which means it has no side windows. If you are much taller than 5' 9" you will not be comfortable driving this vehicle." - Bobby