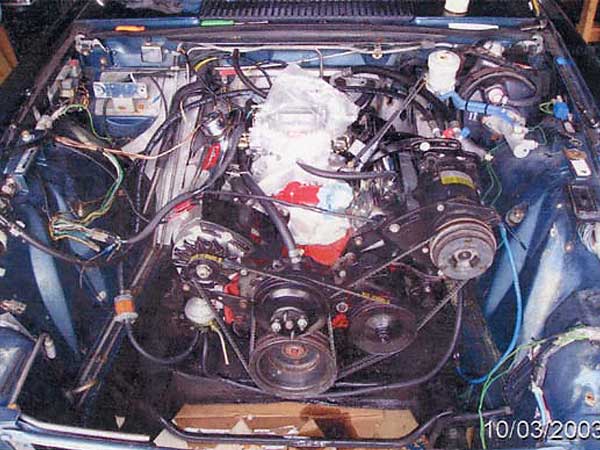 Bruce Barrett's 1986 Jaguar XJS with Chevy 350 V8
as published in British V8 Newsletter, Volume XIII Issue 1, January 2005

Owner: Bruce Barrett
City: Caledonia, MI
Model: 1986 Jaguar XJS
Engine: Chevy 350 V8
Car:
California car with no rust and excellent interior, purchased with blown V12 engine.

Engine:
Chevy 350 V8, late 1970's; purchased used from a friend.

Transmission:
GM T700, 4-speed automatic; purchased rebuilt from a friend.

Parts Kit:
Purchased entire kit from John's Cars, Inc. of Dallas, TX, who specializes in Jaguar engine and transmission swap kits. The total kit includes: radiator and all hoses, driveshaft, engine mounts and transmission supports, new wiring for engine bay, new air conditioning hoses, all necessary nuts, bolts, washers, etc. Special wiring to hook up transmission overdrive.

Other parts:
New Edelbrock 4 barrel carburetor and new Edelbrock 'Performer' intake manifold

Exhaust:
Chevy "Ram's Horn" exhaust manifold headers were purchased from a local salvage yard. Original exhaust system was saved except for about 3 feet back from the exhaust manifolds. Catalytic converters were eliminated. Cost to hook up exhaust was $150.00.

Brakes:
The brake system remained the same, but the master cylinder and the rear calipers had to be replaced due to the length of time the car had sat idle (over 2 years).

Electrical:
Chevy alternator (rebuilt).

Front suspension:
new shorter front springs were supplied with the kit and the rack-and-pinion system needed to have a few parts replaced.

Performed by:
30 percent by owner, 40 percent by a small shop that did the engine swap, and 30 percent by a friend who is a certified mechanic working part-time during the evenings. The whole job took 6 months, but only because we didn't set any deadlines for completion.

Completed:
January 3, 2004.

Cost:
Parts kit for conversion plus shop labor - $5000.00 This does not include about $2000.00 worth of work to upgrade other parts of the car, such as: front end alignment, brake repairs, speedometer repair and tachometer mod to work with V8, used headlight and grill, new gas tank sending unit, cruise control parts, which were missing from the original V12, purchased from John's Cars, Inc.

Problems Encountered:
1) Original engine fan too large. A new 17" fan was purchased and installed.
2) Conversion Advice: The parts kit from John's Cars, Inc. and their subsequent advice over the phone was well worth the money.
3) Things I would do different on the next conversion: I would like to put a higher power engine into a newer Jaguar XJS. A Chevy 350 crate engine would be my choice.

Comments:
The car is a real pleasure to drive, and even though it needs a paint job, I still get many favorable comments!