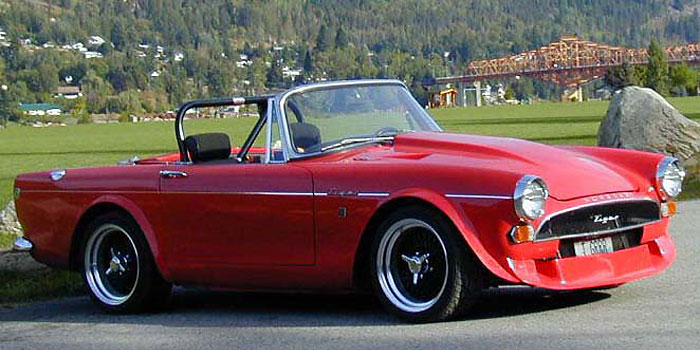 Bob Hokanson's 322cid Ford V8 Powered 1965 Sunbeam Tiger
as published in British V8 Newsletter, Volume XIV Issue 3, December 2006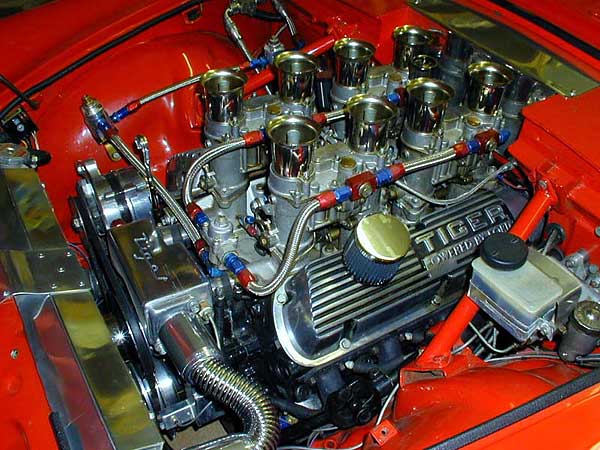 To help move T-GRRR down the road I put together, with the help of Ted King of Portland's Larson and King fame, a 322 cu. in. stroker motor using a Boss Ford 302 block with 4 bolt mains. Increased stroke is via a Reath crank connected to Boss rods and modified TRW flat-top pistons. A Crower roller-tappet cam featuring 292 degrees duration and 0.597" lift opens 1.94" intake and 1.60" exhaust valves in a set of Ted's ported 351W heads with Pro Magnum roller rockers.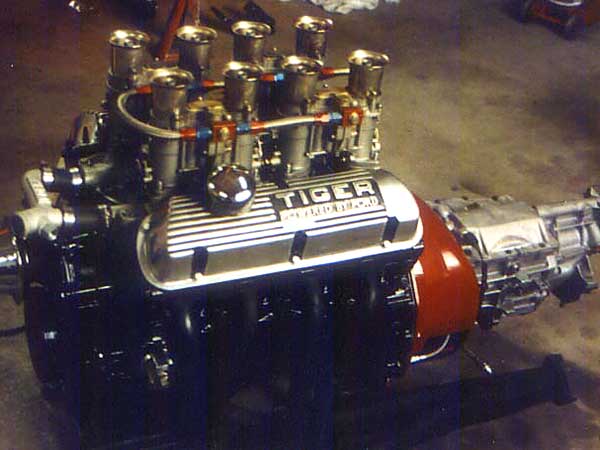 Hays clutch and Mcleod hydraulic throwout bearing contained in a Lakewood scattershield, connected to a T5 transmission with Hurst shifter. Salisbury rear with Dana 44 Powerlock turning modified Ford 9" big-bearing axles that have been shortened and resplined to match the Dana center section.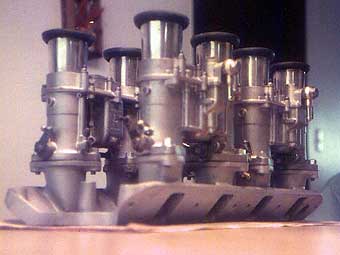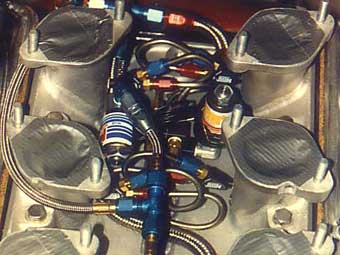 Induction is via a synchronized set of 4 Weber IDA48 carburetors.
Hard to see with the carburetors mounted is a NOS direct port nitrous system with fogger nozzles.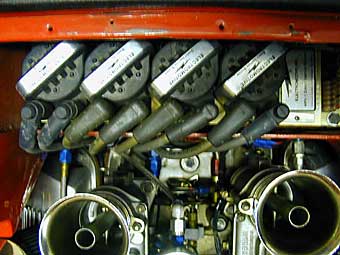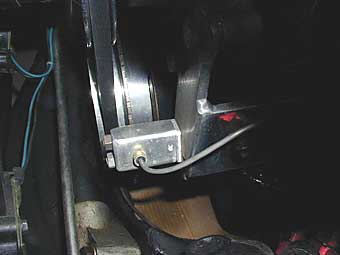 Remove the polished aluminum panel and beneath lies the coil pack.
Fire comes from an Electromotive distributorless, direct fire unit with a custom crank trigger.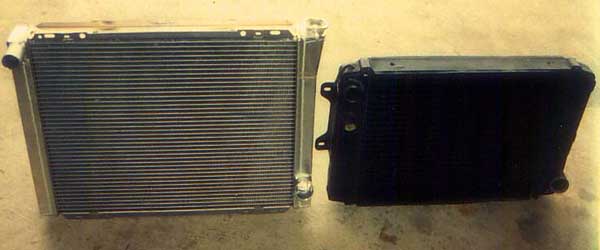 Oversized aluminum radiator is shown next to the inadequate 4 row "fat core" it replaced.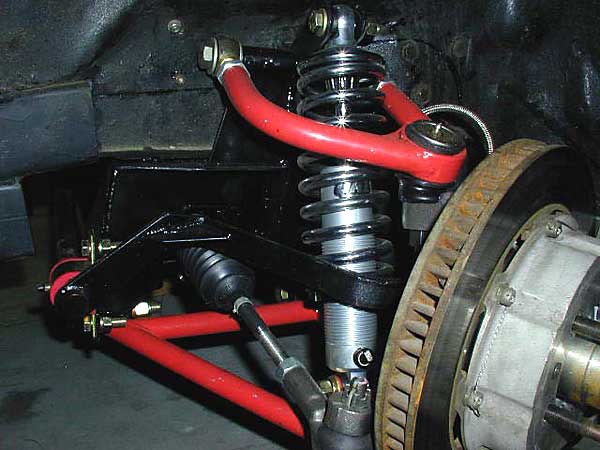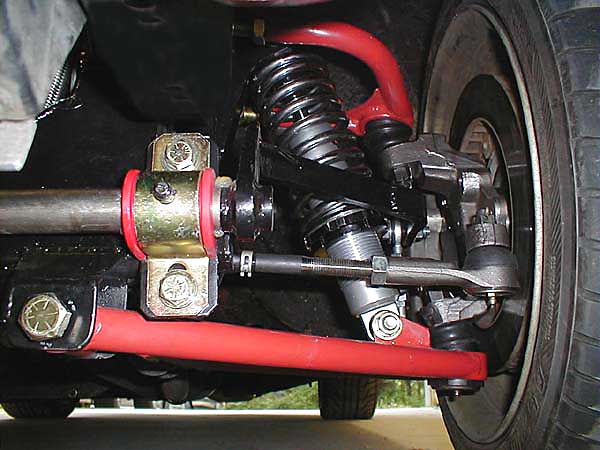 Adjustable coilover IFS with tubular A-arms and improved Ackerman angle.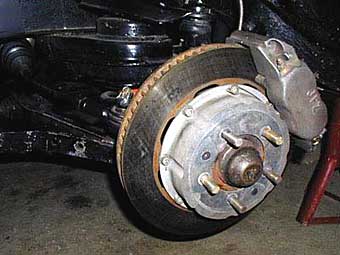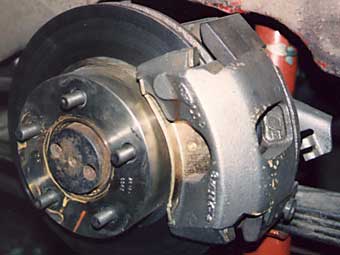 I decided the brakes could be improved so I changed the fronts to JFZ 4-piston calipers with 12-1/8" rotors.
At the rear, Ford Granada calipers provide a cable-operated parking brake.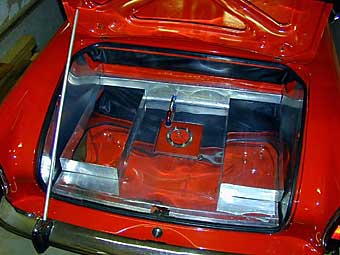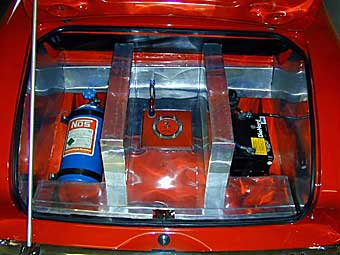 Opening the polished aluminum panels in the trunk reveals the locations of the NOS bottle and battery flanking the Harwood fuel cell.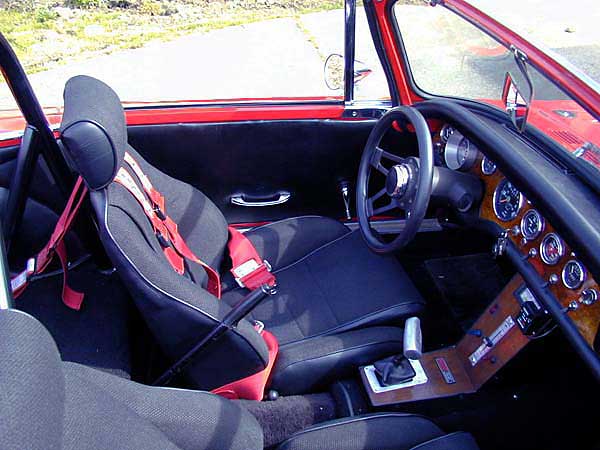 Huntmaster recliners flank a custom console.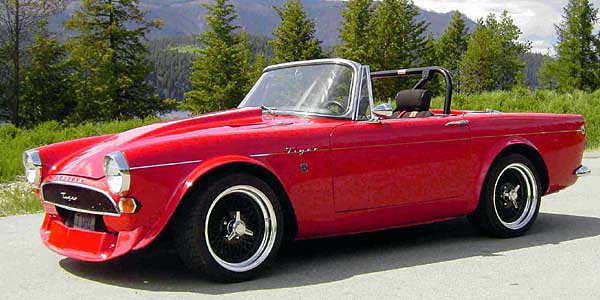 Profile reveals cowl-induction hood scoop and 225x40 Yokohama A520's on 16x8 Enkei 92 wheels.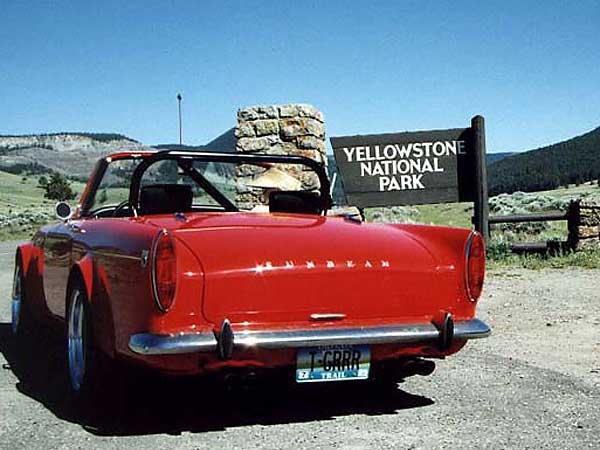 Yellowstone Park was one of the major features of SUNI 1999.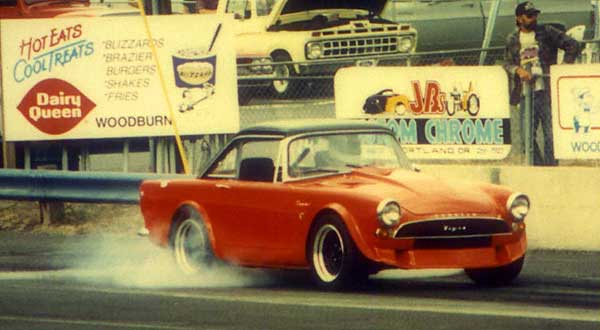 Boiling the hides at the Woodburn Dragstrip!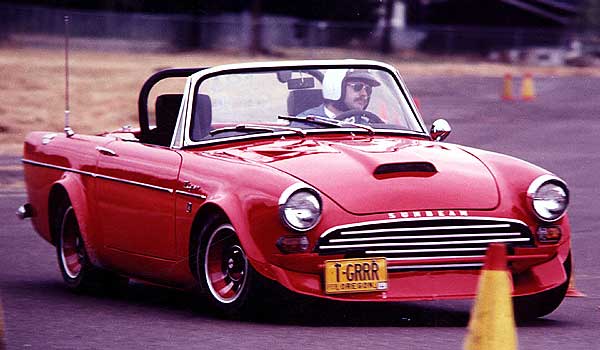 Western Oregon and Washington Association of Sports Car Clubs
1978, 1980, 1985 and 1986 autocross champion (in his class)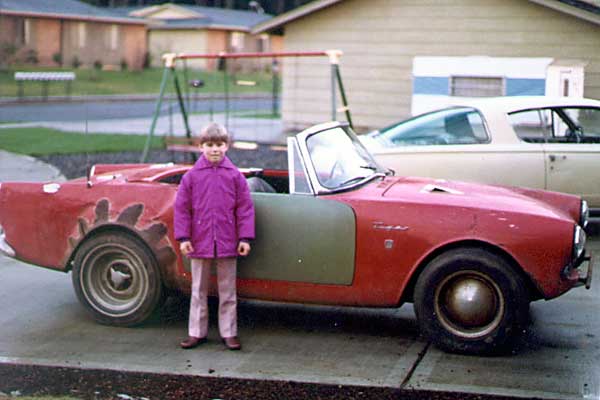 The car was originally purchased in the Autumn of 1973. VERY rough, but a Sunbeam Tiger I could afford.
The previous owner told me the car had been in an end-over-end accident.