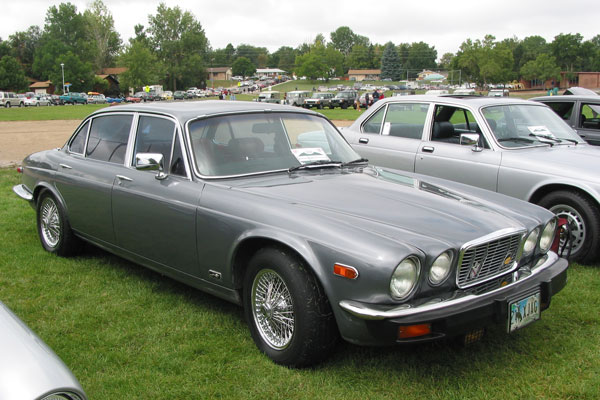 Bob Burge's 1976 Jaguar XJ12 with Chevrolet Big Block V8 (454cid)
as published in BritishV8 Magazine, Volume XVI Issue 2, October 2008
Owner: Bob Burge
City: Cheyenne, WY
Model: 1976 Jaguar XJ12
Engine: Chevrolet Big Block V8 (454cid)
Conversion performed by: owner
Engine:
Chevrolet big block V8 (454cid) installed using a John's Cars "One Stop Deal" conversion kit (including radiator, headers, driveshaft, wiring, etc.). Edelbrock Performer Air Gap intake manifold and Barry Grant "Speed Demon" 750cfm carburetor. Competition Cams hydraulic roller camshaft (number 11-413-8). Performance Distributors brand "Street/Strip DUI" (Davis Unified Ignition) HEI distributor. Stock Delco-Remy alternator. K&N air filter (on custom-modified air cleaner housing.)

Cooling:
larger radiator. Engine-driven cooling fan.

Exhaust:
tubular headers from John's Cars Inc. in Dallas TX. Note: I cut the driver-side header into two and modified the header into a 2-piece design. (If a small block Chevrolet engine had been used, headers wouldn't have been required. For example, Chevy "Rams Horn" style iron exhaust manifolds could have been installed.)

Transmission:
Chevrolet 700R4 automatic transmission with 0.70:1 overdrive. One-piece driveshaft.
(Contrary to some advice I've seen elsewhere about this conversion, it wasn't necessary to turn the transmission tailshaft housing upside down.)

Rear Axle:
stock Jaguar, with 3.31:1 ratio.

Front Suspension:
stock. (The Chevrolet big block is lighter than the original Jaguar V12 engine, so the front suspension needed to be lowered to level the car. This was easily accomplished by simply removing some of the original spring shims.)

Rear Suspension:
stock.

Wheels/Tires:
5-lug Dayton wire wheels with 215/65R15 tires.

Brakes:
stock.

Interior:
Momo steering wheel. The original Jaguar gear selector was only slightly modified to work with the GM automatic transmission. The air conditioning system works as well as new.

Weight:
4100 pounds.

Performance:
8mpg city / 15mpg highway. 30mph per 1000 rpm in high gear. "Pretty good acceleration..."

Completed:
1989. (Driven approximately 42,000 miles since conversion, as of September 2008.)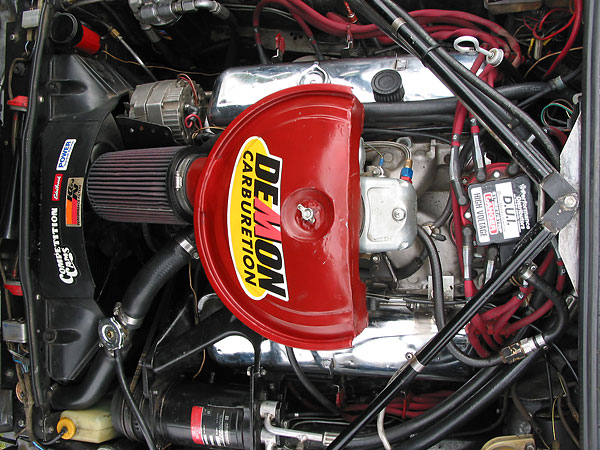 Chevrolet Big Block V8 (454cid)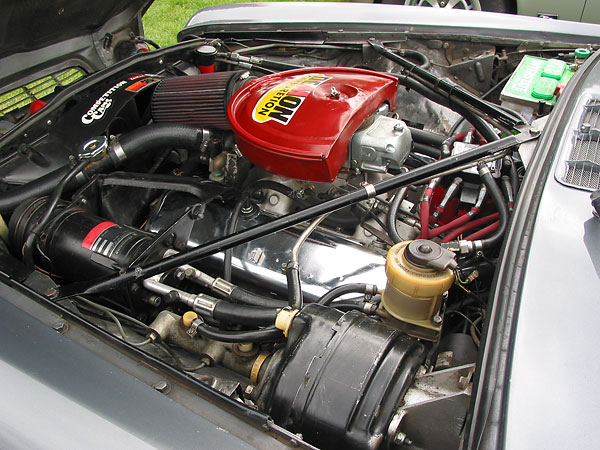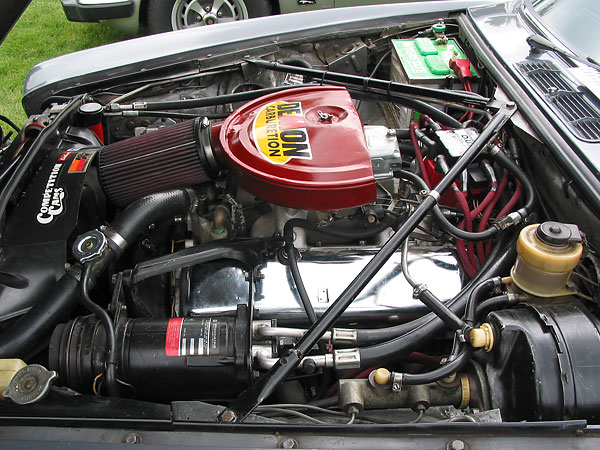 K&N air filter (on custom-modified air cleaner housing).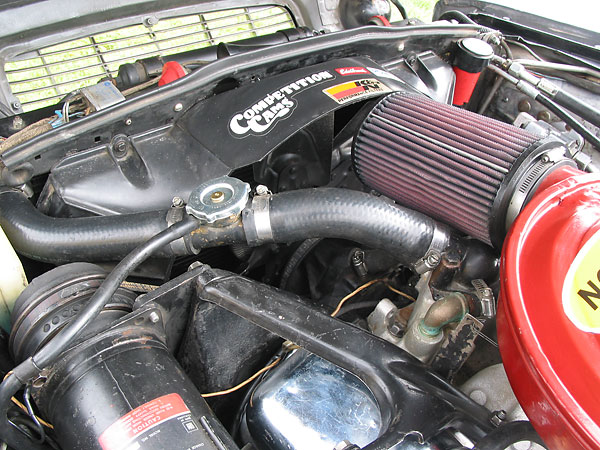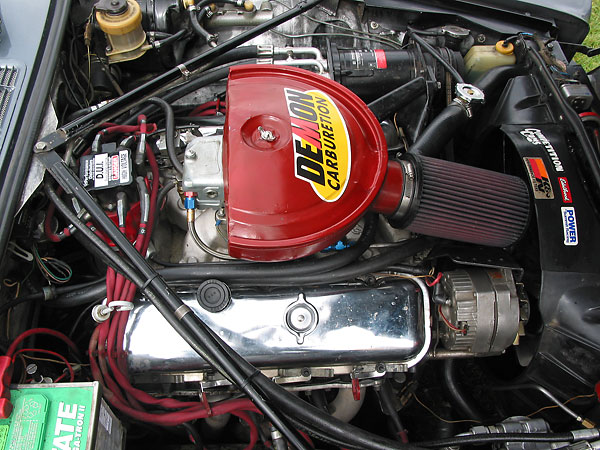 Barry Grant Speed Demon 750cfm carburetor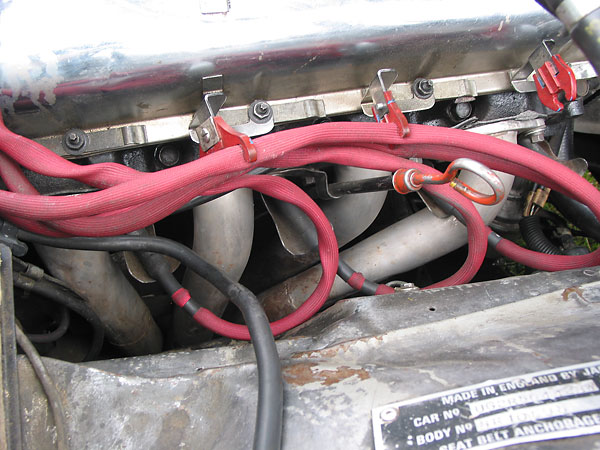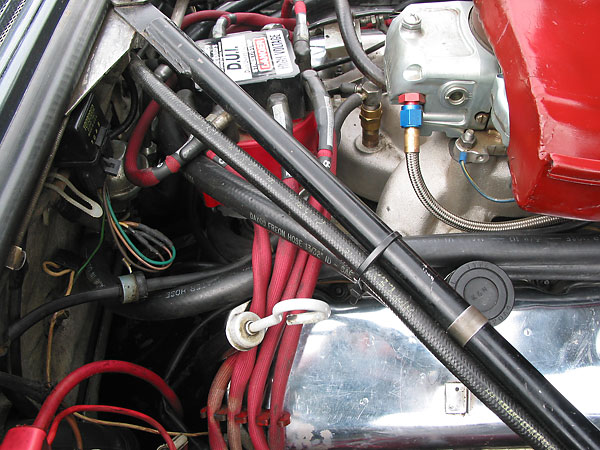 Performance Distributors "Street/Strip DUI" (Davis Unified Ignition) HEI distributor.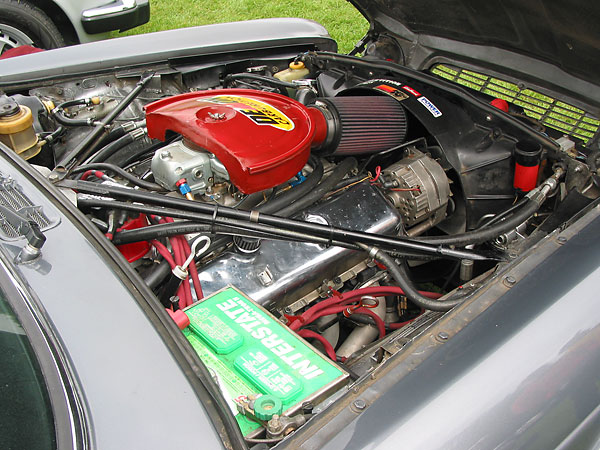 Enjoying this article? Our magazine is funded through the generous support of readers like you!
To contribute to our operating budget, please click here and follow the instructions.
(Suggested contribution is twenty bucks per year. Feel free to give more!)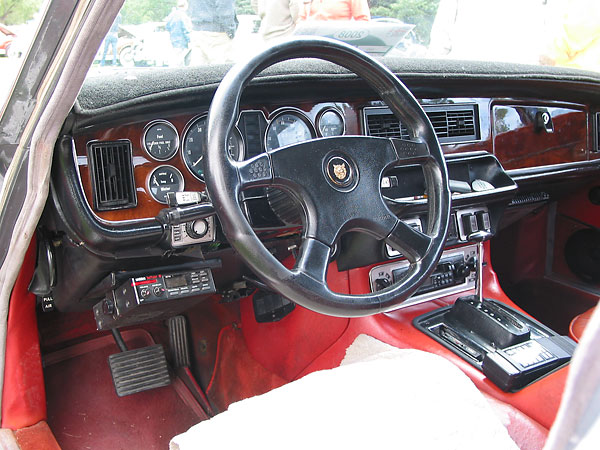 The Jaguar gear selector was only slightly modified to suit the Chevrolet automatic transmission.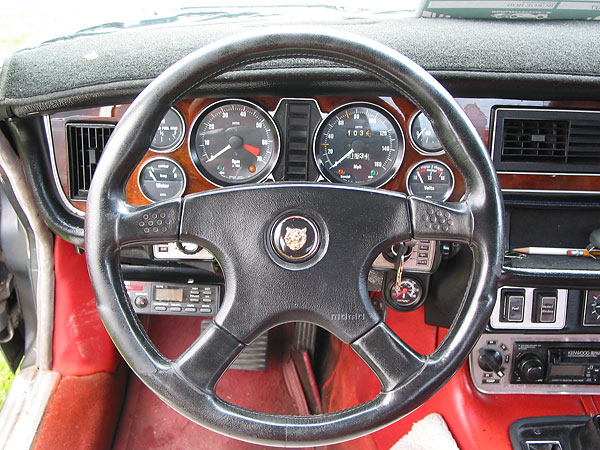 Momo steering wheel.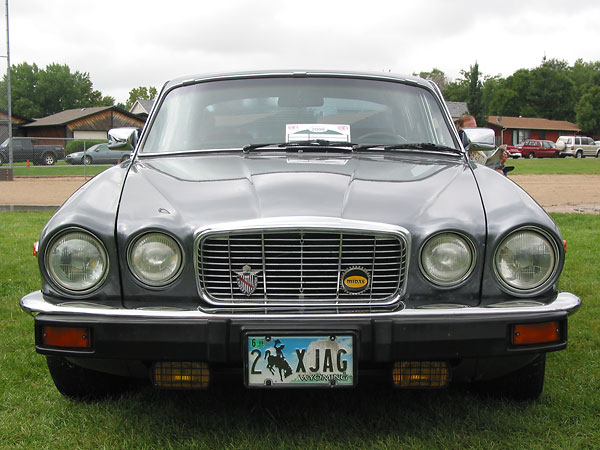 Seven inch headlights weren't offered in U.S.A. in 1976, but they were available in England and Europe
(so that's an easy upgrade). The grille's center bar was omitted to give a more elegant appearance.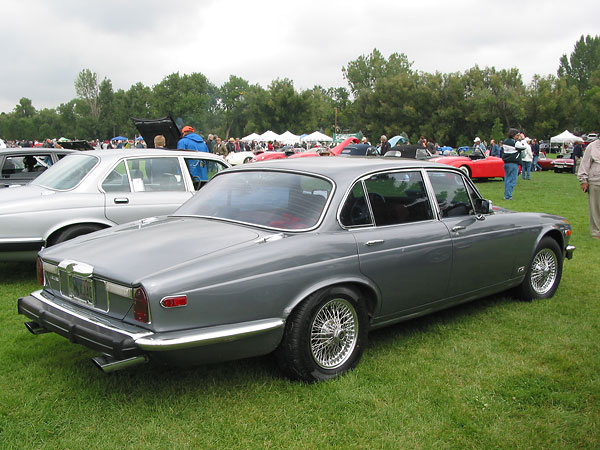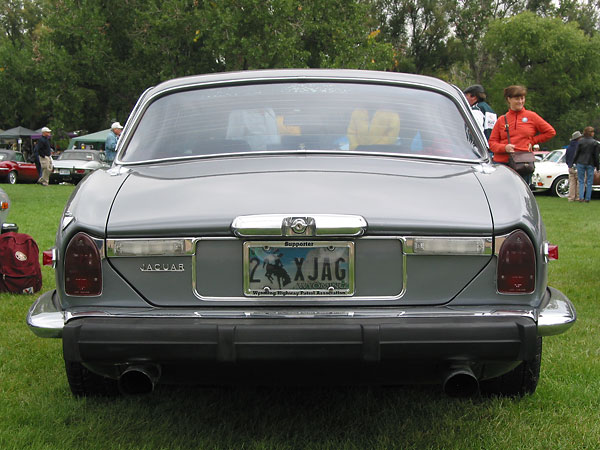 Several badges were removed to "clean up" the rear end. Darker red taillamp lenses have been installed.