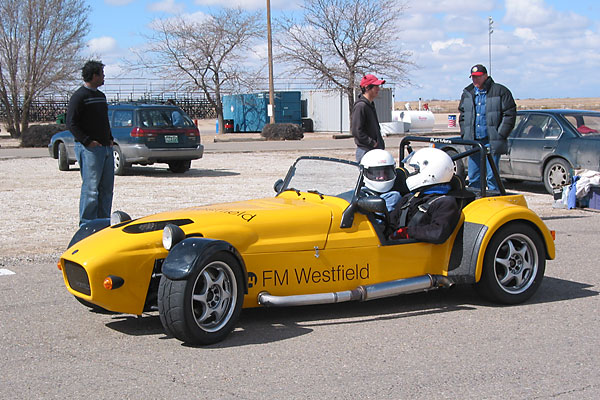 Bill Cardell's Westfield SDV with Mazda 1.8L Turbo Engine
as published in British V8 Magazine, Volume XVI Issue 1, May 2008

Owner: Bill Cardell
City: Palisade, CO
Model: 2007 Westfield SDV
Engine: Mazda Miata 1.8L turbo.
Built by: Bill Cardell, Keith Tanner, and their staff at Flyin' Miata.
Background Information:
The history of Westfield Sportscars Ltd. started with a one-off replica of the 1956 Lotus "Eleven" LeMans race car. Historic grand prix racer Chris Smith built that first car for personal use in 1982. Just like the original Lotus Eleven, Smith's replica featured enclosed bodywork, including faired rear wheels. Because his replica was so well received, Mr. Smith was encouraged to develop his design into a kit for other enthusiasts. In 1983, Westfield Sportscars was officially launched.

Westfield soon added a second car to their range, which they designed to closely resemble the bicycle-fendered Lotus "Seven" model. Bill Cardell's SDV, shown here, is the latest development of that theme.

The original Lotus Seven was introduced in 1957. After Lotus discontinued it, in 1973, production was nearly immediately continued under exclusive license by Caterham Cars. When Westfield began offering Seven replicas, Caterham was obliged to protect their intellectual property through lawsuit. The suit was settled out-of-court with agreement from Westfield that both cosmetic and functional changes would be made to differentiate the Westfield SE model from Caterham's Seven (and hence from original Lotuses.) The design changes included more extensive use of fiberglass in lieu of aluminum panels, wider passenger compartments, and also independent rear suspension. These particular product features have subsequently been offered as options by Caterham. Over their twenty-five year history, Westfield has broadened their range to include a Rover 3.9L aluminum V8 engined version of the SE roadster, called "SEiGHT", various motorcycle-engined versions, and also a "sports racer" model of their own design, called "XTR".

For the British home market, Westfield cars may be purchased as complete factory-assembled automobiles, or in various kit forms tailored to match available skills and resources. Westfield cars are only imported to the U.S. in kit form. Dealers, including Bill's company, "Flyin' Miata", are very happy to arrange professional assembly as required.

In December 2006, Chris Smith sold Westfield Sportscars Ltd. to Potenza Sports Cars Ltd. Potenza is a diversified engineering services firm that was incorporated in 2000 by managers formerly associated with Rolls Royce and with Lucas Industries. Mr. Smith and other members of the Smith family remain closely associated with the operation of the company. Westfield continues production and innovation from their factory in Kingswinford, (West Midlands,) UK. The current production rate exceeds 450 cars and car kits per year.


How It Was Done:
| | |
| --- | --- |
| Engine: | 1997 Mazda Miata 1840 cc (stock displacement) with 120,000 miles on bottom end and a fresh valve job. Stock cams (at least for now.) Hydra electronic engine control module. Direct ignition. |
| Induction: | Modified 1999 Miata intake manifold, 550 cc/min low impedance injectors, free flow filter, custom plumbing. A Snow Performance water/methanol injection system was fitted from the start to prevent detonation. An intercooler has recently been added, as shown at the bottom of this article, but the water injection system was kept because it facilitates using substantially more ignition advance. A swirl pot is used to prevent fuel starvation in extreme attitudes, long fast corners, etc., and to remove vapor bubbles from the fuel supply. |
| Cooling: | Westfield race radiator. Flyin' Miata oil cooler. |
| Exhaust: | 2.5" muffler and piping hand fabricated, bolted to modified turbo and stock exhaust manifold from Mazdaspeed Miata. |
| Transmission: | stock Mazda Miata 5-speed. Flyin' Miata "stage one" clutch system. Shortened Miata prop-shaft. |
| Rear end: | Mazda Miata 4.10:1 gear set and Torsen differential. |
| Suspension: | stock upper and lower control arms (i.e. supplied with the Westfield kit). Miata uprights. Nitron shock absorbers. |
| Brakes: | Carbotech XP8 pads (front and rear). 1.8 Miata rear brakes were used to give the brake system a little more rearward bias. (Westfield provides the Girling brake and clutch master cylinders.) |
| Wheels/Tires: | 205/50-15 Nitto NT01 tires on Kosei 15x7 wheels. |
| Body/Chassis: | pretty much as delivered from Westfield... |
| Weight: | 1375 pounds with full fuel tank and all fluids. |
| Electrical: | Miata electronic gauge cluster. Boost gauge. (Note: we also have an "Aeroscreen scuttle" which we can swap in. When the scuttle is installed, we replace the Miata cluster with a full datalogging AIM digital dash which interfaces with the Hydra ECU.) Odyssey PC680 battery, mounted in the passenger-side foot box. |
| Completed: | April 2007. (Approximately 3000 miles driven as of March 2008.) |
| Comments: | this Westfield is a "Single Donor Vehicle" (SDV) kit, which means you can technically complete the build with one wrecked Miata and your own labor, but with no additional junkyard scrounging or trips to the parts store. Bolt it all together and you've got a wonderful track day or back road beast, even with the stock engine. Given that the completed Westfield weighs between 900 and over 1100 lbs less than a Miata (depending on the year of Miata), it doesn't need a ton of horsepower... but, it handles a ton of horsepower nicely! We haven't dynoed the turbo yet, as it was a last minute slap-together for a track day, but it should be right in the 240 rear wheel hp range. |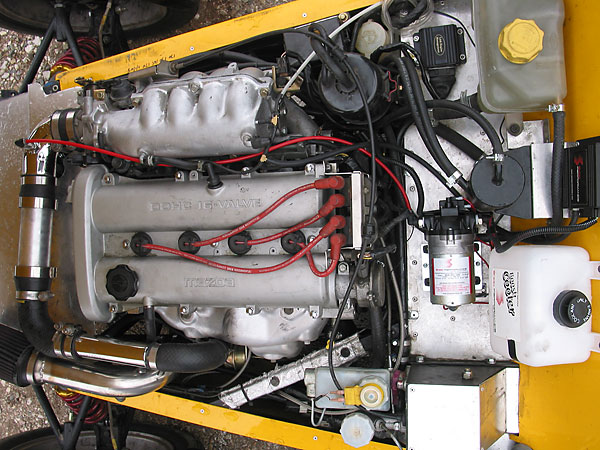 DOHC 16V 1.8L Mazda Miata Engine - turbocharged!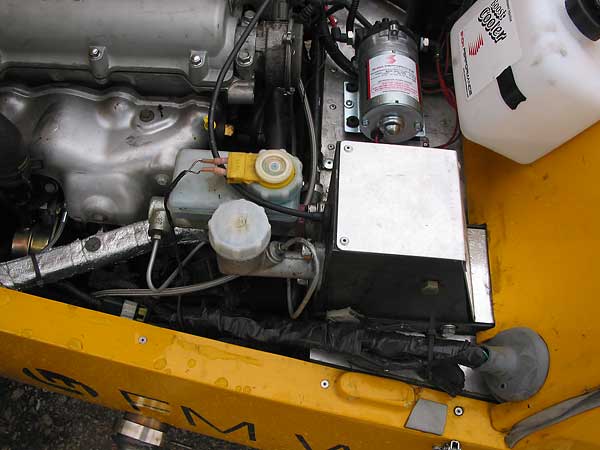 Westfield provides the Girling brake and clutch master cylinders.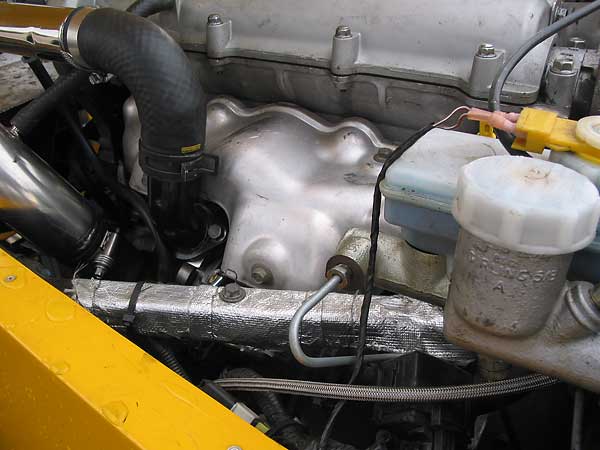 Heat shielding protects the brake lines.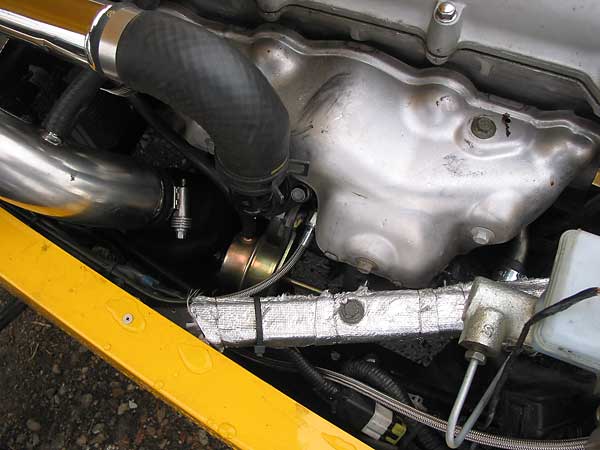 Somewhere down there... a Mazdaspeed turbo.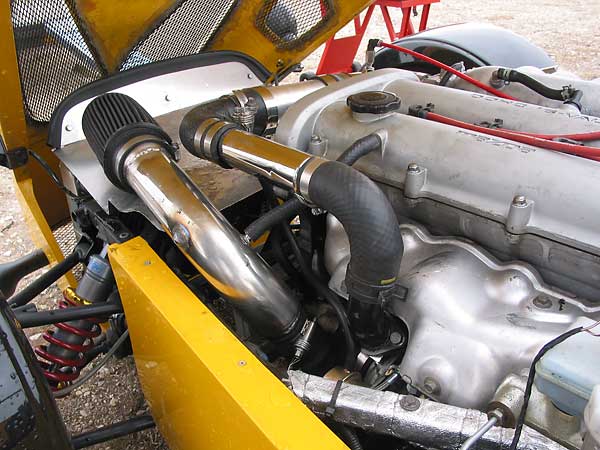 Red tube (top) is for the water injection system.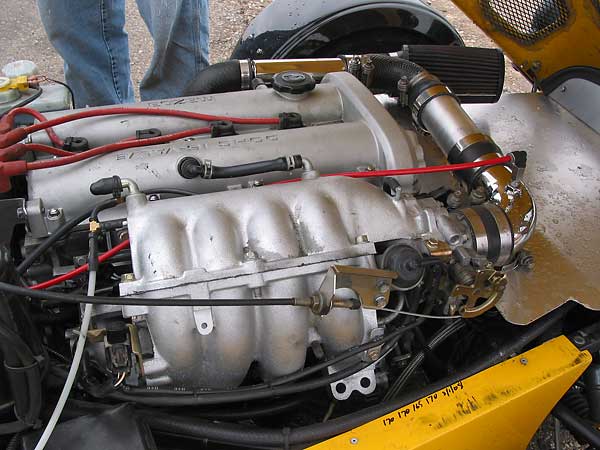 Modified 1999 Mazda Miata intake manifold.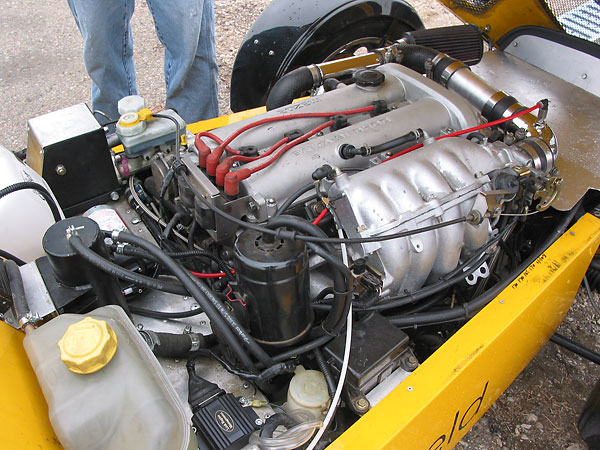 A compact Odyssey PC680 battery has been relocated from the scuttle (here) to the passenger-side foot box.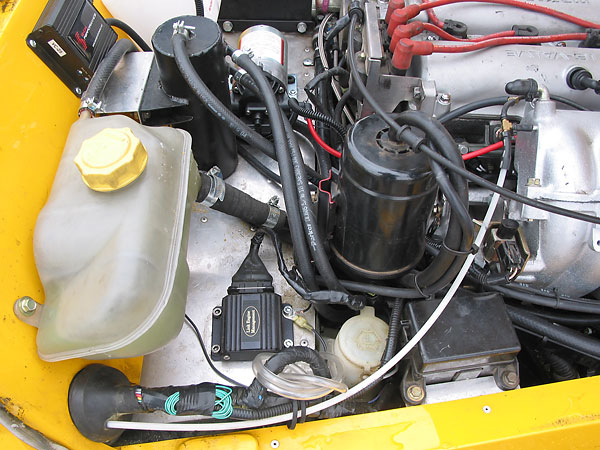 What about emissions? It's pretty much as clean as a Mazda Miata.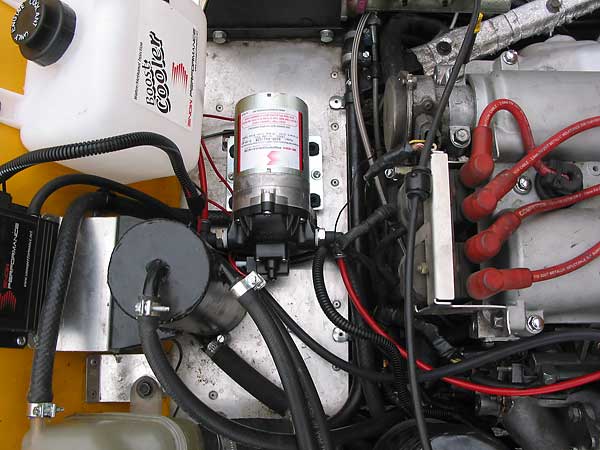 Black canister (left) is a swirl pot / reservoir for the fuel system.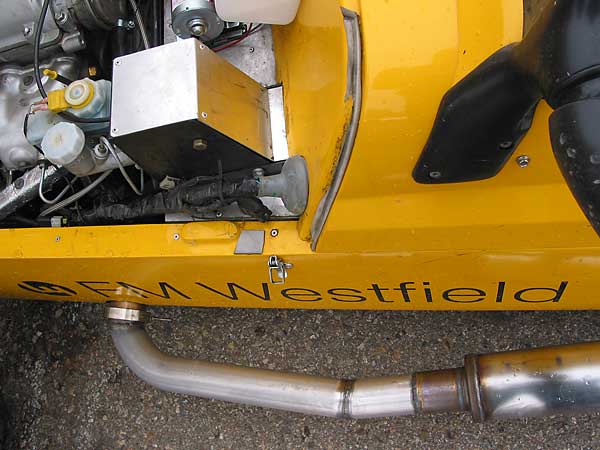 Custom fabricated exhaust downpipe... notice the V-band attachment.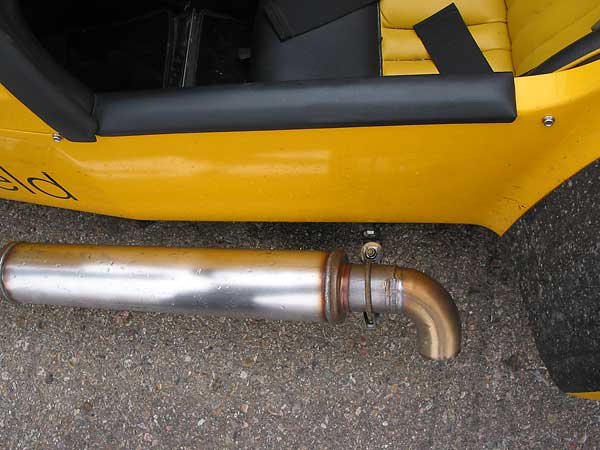 2.5" Magnaflow muffler.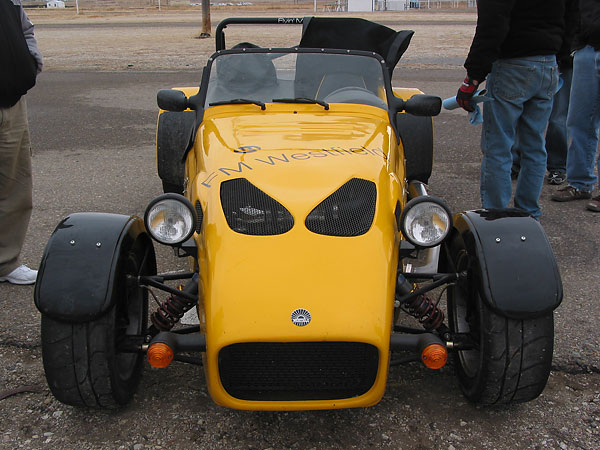 Line-X has been applied to the rear fenders to prevent stone chips.


Enjoying this article? Our magazine is funded through the generous support of readers like you!
To contribute to our operating budget, please click here and follow the instructions.
(Suggested contribution is twenty bucks per year. Feel free to give more!)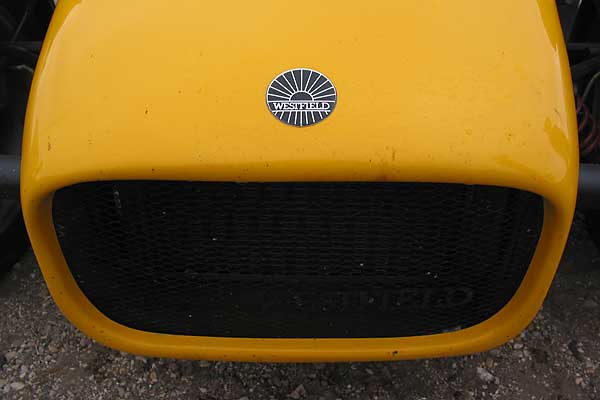 Westfield badges.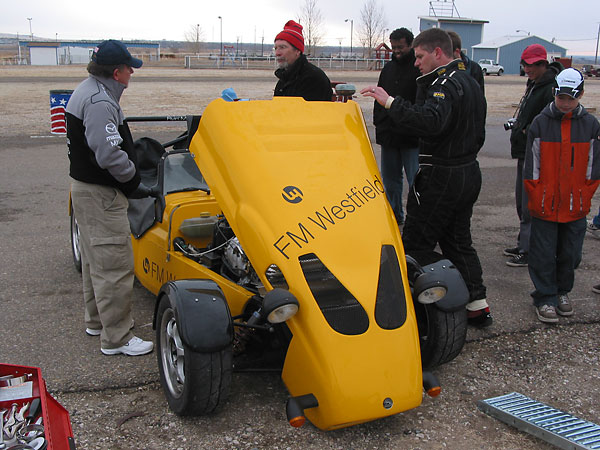 "FM" for "Flyin' Miata" (Bill's shop)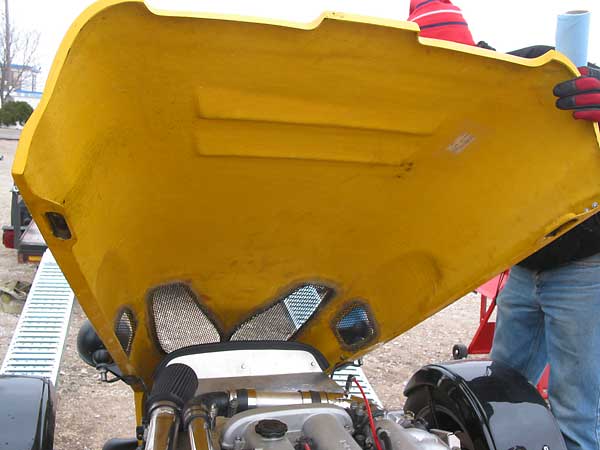 The fiberglass body panels are molded in color, so their beauty is more than skin deep! (Paint is optional.)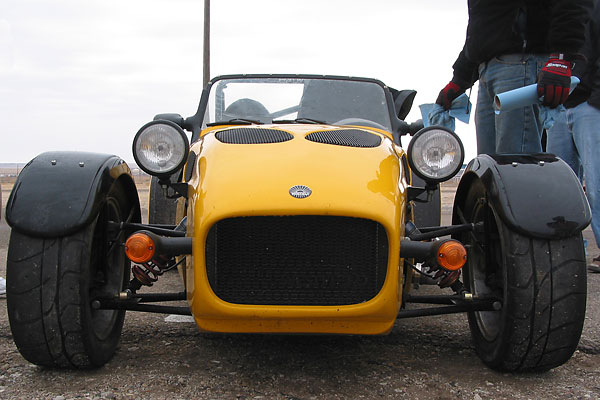 This car has the optional one-piece nose. Two-piece (nose plus bonnet) is standard equipment.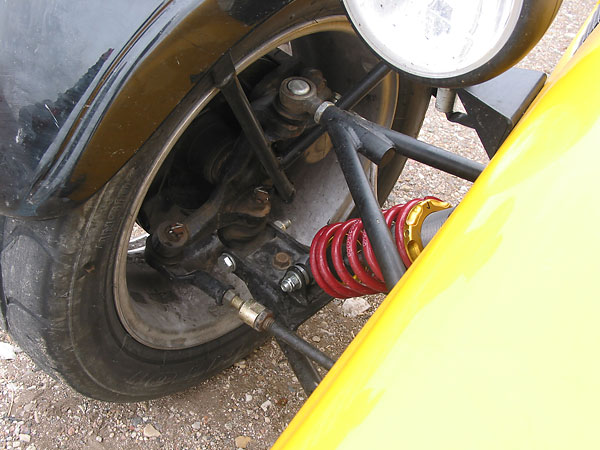 The Westfield kit is designed to use Miata donor parts, like uprights and brakes.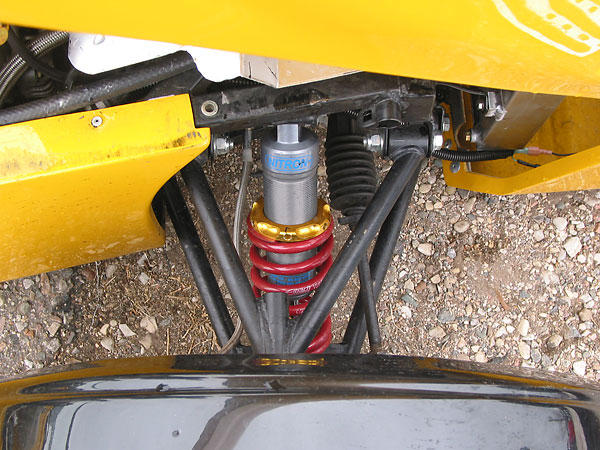 Nitron coil-over shock absorbers...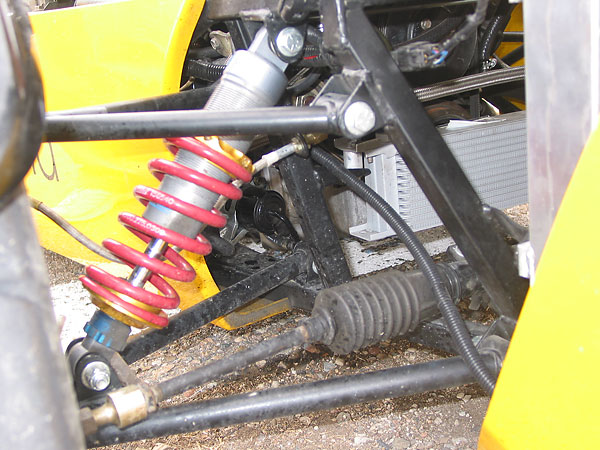 ... with Eibach coil springs, front and rear.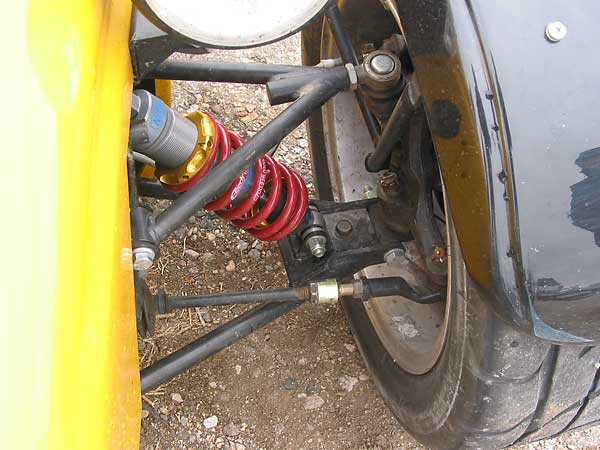 Westfield provides threaded adapters so that their rack will work with Miata tie rod ends.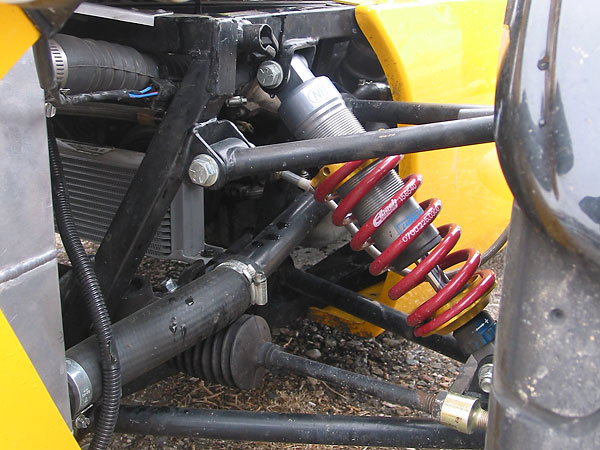 Mocal oil cooler. (Radtec aluminum radiator is behind it, plus a large electric fan.)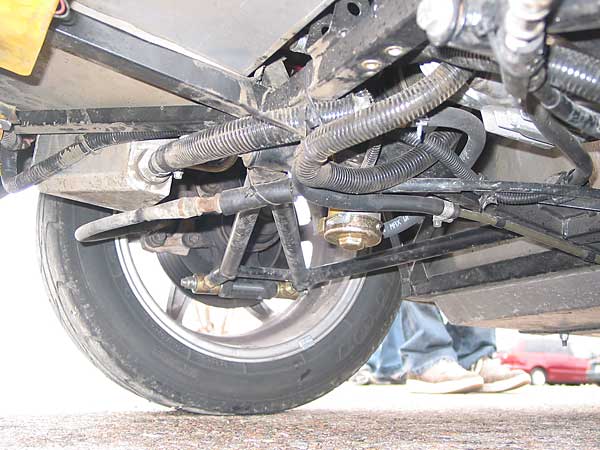 Facet fuel pump shown here is the low pressure supply to the scuttle-mounted swirl tank.
(The high pressure pump for the fuel rail is mounted next to one of the motor mounts.)
Standard fuel tank (here) is 7.5 gallons. A larger 11.9 gallon tank is available.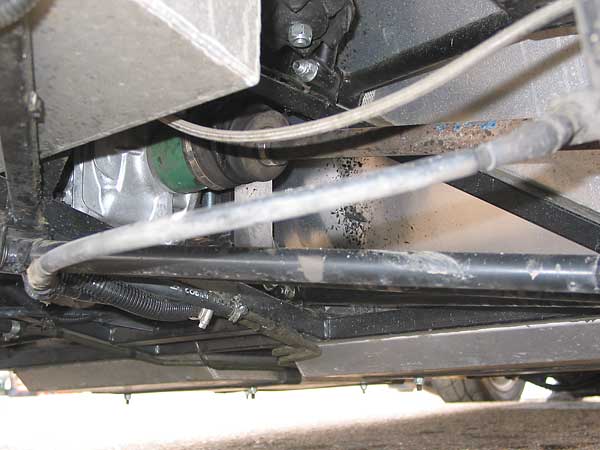 Independent rear suspension... using Mazda Miata halfshafts and CV joints.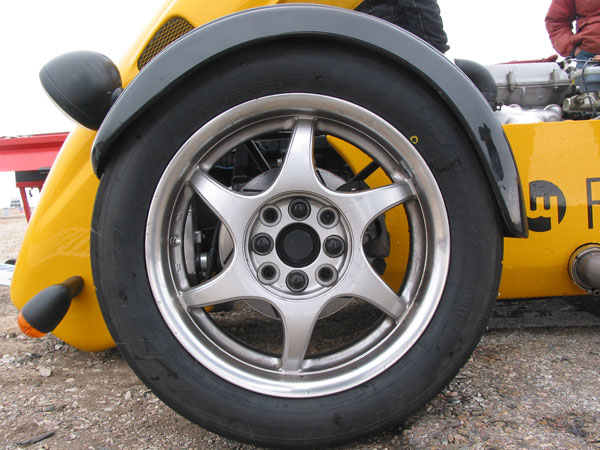 Nitto 205/50-15 tires.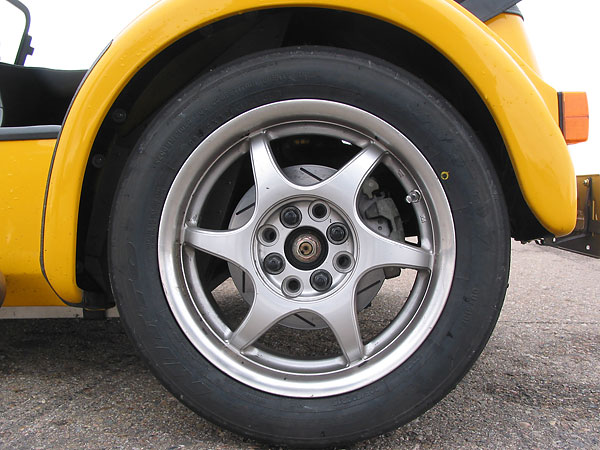 Miata 1.8 rear disc brakes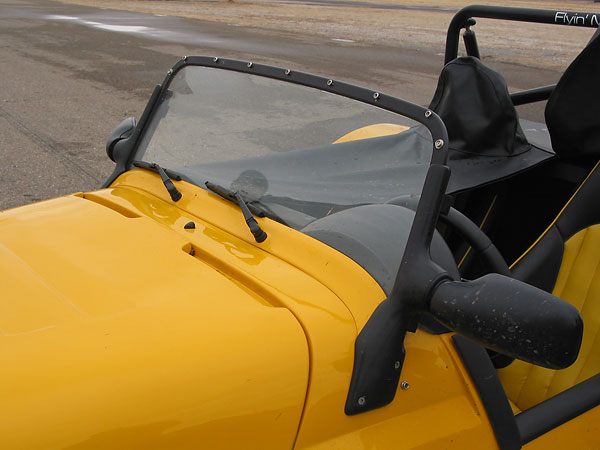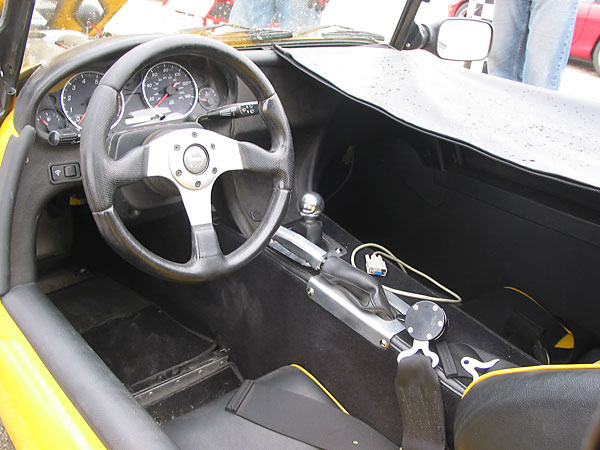 1999 Mazda Miata instrument cluster, and Momo "Race" model steering wheel.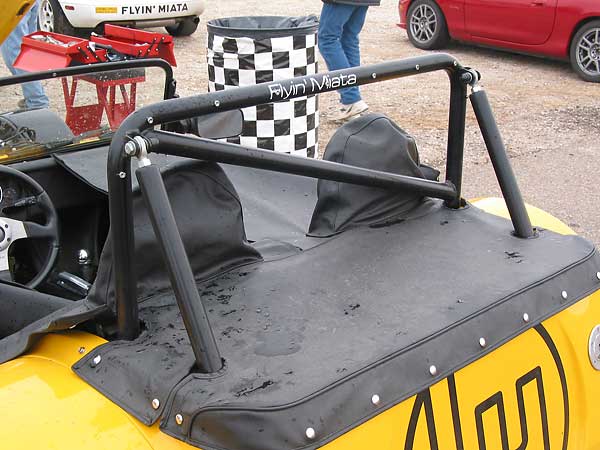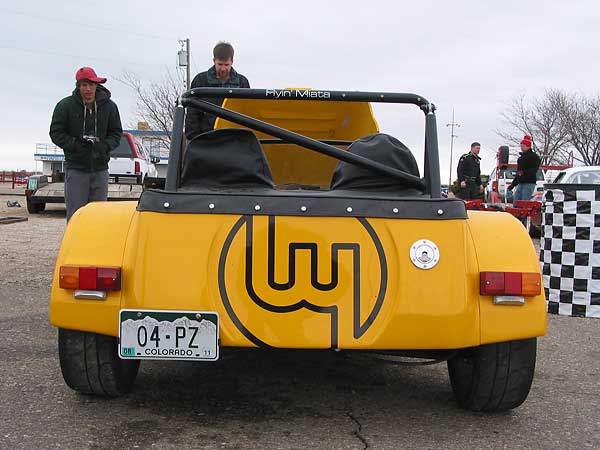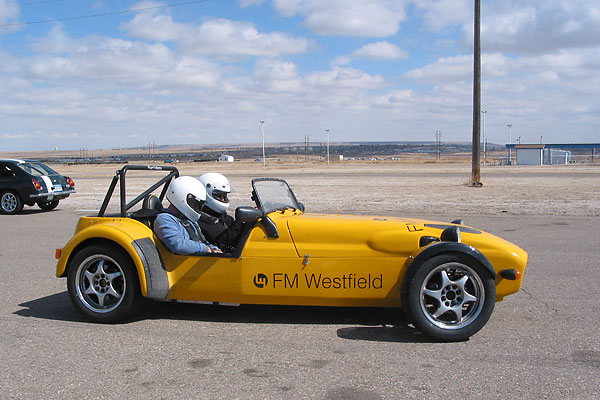 Bill Cardell gives very exciting demonstration rides. (I really enjoyed mine! - Editor)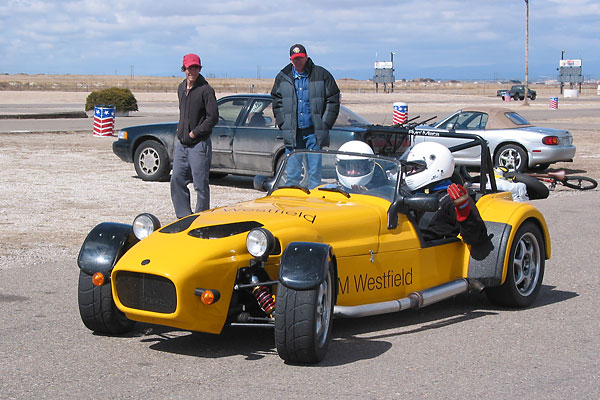 All of the photos shown above were taken at a Miata Club track day at Pueblo Motorsports Park in Colorado.


---

Bill's shop, "Flyin' Miata", continues to make continuous improvements to their Westfield and to use it as a testbed for performance accessories and options. Here are some more recent photos that Bill provided.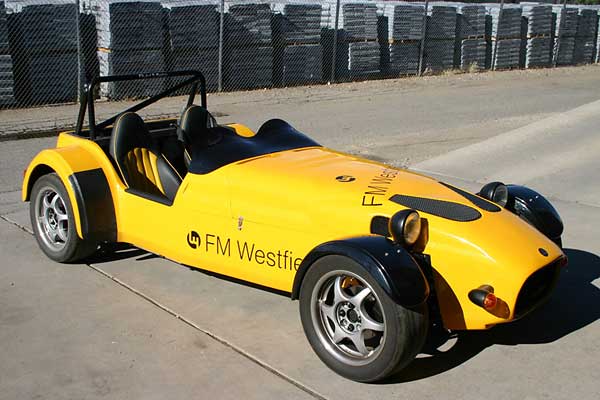 "Aeroscreen" aerodynamic windscreen.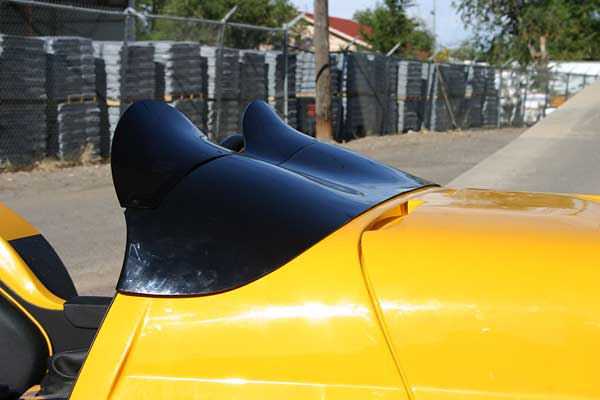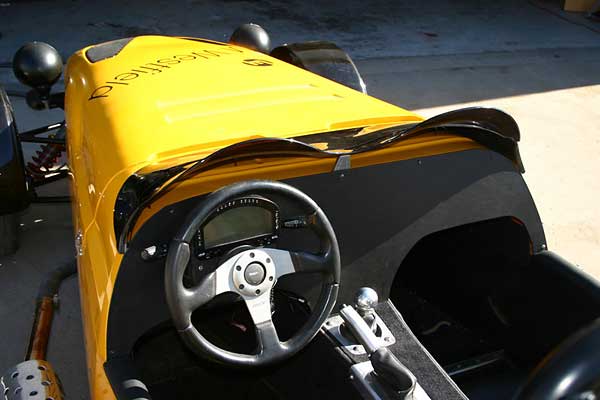 Datalogging LCD instrument module.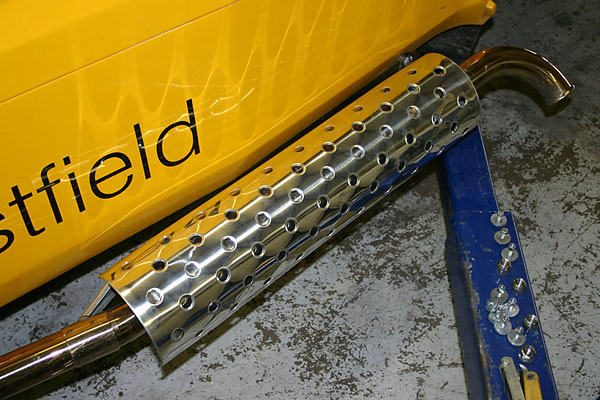 Muffler heat shield.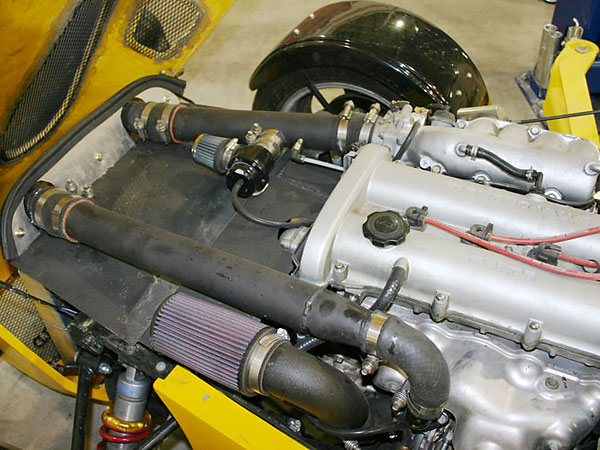 Intercooler plumbing. Note also that the air filter gets cool air through a hood vent.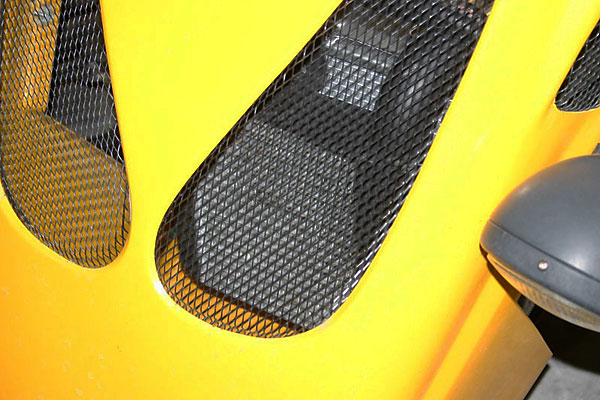 Intercooler location.