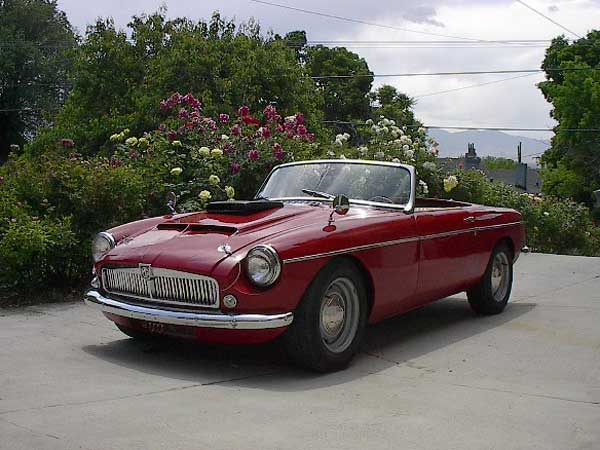 Will Holoman's 1965 MGB, with 1980 Chevrolet 3.8L V6
Engine: 1980 Chevrolet 3.8L V-6 (0.030 over), balanced & blueprinted, ported & polished heads, oversized stainless-steel valves, custom headers by Competition Design, Schneider Racing cam, Edelbrock Performer aluminum intake manifold, Holley 600cfm 4bbl carb, GM HEI, custom Ford Ram-Air shaker scoop, Holley fuel pump, dual exhaust.
Cooling: Howe aluminum radiator
Transmission: GM 700-r4 4-speed automatic transmission w/OD, B&M Megashifter.
Rear axle: Dana 44 rearend with limited slip, 3.54 ring and pinion
Front suspension: New late MGB front springs, re-valved front shocks, 3/4" sway bar, V-8 A-arm bushings
Rear suspension: MGB-GT rear springs, polyurethane bushings, tube shocks
Brakes: CNC dual master cylinders (with adjustable bias bar), cross-drilled rotors,
Interior: custom wood and metal dash, full VDO gauge set, turn signal switches integrated into steering wheel, Blaupunkt CD-MP3 player, custom carpet by R&M, MG Midget seats.
Body: most chrome shaved, custom bullet front turn signals, factory hardtop. The transmission tunnel was widened on the drivers side to accommodate the clutch arm and new slave cylinder
Other: Corvette Rally wheels, 15 gallon fuel cell, Painless wire harness.
Background: "I found this car rotting in a backyard. It had no floors, had been hit in the front and the rear fenders, had been flared with Vise-grips and Bondo. It was junk! I had an engine and a few odds and ends laying about so I decided to do this conversion. It is strictly for fun and I had no resources to guide me, the whole thing came out of my head. Light weight was my goal, so I removed everything not necessary for the operation of the car including the heater, side windows, and top. So far I have had only a few teething problems with the car. It is very fast and fun!"