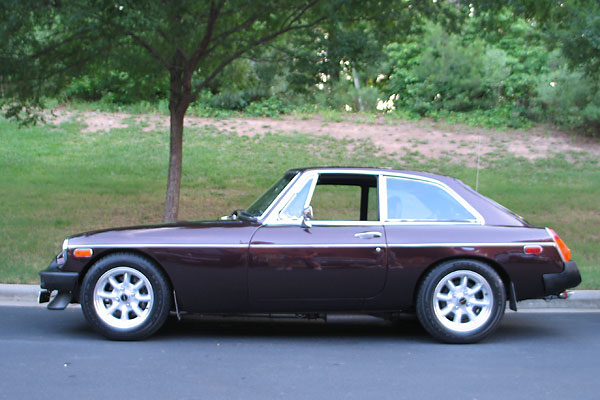 Wayne Rippy's 1974.5 MGB-GT with Oldsmobile V8
as published in BritishV8 Magazine, Volume XVII Issue 1, July 2009
Owner: Wayne Rippy
City: Summerton SC
Model: 1974.5 rubber bumper MGB-GT
Engine: 1962 Oldsmobile 215 (stroked...)
Conversion by: Terry Lee and owner
Engine:
1962 Olds 215, rebuilt to 266cid/4.4L with 10.3:1 static compression ratio. Buick 300 crankshaft (3.4" instead of 2.8"). 3.524" bore. (Pistons are TRW part number 464F.) Modified Buick rods. Ported Olds 215 cylinder heads with special upgraded valve springs (conical, undamped, 100# closed, 210# open.) Crower 280 camshaft (112 degree lobe center, 0.488/0.501 lift). Olds intake manifold with Edelbrock 1404 manual choke 500cfm carburetor. MSD Pro-Billet distributor (part# 8548). MSD6AL electronic ignition with MSD Blaster 2 coil (part# 8202). D&D Fabrications swivel oil filter mount. Offenhauser finned aluminum valve covers. The engine was built by Ron Hopwood.

Cooling:
custom Griffin radiator with four Spal electric fans (one large and two small fans mounted behind the radiator, plus one more fan mounted in front.) Buick 300 water pump.

Exhaust:
RV8 style through the fender four-into-one headers with 1 5/8" primaries, ceramic coated. 2.25" pipes with crossover, exiting on either side of the (centered) fuel tank. Flowmaster 50 series mufflers.

Transmission:
Rover LT77 5-speed, completely rebuilt.

Rear Axle:
8" Ford with 3.0:1 final drive ratio.

Front Susp.:
stock MGB (rebuilt).

Rear Susp.:
composite springs. Anti-tramp bars. Rear anti-sway bar.

Brakes:
(master) stock MGB.
(front) 4-pot Wilwood calipers with Honda Accord rotors.
(rear) Ford drum brakes.

Wheels/Tires:
Panasport 15x7 wheels with Wynstar Phaser R21 (195/65R15) tires.

Electrical:
Painless wiring harness.

Instruments:
stock, except for AutoMeter temperature gauge.

Interior:
air conditioning. Miata seats. Mota Lita slotted leather steering wheel.

Body:
the paint color is from a 2003 Nissan 300ZX AX8.

Completed:
2008. (1800 miles driven as of BritishV8 2009.)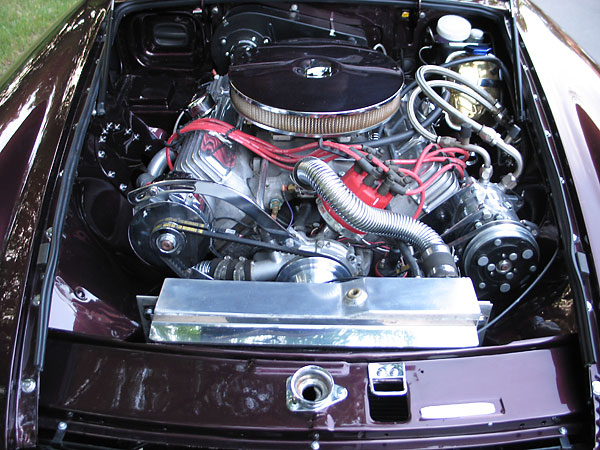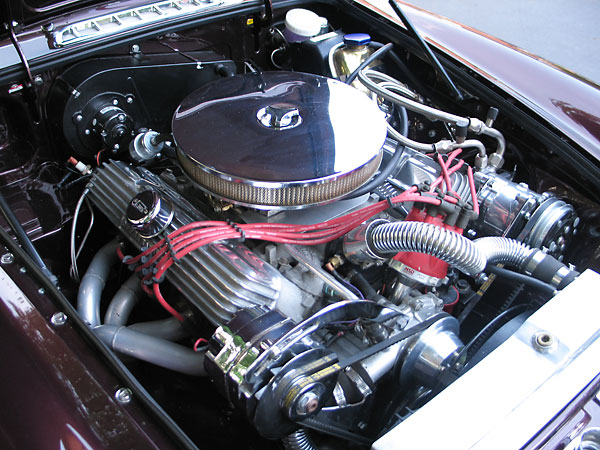 Offenhauser finned aluminum valve covers.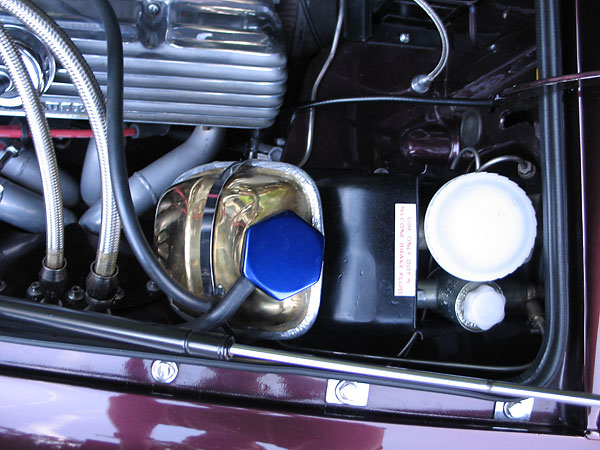 MG brass cooling reservoir.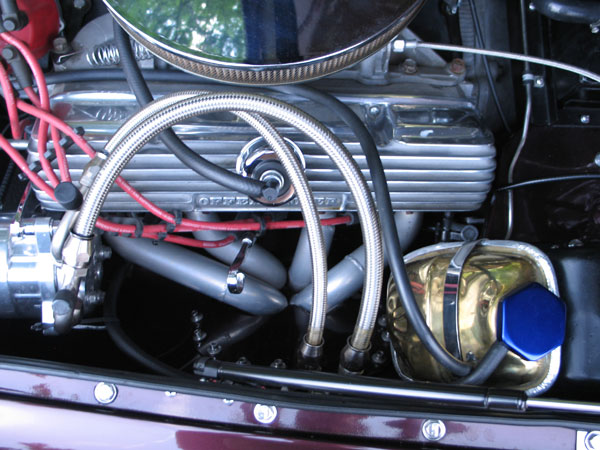 Ceramic coated RV8-style headers.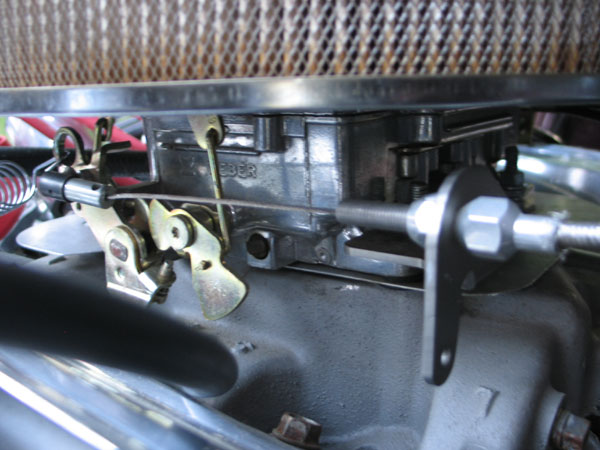 Weber/Edelbrock model 1404 500cfm carburetor.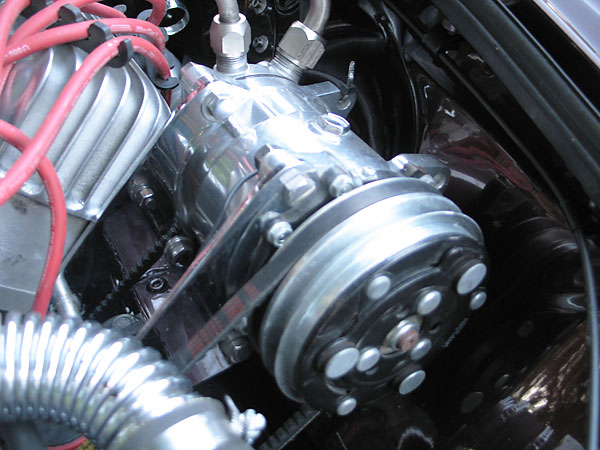 Sanden air conditioning compressor.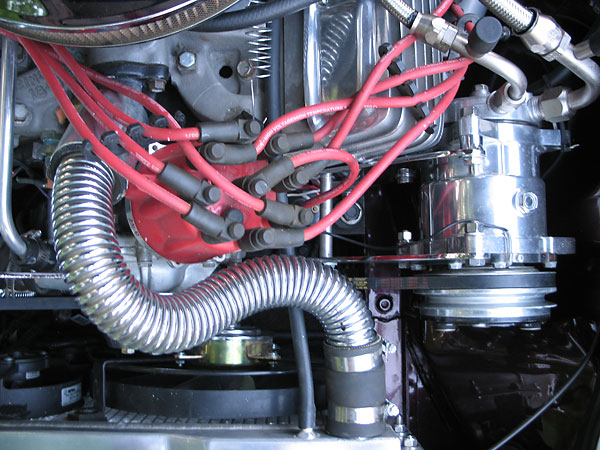 One large and two small Spal electric cooling fans, pulling.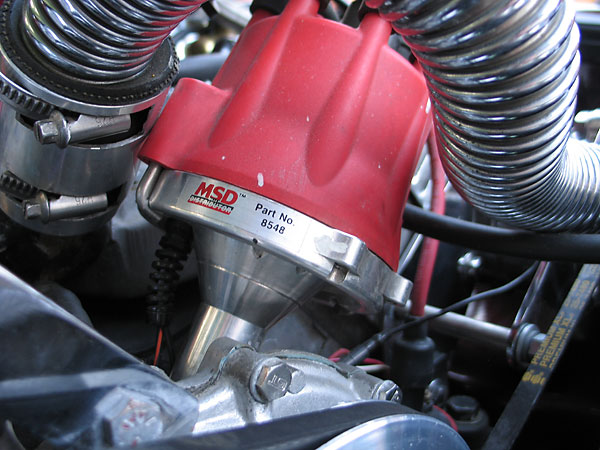 MSD Pro-Billet Distributor (part# 8548)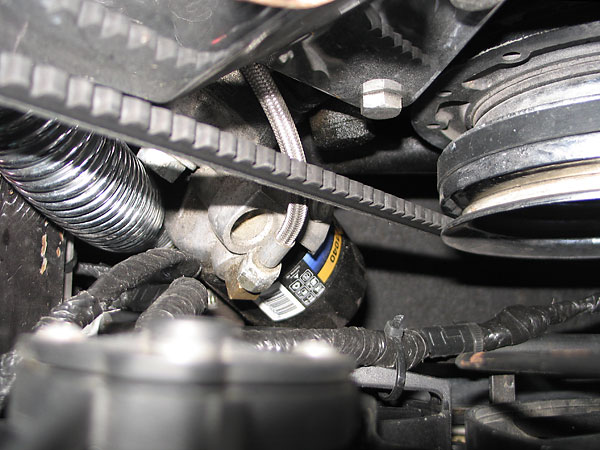 D&D Fabrications swivel oil filter mount.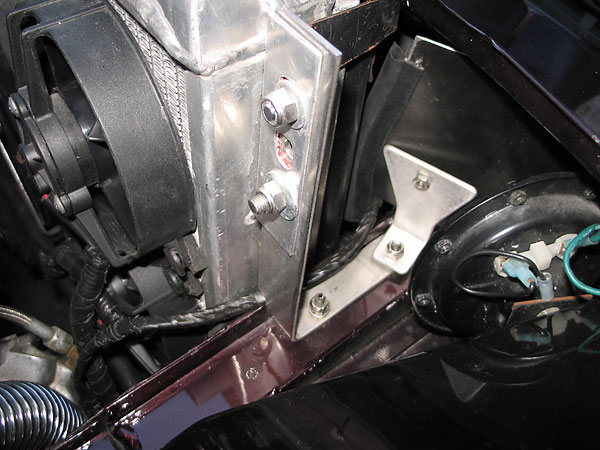 Custom Griffin aluminum radiator.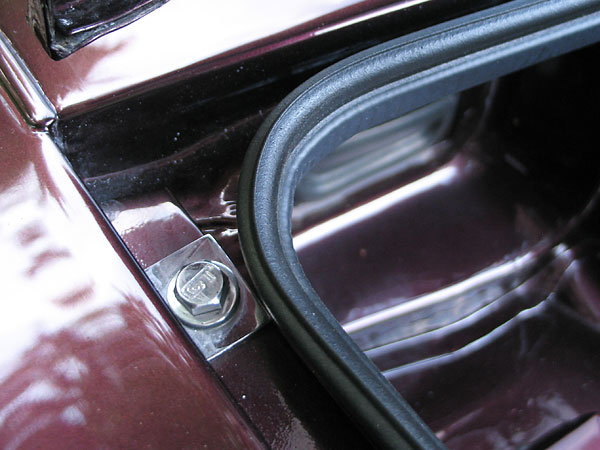 Polished stainless hardware.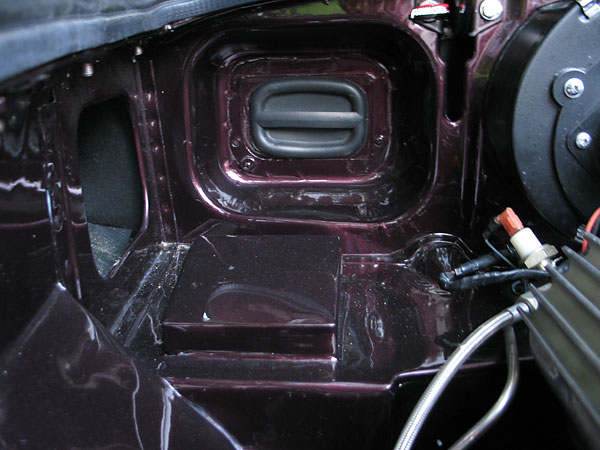 Passenger side footbox was modified to make room for air conditioning.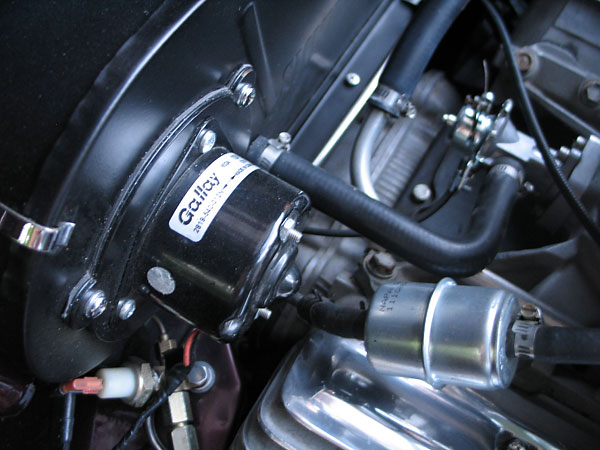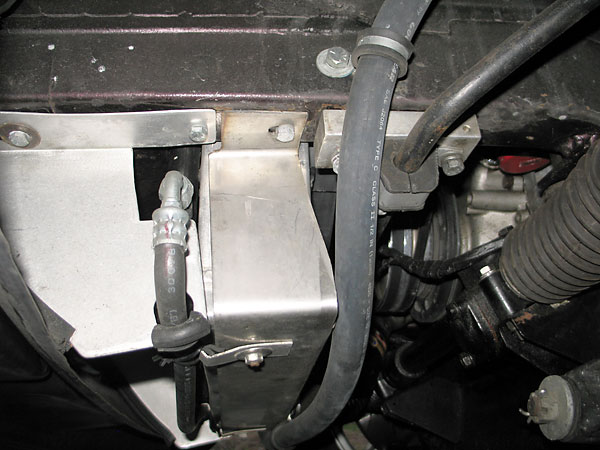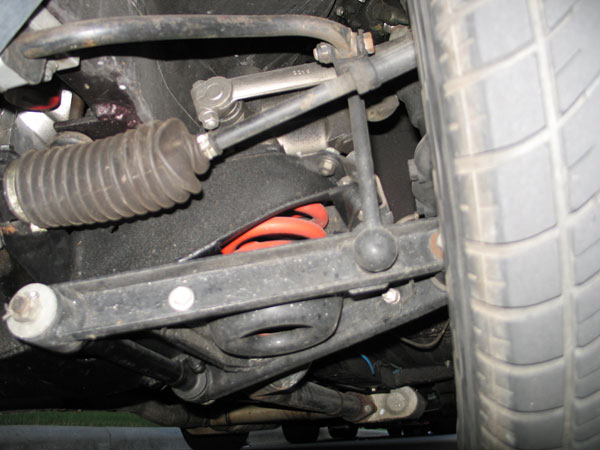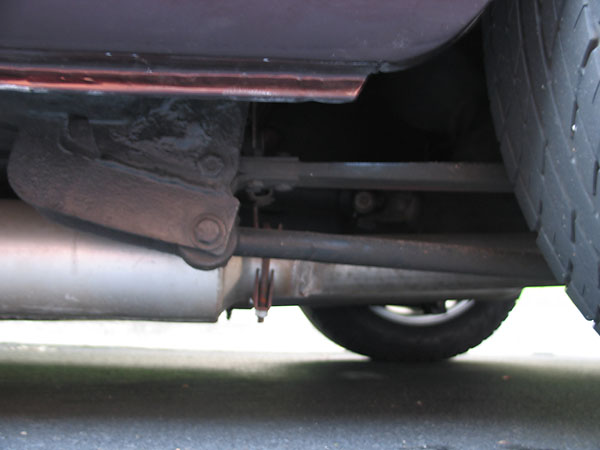 Modified "rubber bumper" spring mount, with provision for anti-tramp bar installation.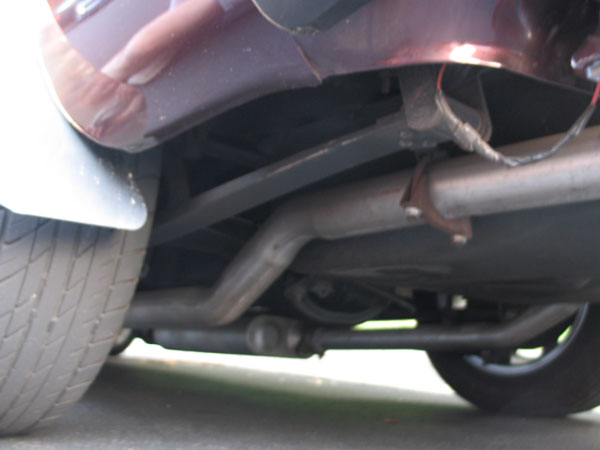 Composite leaf springs.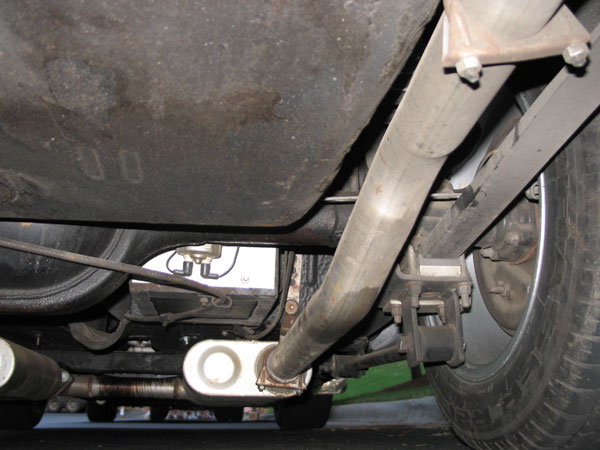 Anti-tramp bars.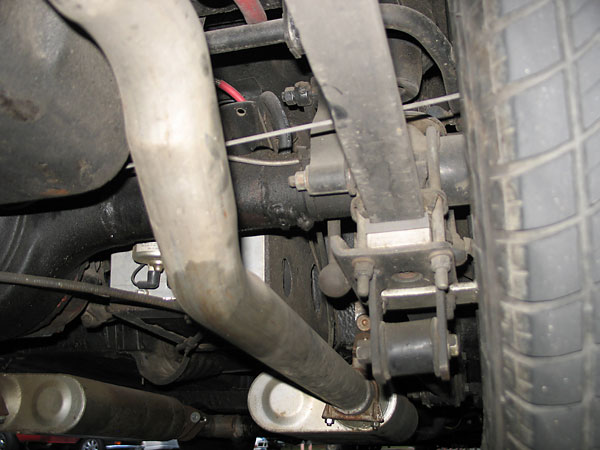 Rear anti-sway bar.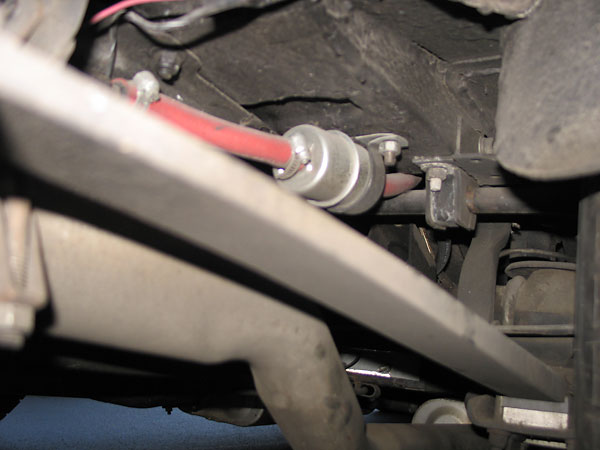 Rear anti-sway bar mounting bracket.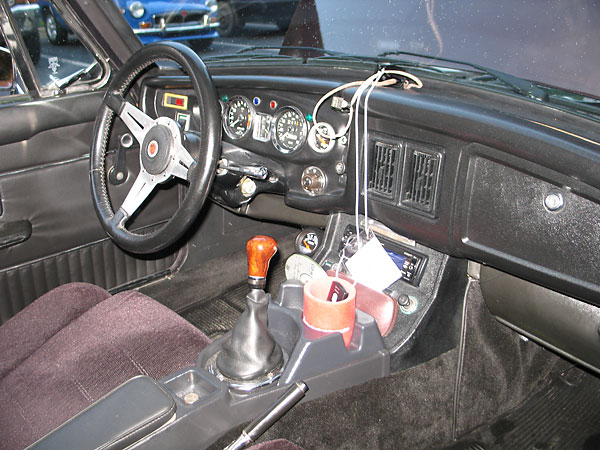 Mota Lita slotted leather steering wheel.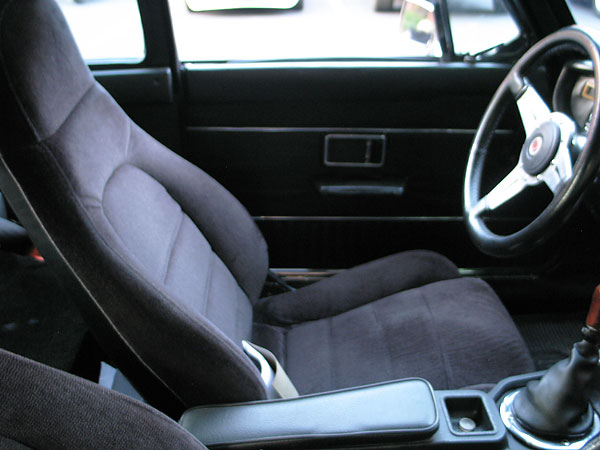 Miata seats.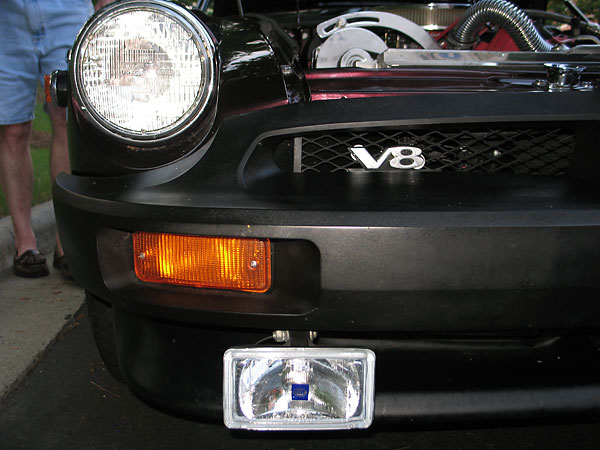 Driving lamps.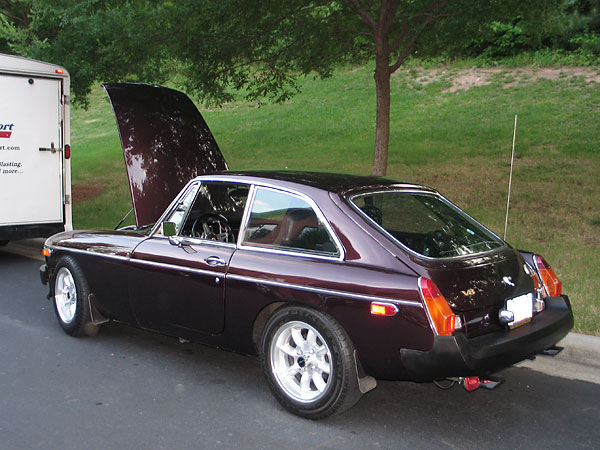 Centering the fuel tank facilitated dual exhaust.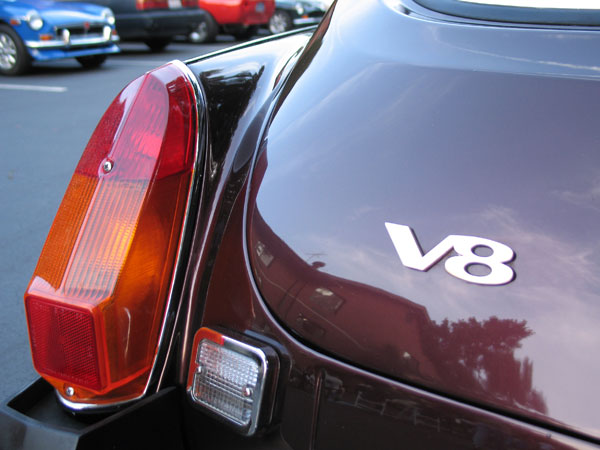 V8 badge.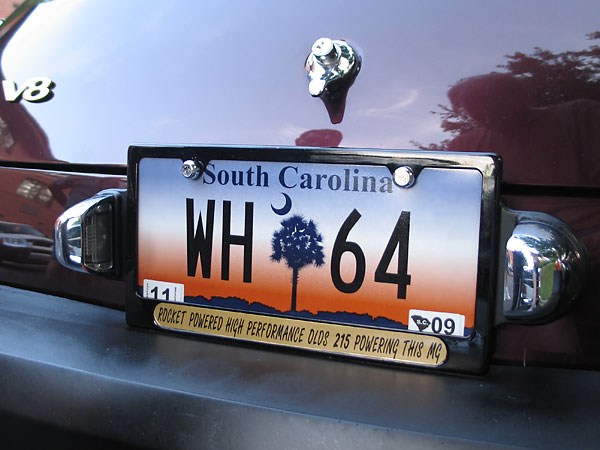 Rocket Powered High Performance Olds 215 Powering This MG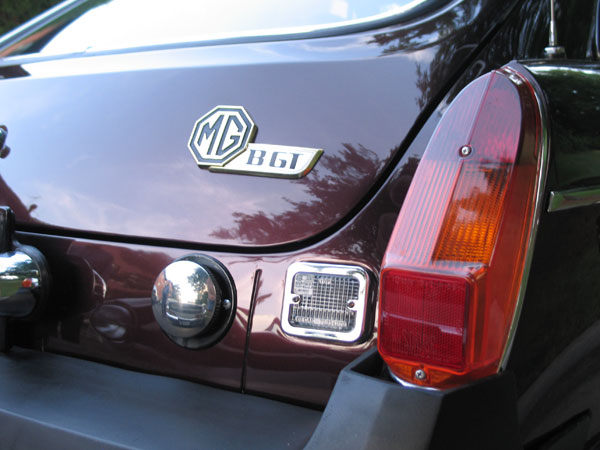 Rubber bumper MGB-GT's are comparitively rare in North America.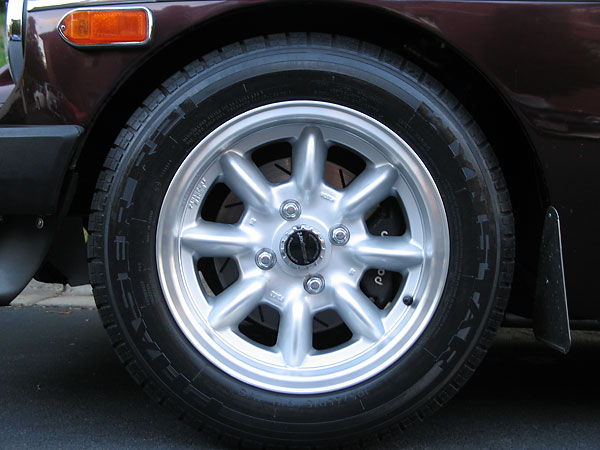 Panasport 15x7 wheels.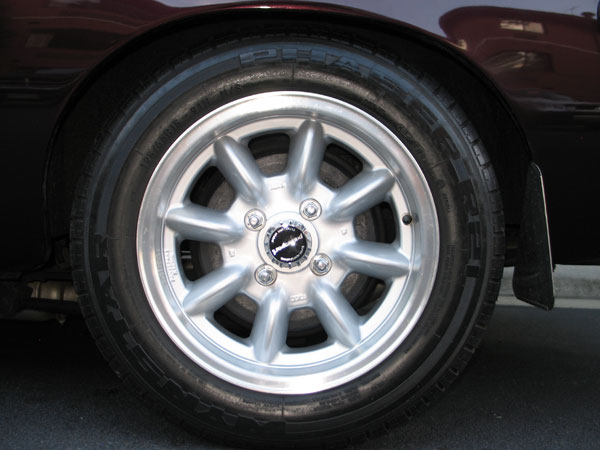 Wynstar Phaser R21 (195/65R15) tires.


All photos shown here are from BritishV8 2009, and were taken by Curtis Jacobson for BritishV8 Magazine.
Copyright 2009. All rights reserved.