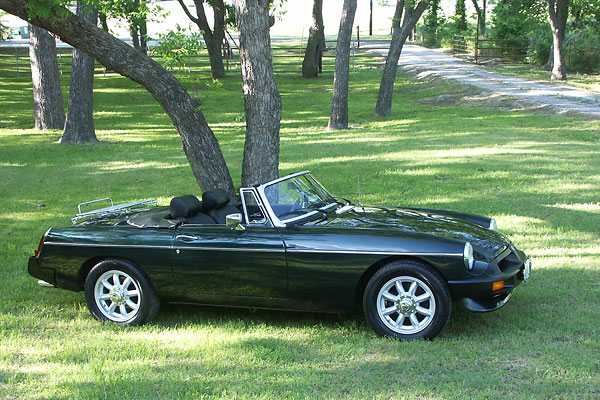 "Hobbes"
Wayne Kube's 1979 MGB Roadster with Rover 3.9L V8 engine
as published in BritishV8 Magazine, Volume XVII Issue 1, July 2009
Owner: Wayne Kube
BritishV8 UserID:
wkube
City: Plano, TX
Model: 1979 MGB Roadster
Engine: Rover 3.5 V8
Conversion by: Wayne Kube, Mark Trosper & Nick Pappas
(a.k.a. "2nd Chance Garage")
Engine:
Rover 3.9L engine from a 1989 Range Rover, bored 0.020" over and rebuilt. Rotating assemblies were balanced by Kim Barr Racing Engines in Garland, TX. Crower cam (276°, 0.488" lift.) Delco distributor, custom curved by D&D, with a Pertronix Ignitor electronic ignition and a 40,000 Volt Pertronix coil. Bosch Platinum 4 plugs. MSD 8.5mm wires. Standard Rover fuel injection manifold and plenum/throttle body (height reduced 1 inch.) MegaSquirt EFI system, which uses a MAP (manifold absolute pressure) sensor in lieu of an airflow sensor. MGB GT V8 valve covers.

Fuel System:
new 5/16" line up to the engine, and original MGB 1/4" line to return surplus fuel back to the tank. I cut an opening in the top of a new, unused tank, and installed an in-tank swirl pot (home made) to ensure a steady fuel supply at low fuel levels. The return line dumps back into the swirl pot.

Cooling:
D&D Fabrications brass/copper radiator, 18"W x 15"H, with 4 rows of half inch tubes. (If I'm out on the road and have a radiator problem, just about anyone can repair a brass/copper radiator. Not every shop can repair an aluminum radiator.) Engine driven flex fan for primary cooling. If coolant temperature reaches 185° F, the ECU engages a relay to power the MGB fans in front of the radiator.

Exhaust:
RV8-style headers routed to an x-pipe (all Jet-Hot coated). 2 inch exhaust tubing throughout. Stainless Specialties dual Mega-Oval mufflers. The fuel tank was centered to make room for Pacesetter Monza dual exhaust tips with glass-packed resonators at the rear.

Transmission:
T5 ("World Class") 5-speed from a V8 Camaro, with 0.63:1 top gear. D&D Fabrications flywheel with Camaro 10.5" clutch and pressure plate. D&D shifter. The clutch is operated by a hydraulic throw-out bearing from a stock MGB master cylinder.

Rear Axle:
stock MGB (3.909:1) splined-hub axle. (I already had Minilite-replica wheels, and didn't want to give up that appearance, so I kept this axle arrangement.) I considered changing to a 3.07:1 axle ratio, but now I'm glad I didn't because I prefer the acceleration through the low gears that it provides. In top gear I'm turning about 2,400 RPM at 70 mph, and I can accelerate to pass or climb most grades without needing to downshift. If I'd used the 3.07:1 ratio (like MG used on the MGB GT V8 model and some MGC's), my RPM at 70 mph would only be about 1,800 rpm.

Front Susp.:
standard MGB lever-arm shocks, but the oil was drained and the shocks flushed with mineral spirits, then replaced with 30-weight motorcycle fork oil. I've had this combination in the car for over 10 years (through about 75,000 miles on the 4 cylinder engine) and it's worked well for me. With this V8 conversion, I up-sized the front sway bar to 7/8" with the kit from Moss. The front suspension was lowered about 2 inches with a Moss coil spring kit.

Rear Susp.:
lowered 2 inches with Moss lowered rear springs (not the aluminum spacers that they now offer). Polyurethane bushes and pads. I have a tube-shock conversion kit on the rear that I purchased several years ago, but I changed to Monroe air-adjustable shocks. During hard cornering, the 205/60-15 tires sometimes rubbed on the inner fenders, and the air shocks reduced that problem. More recently, I've installed Mantell Motorsports' Panhard bar to further restrain sideways axle movement. Note: I special ordered the Panhard bar with the threaded ends not welded onto the bar so that I could easily shorten it. This was necessary to accommodate both the disc brakes and also a difference in how the Panhard bar mounts to the "wire wheel" axle.

Brakes:
standard MGB servo-assisted master cylinder.
(Front) slotted rotors and larger (TR8) pads.
(Rear) Scarebird disc brake conversion kit.

Wheels/Tires:
15x6 Minilite replicas, with 205/60R15 Dunlop tires.

Electrical:
Painless Performance 18-circuit universal wiring kit, with relays for ignition, headlights, driving lights, and the electric fans. The only wiring components that are still original MGB are behind the instrument panel. The dashboard mounted gauges are original; the 4-cylinder tachometer was modified and recalibrated for 8-cylinder operation. Saturn 85 amp alternator, wired so the in-dash "Ignition" lamp still operates properly.

Interior:
black vinyl upholstery kit from Victoria British. I applied half inch high-density foam to the back of the carpet to reduce noise and heat. Moss electric seat heaters. (My wife likes that!) Moss in-door courtesy lights. Panasonic head unit with integral XM (satellite radio) tuner, plus a 4x80 Watt amp mounted in the trunk. Four speakers, plus tweeters mounted in the dashboard. The front speakers are mounted in the kick panels and the rears are mounted behind the door jams, just below where the top frame mounts.

Exterior:
"Dark British Racing Green, Metallic" (actually, it's a Cadillac/Corvette color called "Polo Green 2") basecoat/clearcoat paint, applied over dark primer. Side marker lamps removed. Early model (all red) taillights.

Completed:
April 2008.

Weight:
Original 4-cylinder 1.8L engine:
LF - 580 lbs, RF - 570 lbs, Subtotal - 1150 lbs (50.9%)
LR - 540 lbs, RR - 570 lbs, Subtotal - 1110 lbs (49.1%)
Total weight - 2260 lbs

Rover 3.9L EFI engine:
LF - 570 lbs, RF - 560 lbs, Subtotal - 1130 lbs (50.2%)
LR - 545 lbs, RR - 575 lbs, Subtotal - 1120 lbs (49.8%)
Total weight - 2250 lbs

(In both cases, the trunk was empty except spare tire, and there was 1/2 tank of fuel.)

Comments:
my goal with this car was to not drastically alter the outside appearance. I really didn't want to have a bonnet bulge or hood scoop, and I really like the idea of the 3.9L engine with fuel injection, much in the line of the RV8. The only external tell-tale of the V8 conversion is the dual exhausts and the etching on the vent windows. And the sound, of course!

It took some tuning on a "rolling road" (chassis dyno) to get the custom EFI optimized. The final result was 191 HP and 207 lbs/ft of torque at the rear wheels. That's not way over the top, but it's certainly good enough for me right now.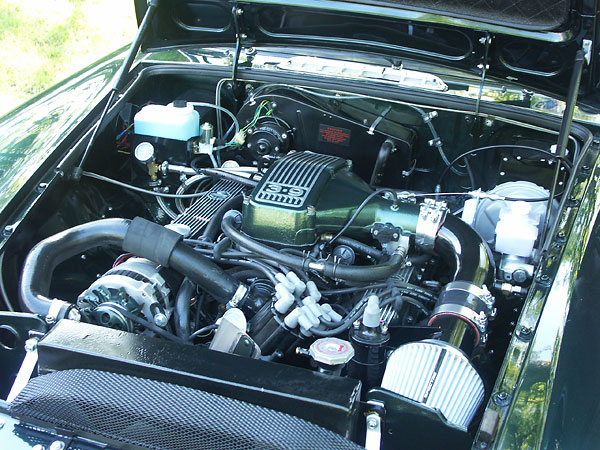 The valve covers and EFI plenum are powder-coated body color.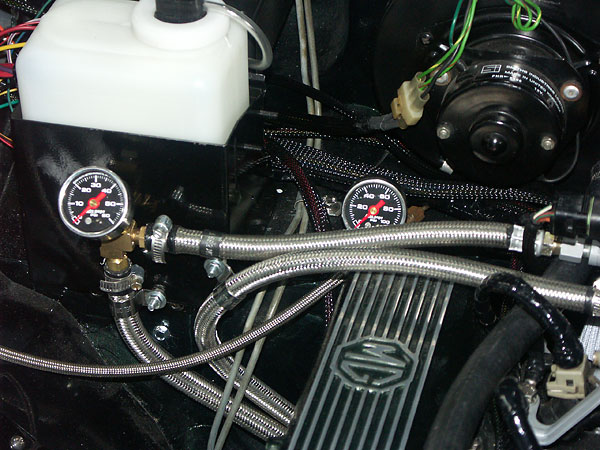 The two gauges shown here are for fuel pressure (left) and oil pressure (right).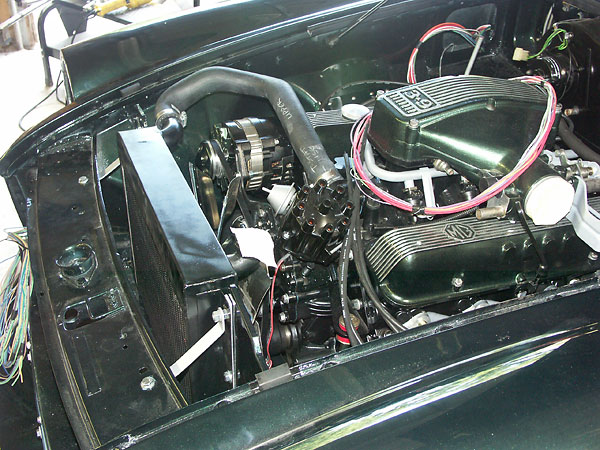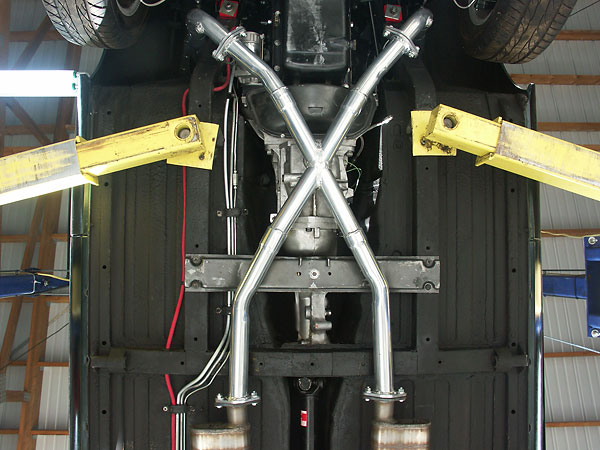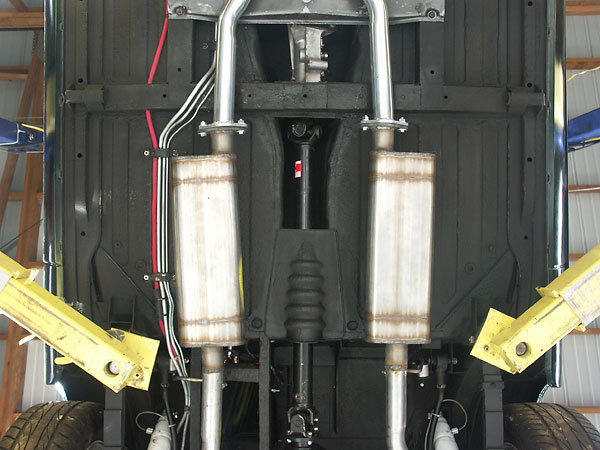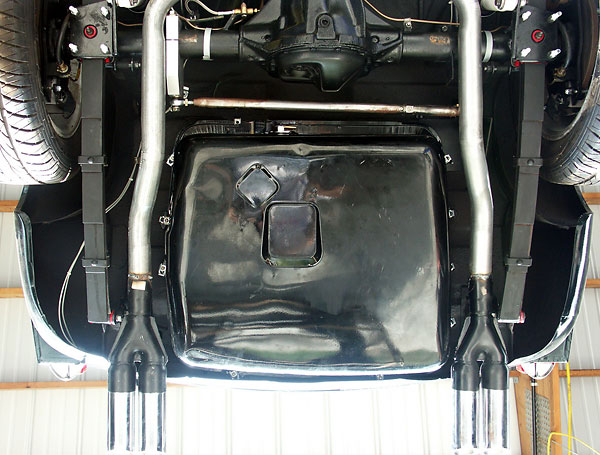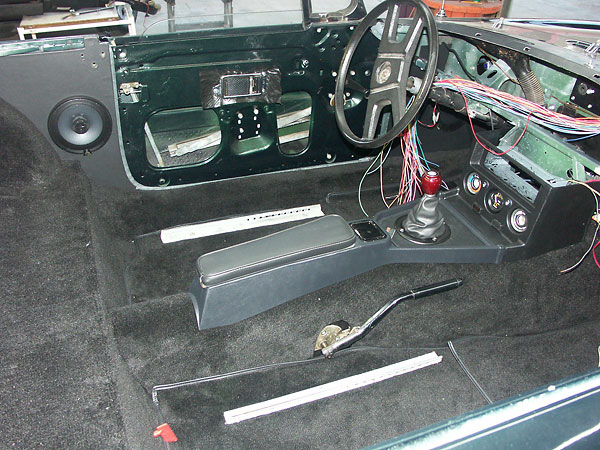 Installing the Painless Performance 18-circuit universal wiring kit.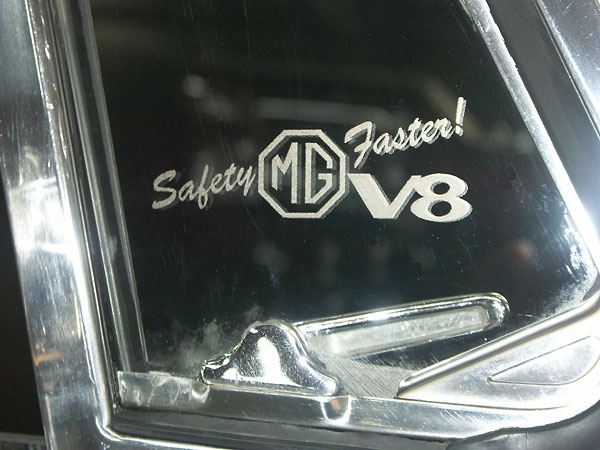 I etched the vent windows with glass beads in our media blast cabinet. The trick is to make a negative
mask (they call it a "reverse weed") out of vinyl. My local "Fast Signs" shop cut the vinyl for me
from a JPEG image file that I created and took to them. I used their heaviest vinyl sign material.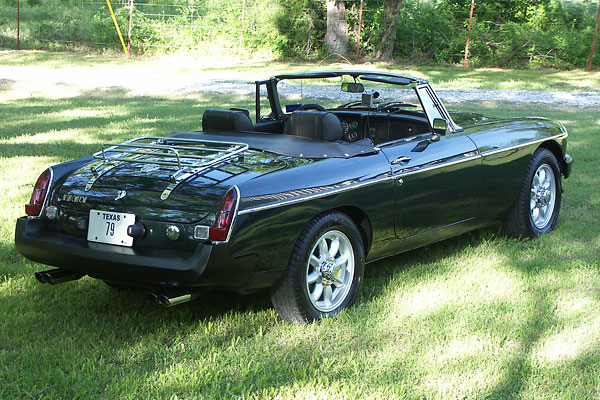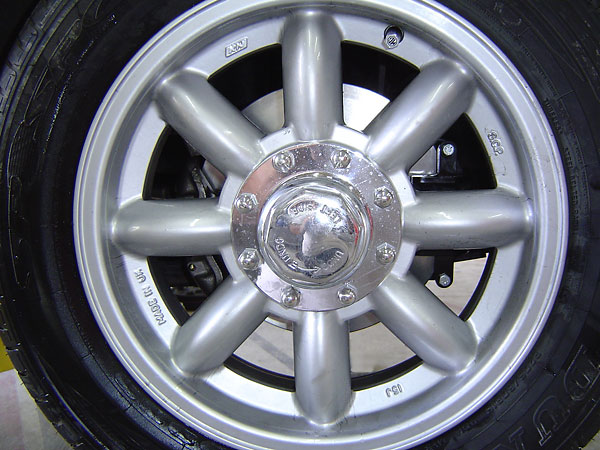 15x6 Minilite replicas, with 205/60R15 Dunlop tires.


Installing a Scarebird Rear Disc Brake Conversion Kit on the MGB (Salisbury) Axle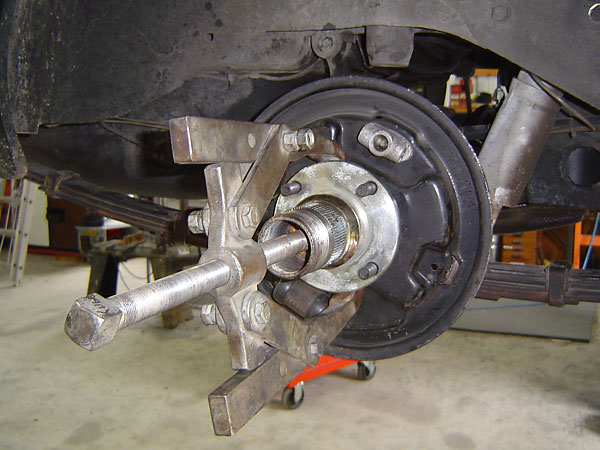 The first step is disassembly. Here the hubs are being pulled off.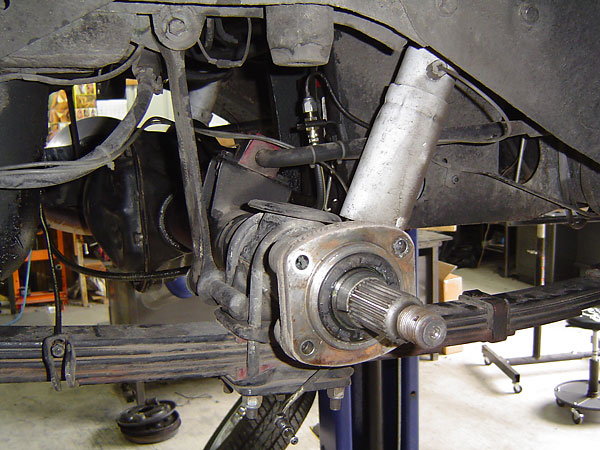 This is what the ends of the axle shafts look like.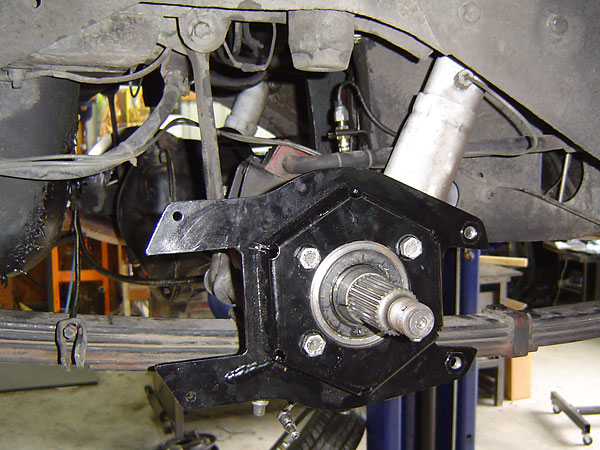 Scarebird Classic Brakes LLC brackets.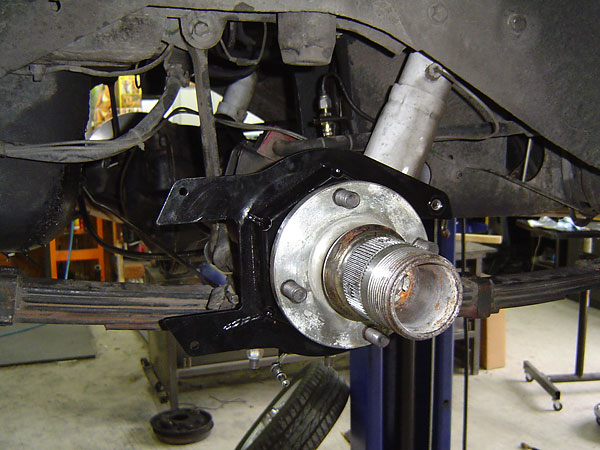 Now the MGB (wire wheel) hubs go back on.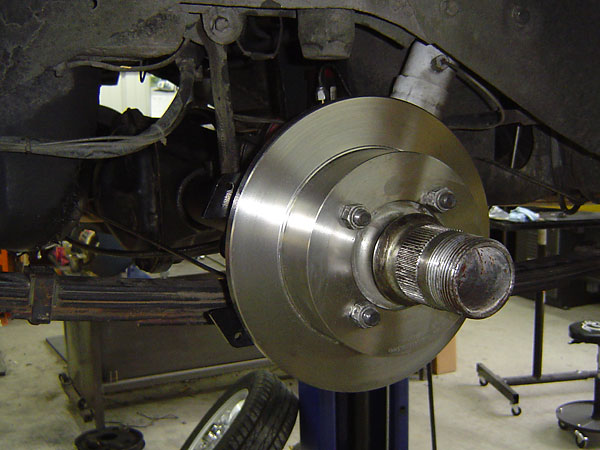 1994-98 Hyundai Sonata rear disc brake rotor.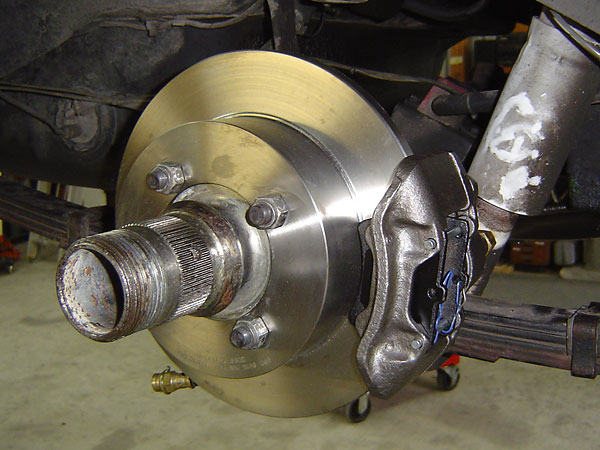 1988-93 Ford Festiva front caliper.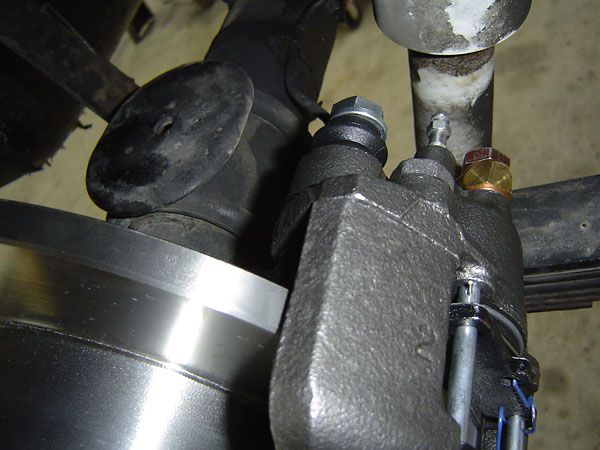 Left and right calipers are "handed". Install them with their brake bleeders at top.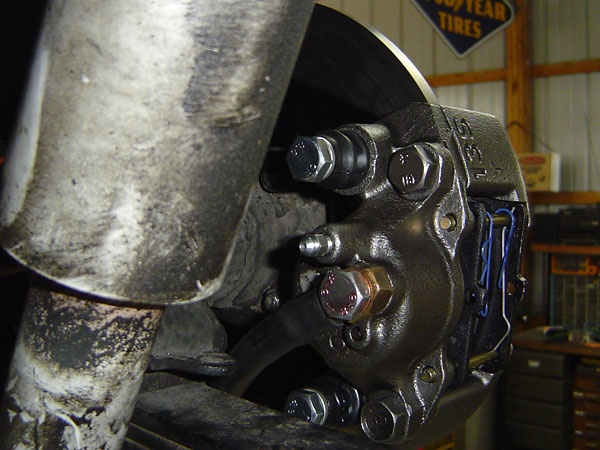 1979-90 Chevrolet Caprice front brake hoses, with 1988-93 Ford Festiva banjo bolts.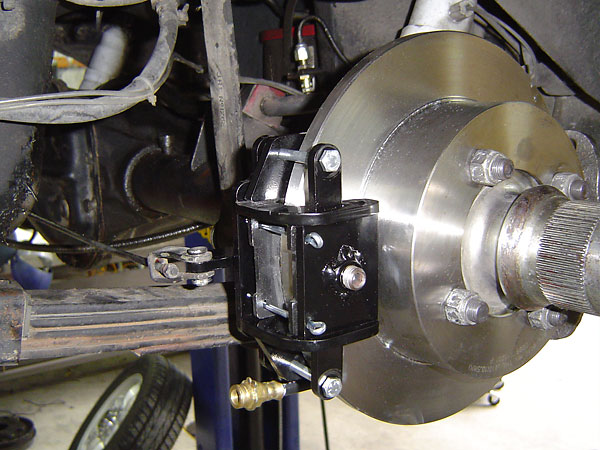 Cable operated parking brake caliper (uses 1967-76 Triumph Spitfire pads.)