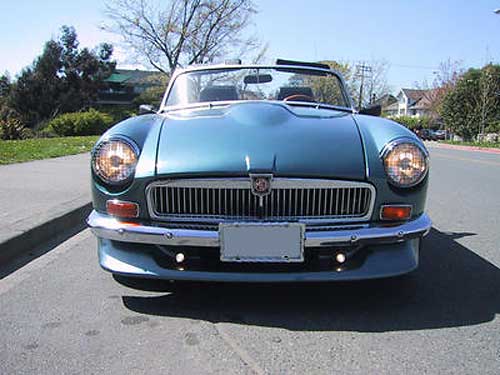 Troy Verrin's 1969 MGB roadster with Rover 3.5L V8
as published in British V8 Newsletter, Volume XIV Issue 3, December 2006
Owner: Troy Verrin
City: Seattle WA
Model: 1969 MGB
Engine: Rover 3.5L V8
Engine:
The motor is the 3.5 liter Rover motor running at 10:1 compression. It was just rebuilt about 3000 miles ago (about 3 years) and is still under warranty. It has been balanced and blueprinted. The car's Magnaflow exhaust sounds fantastic! Don't know how this can be true, but when the car was dyno-tuned in 2003 it was putting out 119.2 hp at 5000 rpm and 275.7 ft/lbs torque at 3600 rpm at the rear wheels. The power seems low to me but the torque seems too high. Is it possible to tune the Rover motor to develop that much torque? All I know is it sounds great, purrs like a kitten, and really picks up the MGB and throws it down the road. I'm pretty new to this V8 thing so I'm going to have to find out a little more about the motor and see about getting more power out of it.

Interior:
The interior is all new. The dash I believe was purchased from Moss motors a year or two back. I wasn't familiar with the "Pillow" dash and thought it was aftermarket. I like the look. It also had Auto-meter gauges and Fiero seats.

Suspension:
The suspension was upgraded when the V8 was put in and Spax shocks are on all four corners.

Wheels/Tires:
The rims are 15" Superlights with Toyo 205/50 tires.

Body/Paint:
The car is in decent shape, it was fully painted and restored in 92, but there is just a bit of rust starting to show in the outer door sills. I took the car to a couple of body shops and British car restoration specialist and was told that it was not too serious yet. I would of preferred to find a V8 car with no rust, but unless you buy a new body shell yourself, how can you be sure?

Comments:
The fellow I bought it off has owned it for 20 years and I visited the shop that put the motor in today. They mentioned that it was a more difficult install because of the older body shell and required modifying the engine bay and transmision tunnel to get everything to fit.
All in all I love this car! I've owned Bs before and I just sold a TVR 2500M to buy this V8. This is by far the most fun I've had in car to this date in my life. What a blast! Can't wait to pop in a LS rear end and 16" rims.