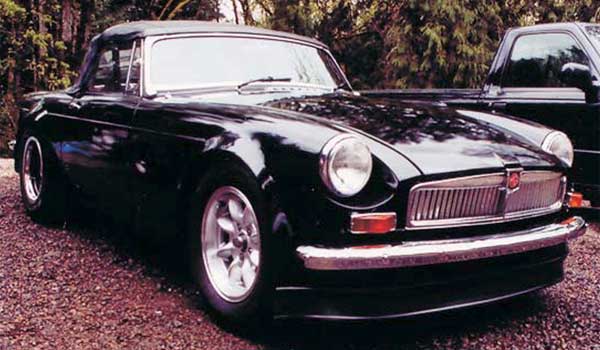 Tony Thiel's 1965 MGB with Ford 289 V8
(originally published in British V8 Newsletter, Volume 11 Issue 3, September 2003)

Owner: Tony Thiel
City: Aurora, Oregon
Phone: 503-678-1865
Model: 1965 MGB Roadster
Engine: Ford 289
Conversion performed by: Owner
Engine:
Ford 289 from a 1964 Ford Fairlane. Bore: 4.000", Stroke: 2.870. Crane cam with 0.500" lift and 300 degree duration at a 0.050" lift. Cylinder heads are 351 Ford, and have been port matched, and the pockets have been cleaned up. A high volume oil pump was used, along with a remote oil filter and oil cooler. The oil pan has been modified to hold 8 quarts.

Intake:
A 700cfm Holley sits atop an Edlebrock Performer manifold. Throttle linkage is from Lokar.

Drivetrain:
A 4-speed T-10 from a Mustang is linked to the engine by an aluminum bellhousing from a Fairlane, and a Hayes "street/Strip" clutch. Chevy truck master cylinder. Stock MGB slave cylinder.

Cooling System:
Two radiators have been fitted - a downflow upper radiator from a Ford van, and a custom cross-flow lower radiator, both of brass construction. Water pump is an Edlebrock aluminum unit. Cooling air flow is provided by a mechanical puller fan from Hayden, pulling through a custom fan shroud.

Exhaust:
Headman headers, with a 1 5/8" primary tube ID feeding 2 turbo type mufflers. Exhaust pipe is 2.5" ID into one 4" pipe. A crossover pipe is used.

Rear axle:
A Ford 9" from a Torino, narrowed 3" per side. A Ford clutch-pak LS differential, with a 3.00:1 ratio is used. Tube shocks replace the standard lever arms, front and rear, and all stock bushings were replaced with polyurethane. A custom sway bar was added to the front, and a custom traction bar was added at the rear. Ford Ranger hubs were bolted to the MGB spindles (they fit!). Calipers and ventilated rotors came from the same Ford Ranger. Ford Torino 10.4" drums (stock on the Torino axle).

Wheels/Tires:
15 x 7 Panasports with 225/60/15 Michelin Pilots on front. Steel 15 x 8 (waiting for Panasports) with 235/60/15 Michellin Pilots on rear.

Interior:
Floor, firewall, and rear bulkhead are all trimmed in aluminum panels. Seats are by Corbeau. Fenders flared, custom front air-dam, gas filler moved to inside trunk, third brake light added, recessed into a custom pocket in the roll-bar.

Electrical:
Starter and alternator are Ford. Wiring harness is homemade, and stock gauges have been replaced with VDO.

Other:
Has been extensively modified and reinforced, with a roll bar welded in place with additional tubes welded to the rear frame rails and to the under-door frame rails.

Cost:
Stopped counting years ago!

Miles Driven:
25,000.

Performance:
15.3 seconds at 94mph in the quarter mile. "Chickened out" before top speed determined.

Tony's Comments:
Aluminum interior is too hot in traffic on hot days.

Most information for the conversion came from reading hot rod type magazines (plus personal hot-rodding experience).

I would advise most people to follow the traditional conversion methods. If you like to make your own parts and spending hours trying to figure out how to make something work, then you could do it the way I did.

I would use lighter materials on many of the parts that were made for the car. I wouldn't have used the 9" Ford (too heavy) unless I was planning on making about 800HP.

I love seeing what other people have done to their little British cars. I also have a Jag XJ6 with a Lincoln 460 engine (stock) and transmission.