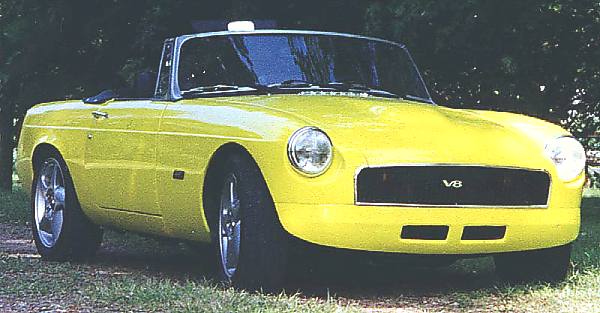 Tim McCracken's MGB with Rover V8 These pictures were sent to Dan Masters by Tim's friend Bob, who had this to say about Tim and his car:

This is a rubber-bumper 'B' that has had a few minor modifications. The car was built and is owned by Tim McCracken from Kansas City. He thinks about projects just like you and me and then he just makes them happen. It is pretty amazing. The guy owns a BMW / Volvo service garage and his shop is right across the street from the Rover dealer. He gets some real steals on stuff that we would just die for.

This is a 4.2 or 4.4 liter Rover with a week's wages on the flow bench and a whole bunch of good stuff packed inside. One of his pals custom-bent the long 4-branch exhaust which vents straight out the fenderwells. I believe it is backed up by a BMW 5-speed and uses a Volvo rearend to get 4-wheel discs and a really useful ratio.

The wheels, I believe, are Mustang and the rear flares were rolled out slightly with a ball bat. The hump in the hood used to live off center on a Mitsubishi Eclipse. The side marker lights are off a bimmer and there are blinkers winking out of the grill. At the "Chanute Chute-Out" last year, on the car's first shake-down run, he managed to make 125 in 5/8's of a mile on his fifth run.