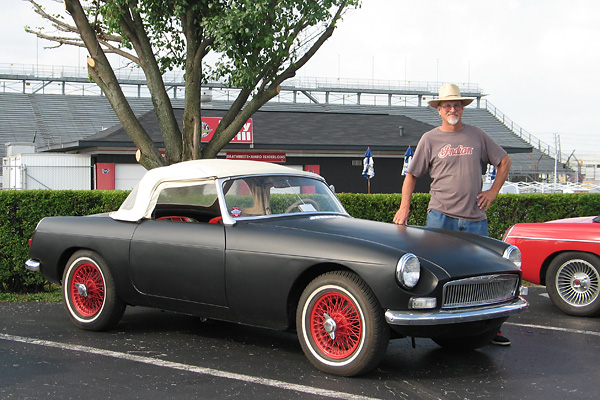 Steve Kimball's 1964 MGB Rat Rod with Chevy 2.8L V6
as published in BritishV8 Magazine, Volume XVIII Issue I, December 2010
Owner: Steve and Vicki Kimball
BritishV8 UserID:
eyeosteverino
City: Columbus NM
Model: 1964 MG MGB
Engine: Chevy 2.8L V6
Built by: owner.
Features and Specifications
| | |
| --- | --- |
| Engine: | Chevy V6 2.8 litre. (The model year is unknown, but it features the "big journal" crankshaft and large valve cylinder heads.) Stock camshaft and valve train. Stock GM intake manifold, modified to suit a Weber DGV 32/26 carburetor. Yugo air cleaner, modified to provide cowl induction. K&N air filter. Stock GM HEI ignition system. Triumph GT6 motor mounts. |
| Cooling: | stock MGB radiator. An 8" by 10" heater core has been mounted underneath the radiator shelf, plumbed to serve as an auxiliary radiator. MGB oil cooler utilized with Permacool adapter. Electric cooling fan (from a Fiat), manually switched. |
| Exhaust: | homemade custom three-into-one headers. Single muffler. |
| Transmission: | Borg Warner T-50 five speed transmission. (3.4:1 first gear with 20% overdrive fifth gear.) PBR master cylinder. Stock Chevy hydraulic slave cylinder. Custom driveshaft, fabricated locally. |
| Rear End: | stock MGB rear axle. (3.909:1 ratio, open differential.) |
| Front Susp.: | stock. |
| Rear Susp.: | stock. |
| Brakes: | stock MGB brake system. |
| Wheels/Tires: | stock MGB wire wheels, painted red. Hankook H714 radial tires (185/75-R14). |
| Electrical: | stock MGB wiring harness. Delco-Remy alternator. Single 12V battery. Battery disconnect switch added. |
| Instruments: | stock MGB tachometer and speedometer from a 1977 MGB. (The tach was modified by a local shop to work with the V6 ignition system.) |
| Misc.: | shaved side molding and door handles. Omitted windshield wipers and washers. Omitted heater. Omitted door glass. Omitted interior door trim. Industrial mats in lieu of carpet. Custom seat upholstery, made from a Mexican blanket. MGA banjo style steering wheel, wrapped with white cord. Chromed bicycle mirrors. Amco white vinyl convertible top. Omitted bumper overriders. |
| Weight: | only ~2000 pounds. |
| Completed: | Summer 2009. Driven about 4000 miles to date, as of the car's appearance at BritishV8 2010 in Indianapolis. |
| Comments: | I bought this '64 MGB to get its overdrive transmission for another 1964 B I was restoring, and because I also wanted to build a V8-B at the same time. I knew it would be more fun. After consideration, I decided cutting into the car's sheet metal was unnecessary since I already had a nice Chevy V6 sitting in my barn. This car's "rat rod" style was inspired by a trip to the Viva Las Vegas Rockabilly Weekend (and car show). The style suited me because I no longer have patience for detail work. No hard performance figures yet, but the engine is mild. I didn't want to overstress the wire wheels and spindles. Have just completed my first major trip with the car. No overheating, despite 100 degree days. No mechanical problems so far, except minor oil leaks. It's fun to drive and it gets a great response everywhere it goes. |
Engine Installation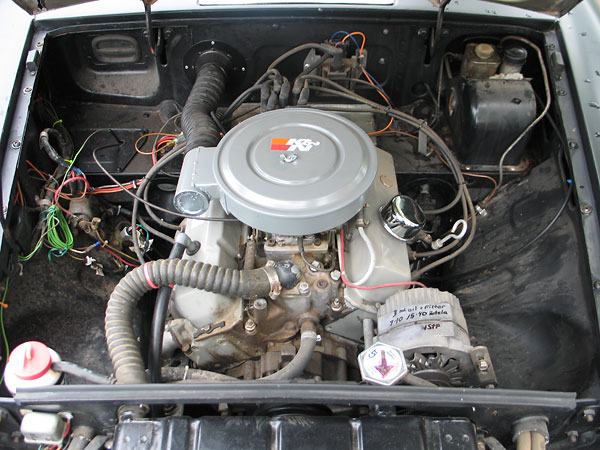 This compact sixty-degree Chevy 2.8L V6 engine is mated to a similarly compact T50 transmission.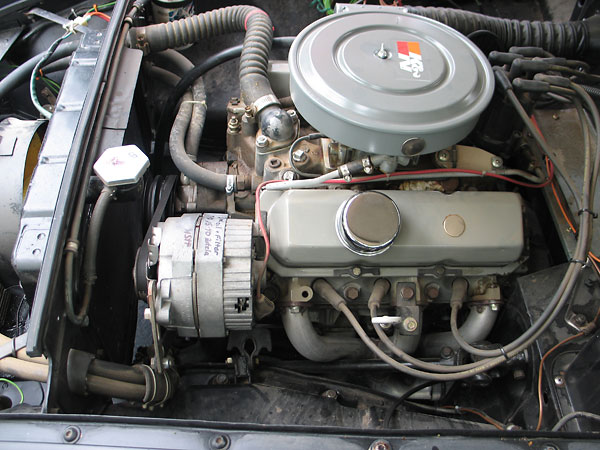 This engine/transmission can be installed with hardly any modification of the MGB Mk.1 bodyshell.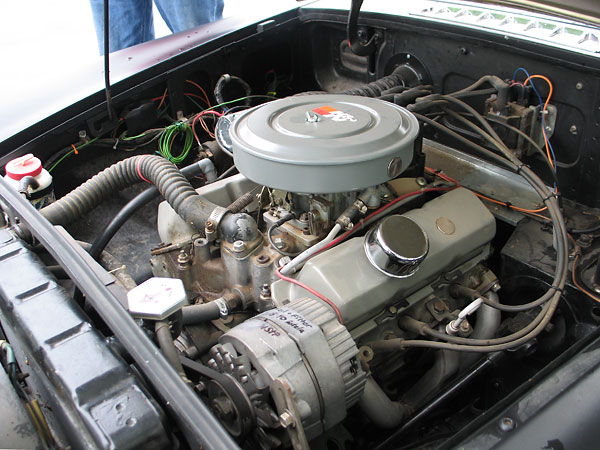 General Motors (Delco-Remy) alternator.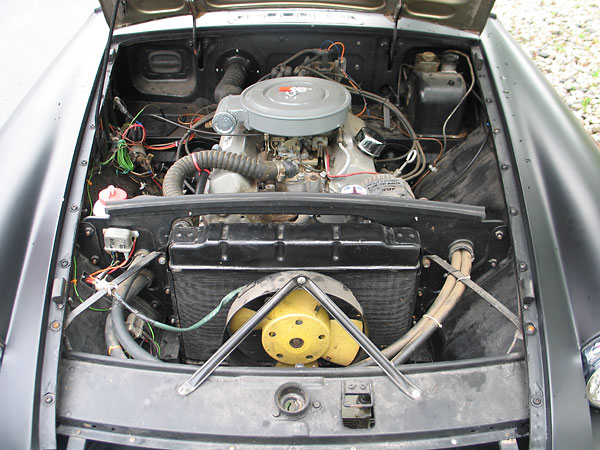 Oil cooler hoses on shown here, at right. Hoses for an auxiliary radiator can be seen on the left.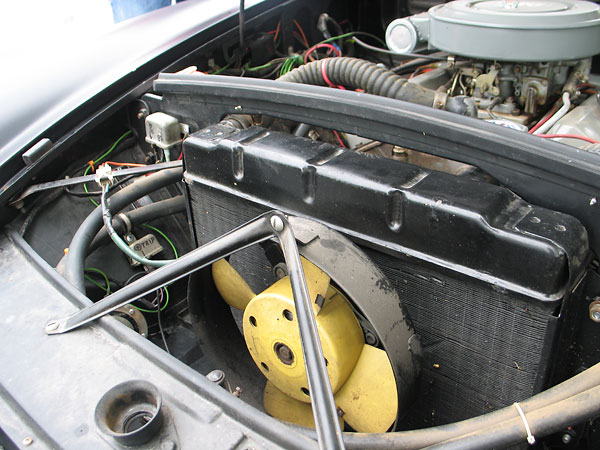 Electric cooling fan from a Fiat.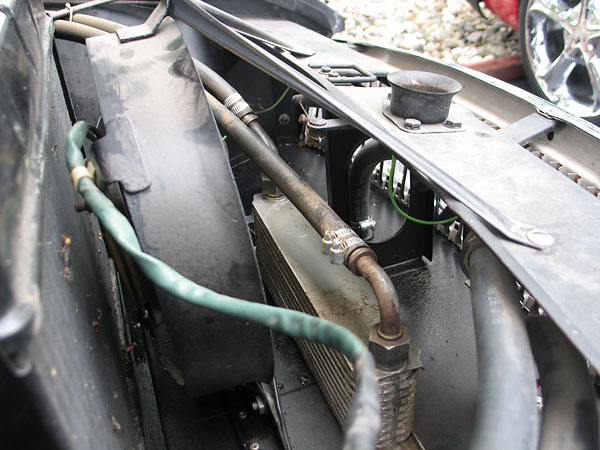 MGB oil cooler (plumbed via Permacool adapter).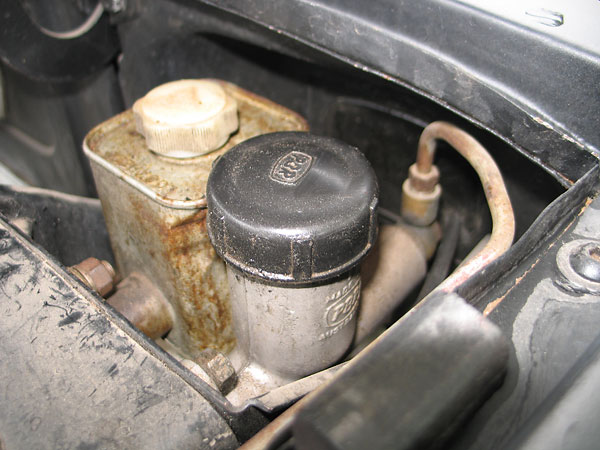 PBR clutch master cylinder. (PBR mainly serves the Australian aftermarket and service parts market.)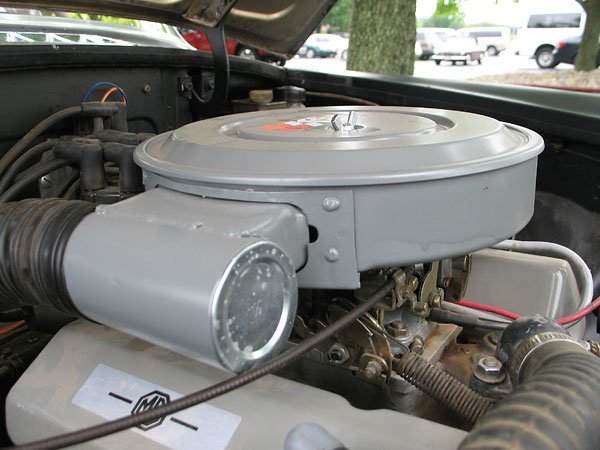 Yugo air cleaner, modified to provide cowl induction.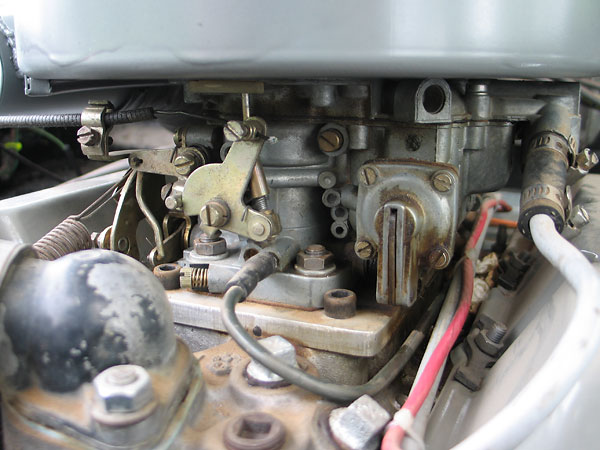 Weber DGV 32/26 carburetor sits atop an adapter plate, above a modified Chevy intake manifold.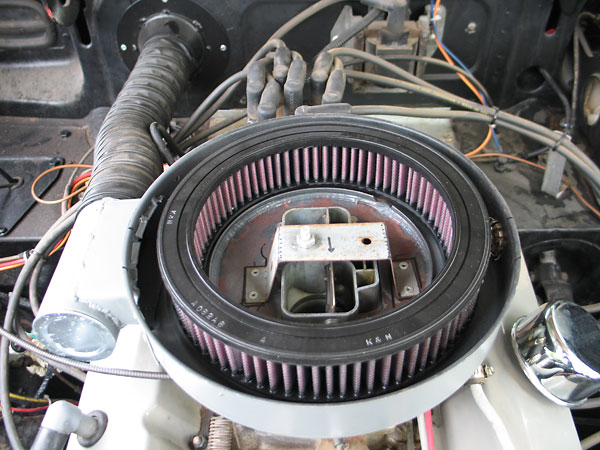 K&N air filter.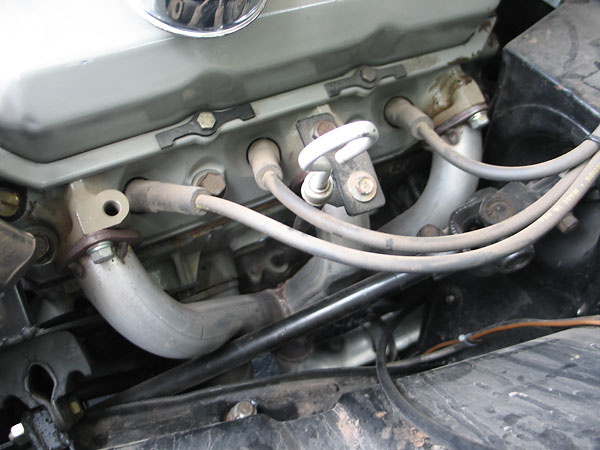 Homemade custom three-into-one block hugger headers.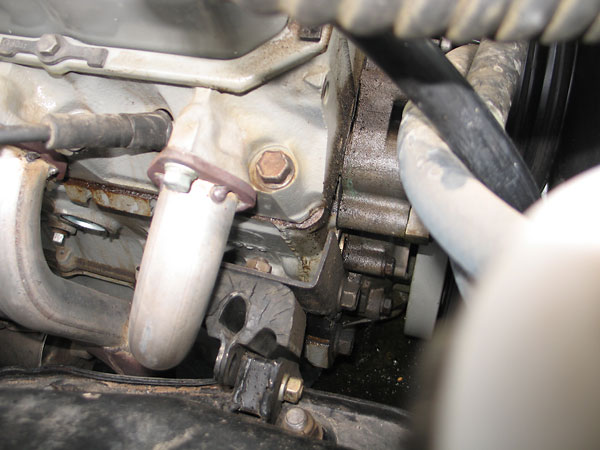 Triumph GT6 motor mounts.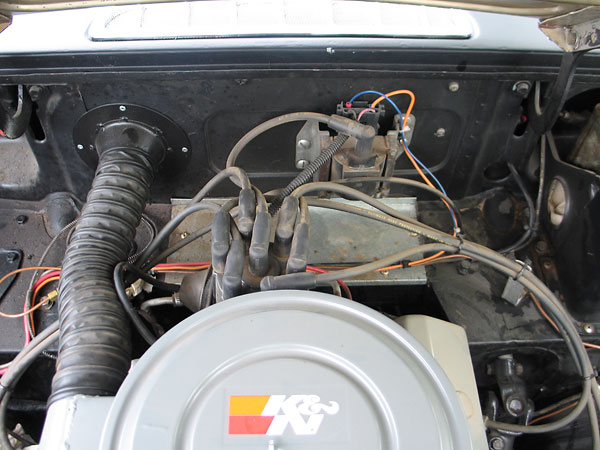 Stock GM HEI ignition system.


Suspension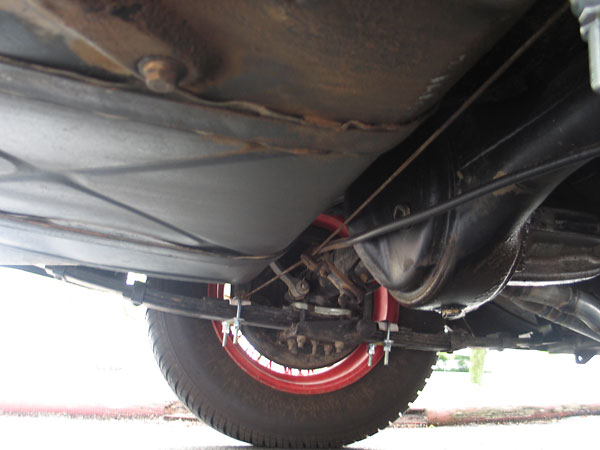 "I installed new Moss rear springs, and the car sat way too high, so I modified them by placing the bottom two
leafs on top, upside down. It works okay, but the springs seem pretty poor quality. You get what you pay for.


Interior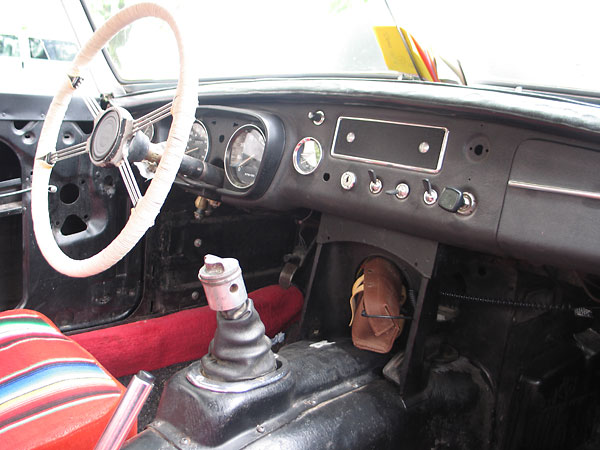 An old piston from a two-stroke outboard boat motor serves as a gear shifter knob.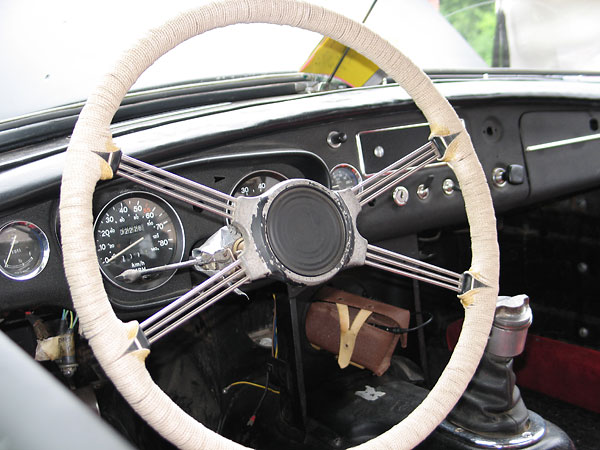 Another cool old-school hot-rod detail: cord wrapped (MGA banjo style) steering wheel!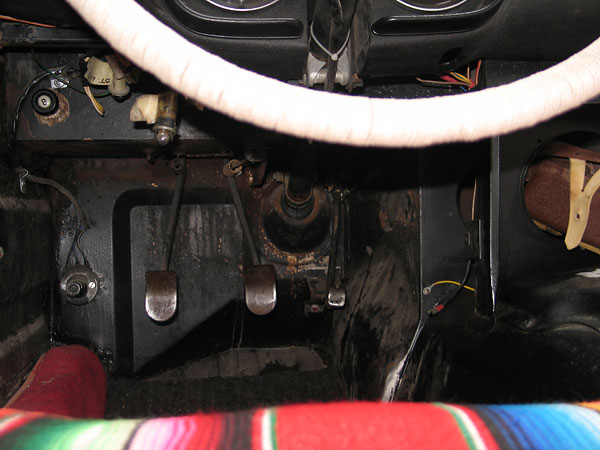 Pedals and footbox sheet metal are completely unmodified.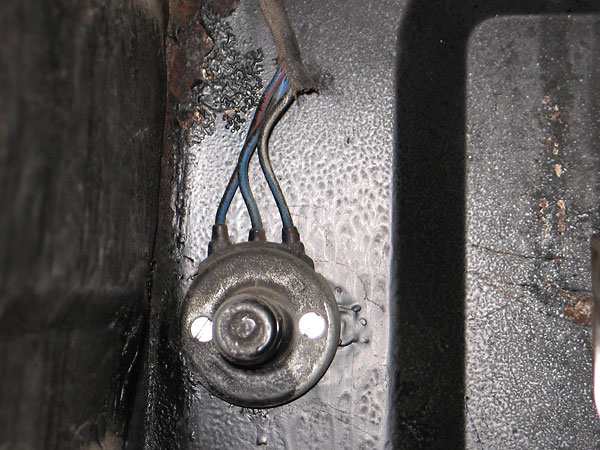 Foot operated highbeam/lowbeam switch.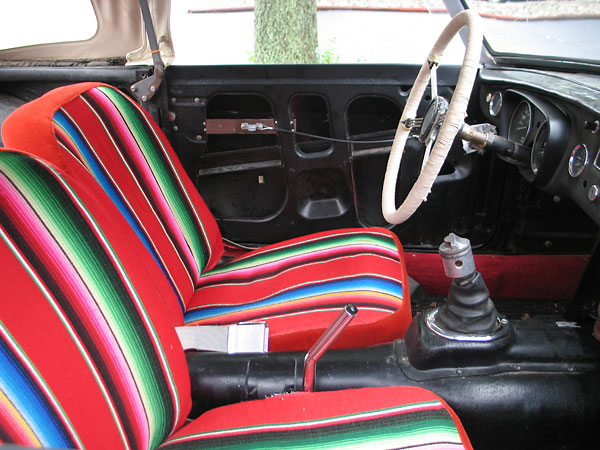 Custom seat upholstery, made from a Mexican blanket. (Steve's buddy Ron Bender did the stitching.)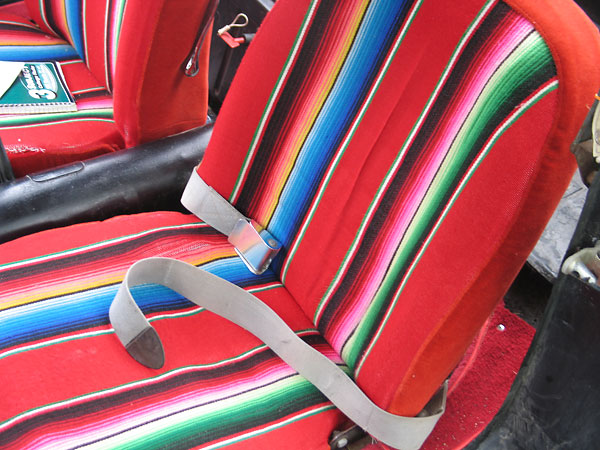 Safety Fast? Vintage lap belts!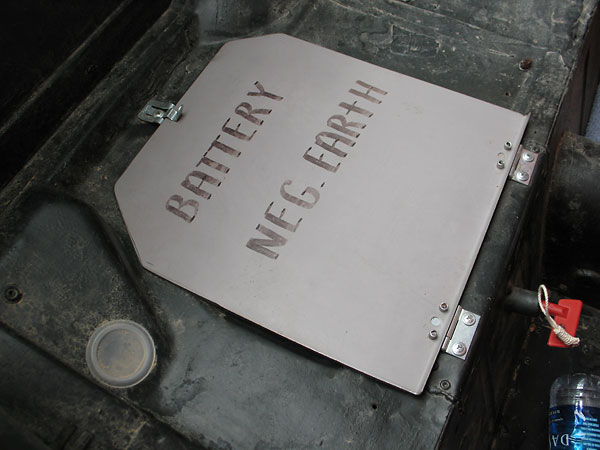 Battery disconnect switch.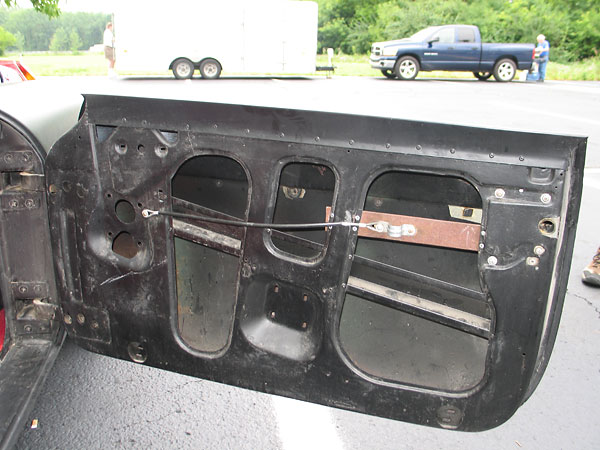 Simple pull-cables release the door latches.


Exterior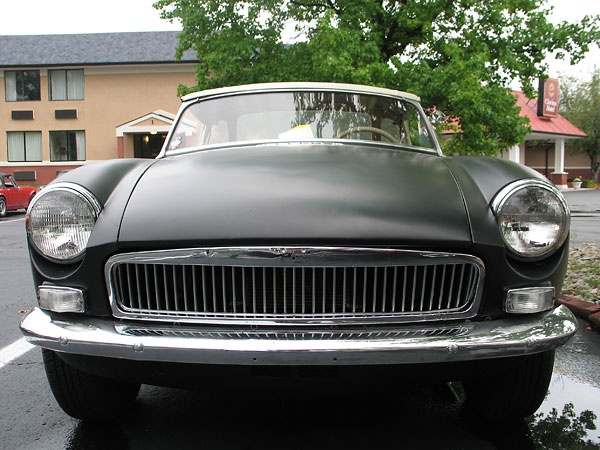 This original all-aluminum MGB hood previously suffered a bump on its nose. Steve decided to remove the
hump that used to be on centerline above the grille badge. (Flush rivets provide a refined appearance.)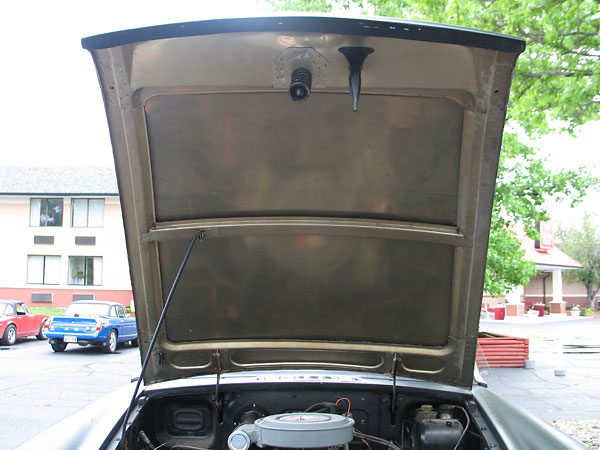 Steve removed the paint on the underside of the hood, using paint stripper and paint brushes/soft clothes.
"It took a long time but I didn't want to scratch the surface using Scotchbrites, etc."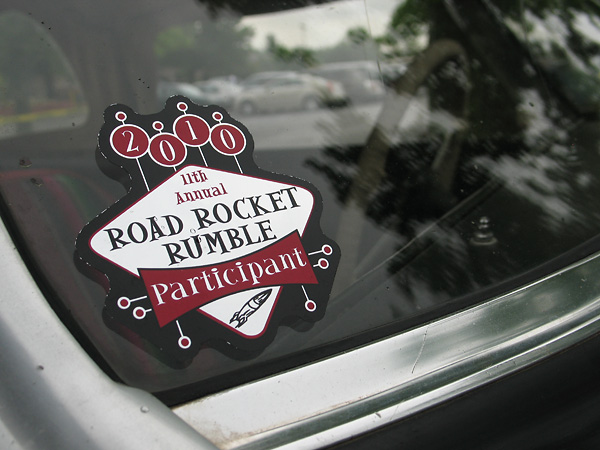 Cool retro-styled "2010 11th Annual Road Rocket Rumble Participant" window sticker.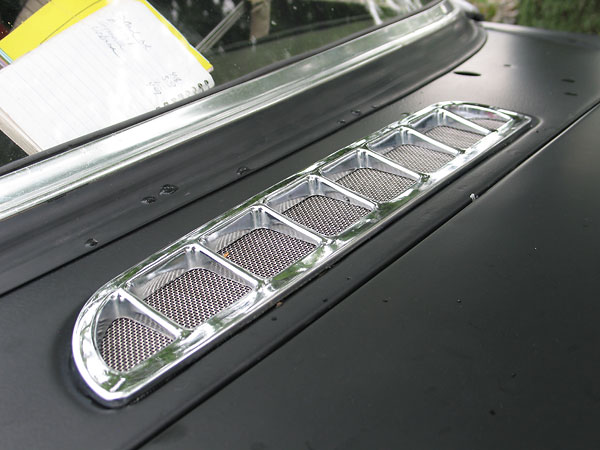 The cowl inlet has been repurposed... It's now for engine air induction.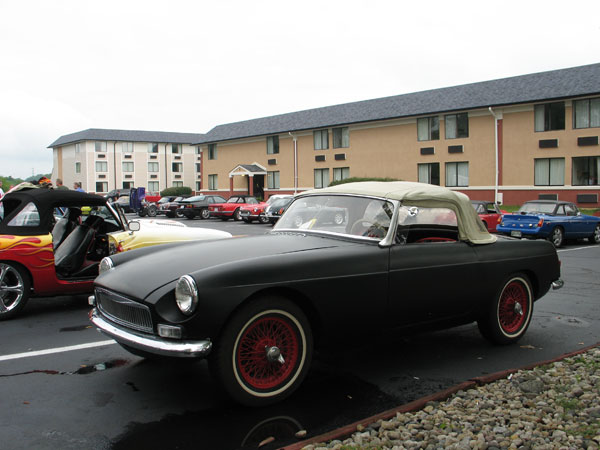 Striking color scheme.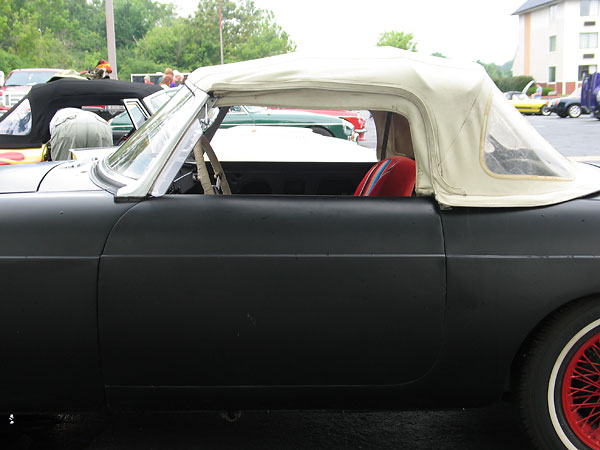 Shaved side moldings and door handles.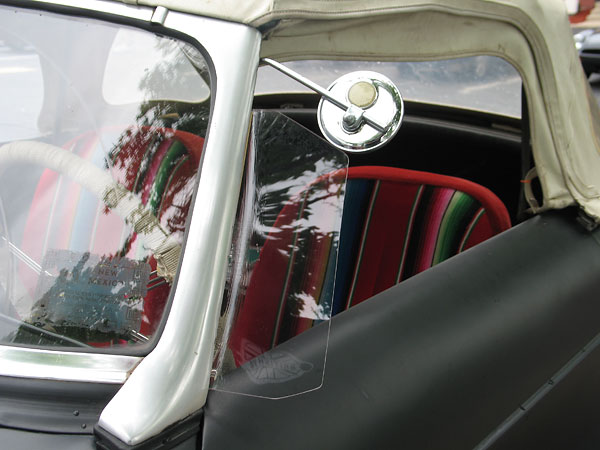 Chrome bicycle mirror and custom acrylic air deflectors. (Heavy original vent windows have been removed.)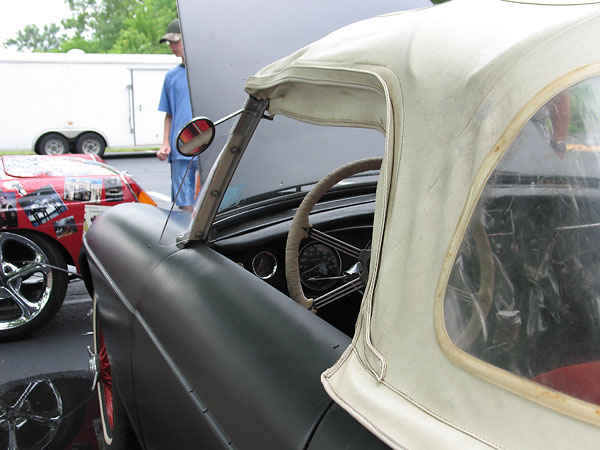 Door window slots have been filled.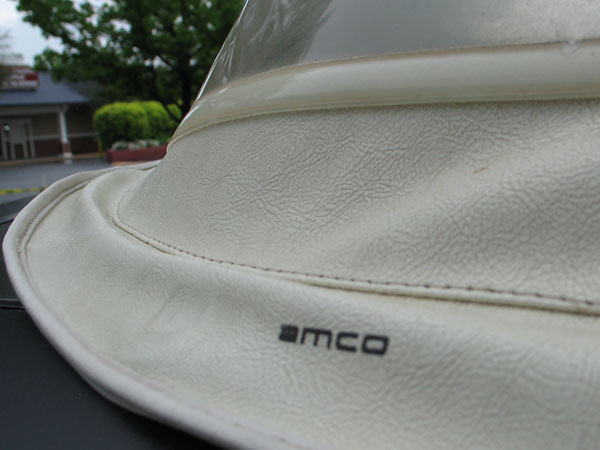 Vintage AMCO white vinyl convertible top.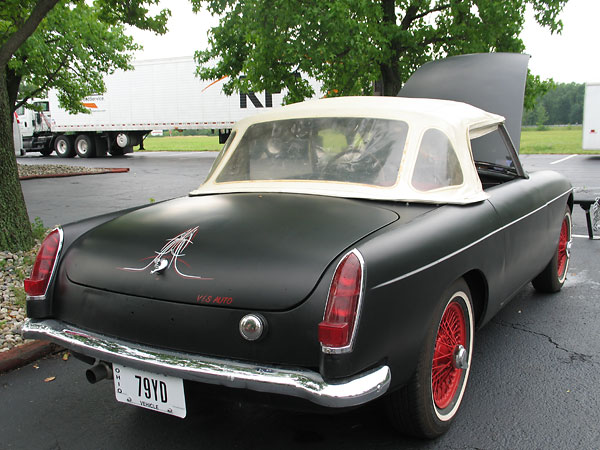 Omitted bumper overriders help make the car look wider and lower.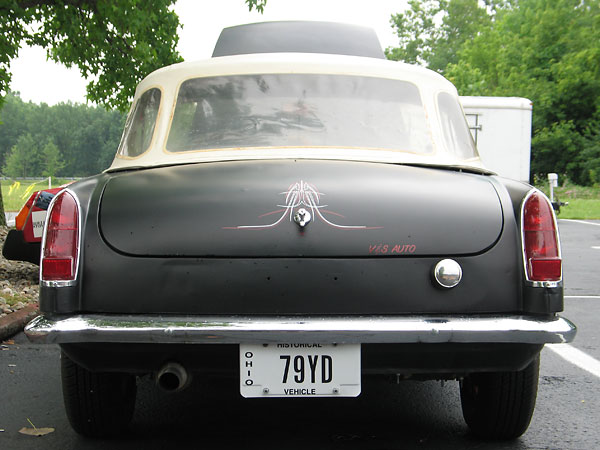 V&S Auto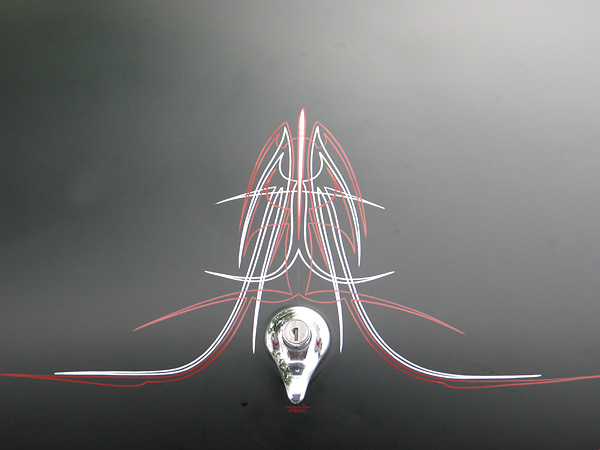 Custom hand-painting by "Bandit"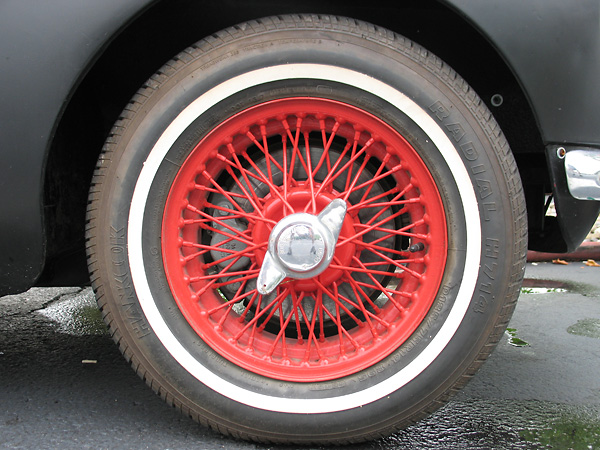 Stock MGB wire wheels, painted red. Hankook H714 radial tires (B/185-75-14).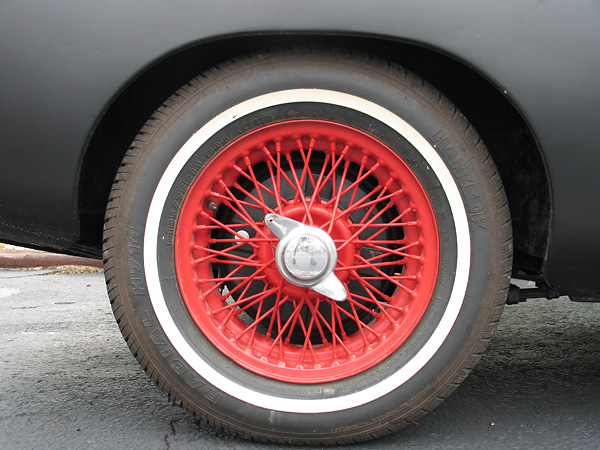 Note that the wheel spinners have been drilled and safety wired.