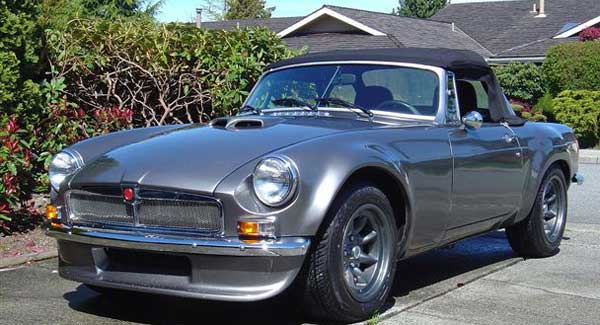 Simon Austin's 1977 MGB with 3.5L 1980 Rover SD1 V8
as published in British V8 Newsletter, Volume XIV Issue 3, December 2006
Owner: Simon Austin
sdaustin @ shaw.ca
City: Richmond, BC Canada
Model: 1977 MGB Roadster
Engine: 1980 Rover SD1 V8
Conversion performed by: Owner
Engine:
1980 Rover 3.5L SD1; rebuilt to stock specs. Remote oil filter system.

Intake:
Edelbrock Performer Intake; Edelbrock 500cfm carb (new needles and jets as it was too rich for this engine); K&N filter with "Extreme" top.

Exhaust:
RV8 headers; ceramic-coated; 2.5" SS single pipe system.

Ignition:
Buick distributor; Pertronix ignition; MSD ignitor box and tachometer adapter.

Cooling:
Custom radiator (stock width, 20" tall, 4-row core); 2 rubber-bumper type electric fans mounted in stock location (thermostat-activated); SS radiator hoses (articulated so will bend to fit); Rover water pump.

Transmission:
Rover SD1 5-speed.

Rear Axle:
Stock MGB except for 3.07:1 gears.

Front Susp.:
Stock RB with lowered springs and V8 bushings; new lever dampers. .

Rear Susp.:
"Reverse-loop" springs (part number MGS 40721, shown below), new bushings, original lever dampers.

Brakes:
Front: stock hubs and calipers, x-drilled/slotted rotors; EBC Greenstuff pads. Rear: stock drums, new shoes. SS braided lines. Converted to non-servo system.

Wheels/Tires:
Minilite 15"x7" in Anthracite; 205/60R15 Toyo tires. Saab compact spare tire.

Body/interior:
Early '70's dash; custom white-face gauges; Grant steering wheel; Mazda Miata seats; AM/FM + CD with hidden antenna; carpeted trunk.

Modifications:
RB - CB conversion; Sebring fender kit; lowered springs; ST front spoiler; functioning hood scoop; cutouts for RV8 headers; dash, seats, custom mesh grill.

Comments:
The car started out life as a late-model California car. I purchased the shell in 2000. It was a perfect candidate for the project as it had no engine, gearbox or interior and best of all, NO RUST! I wanted a late shell for ease of conversion. I felt it was easier to convert to CB than modify an early shell.

The 3.5 and gearbox came along a few months later. 3.5 rebuilt to stock specs and only an oil pump was changed in the box. I went with the carb/intake as they're readily available from Edelbrock. Since the 500cfm carb is the smallest Edelbrock makes, it took some trial and error to find a good match of needles and jets to meet the emissions testing we have here near Vancouver. Air filter assembly took some searching as space is at a premium. Finally found a 1.5" drop-base and with the K&N filter and Extreme top, I have about 1/8" under the hood to play with.

CB conversion completed with the intention of using original CB brackets where possible. Rear uses original brackets attached to frame rails and front had the RB brackets removed. New longer "L" brackets made up and use factory captive nuts in frame.

Miata seats used for various reasons: comfort, style, reasonable cost to reupholster and the speaker cutouts in the headrests.

Sebring kit: lots of work. Results look great but because of the lousy fit of the front fenders, I've suggested to others thinking of this kit to cut off the flares and bond these to your steel fenders instead of using the complete front fenders supplied. Rears are better as they are only the quarters. Please see this article for additional information and detailed photos: How To Install Sebring Style (Fiberglass) MGB Fender Flares.

A Lund molded ABS plastic hood scoop was purchased from a performance shop, and modified by cutting out the inlets with a Dremel tool to make them functional. My body shop cut the hole in the hood with their plasma cutter and bonded the scoop from below with adhesive. On the top, they blended it in with body-filler. The scoop fits just behind the hood cross-member. The intent was to provide clearance for the air filter assembly and to get cool air into the engine bay. With the K&N filter and the drop-base assembly it all works very well. The hold-down nut protrudes into the scoop, but otherwise everything fits. It still amazes me that some conversions have been done with everything fitting under the stock hood, considering the fun I had getting things to fit!

The grill is an original MGB surround, re-chromed and I used galvanized mesh found in a hardware store.

The white-face gauges are actually decals made up by a graphic-artist friend. She took pictures of the dial faces, reversed the images on her computer, added the lettering and details and sent me back the images as a PDF file. I printed them off on "label paper" and cut them out. After spraying the dial faces white, I applied the decals and there you go. Due to the unique square oil pressure gauge, there isn't a set of white-face gauges available. One can get "magnolia" colored dials in the UK but only for the home-market dashes.

The project took a little over 4 years to complete. Cost... well... let's just say it was worth it.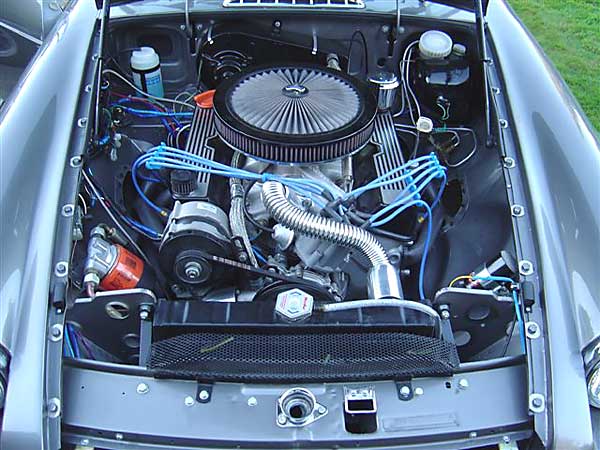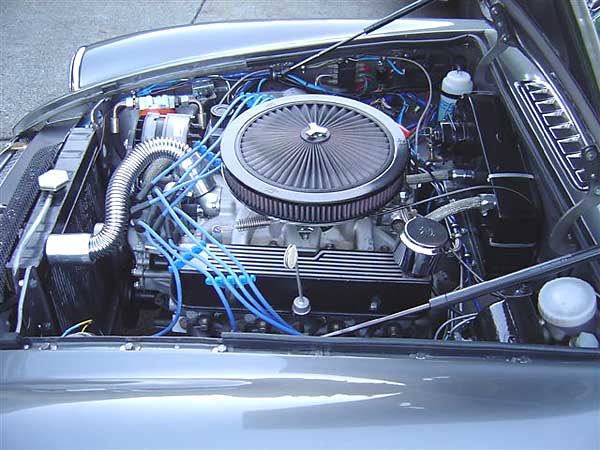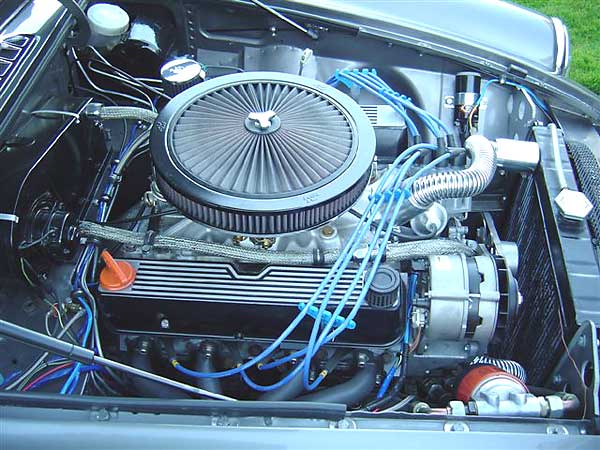 1.5" drop-base air cleaner, K&N filter and "Extreme" top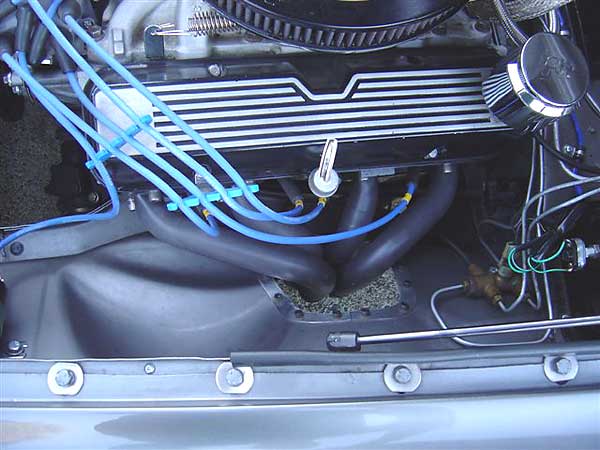 Ceramic coated RV8-style through-the-inner-fender headers.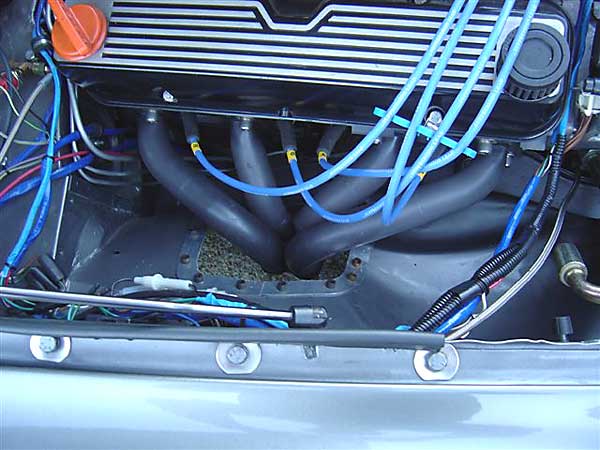 Notice how the inner-fenders have been reinforced around the header holes.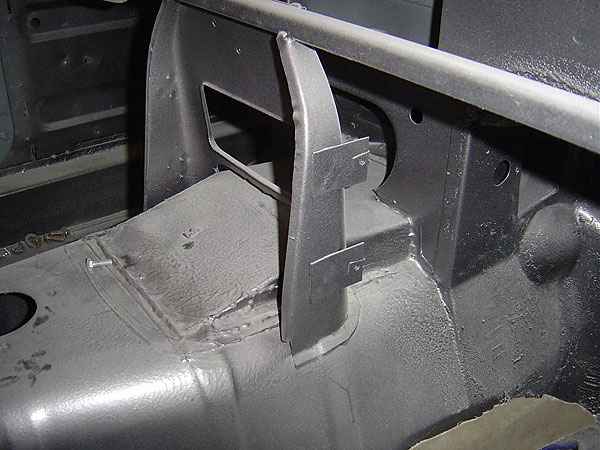 This in-process photo shows how Simon modified the top of the transmission tunnel to provide
the Rover LT77 transmission a generous amount of clearance.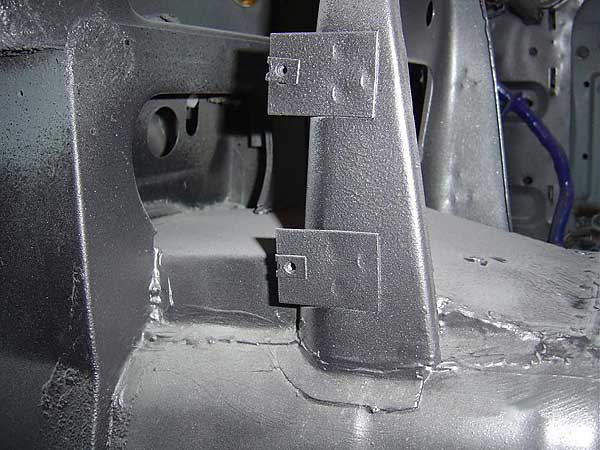 (side view)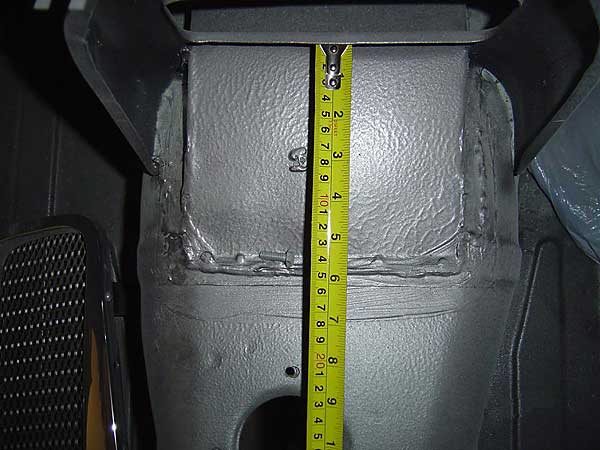 (top view)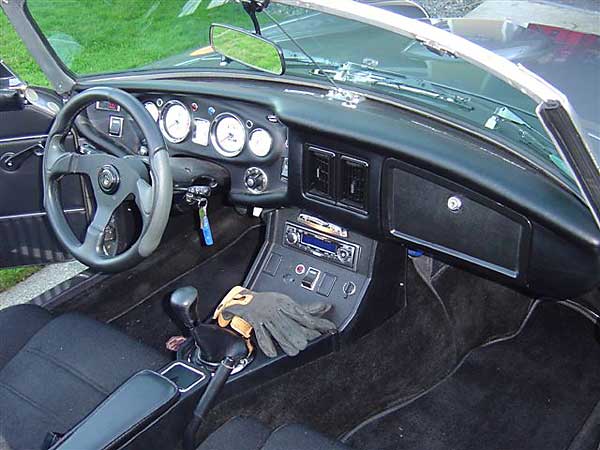 Grant steering wheel.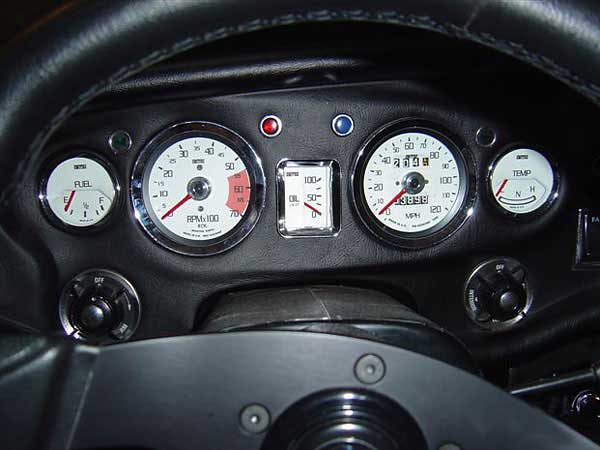 One-of-a-kind custom white-face MGB gauges.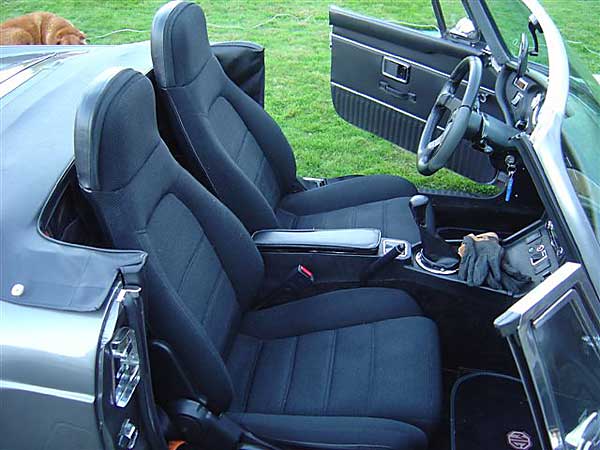 Reupholstered Mazda Miata seats.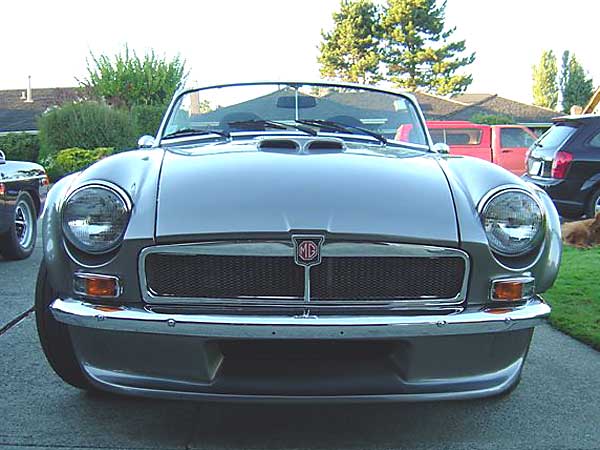 Original MGB grille-surround (re-chromed) & custom galvanized mesh insert.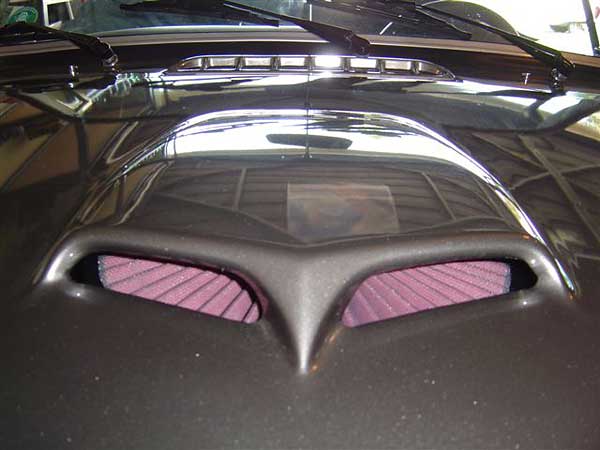 Lund hood scoop and K&N air filter system.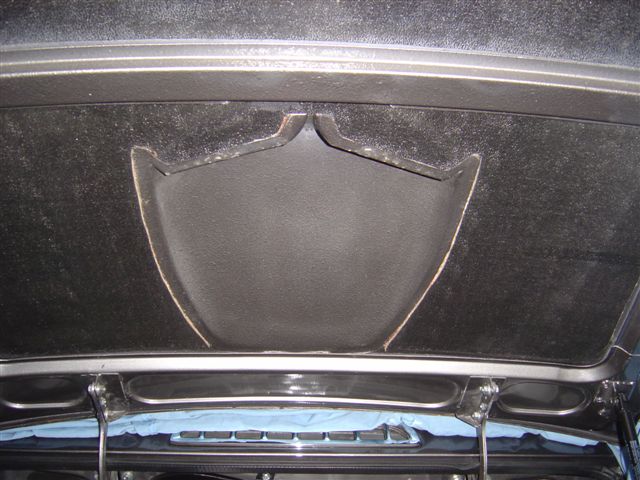 The hole in the hood was plasma cut, and the hood scoop was glued-on from below.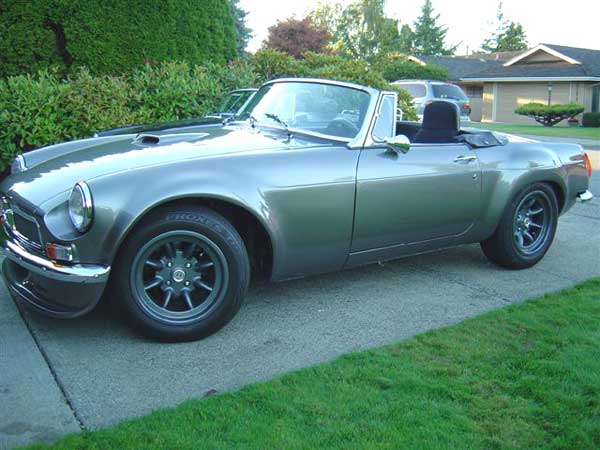 Authentic Minilite 8-spoke wheels (ordered from the manufacturer in Anthracite color).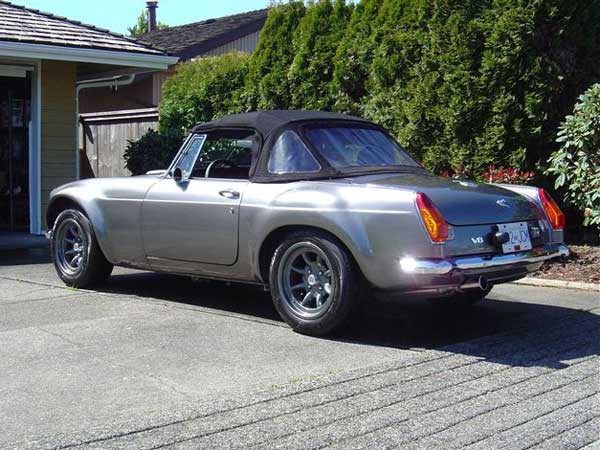 Sebring style fender flares.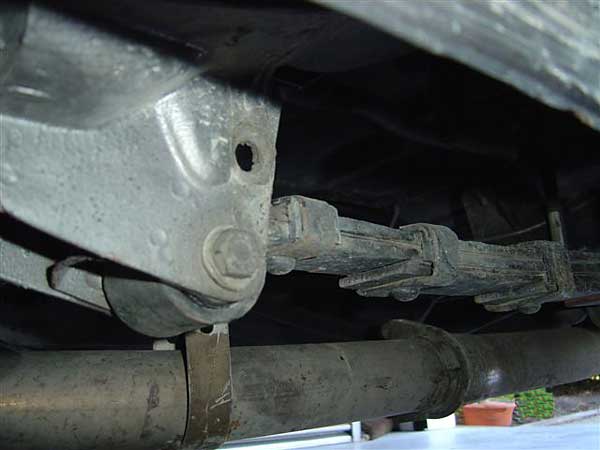 Reverse-loop springs (part number MGS 40721) are an elegant alternative to lowering blocks.
Note: Holes can be seen above the factory front mount holes drilled out in an attempt to get
ride height lower but it was discovered that these were too low. The original holes work well.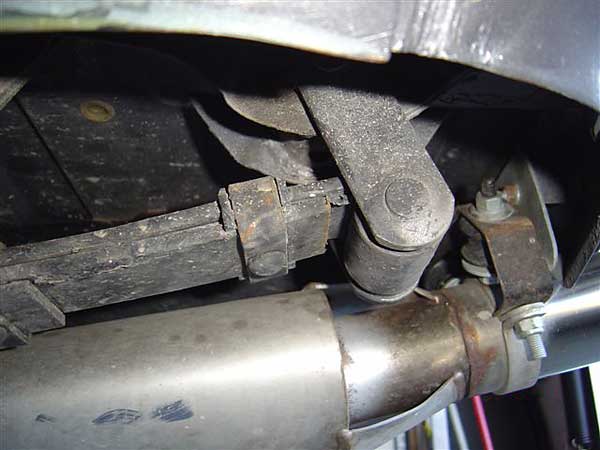 All stainless steel exhaust system.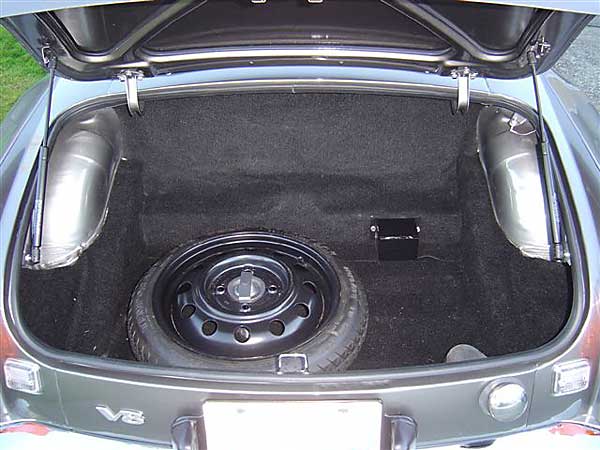 Saab compact spare tire.