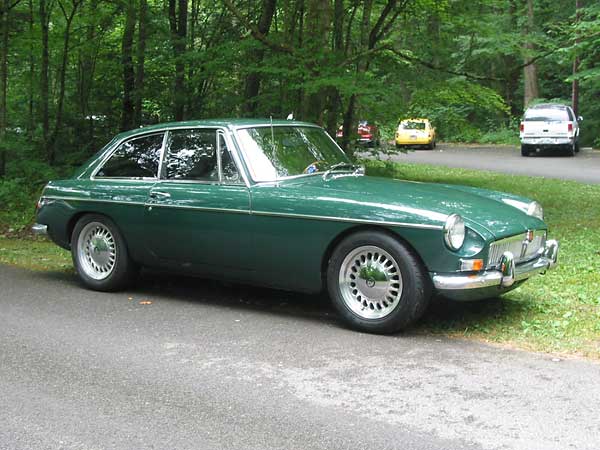 Robert Milner's 1967 MGB-GT with Rover/Buick 293cid V8
Owner: Robert Milner
City: Manteca, CA
Model: 1967 MGB/GT
Engine: Rover/Buick 293cid V8 (built by D&D)
Engine:
Offenhauser intake manifold and valve covers, Isky cam, custom headers (soon to be redone).

Transmission:
T-5 5 speed.

Clutch:
Centerforce.

Tires/Wheels:
1989 Jaguar XJS wheels, BF Goodrich g-force T/A tires.

Front suspension:
Fast Cars Inc.

Rear suspension:
Fibreglass springs, tube shocks.

Cooling:
custom aluminum radiator (by Air Mobile, AZ), Sidewinder electric fan.

Rear end:
1969 MGC (3.07:1), open differential.

Brakes:
Wilwood Vented Rotors and 4-pot calipers (front) / MGC (rear).

Instruments:
Stock.

Body/interior mods:
air conditioning, cup holders (ex. Toyota, they're hidden in the old speaker console), Les Leston steering wheel.

Weight:
2218 pounds.

Date Completed:
Never. (Started 1978.)

Miles Driven:
About 150,000 as of the British V8 2006 meet.
Editor's Note: Robert and Susan drove approximately 6500 miles round trip to attend the meet!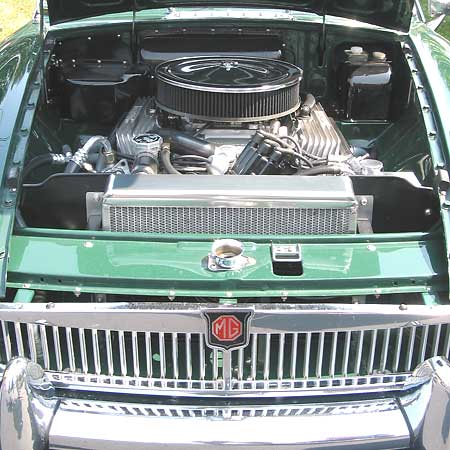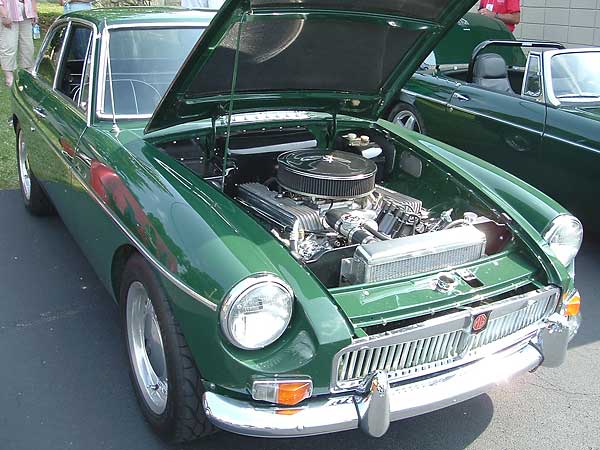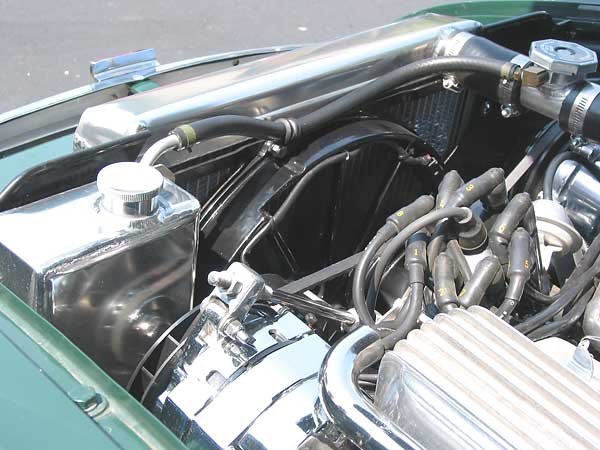 Sidewinder electric fan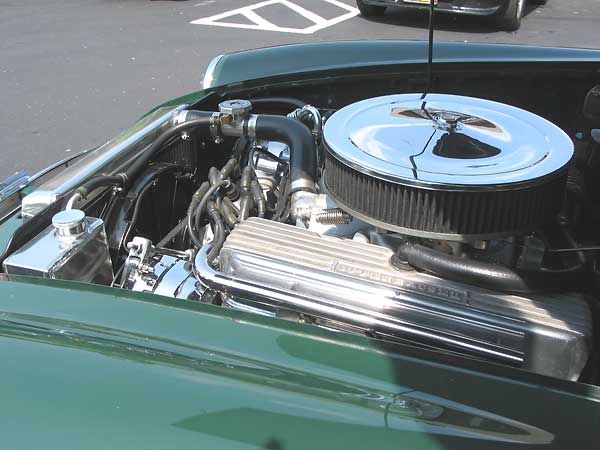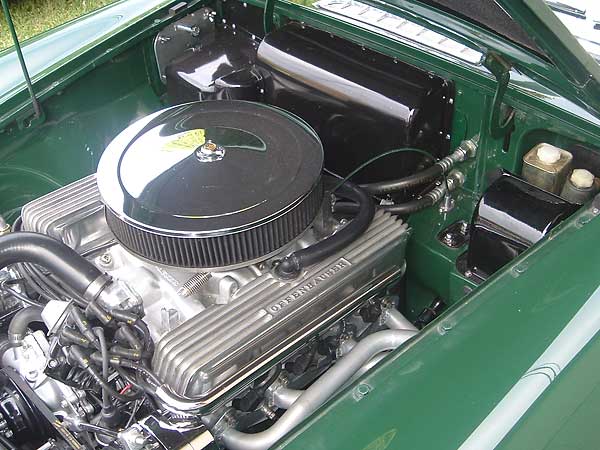 air conditioning system cover made from MGB master-cylinder covers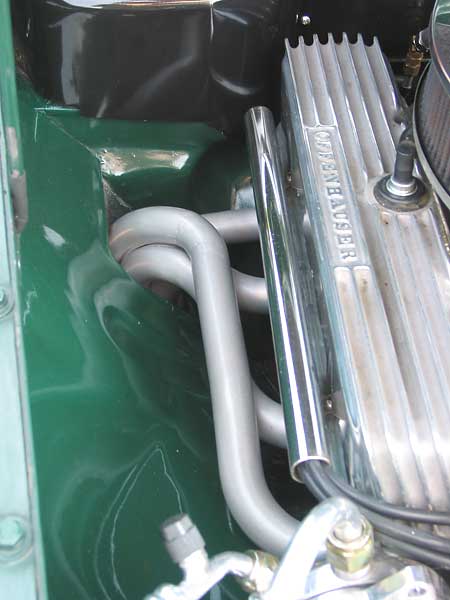 spark plug wire routing, and pre-RV8 through-the-inner-fender headers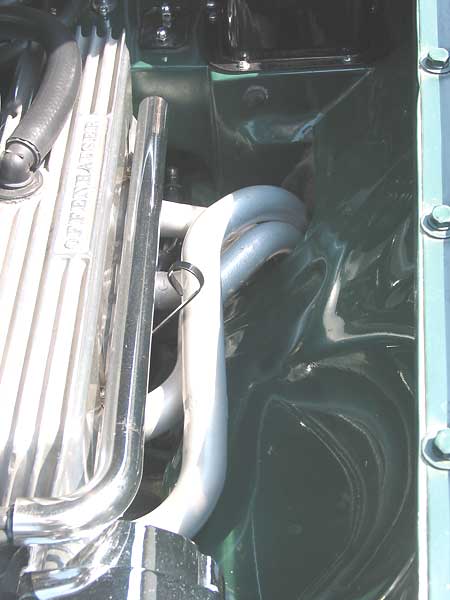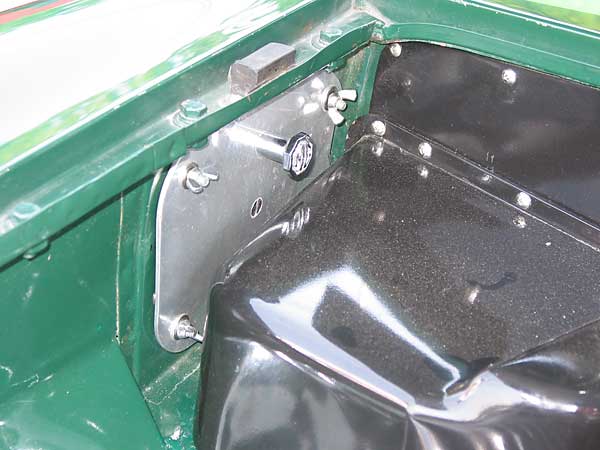 access cover for electrical center (fuseblock, etc.)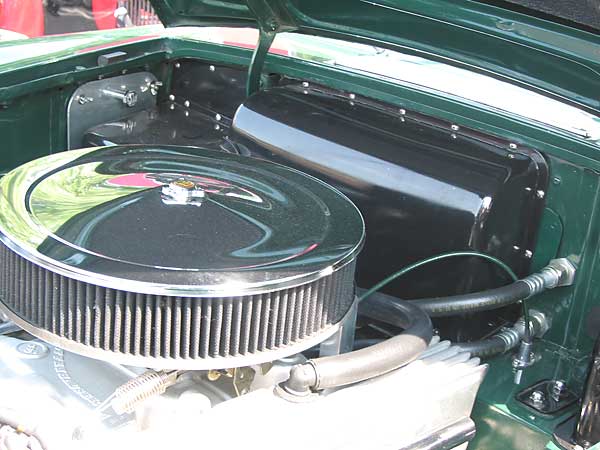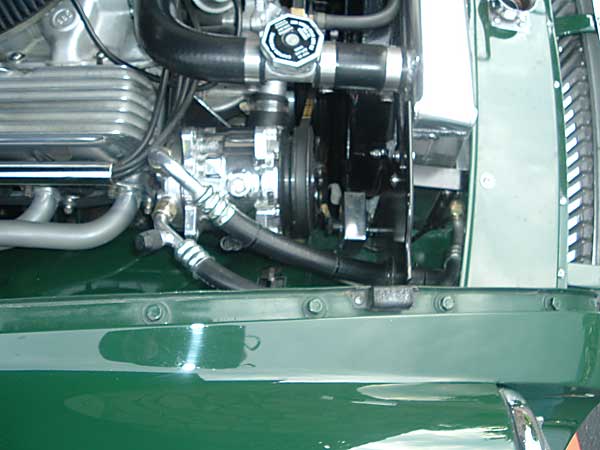 compact air conditioning compressor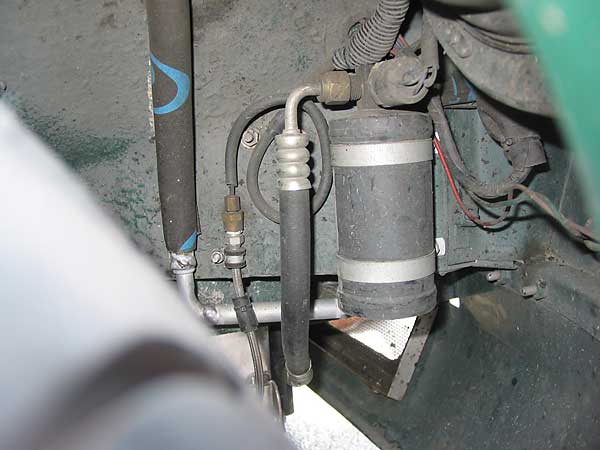 convenient and serviceable location for AC receiver-drier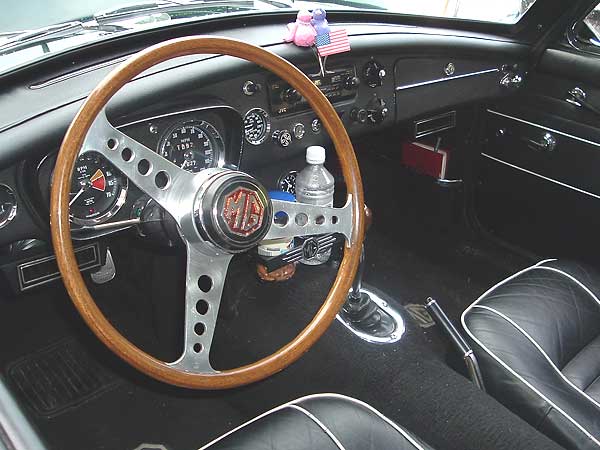 very discrete looking air conditioning vents, and cute love-bird mascots on dashboard brow
(NOTICE: the parking brake on this car actually works, so don't forget to disengage it!)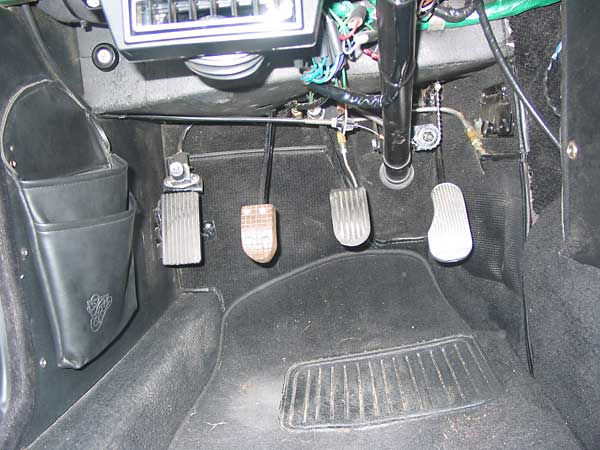 dead pedal, foot-operated high-beam switch, clutch pedal extension...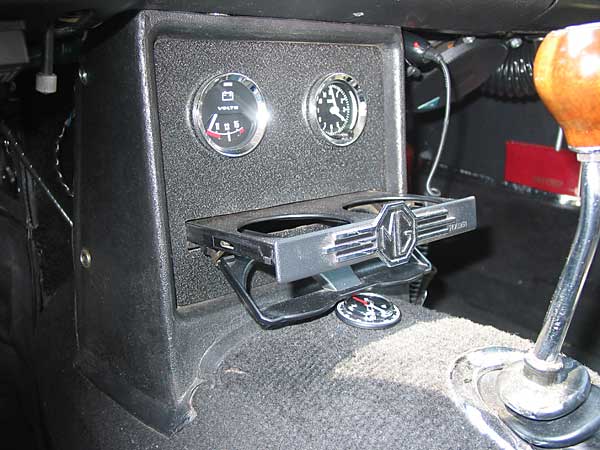 nifty tuck-away cup-holders (ex: Toyota)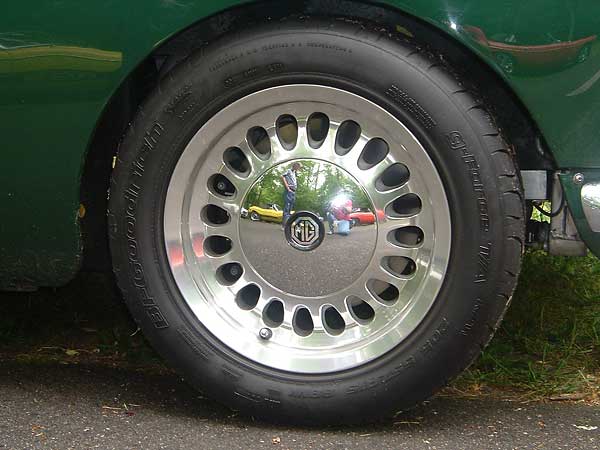 1989 Jaguar XJS wheels

---
This "How It Was Done" article was originally published in British V8 Newsletter, Volume 3 Issue 1.
Most of the car's specifications have changed, but it's included here for historical reference.

Owner: Robert Milner
City: Brentwood, CA
Model: 1967 MGB/GT
Engine: Buick 215 V8
| | |
| --- | --- |
| Donor Car: | 1962 Buick Special |
| Engine: | balanced, line-bored, Kenne-Bell camshaft, high volume oil pump, Offenhauser intake manifold and valve covers. 100% California smog legal. Ceramic exhaust wrap on headers. |
| Transmission: | 1985 Borg-Warner T-5 5 speed overdrive manual from a Camaro. This is the fourth transmission in this conversion. 1st: two speed automatic. 2nd: Muncie 4-speed. (Note: couldn't get the shifter boot worked out, and wanted the overdrive 5th speed.) 3rd: T-50 Borg-Warner. (Note: awful box! Notchy, and couldn't get rebuild parts.) The T-5 is great and I have installed the original shifter, boot and trim ring. |
| Bellhousing: | stock Buick, found at junkyard for $25. Have two others but they are somewhat different. The one I used has a removable bottom section which is necessary for the hydraulic throw-out bearing. |
| Clutch slave cylinder: | used a hydraulic throw-out bearing, which eliminated the standard bearing retainer/throw-out arm. This simplified the installation and solved clearance problems. I used the McLeod bearing. I would use a Tilton adjustable if repeating installation. |
| Clutch: | stock Buick. Had to have a special clutch disc made with a 21-spline center to fit the input shaft of the T-5. (AES of Oakland: $30.) |
| Flywheel: | stock Buick |
| Exhaust system: | Headers were home-made with parts from "Headers by Ed" (Minneapolis, MN 612-729-2802). They have flanges, custom collectors, and have all U-bends and miscellaneous parts to make any header for any service. Mine are not a tuned length and are not equal length because of restricted space. They exit out the inner fenders (sounds awful) because of the early body. They "Y" at the transmission to a single 2 1/2" pipe in the original location. |
| Tires/Wheels: | 195/60-15 on spline drive repro Minilites (5.5" by 15"). |
| Front suspension: | Moss coil-over system. |
| Rear suspension: | Moss supplied Monroe tube shocks. I am planning on fitting a set of composite leaf springs that Doug Jackson of British Automotive (415-883-7200) makes. Doug also manufactures a Panhard rod for the MGB. |
| Radiator/Cooling system: | custom made 12" by 18" 4-row with twin 8" electric fans. I originally had one 12" fan and cooling was marginal. |
| Rear end: | 3.07:1 stock MGC. With the T-5 5th speed overdrive the gearing is 30mph/1000rpm. |
| Instruments: | Stewart Warner speedometer, tachometer, oil temperature, oil pressure, voltage meter, and clock. Stock fuel gauge. |
| Notes: | Never convert an early car. Use a rubber bumper car with the revised engine compartment. Use the Buick short shaft water pump, which saves about 5/8" in front of the engine. Use the Buick metric V6 oil pump base which exits at an angle. |
| Cost: | about $11,000 less car. |