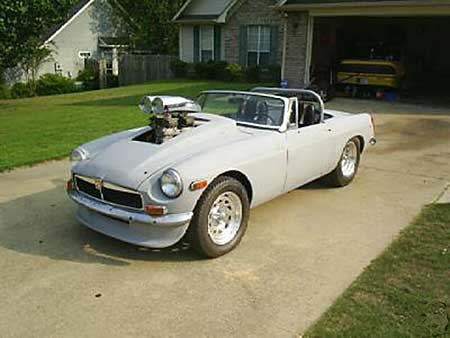 Rob Wiehl's Chevy V8 powered 1971 MGB Pro-Street Hot Rod
as published in British V8 Newsletter, Volume XIV Issue 3, December 2006
Rob Wiehl
Alabaster, AL
Killerb1971@hotmail.com
VIN Number: GHN5UB238134G
(Note: this car was sold in an online auction that ended September 13, 2006)
I have always wanted to build a street rod, and here was my chance with a good donor car. I parted the original drivetrain out and all other parts I would not need for the project. The back half is constructed of 2"x3" tubing. The suspension is a Competition Engineering 4-link, with coil-over shocks and locator. The chassis is setup for a small-block Chevy. The transmission crossmember is solid mount, and currently set up for a T5 5spd manual, but can be re drilled and bolted back in for another trans.

The pictures that showing a yellow engine and no hood scoop are from the days I was driving it regularly. I originally had this car set-up with a 350cid engine, 0.030" over pistons, a mild cam and turbo 350 trans. I drove it for over 6 months on sunny days to and from work. Even with that mild set-up it was very impressively fast!

The pics with the cowl hood and tunnel-ram are current. I put the car together initially to make sure it was going to behave ok on the road before I did the finishing on it. It proved to be more than ok for a driver, so when I moved up to Alabama from Florida, I started taking the car back apart to finish it up. One thing led to another and time and finances won't allow me to complete my project, so I am putting it up for auction.
Nonetheless, here's a description of the build:

Starting with the front of the car, it has the "special tuning" fiberglass front air dam, and a recently replaced grill, but it needs a new bumper. The radiator supports have been removed because when the original lower valence was removed and the new spoiler was put on, it allowed for more forward location of the radiator and I was going to fabricate some supports, but never had the time. The radiator is an aluminum 2-row. It includes a 16" cooling fan and the A/C condensor from Vintage Air.

The steering system is all stock. The suspension is all stock with 1978 model springs and Energy Suspension polyurethane bushings. It seems to hold up well to the weight. The engine mounts are welded solid to the subframe. The engine currently in the car with the tunnel ram is a 400 small block that needs to be refreshed, but it has some performance parts (cam, roller-rockers). The headers were custom made using 2 pair of block hugger headers. They're TIG welded and solid with no leaks. The remainder of the exhaust system was just pieced together for the road tests. I planned to have a professional system installed but never got around to it.

The intake is a Edelbrock tunnel-ram. I was going to use 2 holley 600 dp's. The aluminum scoop is a custom "Shotgun Bill, Double Barrel Shotgun". It's highly polished and looks great. The transmission is a world class T5 5 speed manual from a 91 V8 RS camaro. The clutch pedal and master cylinder assembly needs to be rebuilt. There is a line lock installed on the front brakes for burnouts at the track. There's no gas pedal in the car, the one I was using was a temporary, and was thrown away in the tear-down process.

The A/C and heater system is an all inclusive custom setup from Vintage Air called the Ultra Mini II. It features electric servo-operated doors, and defrost, floor, and vent. I never hooked up the A/C lines due to not having a new compressor, so I haven't been able to run that portion of the system. All other parts of the unit work great. The dashboard and console are from a 1978 MGB. The dash is in great shape, and the console is in good shape. The console will accept most modern aftermarket stereos. The guages are all Autometer Phantom including voltmeter, fuel level, temp, oil pressure, tach, and fully programable electronic speedometer for accurate calibration. The speedo will require a sending unit for the type of trans you put in the car and can be purchased through Autometer, Jegs, or Summit.

I still have the B&M megashifter that was used with the turbo 350 trans, and will include that with the car. It has a fabricated cradle that drops the shifter down a couple inches into the trans tunnel for lower profile, as well as the shifter handle itself has been shortened to give the location a comfortable feel. The seats are from a 1981 Corvette. The foams are in great shape. The coverings are original and cracking. The seats were originally tan, but have been dyed black to match my "planned" interior color. The 6pt rollbar was designed around the seats and RCI seatbelts. It is a functional and solid cage. Not the best welds in the world (no TIG available), but solid.

The flooring in the back half and wheel tubs were done with metal and fiberglass. It was a very amature job, I admit, but it's solid. The rear axle is a GM 7.5" from an S-10 Blazer. It has a 3:73 gear set and a mini spool. The axle housing was narrowed by a custom fabrication shop in Florida. The axle shafts were sent off, cut and resplined by Moser. The rear brakes are new, but no emergency brake has been installed yet. The fuel cell is a Jaz 15 gal with sending unit. The fuel pump is a Holley blue style generic brand. The battery has been relocated to the trunk but needs a box installed. All cables are there. The wiring harness is a Painless Wiring 12 circuit universal harness. I installed the harness temporarily for the road test, so it needs some trimming still, and needs pigtails or quick disconnects to be installed for the headlights, tail lights and marker lights.

All electrics on the car worked great when driven. The rear wheels are Centerline Warrior 15X10's with 26X12.5" Mickey Thompson Sportsman Pro's (still plenty of tread). The front wheels are Centerline warrior 15X4 with 165R15 tires and are still like new. The rear bumper is brand new. It needs a license plate frame with lights, but you can buy those all day long on ebay for cheap.

This car was amazingly fast with just the mild 350 in it. It got suprisingly great traction and didn't want to fish-tail under acceleration, it just went in a straight line and accelerated like a bat outta hell! This car is NOT a show car, its an amature built street rod, but serves its purpose very well and gets alot of attention on the streets.

Note: This car sold in an online auction for a final bid of $3500. The engine, transmission, and tunnel-ram induction setup were NOT included in the auction. They were offered separately for an additional $1000 (because most racers will want to build their own engine anyway.)

Rob provided a little follow-up: it's difficult to explain how it was done because there was so much involved. I basically had to figure out what I wanted my final outcome to be like, and planned around that. There were alot of materials and parts that had to be purchased in advance to make measurements and cuts for certain areas of the car as it was being built. It took me 4 years of my spare time to bring it to what it is now, and it is still not finished. Money and time have not been a friend lately. Anyway, like any custom fabrication project, this car had to be planned and put together step by step. There was alot of measuring, cutting, jigging, and welding. Many times things had to be repeated because they didn't fit right the first time.

I have a pretty hectic work schedule, but I'll try to get you some more pictures of the car as it went together. The headers were built on the car while the engine was in place. I had to cut out portions of the inner wheel arcs to allow the headers to dump down. All is well clear of any steering or frame, and sparkplugs are a breeze to get to. I have a 400 long block in there right now with no accessories or pulleys on it, but the exhaust headders are in place. The transmission tunnel had to be cut away around the bell housing area to allow proper fitment. The motor mounts, believe it or not, were modified off of the factory motor mount perches! As far as the A/C system is concerned I had the passenger half of the firewall out to make room for the unit. It is a tight fit, but it does fit behind the dash. Some cutting and modifying had to be done to the transmission tunnel also to allow the depth required.

I learned alot by doing this project, and the next one will be done a whole lot better! I see things that I should have done differently and more efficiently. If any of your group would like to email me with questions, they can feel free. You can post my email in your newsletter if you want. I'm honored that you have taken an interest in my project. I'll do my best to answer any questions about anything. Thanks.


The following images are from when the car was posted for sale in September 2006: