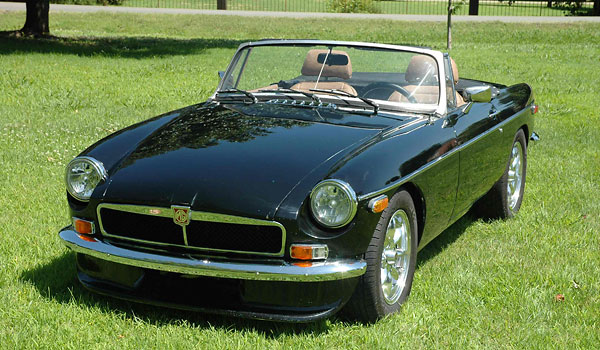 Richard Morris' 1980 MGB LE with Rover 3.5L V8
as published in British V8 Newsletter, Volume XIV Issue 3, December 2006
Owner: Richard Morris
City: Broken Arrow, OK
Model: 1980 MGB LE
Engine: 1988 Rover 3.5L V8
Engine:
Started with 1988 Range Rover. Bored it 0.020" over and installed 10.25:1 pistons. Mallory dual point distributor. Balanced to 7500 rpm.

Intake:
Offenhauser 5165 (good to 7500 rpm), Holley 390 double-pumper Nascar carb. Works very well!

Electrical:
Bought alternator from D&D (Delco, I think) as well as their bracket for it.

Cam:
Isky 621270 cam (2500-6500 rpm).

Exhaust:
2.25" stainless steel to Magnaflow (MPE-11378) 2" inlet / 2" outlet muffler. Nice sound and muffler fits where stock rear muffler was.

Cooling:
Custom made Howe Racing Radiator with 3" core. Electric fan. No cooling issues at all.

Electrical:
I have standard Smiths gauges but my speedo is a 170 mph and the tach is an 8000 range Smith. Looks great, like stock.

Transmission:
Rover LT77 5-speed, rebuilt. Custom made driveshaft.

Clutch:
Tr8 style. (Since I used Rover bellhousing, I used Rover slave cylinder as well.) Works very well.

Rear Axle:
Stock MGB wire-wheel rear (to get the narrower width) but putting in 3.07:1 gears this winter.

Front Susp.:
550 springs, urethane bushings stock otherwise. (Springs lowered it 2" in front.) It has a nice firm ride and the steering is very light with a balanced quick feel.

Rear Susp.:
Special tuning rally springs, with reversed bushing "eyes", they lower the suspension two inches. Urethane bushings and tube shocks. (The changes do add up to a somewhat harsher ride from the rear suspension.)

Brakes:
Brakes are all stock MGB.

Miles Driven:
About 900 miles (as of December 2006).

Completed:
Got it where I felt it was done in Sept 2006... but honestly, these projects are a continuing art.

Sources:
Summit, D&D, TSR, eBay (a lot), Glen Towery actually came to my house (1600 miles) and helped me. I used his motor mounts and other ideas he had. Also got quite a few parts from Steve LaGrau (nice guy).

Comments:
Car now sits lower than a stock chrome bumper B, and with the suspension mods it takes corners like it's glued to the road. It's unbelievable how much better it handles.
Rubber bumper to chrome conversion is about finished now. (That's not shown in the photo at the top of this page...) Body was in great shape when I got it, and it has no rust whatsoever. Never wrecked. No door dings. Interior is perfectly original (in tan color).
I rebuilt my LT77 myself and apparently did something wrong while putting 1st gear in. Basically I don't use 1st. The other gears are fine. So, I have another LT77 here and if I get a week of warm weather, I will stick the new one in. My conversion fired right up and had no problems for a week. Then an Isky lifter stopped working and had to replace it. (I pulled off intake) about a 3 hour job.
If I had it to do again, I should have made a 5.0L Rover stroker and probably should have gone with the T5 transmission.
There's never have enough horsepower. (This engine is putting 225hp to the wheels.)
If anyone wants to email me, please feel free! Address: richard.morris-at-cox.net
Or if you want to go drive around together, give me a call 918-277-9750.
Wheels/Tires:
Minilite polished 15x5.5 wheels (bought from GB) have been installed in lieu of the original LE wheels.
New (larger) Michelin 195/65 HR15 Pilot Exalto tires have also been installed.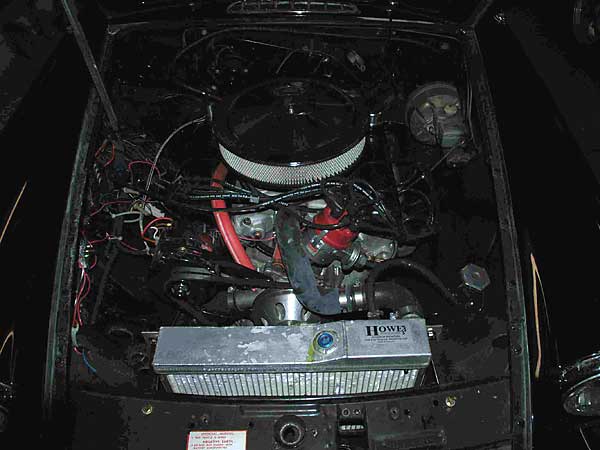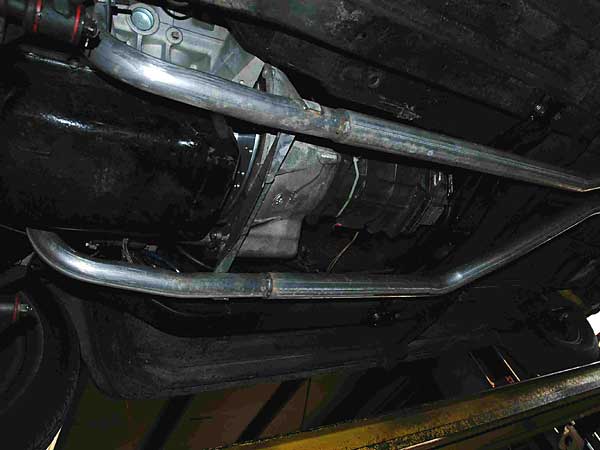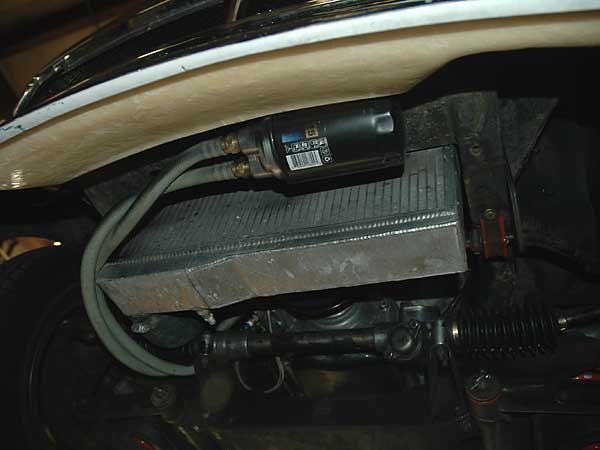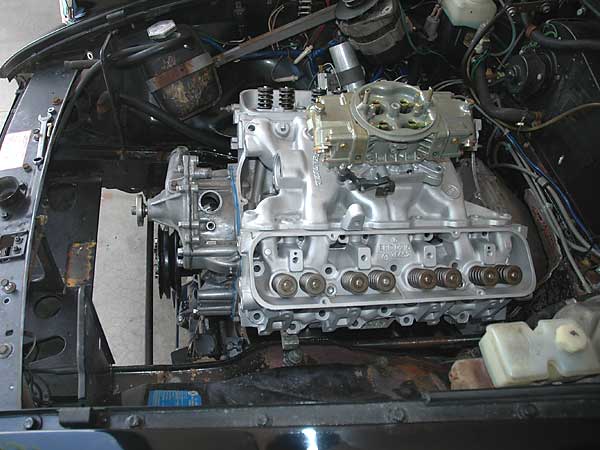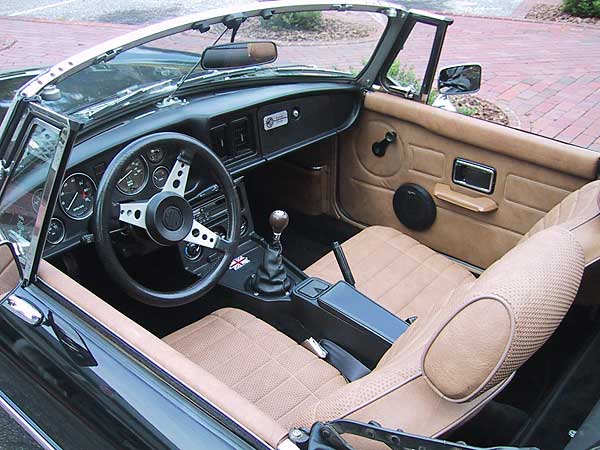 170mph Speedometer and (new) MotoLita Steering Wheel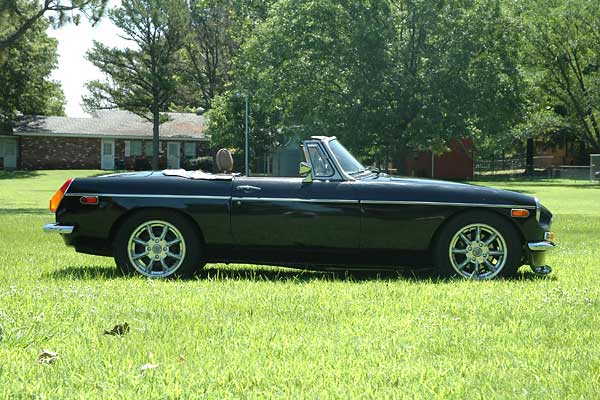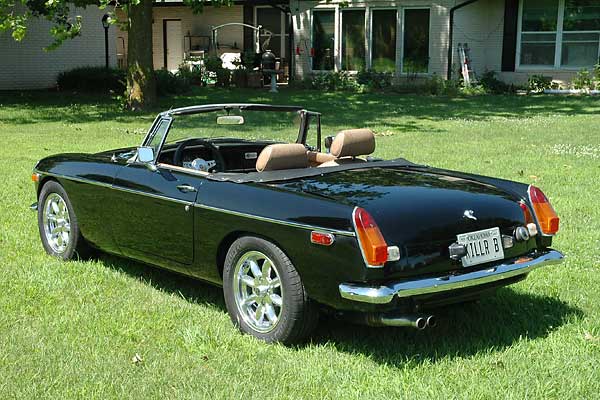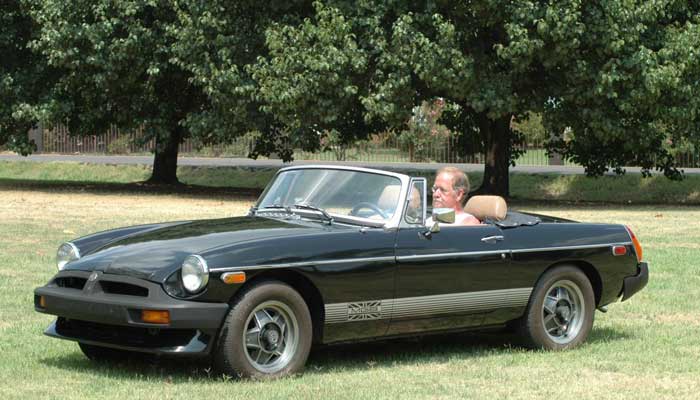 Richard enjoying his MGB-V8 before starting into Stage 2: The Chrome-Bumper Conversion.