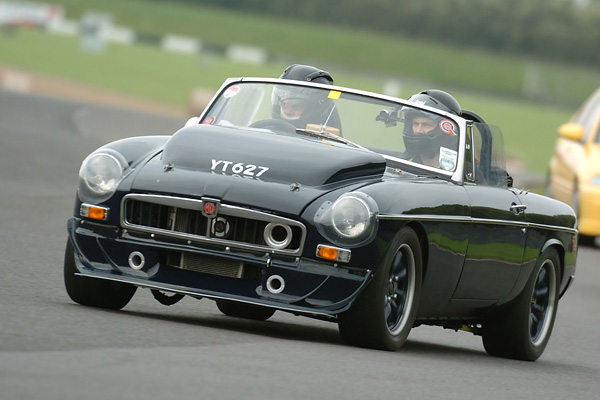 Richard Cradick's 1967 MGB with Fuel Injected Rover 4.0L Engine
Owner: Richard Cradick
City: Cardiff, Wales, UK
Model: 1967 MG MGB
Engine: Rover 4.0L V8
Built by: Richard Cradick of Cardiff Classic Cars
Features and Specifications
Engine:
Rover 4.0L V8, with crossbolted main bearing caps. John Eales camshaft. John Eales prepared cylinder heads (104cfm). Carbon fiber fuel injection plenum chamber. 45mm alloy trumpets. Slimmed throttle butterfly. Maserati high flow injectors. GEMS engine management system, with two uprated Mark Adams chips. Standard lubrication system.

Cooling:
custom aluminum radiator. Kenlowe electric fan.

Exhaust:
RV8 style manifolds into custom made 2.5" stainless system with dual silencers (as required to pass track noise requirements.)

Transmission:
LT77 5-speed gearbox from a Rover SD1. Hybrid LandRover clutch and pressure plate.

Rear End:
Quaife ATB differential with 3.07:1 ratio. Standard halfshafts.

Front Susp.:
Hoyle fully adjustable front suspension, set up with maximum negative camber. Modified MGB steering rack.

Rear Susp.:
composite monoleaf leafsprings. Gaz adjustable shock absorbers. Homemade rose jointed anti-tramp bars. Homemade rose jointed Panhard rod. Antiroll bar.

Brakes:
(master) Dual brake master cylinders. Adjustable brake bias valve. Hydraulic handbrake.
(front) Wilwood Superlite 4-pot calipers on 285mm vented rotors.
(rear) Wilwood Dynalite 4-pot calipers on 270mm vented rotors.

Wheels/Tires:
Compomotive 15 inch 8-spoke wheels. Toyo R888 205/50x15 tires.

Chassis Mods:
Extra rear chassis legs running from the centre crossmember to the front of the rear spring pick up points. The boot floor is reinforced where the Panhard rod bolts to it. Engine bay heavily modded and strengthened.

Interior:
OMP racing seats. Sabelt safety harnesses. Moto Lita steering wheel. Leather trim on dashboard top and center consoles.

Instruments:
standard MGB, but recalibrated to V8 spec.

Exterior:
Fiberglass body panels where possible. Aluminum bonnet with homemade bulge. Rear wheel arches widened. Roll hoop fitted.

Weight:
939kg.

Performance:
At the moment it has 270 bhp at flywheel, with ~380Nm of torque. 0-60mph in less than 5 seconds.

Completed:
2002. 14K miles driven so far. (The car is mostly used for track days.)

Comments:
After competing with my MGB in 1950cc form, I blew two 4-cylinder motors up and then decided to get a proper engine in my car. It has taken a long time and much expense to get it this far but im certainly very pleased to beat an MG SV with 430bhp at the last track day I did. You can see me in action on my Youtube channel 'mgb40v8.'


Engine Installation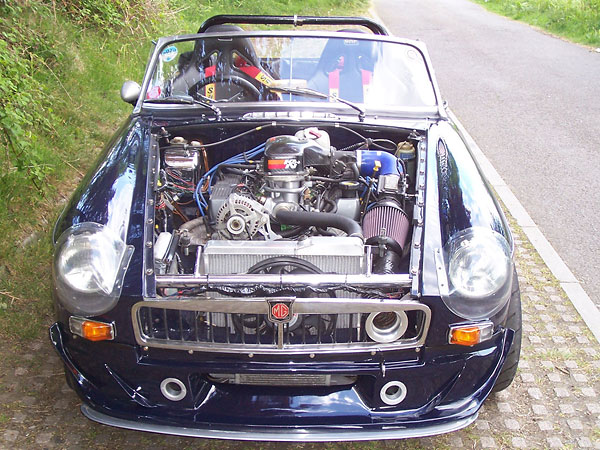 Rover 4.0L V8 engine with GEMS electronic fuel injection.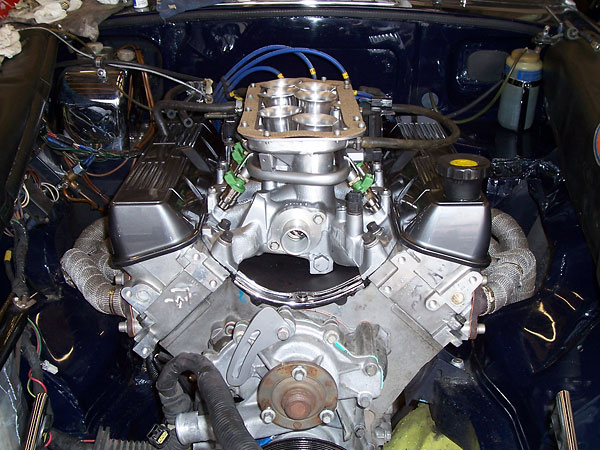 John Eales prepared cylinder heads (104cfm).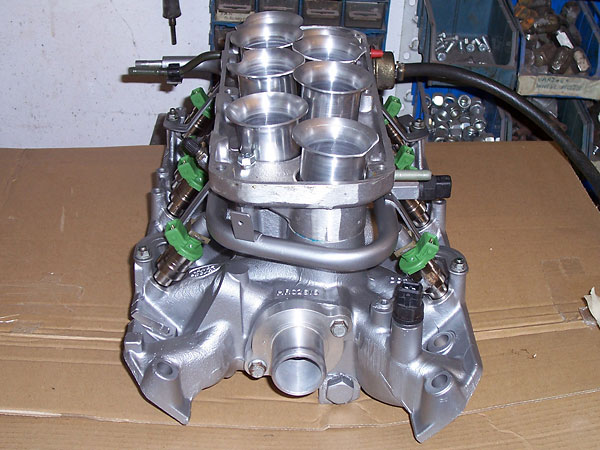 45mm alloy trumpets. Maserati high flow injectors.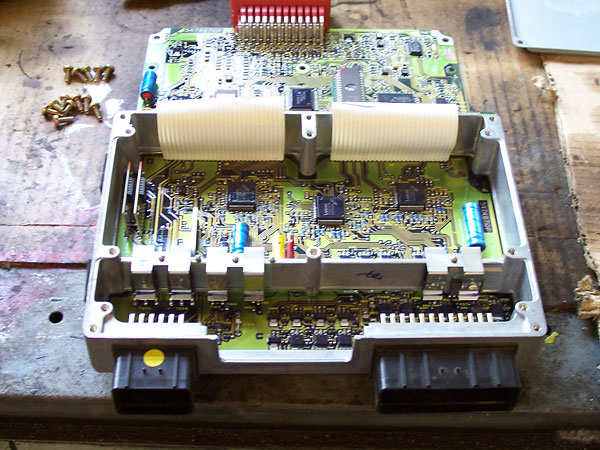 GEMS engine management system, with two uprated Mark Adams chips.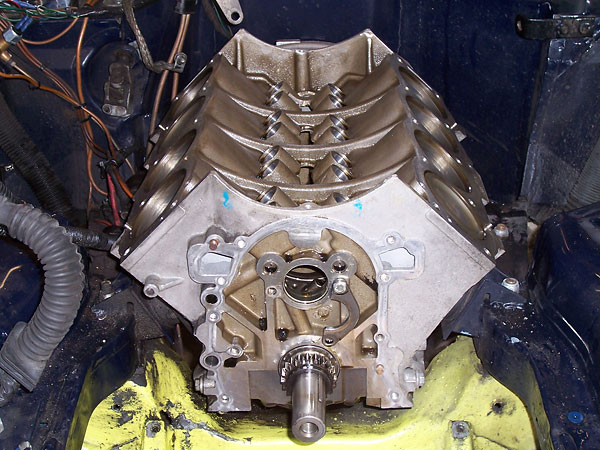 Rover 4.0L V8 engine blocks feature crossbolted main bearing caps.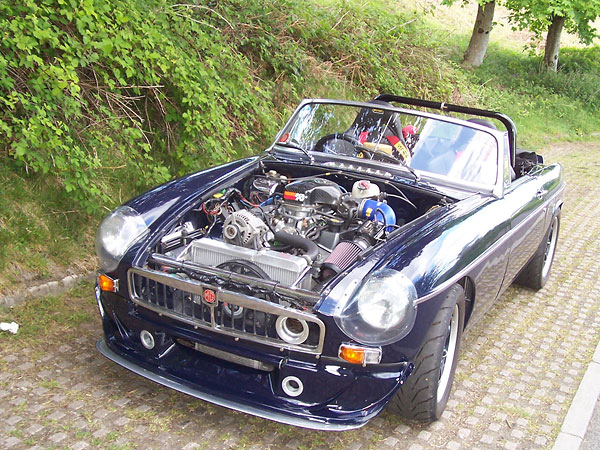 Custom aluminum radiator. Kenlowe electric fan.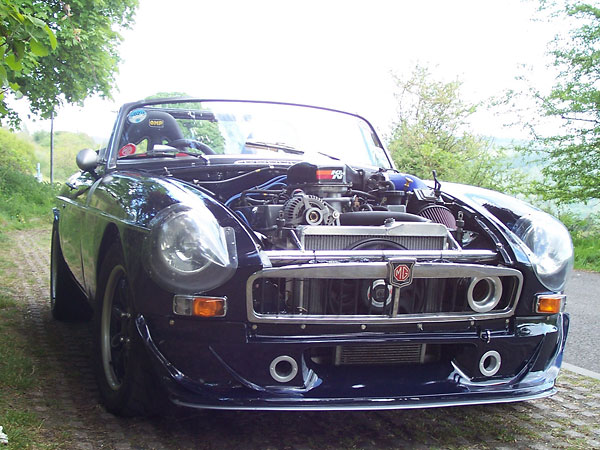 Brake cooling ducts.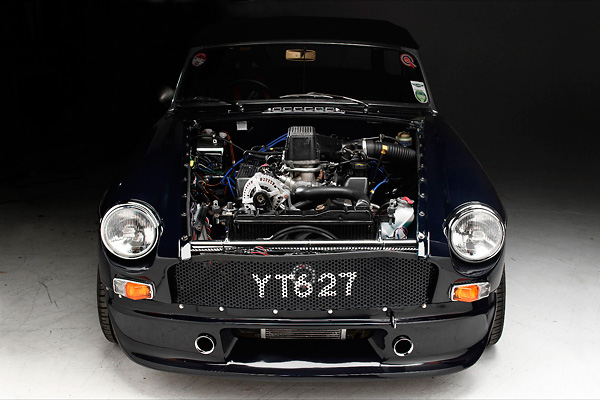 An earlier incarnation: note the different grille and plenum cover.


Enjoying this article? Our magazine is funded through the generous support of readers like you!
To contribute to our operating budget, please click here and follow the instructions.
(Suggested contribution is twenty bucks per year. Feel free to give more!)
Front Suspension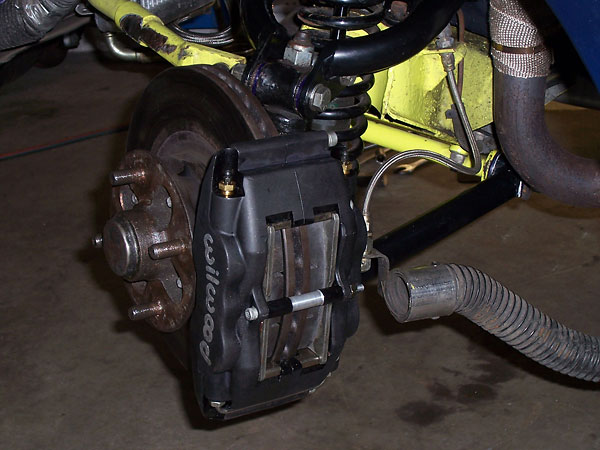 Wilwood Superlite 4-pot calipers on 285mm vented rotors.


Rear Suspension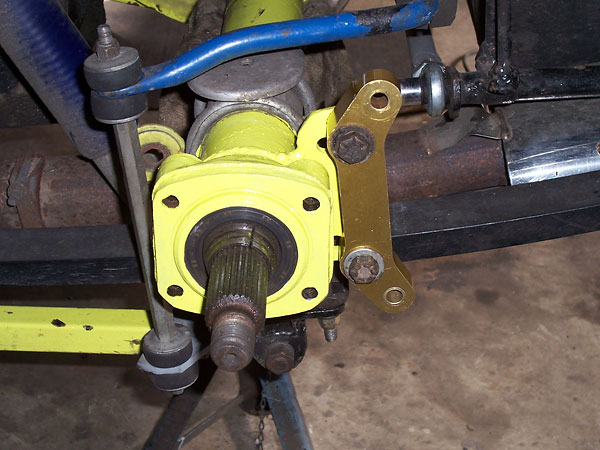 Composite monoleaf leafspring, rear anti-roll bar, and homemade rose-jointed Panhard rod.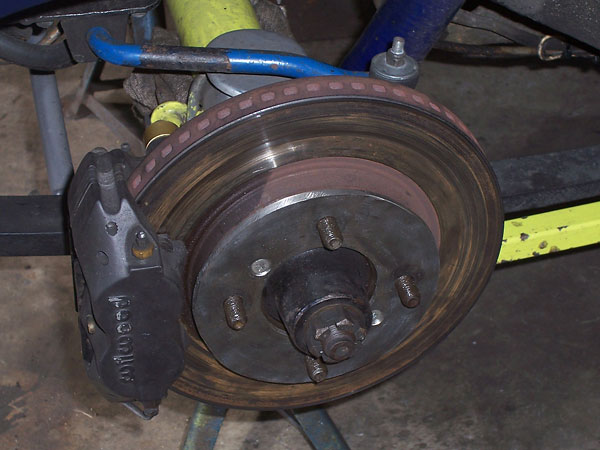 Wilwood Dynalite 4-pot calipers on 270mm vented rotors.


Master Cylinder Bracket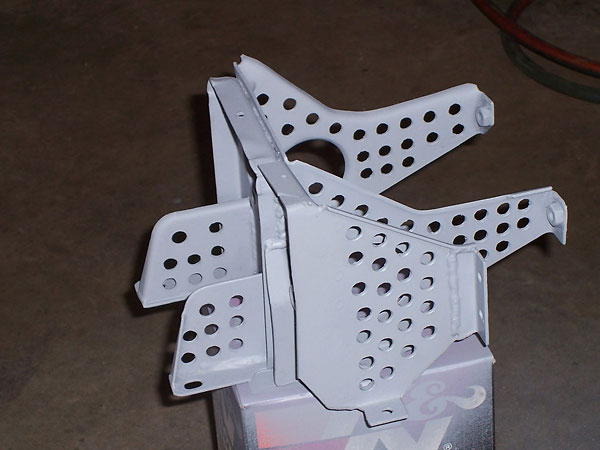 Obviously, this master cylinder mounting bracket has been lightened.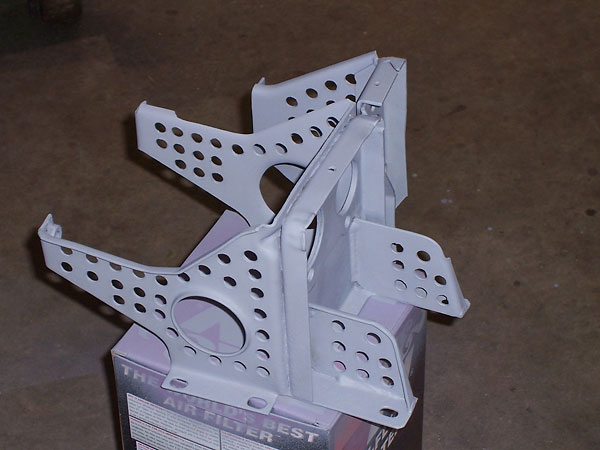 All those lightening holes might have distracted you.
Did you notice it's been widened for dual brake master cylinders?


Modified Bonnet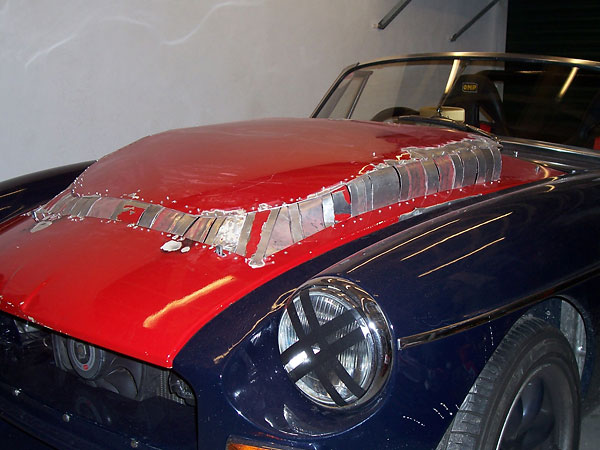 Raising the roof!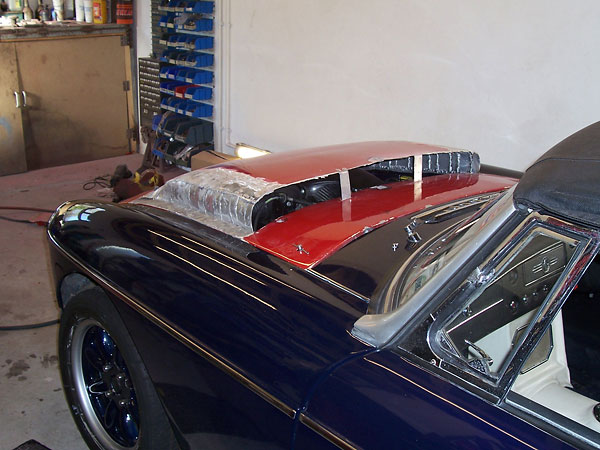 Compomotive 15 inch 8-spoke wheels. Toyo R888 205/50x15 tires.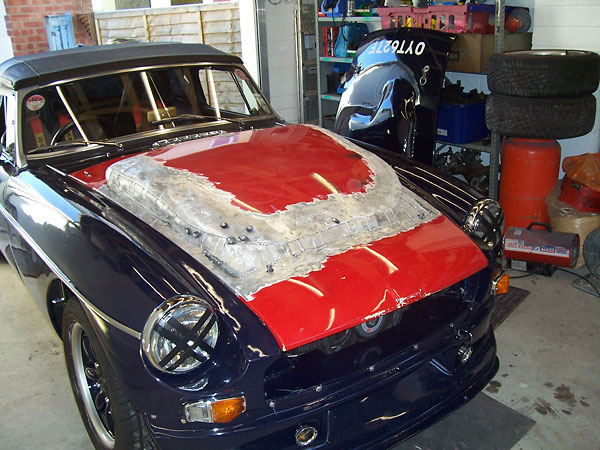 Welding thin aluminum.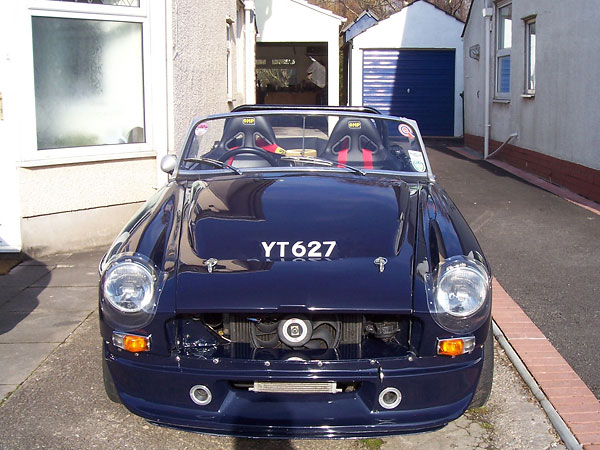 OMP racing seats. Sabelt safety harnesses.


Exterior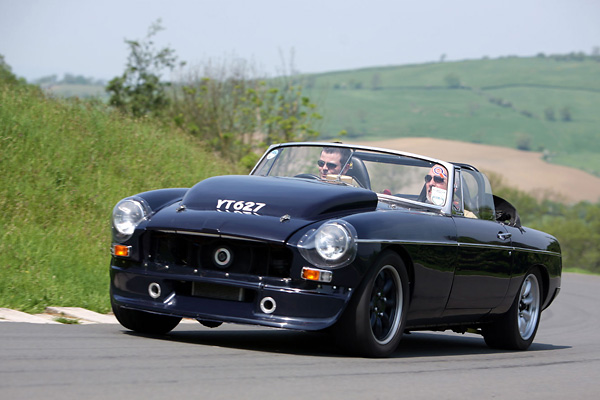 Sebring headlamp covers.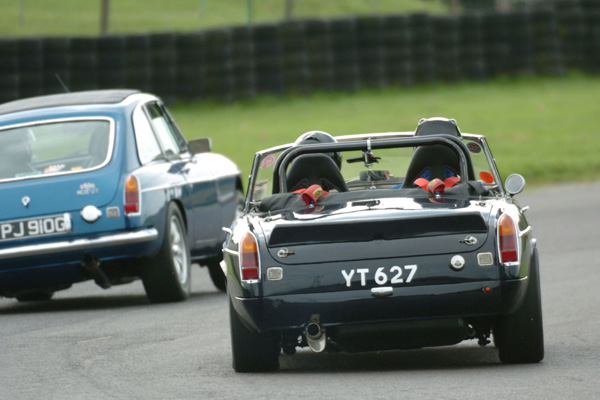 Built for track days.