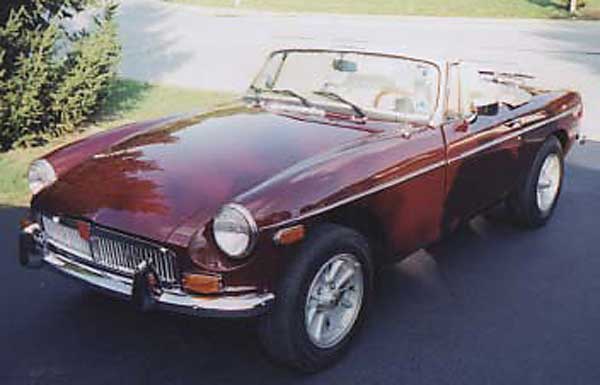 Richard Benson's 1975 MGB with Buick 215 V8 Engine
as published in British V8 Newsletter, Volume XII Issue 2, May 2004

Owner: Richard H. Benson
City: Elizabethtown, PA
Model: 1975 MGB
Engine: Buick 215 (from a 1962 Buick Special)
Conversion performed by: Owner
Engine Specs:
10.25:1 C/R, Stock Cam & Offenhauser valve covers. Weber gear reduction starter. in-line fuel pressure regulator, Accel coil, performance flex fan, Kenne-Bell oil pressure booster plate and a Buick V-6 high output oil pump.

Intake:
Edelbrock 1404, 500 C.F.M., manual choke.

Exhaust:
Buick 300 cast iron manifolds, 2.25" primary & 2.5" exhaust pipe.

Engine Electrical:
NGK spark plugs, Accel wiring, clear distributor cap, new GM alternator, new electric fuel pump.

Cooling:
D&D aluminum 4-Core radiator, Posies Street Rods custom aluminum shroud, and large overflow tank mounted on firewall.

Transmission:
New Borg-Warner "World Class" T-5 w/ D&D Fabrications billet aluminum shifter, and Hurst shift boot & plate. D&D T-5 cross-member and mounts, Weber performance clutch, Weber hydraulic throw-out bearing, Weber cast aluminum flywheel.

Front susp.:
Complete rebuild with V8 bushings.

Rear susp.:
Tube-shock conversion kit, new bushes and spring pads.

Brakes:
All new stock components and heavy-duty hoses.

Wheels/Tires:
Datsun 280Z 14x6 4-lug alloy wheels with MG logo center caps. Goodyear AquaTread, 185/70x14.

Exterior:
Rubber-bumper converted to chrome-bumper. New hood and fiberglass front fenders. Painted w/ Autumn Brown clearcoat metalic (2000 Lincoln LS color).

Interior:
Dash and interior colored Desert Sand. Seats, Sunvisors and under-dash panels dyed to match. Tan seatbelts and trim. Pontiac Fiero seats w/headrest speakers. V.D.O. speedometer and tachometer. Stock wiring harness has been expanded.

Sources:
MG V-8 Newsletter (which is now The British V8 Newsletter). SpeedPro Series Books: "How to Give your MGB V-8 Power", "How to Improve MGB, MGC & MGB V-8", "Porters Guide to Purchase and Restore". Videos: "MGB V-8 Power on a Shoestring Budget", "Classic Car Interior Re-Trim", AMGBA, "MGB Driver", D&D Fabrications.

Comments:
Problems overcome: I purchased an MSD ignition box before I had completed the swap. When the time came to install the box, it turned out to be defective, however the warranty had since expired. I called their non-toll-free number: No satisfaction. Fortunately the car runs perfectly without the box.

I originally had a T-50 5-speed transmission with mechanical clutch fork. This was very problematic. I'd recommend the use of a hydraulic throw-out bearing and the D&D Fabrications transmission crossmember. The stock Buick starter is not dependable, so I would also recommend the purchase of an aftermarket gear-reduction starter.

Things I'd do differently next time: instead of extending the stock wiring harness, I would get an all-new Ron Francis or American Autowire harness and re-wire everything. I'd also mount the fuse-box inside the passenger footwell.

General recommendations: install a battery cut-off switch A.S.A.P. It makes it that much easier to work on the electrical system. A battery maintainer (i.e. trickle-charger) mounted in the trunk is a real plus: mine is wired directly to the battery terminals and I just plug it in when I store the car. I've learned a lot along the way: plan ahead and don't get too anxious when the end is near.