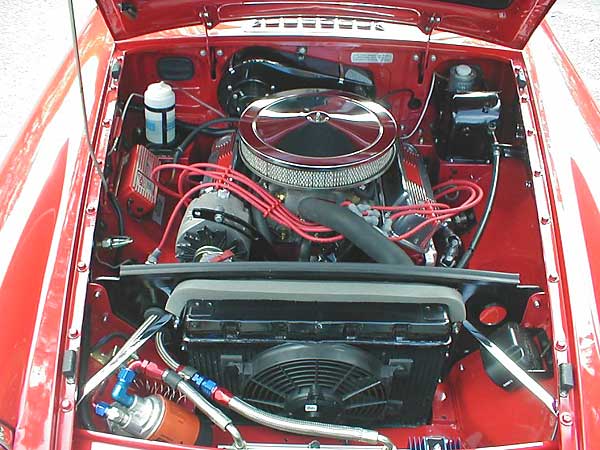 Remy Cano's 1965 MGB with Buick 252cid (4.1L) V6
(as recorded by Larry Embrey in 2003)
Larry Embrey wrote: "This was the car's 1st show, and it was gorgeous. Rem spent a lot of time custom fitting the Buick V6 into the car and doing finish work that really make the car a complete package."

Notes about this engine and its installation:

1) The Buick "Fireball" V6 was originally introduced in 1962. It had a displacement of 198 cubic inches.
2) Buick cancelled their 215cid V8 for the 1964 model year. The Fireball V6 was bored and stroked to 225cid to fill
the resulting gap in their product line. Special and Skylark were offered with 225cid V6s from '64 through '67.
3) Buick also sold engines to AMC, and the 225 V6 was used in Jeeps from 1966 through 1971.
4) After Buick's 1967 model year, the V6 tooling was sold to AMC and production moved to AMC's factory.
5) When the Arab oil embargo hit in 1974, Buick bought the design rights back from AMC.
6) When Buick re-introduced the engine in 1975, it was bored slightly larger and had a displacement of 231cid (3.8L).
There were other differences too. The 3800 V6 had different cooling passages, cylinder heads, and valvetrain.
7) A larger 252 cu in (4.1 L) version of the venerable V6 was produced from '80 through '84.
8) Buick rated the 252cid V6 engine 125bhp with 205 lb.ft of torque.
9) Rem has installed the engine in a "Mark 1" MGB, which has a characteristically small tranny tunnel.
10) Rem has adapted the Buick cable-operated clutch in lieu of hydraulic clutch actuation.
11) It was apparently necessary to relocate the parking brake lever to make room for the driveshaft.
12) With a "drop base" air cleaner and a low-rise aftermarket aluminum (apparently Offenhauser) intake manifold,
Rem has managed to keep the stock MGB hood unmodified! The radiator is also in its standard location.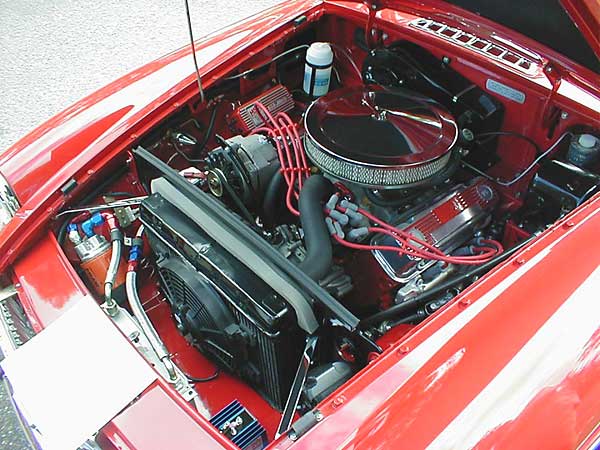 Steering has been modified (with additional u-joint) and a cable-operated clutch has been fitted.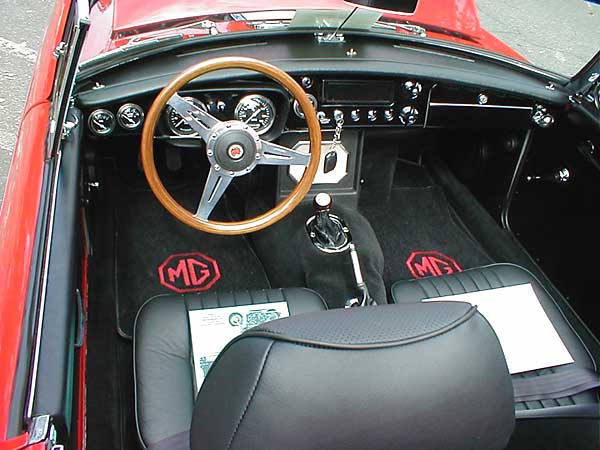 The dashboard has been painted gloss black, and additional gauges have been installed on the left side.
Note the removeable-face radio, and that speakers have been mounted in the footwell area.
The parking brake lever has been moved to the top of the driveshaft tunnel.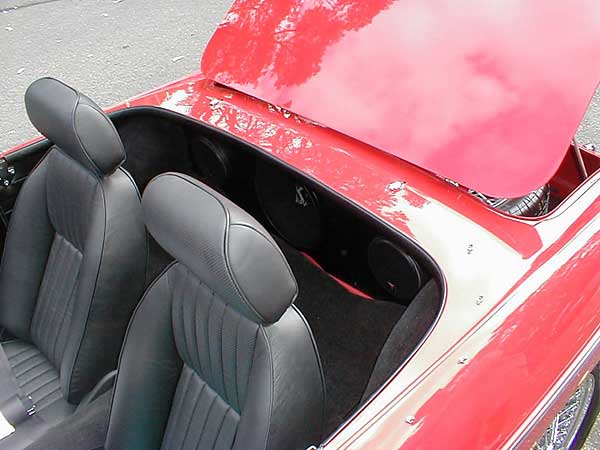 MGOC / Moss aftermarket seats that are custom designed for MGB. Note bulkhead-mounted speakers.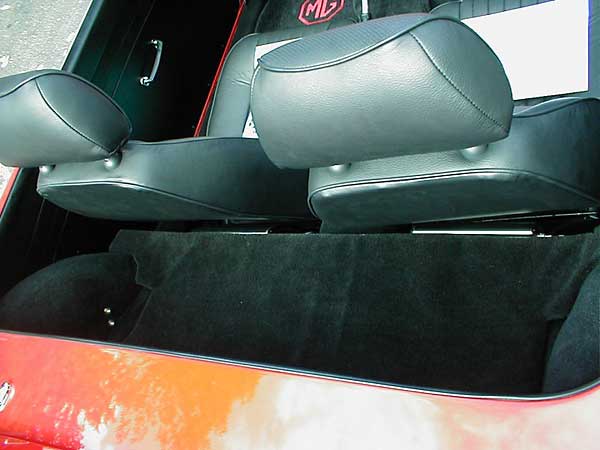 Audio system amplifiers are hidden behind the seats.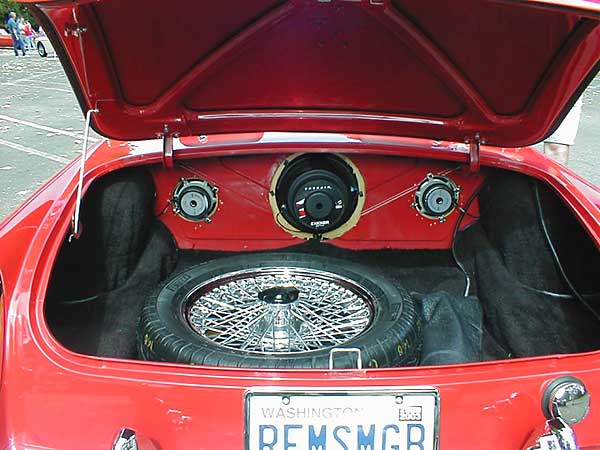 A subwoofer is mounted in between two smaller speakers in the rear bulkhead.