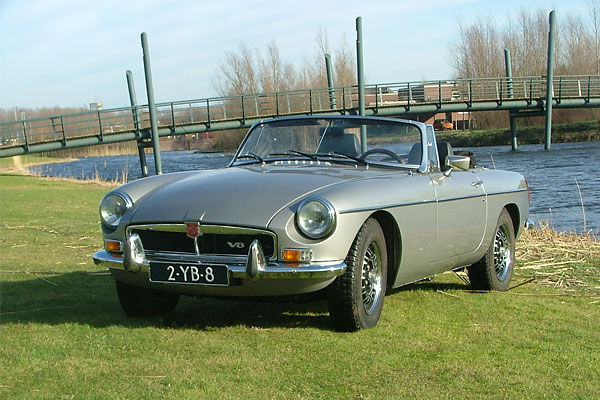 Peter van de Velde's Rover 3.5 V8-powered 77 MGB
as published in British V8 Magazine, Volume XVI Issue 1, May 2008

Owner: Peter van de Velde
City: Helmond, Holland
Model: 1977 MGB
Engine: 3.5 liter Rover V8
Conversion by: owner
Engine:
3.5 liter Rover V8 from an Rover SD1. Ported and polished heads. New mild road camshaft.

Induction:
SU carbureters with a new V8 plenum on a modified Rover SD1 manifold.

Cooling:
standard MGB V8 radiator.

Exhaust:
ceramic coated block-hugger headers. Stainless steel exhaust pipes and mufflers, arranged in similar layout as factory MGB GT V8.

Transmission:
Rover SD1 5-speed gearbox, which I overhauled with new bearings, oil pump, synchromesh rings. Standard master cylinder. SD1 slave cylinder. New driveshaft from The V8 Conversion Company.

Rear Axle:
standard MGB axle, converted to MGB GT V8 (3.071:1) gear ratio.

Suspension:
front - lowered to chrome bumper height. KONI adjustable shocks on home made brackets.
rear - lowered to chrome bumper height. Adjustable KONI shocks.

Brakes:
front brakes uprated to MGB V8 GT calipers and van rotors. Stock rear brakes.

Wheels/Tires:
Dunlop MGB GT V8 wheels with Pirelli tires.

Weight:
approximately 1000kg.

Instruments:
Modified/new wiring harness. Added fuses and relays for head lights, horns and the twin cooling fans.

Body:
the main body structure was seam-welded from the front crossmember to the rear axle. New sheetmetal hat-section reinforcements were welded-in along the floor from the front leaf-spring mounts forward, like on the MG RV8 model. (See below for picture.) Chrome-bumper conversion.

Interior:
custom walnut dashboard, center console, door caps, doorhandles and steering wheel, all made by myself!

Completed:
Peter completed the engine swap in August 2005. He then drove the car approximately 10,000km to shake out problems before removing it from the road for finally painting and trimming the car. He has driven approximately another 2000km since that "restoration" work.

Comments:
the project took much longer and cost much more money then planned, but was worth it because an MGB V8 is a very practical classic car which gives me a thrill every time I drive it! I converted the car in steps in the winter months and drove it during the summer. I started with modifying the front and rear suspension and brakes. Then I modified the body (e.g. inner wings and transmission tunnel). After completing the conversion, I drove the car approximately 10,000km in 2 years. Over this period, I made the walnut interior and redid the seats. The 10,000km were very usefull - you don't want to do many modifications on a fully restored car. I needed to do some welding.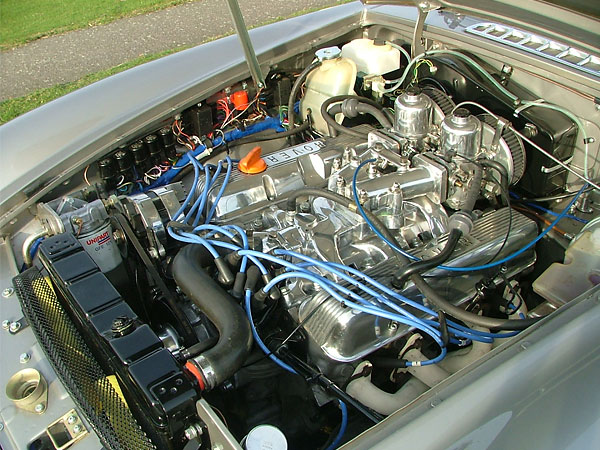 Polished intake manifold, carburetors, and valve covers. Additional relays and fuseblock are also shown.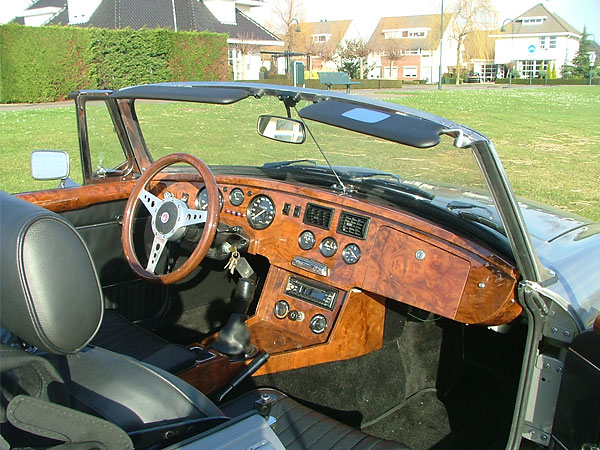 Finished walnut dashboard, interior trim, and steering wheel - all made by me.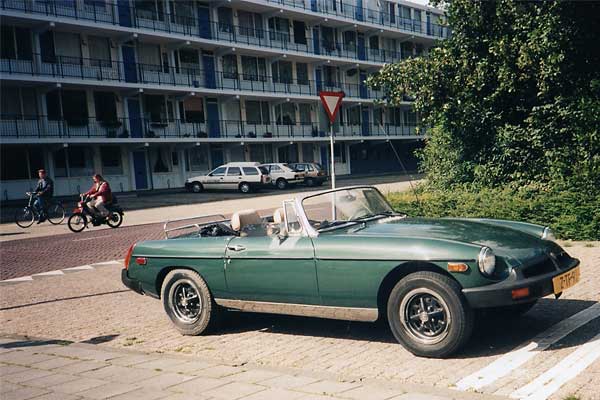 The before picture: a rust-free 1977 MGB was imported from a "dry" U.S. state.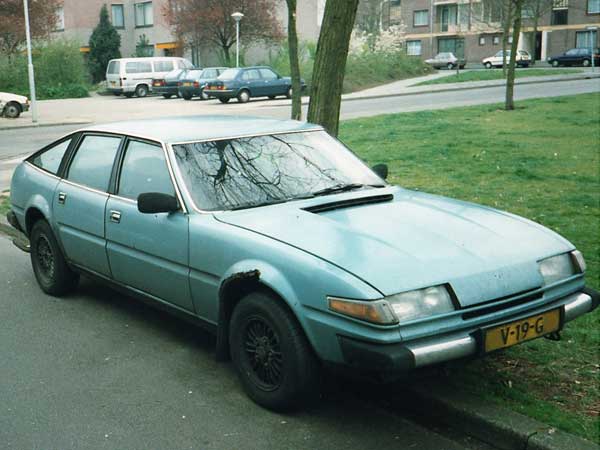 A Rover SD1 with rusted bodywork was bought to donate its V8 engine and gearbox.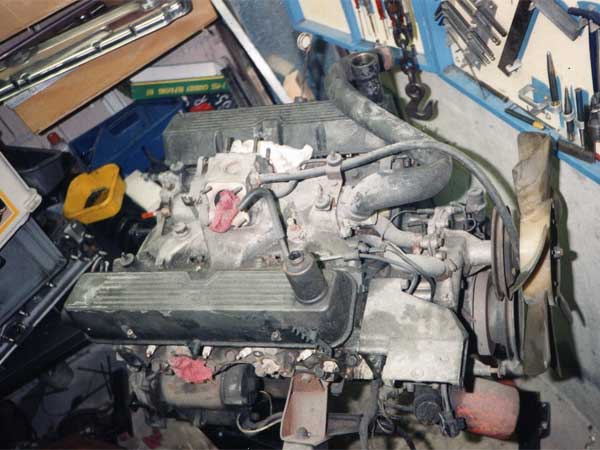 The engine removed and ready for rebuilding. I ported and polished the heads, fitted new valves, valve guides,
cam and cam bearings, main bearings, piston rings, oil pump, hydraulic lifters, rockers and rocker arms,
timing chain and gears and put in main bearing studs.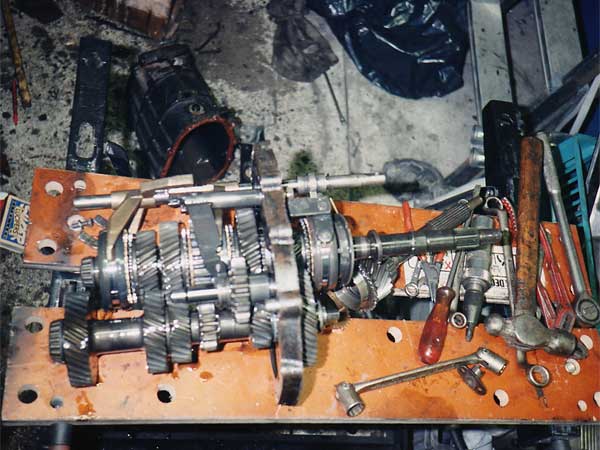 I also overhauled the gearbox, with new bearings, gaskets, oil pump, and synchromesh rings. It was difficult
to set the correct preload on the main shaft (with shims). The black housing was powder coated.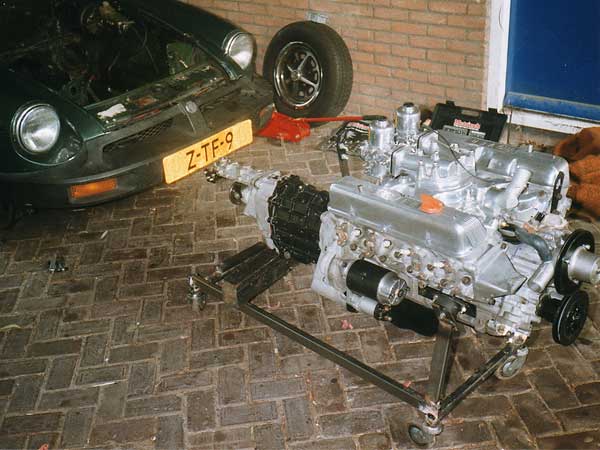 Overhauled and partly polished engine with inlet manifold and gearbox - just before putting the engine in the car.
I had to do this on the public road near my house because in my lockup I didn't have electricity.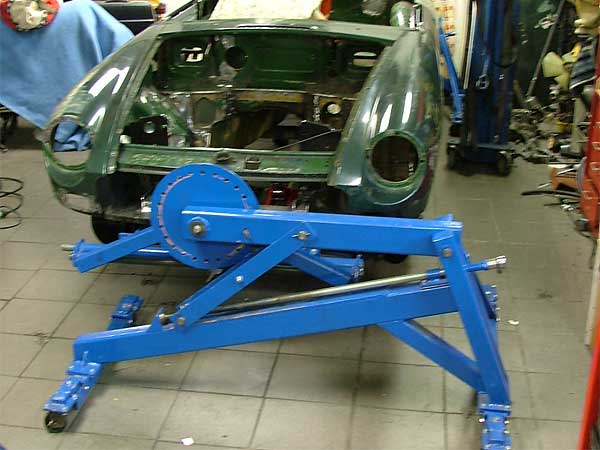 A rotator I copied from an picture in a classic car magazine.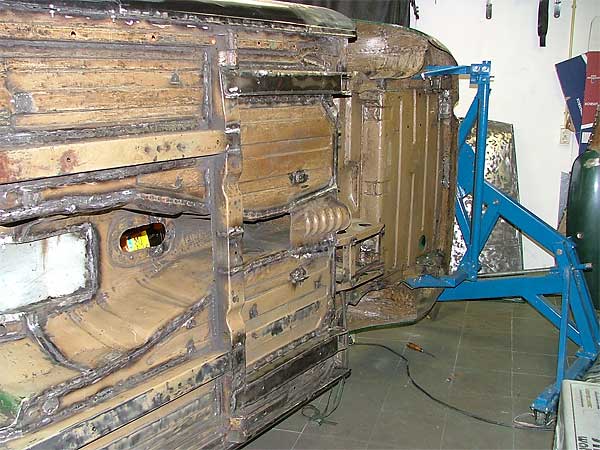 I seam-welded the body and on both sides added chassis "legs", welded in from the leg with the
jack support to the rear suspension like on the MGB RV8. Also the outer sill were replaced.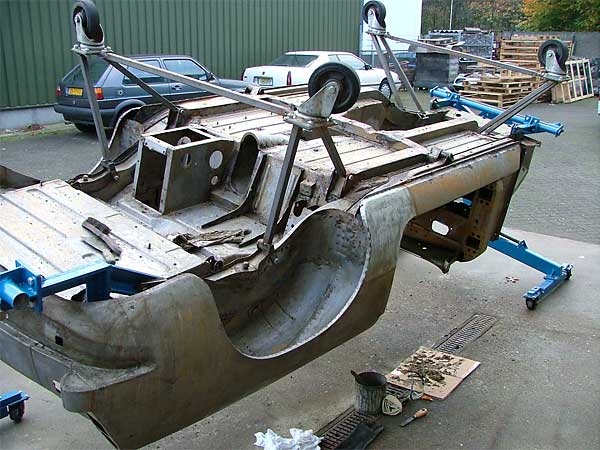 All paint, inside and outside, was removed with paint stripper before shotblasting the body.


Enjoying this article? Our magazine is funded through the generous support of readers like you!
To contribute to our operating budget, please click here and follow the instructions.
(Suggested contribution is twenty bucks per year. Feel free to give more!)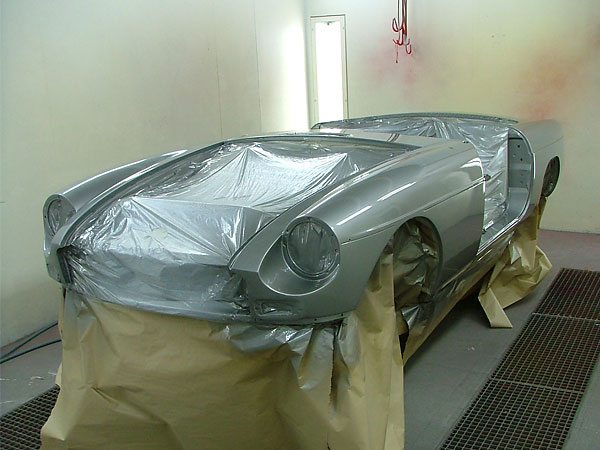 The body was painted in a two-part metallic grey paint. I selected a Rover color.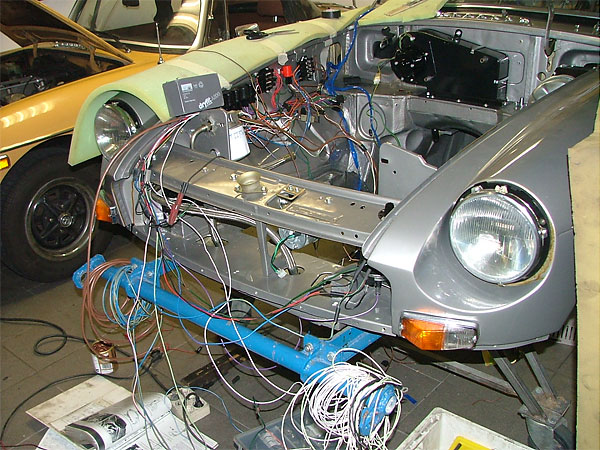 I modified a new MGB wiring harness by adding 5 relays and an additional fuse box for lights, fans and horns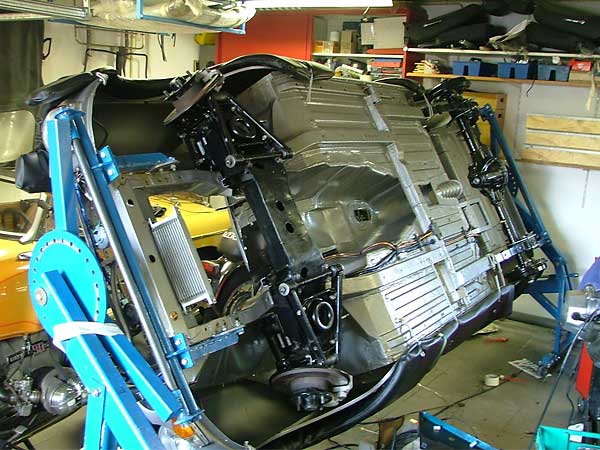 Front and rear suspension fitted.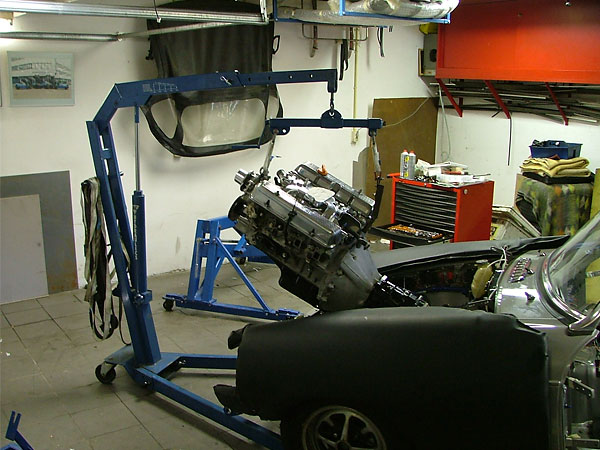 Engine and gearbox are being installed.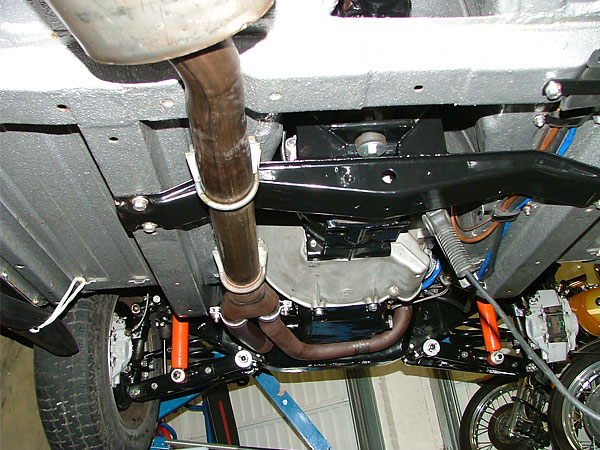 A view underneath the car. Adjustable Koni's were fitted to front and rear suspension.
The bottom of the body is coated with a sort of plastic undercoating.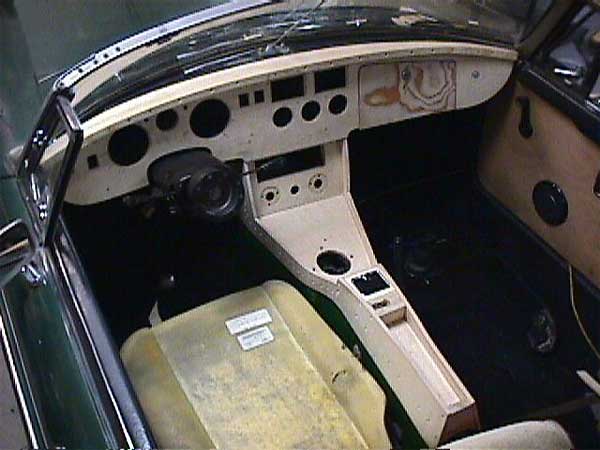 Building the custom dashboard and center console. Later, walnut veneer was glued onto this wooden base.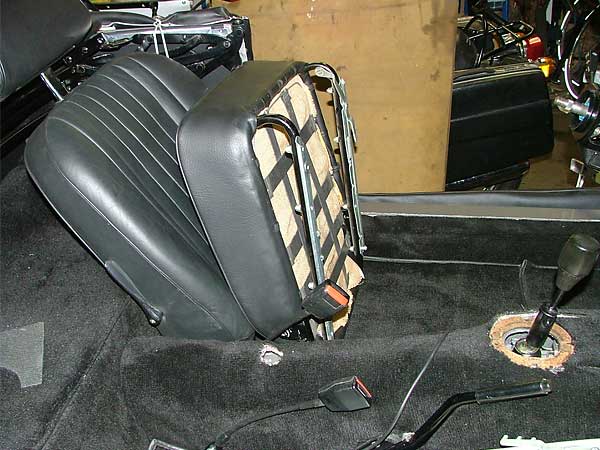 New carpets and rebuilt seats with black leather upholstery and new cushion foam.