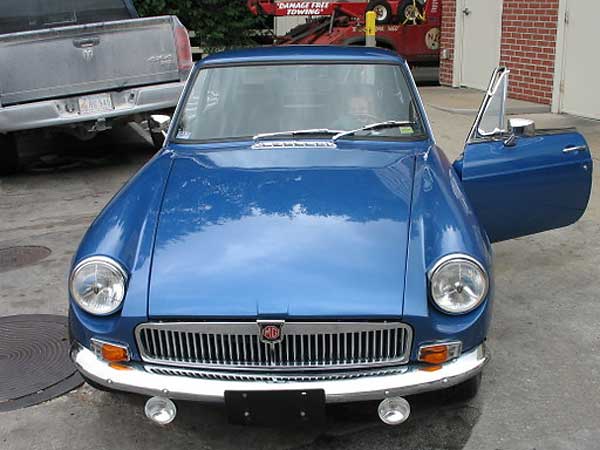 Nick Baxter's 1967 MGB-GT with Buick 215 V8
as published in British V8 Newsletter, Volume XV Issue 1, April 2007
Owner: Nick Baxter
City: Omaha, NE
Model: 1967 MGB-GT
Engine: Buick 215 V8
Conversion by: John Mangles
| | |
| --- | --- |
| Engine: | Buick V8 215cid, with Rover heads supplied by Peter Burgess in England. |
| Induction: | Carter AFB 400cfm carburetor. |
| Cam: | From D&D Fabrications. |
| Cooling: | D&D Fabrications radiator. Electric fans. |
| Exhaust: | Clive Wheatley headers into 3" single pipe exhaust. |
| Transmission: | Borg-Warner T5 5-speed. |
| Rear Axle: | Stock MGB. |
| Front Suspension: | Stock, lowered springs; HD shocks (rebuilt). |
| Rear Suspension: | Panhard Rod. Traction Bars. Composite leaf springs. HD Shocks (rebuilt). |
| Wheels/Tires: | 15" x 6" Minilite replicas (with knock-off hubs). Tires: Front 185/65/15, Rear 195/65/15. |
| Instruments: | Rebuilt and hand painted gauges, iPod only sound. |
| Other: | Fiero seats. LED third brake light. |
Nick Wrote:

Before I moved from England to the US, I had been the very happy owner of a 1969 Lotus Elan +2S. I used the car as a daily driver, and due to regular maintenance and luck, it never let me down. On departing England for the former colonies, the Lotus was sold and I moved into the realms of normality. This was a shame. My father continued to own a range of interesting vehicles, both modern and classic, but I had to look on from a distance.

After marriage, three children, over 15 years in Omaha, and being the proud owner of two Volvo V70 station wagons (one Cross Country and one "R"), it was time for something a little "older". After several months of searching and one failed attempt to buy a 1969 Lotus Elan +2S from Minnesota, in exactly the same color as my old British one, I found my current GT on eBay, not too far away.

As with many items for sale on eBay, it didn't sell, but I started talking with the owner and we reached agreement on a fair price. He had owned the MG since the early '90s and no longer had the time to drive it.

The car is a 1967 MGB GT, converted to a Buick V8 215 with 5 speed gearbox. Total mileage is unknown, but in the last 5 years it has driven less than 2,500 miles on the new drivetrain. The conversion had been completed between 1999 and 2003 by John Mangles of St. Louis.

Since I didn't do the work, can't take credit for the design or craftsmanship. The following information is second-hand, but reflects a truly superior project of which I am now the beneficiary. I'm not sure how the previous owner chose John Mangles, but it was a great choice. His execution was superb and I am really happy with the car. On occasions when I've needed to call John, he has been very helpful.

Drivetrain

The engine came from D&D Fabrications in MN, I don't have details of the build specs, but know that it came with heads which were subsequently replaced with Rover SD1 heads from Peter Burgess in England. (These were apparently his "EconoTune" heads.) The carburetor is a Carter 400, sitting on a Buick barrel intake manifold. The headers came from Clive Wheatley in the UK, who coincidentally operates from a facility not 5 miles from where I grew up and less than a stone's throw (long cricket throw) from the favorite public house of my younger years. The previous owner sourced a T-5 gearbox from a now defunct establishment in Chicago. The engine was capped off with some nice MG valve covers.

John Mangles rewired the engine bay to remove all externally visible wires and also fabricated beautiful "wells" for the through-the-fender headers. He also modified the bulkheads and radiator mounting to make it all fit. The oil filter was relocated to a remote location on the passenger-side inner fender.

The rear axle is stock, although I'm planning to update this to MGC ratio (3.07:1) and probably rear discs during 2007.

Electrical

When I purchased the car, it came with an air conditioning unit installed. It wouldn't run, so I removed it. I have the parts and may re-install it one day. The one area, that I really need to re-do is the dashboard and under dash wiring. Although it works, it doesn't instill the same level of confidence as the rest of the car.

The car has "tripod" replica headlamps which look cool, and combined with the "modern" small driving lights" beneath the bumper, provide adequate lighting. The coolest feature is the roof mounted LED third brake light. It's a great idea that I have not often seen on MGBs.

Interior

The interior is pretty stock, I need to put in new carpets, and recover the Fiero seats some time, but it is great for now and for general driving.

Suspension

The suspension is fairly traditional. It has heavy-duty shocks, lowering springs on the front, and MG Automotive composite leaf springs. The previous owner also installed Ron Hopkinson front and rear sway bars, but the rear one has now been removed. MG Automotive Panhard Rod and traction bar kit were also installed on the rear.

Wheels & Tires

I'm running knock-off Minilite replica wheels (15 x 6) all around, with different sized front (185/65/15) and rear tires (195/65/15) to resolve the rubbing I suffered despite the rolled arches. The hubs were renewed at the same time the rest of the work was done on the car.

Next Steps

The car is enormously fun to drive as is and could very easily be left exactly as it is for many years. That being said, I know that I want to fix the rear axle ratio for drivability and I would love to get the under-dash wiring sorted out in the short term. Thinking long term, I really like the lines of the MGC GT Sebring race cars. Even if I don't fit the Sebring flares, the front and rear Sebring valances are a definite possibility. With such great body work, it seems like a waste to cut it all up again.

An Embarassing Story

While the car has always run smoothly, it really died when it hit 3750 rpm. I always put this down to a tight "newish" engine and didn't really worry about it. I also noted that the plugs seemed to soil more than normal with oil. A visit to my local British car mechanic, suggested that running modern engine oils in a 40 yr old engines didn't make too much sense so a change to a thicker oil would be appropriate. I made that change, and it made a slight difference, but nothing incredible.

After reading several posts on the MG Experience message board, I decided that maybe I had the wrong type of spark plugs. This research led me to the slightly unnerving realization that I had little to no paperwork on the heads on the engine, and that D&D had supplied a long block with Buick heads. The previous owner had clearly told me that he had bought Rover heads from the UK. After much research, telephone calls, and e-mails, it became clear that I did indeed have Rover heads, not Buick ones, and that the plugs from the Buick heads had been transferred into the Rover heads at the time of the swap. And as everybody was kind enough to tell me, my Buick heads needed plugs with a half inch reach. Rover heads require a three-quarter inch reach. A quick trip to the local auto parts store for plugs, and now my car runs like I added four more cylinders!