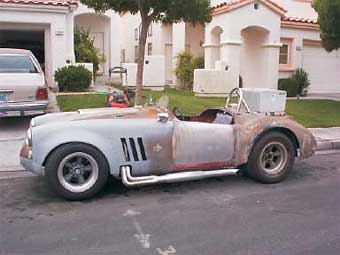 Mike Vannozzi's MGA with Chevy 400cid V8 Engine
as published in British V8 Newsletter, Volume XII Issue 1, January 2004

Owner: Mike Vannozzi
Model: MGA
Engine: Chevy 400 V8 (bored to 406cid)
Conversion performed by: Owner
I thought I'd send you some pictures of my MGA with a 406 cubic inch Chevy V8 engine swap. The car has a Muncie M-21 4-speed and Dana 44 rear-end with 3:73 gears and a posi.
The Chevy V8 is a 0.030" over-bore, 400 cubic inch small block with 10-to-1 compression, Edelbrock aluminum heads, and a racing cam. I estimate the horsepower to be about 500.
The front brakes use Chevy Chevelle rotors, and Dodge Dart calipers. This combination is commonly used in Cobra replica suspensions, when MGB front suspension components are used. The Dana 44 rear end is out of a mail Jeep, and required no narrowing. It isn't uncommon for these rear ends to be extra heavy-duty, with posi-traction and 3:73 gears. The drive shaft is a shortened Jeep unit with a front yoke to fit the Muncie 4-speed.
I channeled the rear fenders 4 inches to cover the 295/50/15 rear tires. I also had the stock axles re-drilled for a 5-lug Chevy bolt pattern. The rear brakes are drum. I had to move back and fabricate a firewall. I made the side pipes to look like Shelby Cobra units. They are two-inch primaries going into three-inch mufflers. The car is nearing completion and will be going to paint and body soon.