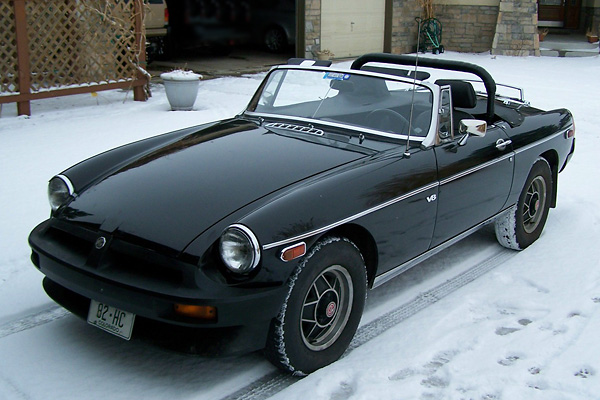 Mike Jelinek's 1980 MGB-LE with All-Aluminum Stroker Motor
as published in BritishV8 Magazine, Volume XVIII Issue I, December 2010

Owner: Mike Jelinek
City: Parker, Colorado
Model: 1980 MGB
Engine: "Frankenmotor Stroker" (295cid/4.9L)
Conversion by: owner.
Engine:
1998 Rover 4.0L engine block, 1964 Buick 300 cylinder heads, 1982 Ford 255cid (1980-1982 truck) pistons, and 1962 Olds 215 connecting rods. Buick 215 intake manifold. Edelbrock 500cfm carburetor. Crower camchaft, Buick pushrods. Rover 4.0 rocker arm assemblies. Polished Rover valve covers. Balanced. High volume oil pump from D&D Fabrications. Moroso remote oil filter mount.

Cooling:
D&D Fabrications aluminum radiator.

Exhaust:
D&D Fabrications block-hugger headers. Cherry Bomb muffler. Side dump exhaust pipe.

Transmission:
T5 5-speed (1985 Chevrolet Camaro Z-28) with 0.74:1 top gear ratio. Chevy 10.5" clutch. D&D Fabrications bellhousing. McLoed hydraulic throw-out bearing. Custom driveshaft from D&D Fabrications.Custom D&D Bellhousing

Rear axle:
MGB housing with MGC gears (3.07:1).

Front Susp.:
lowered springs. stock shock absorbers. 7/8" anti-sway bar.

Rear Susp.:
Lowered leaf springs. Tube shock conversion. 5/8" anti-sway bar.

Brakes:
(master) stock.
(front) stock.
(rear) stock.

Wheels/Tires:
stock MGB-LE wheels.

Body:
removed the Limited Edition decals. Added a roll hoop.

Instruments:
stock.

Weight:
2300#.

Completed:
November 2009

Comments:
This car, with its original Buick 215 engine swap, was featured in How-It-Was-Done article number 20. I kept re-reading about the affordable stroker, and I found a few key parts, so I started to modify. It took six months and cost more than I estimated, but this motor is a monster. It's made from parts from '62, '64, '82 and '98, I hope it lasts for awhile!

The motor sounds like an aircraft radial engine.

I stripped two bolt holes along the way, but repaired both with Helicoils.


Engine Installation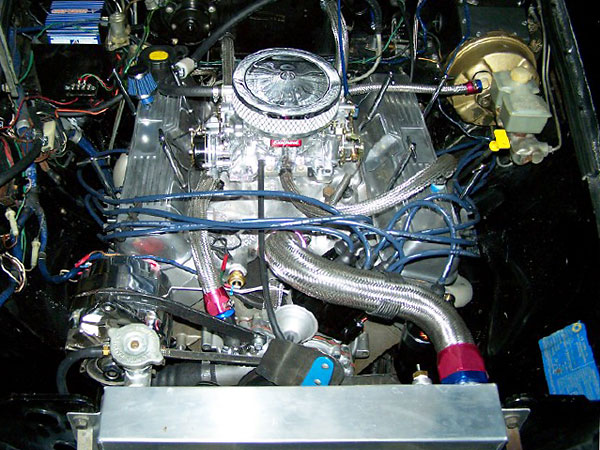 This Buick/Rover stroker motor displaces 295cid (4.9L).


How It Was Done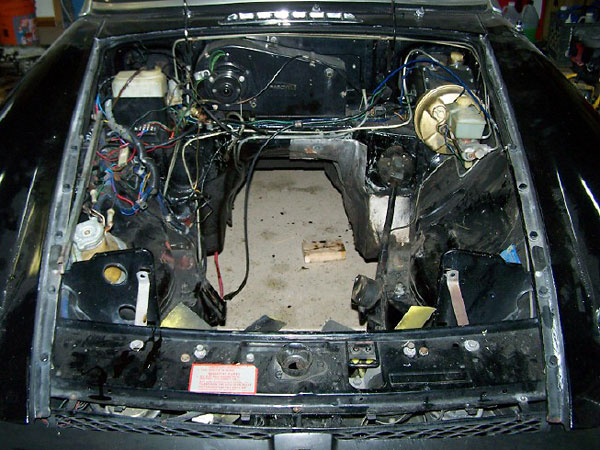 The 1980 MGB-LE engine bay requires only minimal modifications.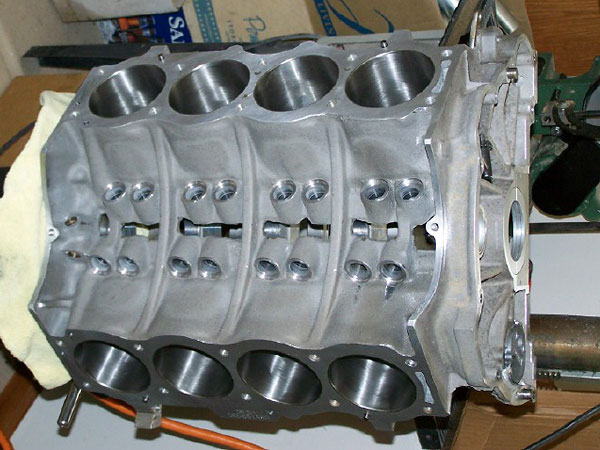 Rover 4.0 engine block.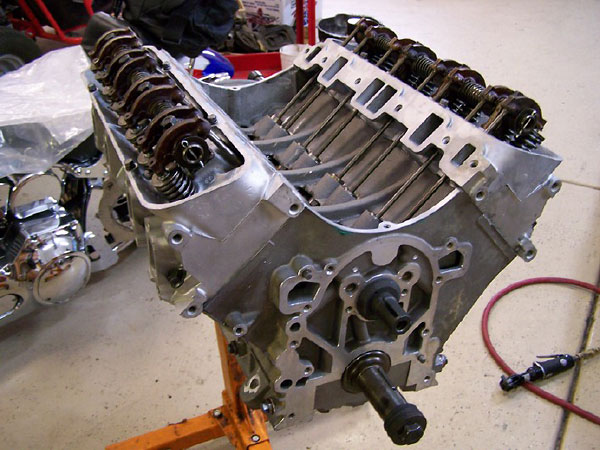 Buick 300 cylinder heads.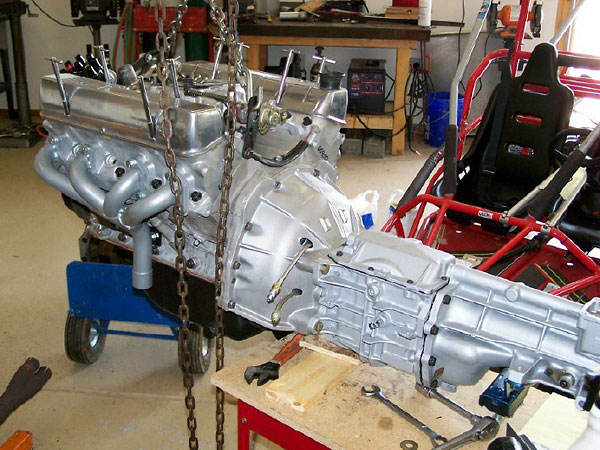 D&D Fabrications bellhousing and block-hugger headers.


Enjoying this article? Our magazine is funded through the generous support of readers like you!
To contribute to our operating budget, please click here and follow the instructions.
(Suggested contribution is twenty bucks per year. Feel free to give more!)
Interior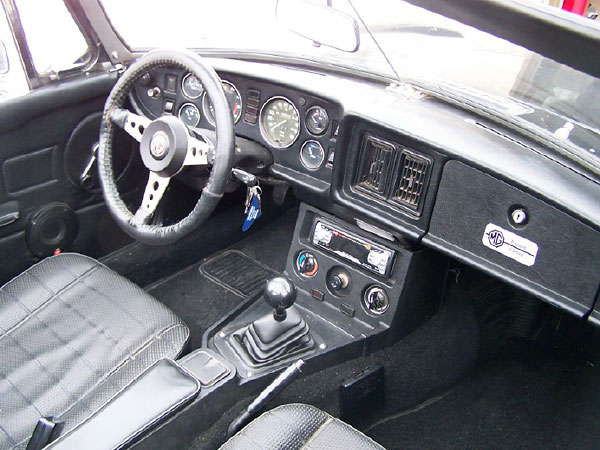 Basically stock interior.


Previous Engine Installation
(as originally published MG V-8 Newsletter, Issue IV, Vol. 1)
Owner: Michael Jelinek
City: Dunkirk MD
Model: 1980 Limited Edition (original owner, 160,000 miles)
Engine: Buick 215
| | |
| --- | --- |
| Engine Mods: | 1963 Buick Skylark 11:1 compression, 200hp, standard overhaul, Offenhauser intake manifold, Holley 390 cfm carburetor, ported exhaust ports, oil system boosted to 60 psi, Mr. Gasket low-profile air cleaner, block and heads hand polished, stainless steel braid over new rubber hoses, remote oil filter. |
| Transmission: | stock MGB. |
| Exhaust: | tube headers, wrapped with heat tape dumping into a single 2.5" owner-built exhaust pipe feeding a single heavily modified MGB "Monza" muffler. |
| Cooling: | MGB V8 radiator. 14" stainless steel flex fan. Stock twin electric radiator fans. Cooling duct. |
| Brakes: | stock, front and rear. Totally rebuilt master and slaves, new shoes, and discs/drums. (The car is so light, upgrade was not felt to be necessary.) |
| Tires/Wheels: | 195/75 x 14 M+S rated Goodyear tires on stock Limited Edition wheels. |
| Front Susp.: | 1" shorter coil springs, stock shock absorbers with heavier viscosity oil, V8 control arm bushings, 3/4" sway bar. |
| Rear Susp.: | stock shock absorbers with heavier viscosity oil, extra leaf in rear springs, new bushings. |
| Rear End: | stock MGB. |
| Instruments: | rewired tachometer, addition of voltmeter. |
| Est. Cost: | $3000 (less car). |
| Notes: | "I wanted a V8 modification which would not be noticeable, as in louvered hoods, scoopes, side pipes, etc. I bought the MGB new in 1980, it was well maintained, and have retained every original part except for tires and paint. It had over 150,000 miles before modification. I was happy with the driving characteristics of the MGB, so with a lighter aluminum block and drivetrain I elected to keep as much of the car as stock as possible, with slight modifications to the suspension to handle the extra power. I am often asked why I haven't blown the rear end, and I reply, "I am not 17 years old anymore." The car handles like a dream and gets over 23 miles per gallon on the highway. |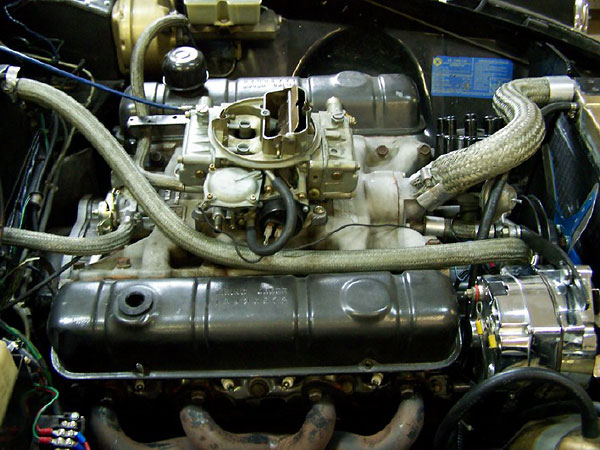 Previous engine conversion: Buick 215.