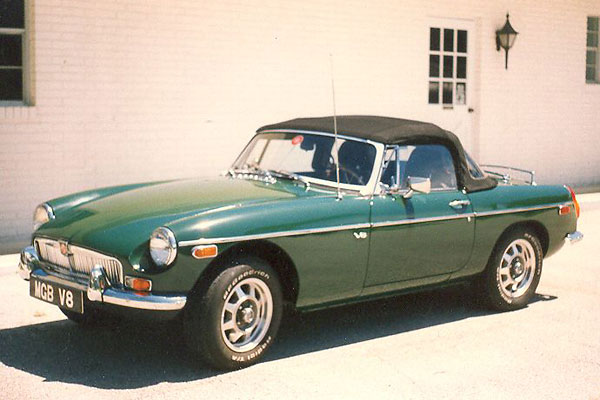 Michael Young's Oldsmobile 215 Aluminum V8 powered 79 MGB
as published in British V8 Magazine, Volume XVI Issue 1, May 2008

Owner: Michael Young
City: Vero Beach, FL
Model: 1979 MGB
Engine: Oldsmobile 215cid aluminum V8
Conversion by: owner
Engine:
Oldsmobile 215cid aluminum V8. Kenne-Bell cam. Offenhauser intake manifold. Carter 500cfm 4 barrel carburetor.

Ignition:
GM Single wire alternator, stock MGB wiring

Cooling:
MGB V8 Radiator, stock MGB cooling fans.

Exhaust:
"Mike the Pipe" tubular, block-hugger headers with Jet-Hot coating applied to them. Cherry bomb mufflers.

Transmission:
stock MGB 4-speed. MGB V8 clutch on modified 4 cylinder flywheel. Stock MGB prop shaft.

Rear Axle:
stock MGB (with 3.909:1 final drive ratio.)

Suspension:
(front) lowered 1". Tube shock conversion,
(rear) lowered. Tube shock conversion.

Brakes:
stock MGB.

Wheels/Tires:
Toyota Supra alloy wheels. BF Goodrich Radial T/A tires.

Body:
chrome bumper converstion and chrome grille to match.

Interior:
new interior trim in black with red piping. MGOC velour seat upholstery. Mohair convertible top from MGOC.

Completed:
February 1996. Driven about 5000 miles before sale.

Performance:
The project took about 5 years from start to finish; available funds controlled the pace of the project.

The chassis modifications were done while the car was a daily driver, I then tore the car down to a rolling chassis before changing the body color from brown to British racing green. The rubber bumper brackets were removed and adjustments made to the front fenders to take the earlier style side lights. I decided to keep the later side marker lights for safety purposes. Factory chrome bumper brackets were attached to the front box sections. Nuts were taped to a wrench and slid inside the tubes for locking the bracket bolts.

The original motivation for this project came when I obtained a how-to-do-it manual from MG-PLUS in Vancouver Washington. They had a small ad in a magazine. (It might have been Car & Driver.) I read this book through many times until I could convert the car in my thoughts. This was my Bible for the swap.

After searching for a suitable engine for about two years, I was ready to change my plans and install a V6. I revisited a local Fort Pierce wrecking yard to enquire about V6's. This time an older guy was in charge and when I asked him about Buick Specials or Olds F-85's his reply was to look down on the right, 3 rows back. Well, for $50 I got a complete motor minus intake, distributor and water pump. It was seized but it was covered in oil and not corroded.

I got it home and stripped it, because the intake was missing along with the hood, water had got into the cylinders and rusted the piston rings. Nothing serious, it all cleaned up OK. My father, a tool an die maker measured everything with a micrometer and declared that everything was well within tolerance. No wear, must have been a low mileage engine. I always wondered why.

All the engine parts were professionally cleaned and looked wonderful when they came back. Now I had to source parts. The rings, bearings and gaskets came from J.C Whitney. The water pump from NAPA. I bought a bunch of pulleys from the same wrecking yard for 10 bucks.

At the time I did the conversion, Kenne Bell were the de-facto Buick tuning company. I purchased their recommended 215 cam (KB Mk. 1). D&D provided timing chain, Carter 500cfm carburetor, lifters and Offenhauser valve covers. The Offenhauser manifold came from a speed shop in Cocoa Beach.

The engine build up was very straightforward. (See pictures below.)

The key to whole project was The V8 Conversion Company in the UK. They had the goodies like adapter plates and engine mounts. I ended up adapting the Olds engine to the MGB four speed with an adapter plate. This also allowed me to use the stock starter motor. The alternator bracket in the pictures on the crane was a mock up; I eventually mounted the alternator on the right side of the engine. I used a factory remote filter adapter base as it was impossible to use the stock Olds/Buick 215 filter because of crossmember interference. I mounted my remote filter on the inner fender.

The exhaust headers came from the UK and were manufactured by "Mike the Pipe". I had them Jet Hot Coated both for looks and corrosion protection.

Cooling was taken care of with an MGB V8 radiator, stock MGB twin cooling fans, and a thermostatic electrical switch mounted on the top radiator hose. In the time I ran the car in Florida I never saw any really high temperatures.

The clutch assembly was a factory V8 pressure and driven plate, the stock B flywheel was machined to accept the clutch plate springs and mated to the Olds crankshaft via an adapter. An MGB V8 clutch slave cylinder was also used.

I had always admired the alloy wheels on the Toyota Supra. They were somewhat similar in looks to the early MGB steel wheels. I got a set real cheap from a wrecking yard that specialized in wheels. Tires were BF Goodrich Radial T/A.

The next part of the conversion never occurred. I planned to switch the rear end to a Ford 8 inch... but I fell in love with a very ratty looking Formula Ford race car. I vowed never to sell my MBG V8, but reality and cash flow won and the V8 was sold to a new owner in Georgia. He had admitted that he had looked at the cost of doing the conversion and compared it with my price. Well, he got the car and I got the Formula Ford.

I am writing this article in 2008. I have obtained a beautiful 1969 MGB GT and I'm going to bring it up to date to make it a comfortable highway driver with power and handling.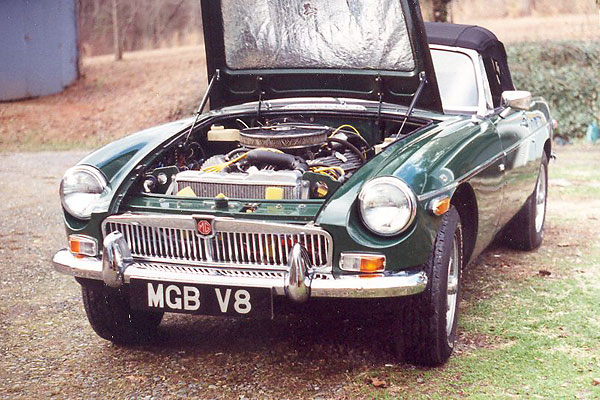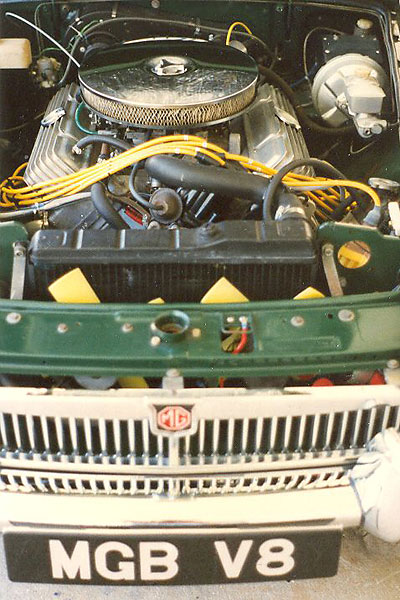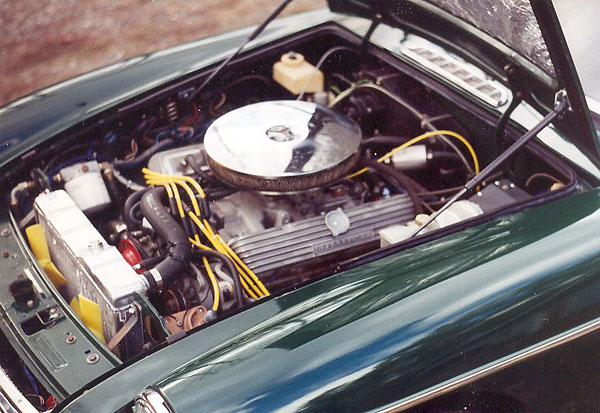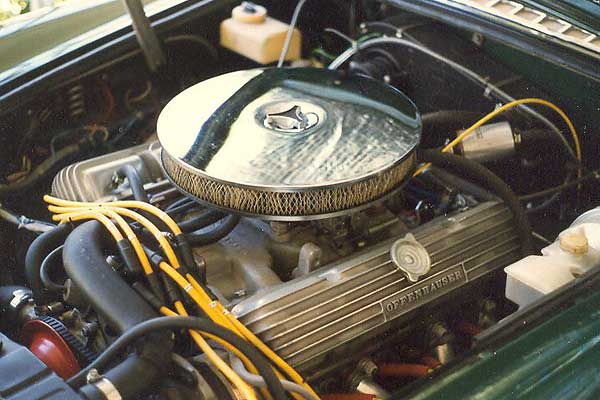 Offenhauser intake manifold and Carter 500cfm 4-barrel carburetor.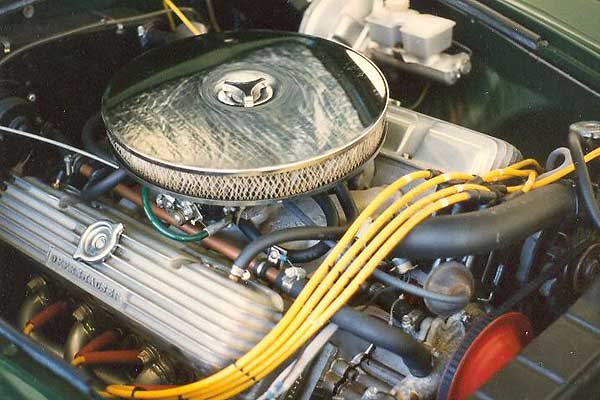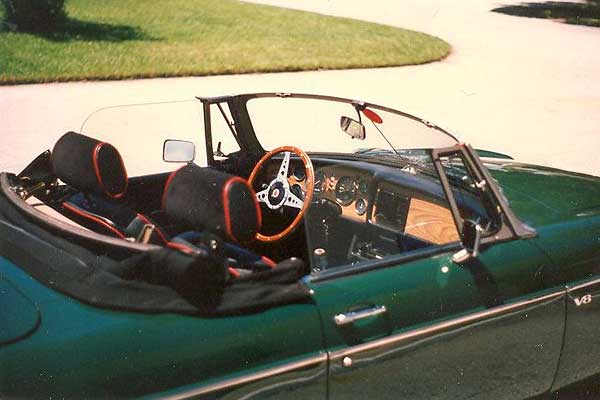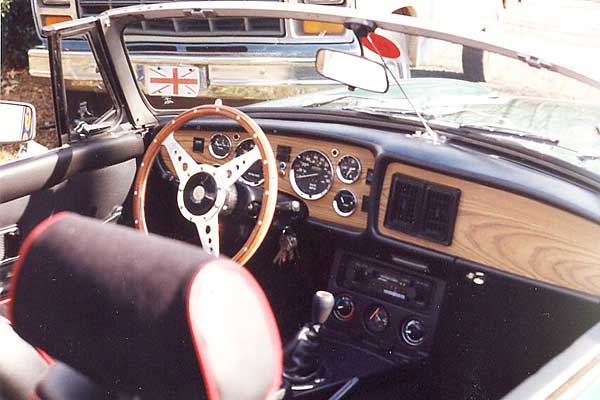 Enjoying this article? Our magazine is funded through the generous support of readers like you!
To contribute to our operating budget, please click here and follow the instructions.
(Suggested contribution is twenty bucks per year. Feel free to give more!)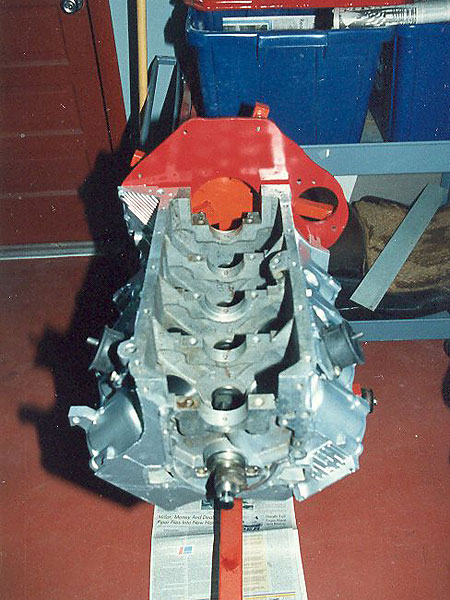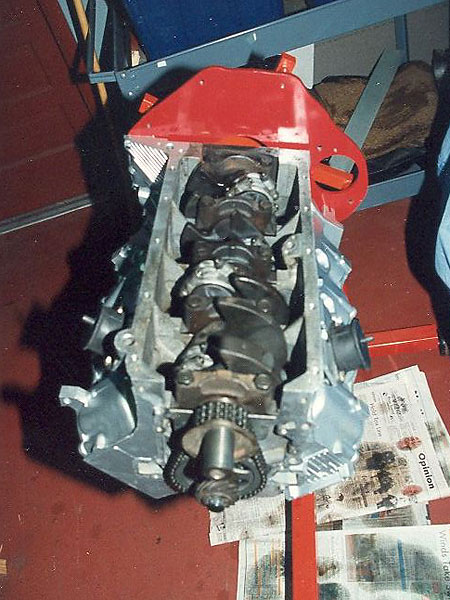 Adapter plate for MG 4-speed provided by The V8 Conversion Company in the UK.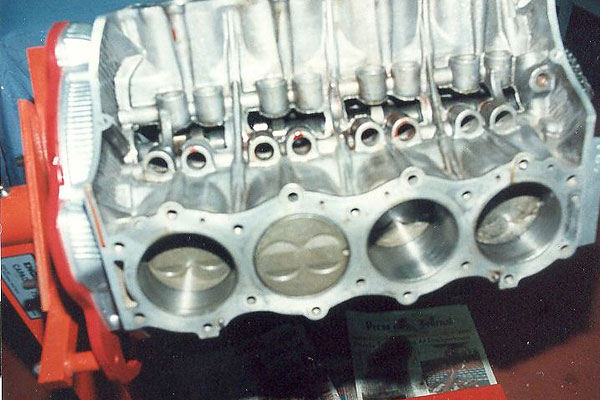 This is what Olds 215 pistons look like. Buick or Rover pistons would have "dished" tops.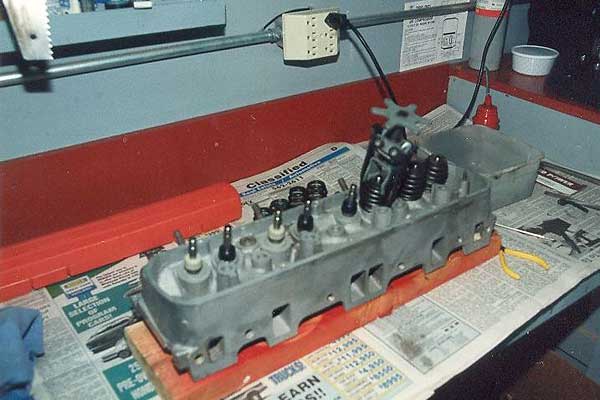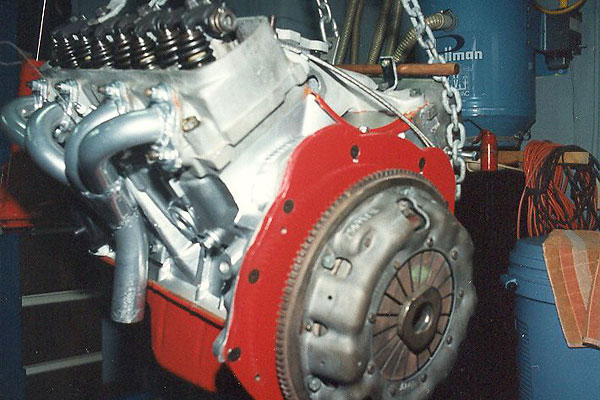 MGB V8 clutch on modified MGB 4-cylinder flywheel.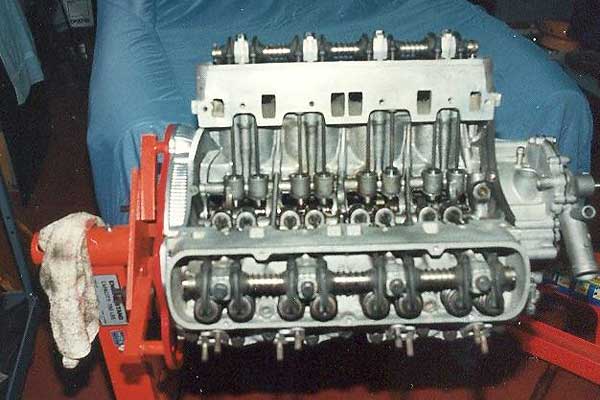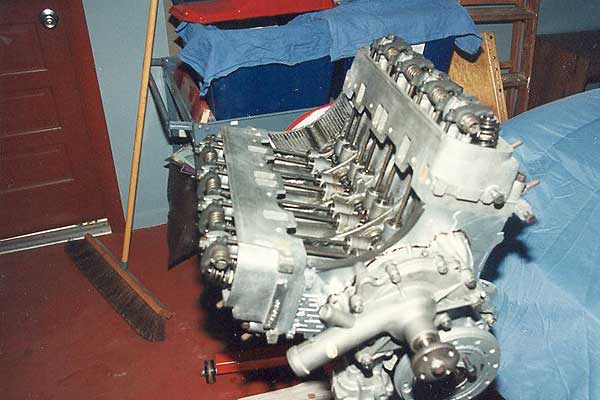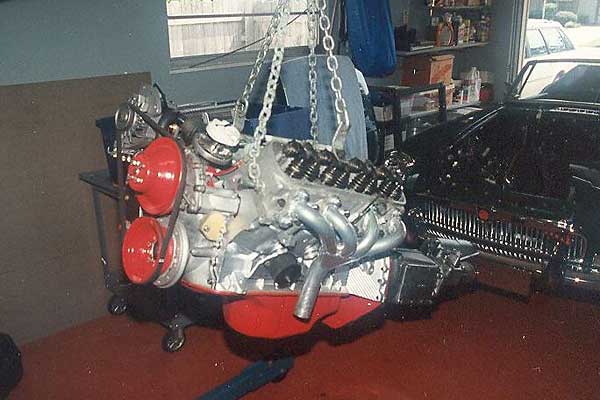 "Mike the Pipe" tubular, block-hugger headers with Jet-Hot coating applied to them.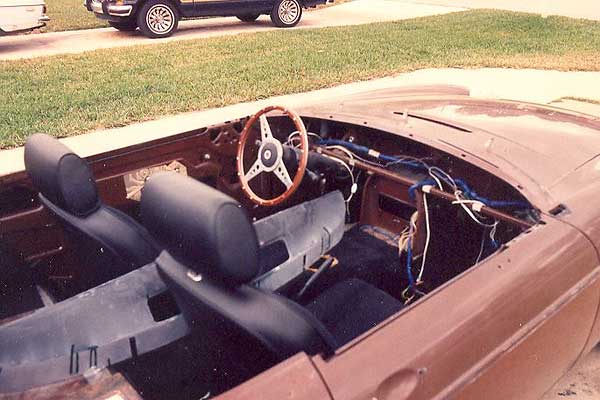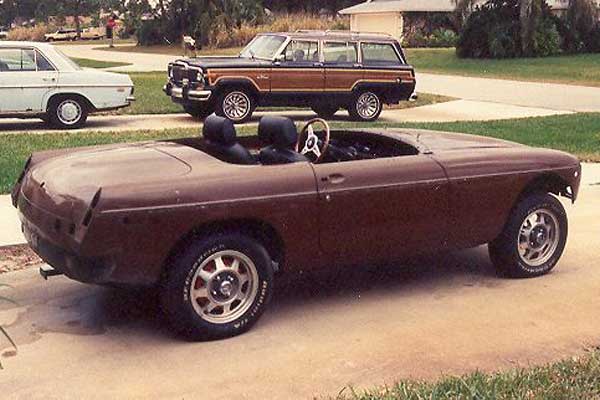 Toyota Supra alloy wheels. BF Goodrich Radial T/A tires.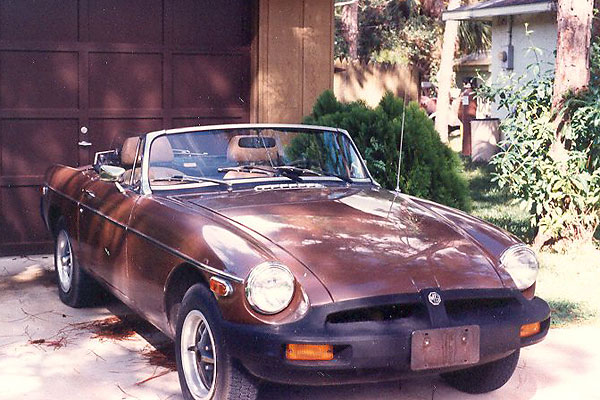 "The Before Picture"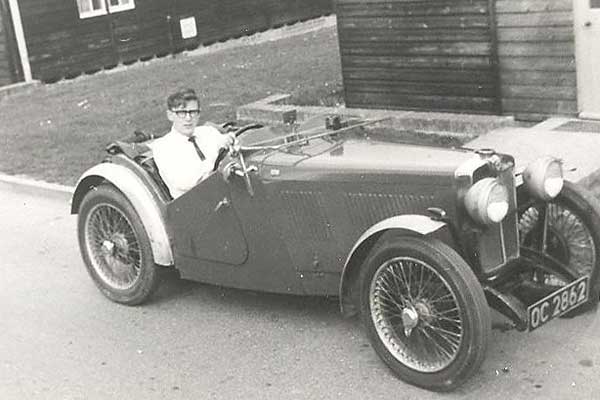 "The Way Before Picture" - My first MG was a 1932 MG J2 Midget. This photo of it was taken in 1965.
(The J2 Midget had a two bearing crankshaft, Bowden-cable brakes, and a top speed of 65mph!)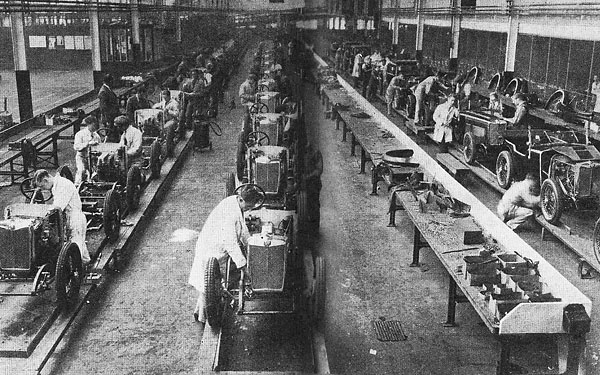 Small Sporting Cars for the British Public: The Popular M.G. Car in the Course of Assembly
Scene in the M.G. works showing M.G. cars on the assembly lines. When all the components have
been fitted to the chassis they pass on to the body assembly line (right) where bodies, mudguards,
windscreens, etc. are bolted into place. The illustrations give a good idea of the well-arranged and
orderly methods of mass production as applied to motor car manufacture. Note the spaciousness
of the workshops, the lack of crowding, and the apparently leisurely manner in which the
mechanics carry out their various jobs. Each operation however is carefully timed.
(Extracted from tattered vintage book entitled "How Motor Cars Are Made" - author unknown.)