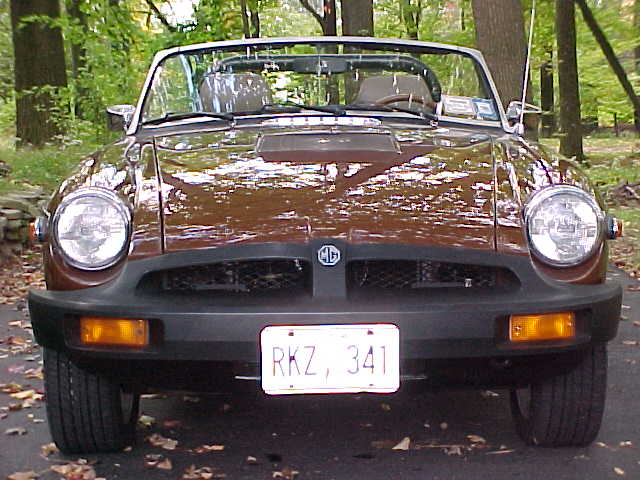 Michael's MGB, with Oldsmobile 215cid V8 and Nitrous
(This car was originally featured in Volume XI Issue 3, September 2003.)
Juiced Stroker Motor
By: Kurt Schley
Dan LaGrou of D&D Fabrications recently completed another of his specialty stroker motors. This one is a 269" stroker engine destined for Mike Domanowski's MGB V8. (Actually, the MGB is owned by Mike's wife, Amy Sue.) Mike is currently running a stock displacement Olds 215 with nitrous. When the stroker motor replaces the stocker, the nitrous system will be transplanted to the new motor. Hence the stroker motor was equipped with APR head studs, replacing the standard bolts, to withstand the cylinder pressure when on the juice. Added insurance is provided by a rare '62 - 63 Oldsmobile Jetfire (turbocharged) block. The Jetfire block has main bearing caps which are beefier than the standard 215 versions and the 12-point bolts securing the caps top the blocks were also a factory upgrade.
Of special interest are the Olds 10.25:1 compression heads. The heads have received extensive porting and rework, with huge 1.00" x 1.75" intake ports and 1.10" x 1.60" exhausts. The heads were originally built and modified for use on a racing marine engine, but the boat never hit the water. The large ports will help immensely with feeding the stroker engine, as the 215 engines are historically head restricted insofar as making big HP.
Amy Sue's MG also has several other upgrades including a Ford/Currie 9 inch rear end sporting 3.00:1 final drive ratio and Ford Explorer rear disc brakes. A Griffin custom aluminum radiator, designed by M&G Vintage and Mike, does cooling duty. A Master Power brake system (dual master cylinder & booster) replaced the stock system. Spark is handled by an MSD billet distributor and 6AL control box. The current rev limiter is set for 6000, but Dan LaGrou advises that the new motor will withstand 7500 rpm.
The nitrous system is a NOS Sportsman Fogger installation and fabrication by Jeff at Action Cycle. Jeff also did the nitrous system on Mike's 1980 Kawasaki KZ1300 bike. The system incorporates direct injection into each individual runner on the intake manifold. The NOS system is capable of delivering a 300 HP shot to the engine, but Mike has been running only an 80 HP shot on the almost stock Olds 215 currently in the car. The current engine has had some head work done, but not nearly as much as in the new engine. Along with the new engine, Amy Sue's "B" will get a T5 World Class 5-speed transmission, also sourced from D&D Fabrications. The new motor and transmission are scheduled for installation soon, and Mike and Amy Sue are hoping for 500+ HP to the rear wheels. Look for an updated status report after the car and engine have a few miles on them.
Engine Specifications
Displacement:
269cid
Bore:
3.530"
Stroke:
3.4" (Buick 300 crankshaft)
Block:
Olds Jetfire
Heads:
Olds -829
Piston:
TRW2492-F
Deck Height:
0.000"
Chamber Volume:
41cc
Compression Height:
1.580"
Compression ratio:
10.3:1
Intake valve:
1.625"
Exhaust Valve:
1.425"
Valve Spring:
D&D 813
Lifter:
D&D 896
Camshaft:
Crower 50232
Head gasket:
0.040" composite
Con Rod:
Eagle EAGCRS570053D (5.70" length)
Rings:
Hastings 2M5650 +.030"
Rocker Arms:
Stock Olds 215
Flywheel:
D&D 467025
Pressure Plate:
D&D 360700
Clutch Disc:
D&D 26027