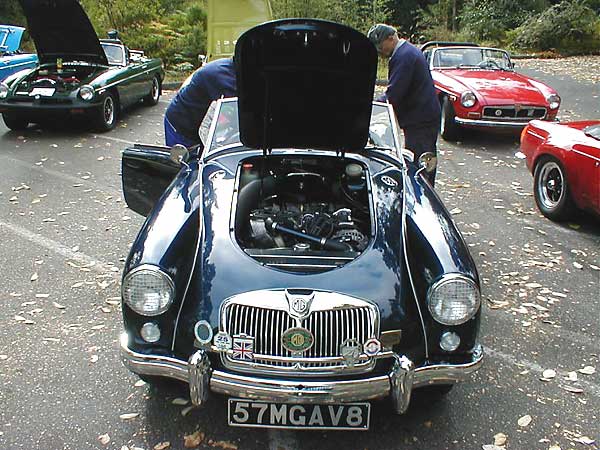 Lyle Jacobson's 1957 MGA with a Buick 215cid V8
(originally published in British V8 Newsletter, Volume 10 Issue 2)
Owner: Lyle Jacobson
City: Sedro-Wooley, WA
Model: 1957 MGA
Engine: 1962 Buick 215
Conversion performed by: Owner
Engine:
9.0:1 compression, ported heads, stock Rochester 4bbl carburetor, mild cam. One piece oil seal, high volume oil pump, enlarged oil passages in the engine block. Modified oil pan to hold 5.5 quarts of oil, adjustable swing away oil filter adapter. Double roller timing chain, short shaft water pump. Custom made air cleaner to clear under the hood. Pertronix Ignitor ignition, 40,000 Volt Flame Thrower coil.

Cooling:
Custom made aluminum radiator by Ron Davis Racing, 20" high x 19" wide x 3" thick (see mock-up photo.) 3000cfm electric puller fan.

Exhaust:
Block-hugger headers with high temperature coating, 2" duals, glass packs with resonator tips, cross-over pipe.

Transmission:
Borg-Warner T5 5-speed with 0.63:1 fifth gear.

Bellhousing:
Aftermarket aluminum bellhousing from D&D Fabrications.

Clutch:
10" D&D Fabrications clutch, operated by a hydraulic throw-out bearing (D&D Fabrications 1400/1420). Stock Olds 215 flywheel.

Rear axle:
Stock MGB (3.909:1)

Front susp.:
MGB with MGA steering rack rolled down to clear headers, stock MGA steering column, shortened and three extra U-joints and bearings added.

Rear susp.:
Stock MGA springs and shocks.

Brakes:
Stock MGB (front and rear).

Wheels/Tires:
165R15 tires on Moss Minilite-replica wheels

Instruments:
VDO white faced gauges.

Interior:
Stock MGA except custom made walnut dash.

Body:
MGA fuel tank centered to facilitate dual exhaust.

Chassis:
Removed the front round crossmember that ran under the stock clutch housing. After the engine was in its final location, relocated and welded it back in.
Removed the cross bar at the front of the heater shelf. Removed the diagonal supports that run from the shock mounting area to the heater shelf. Shortened these to clear the headers and welded back in.
Modified the inner fenders to clear the headers and allow better air flow. Cut out 2 to 3 inches of sheet metal at the bottom of the inner fenders by the headers. This allowed for better airflow when the car is going over 35mph but doesn't help much in stop and go.
Cut the front frame extension assembly and widened it to clear the bottom of the radiator. Cut the radiator duct panel forward (about 4.5") to clear the radiator and the electric puller fan.
Cut the floorboard brackets near the tunnel, fabricate, relocate and weld in new brackets when fitting up the engine and tranny.
Widened the stock tunnel to clear the tranny.
Rolled the steering rack down toward the rear of the car. Cut a notch in the frame crossmember and welded in a piece of sheet metal to fill in the notch.

Tips:
Don't cut up a good MGA. I restored mine from two junk and very rusty parts cars.


Pictures from 2002 ABFM in Bellevue, WA: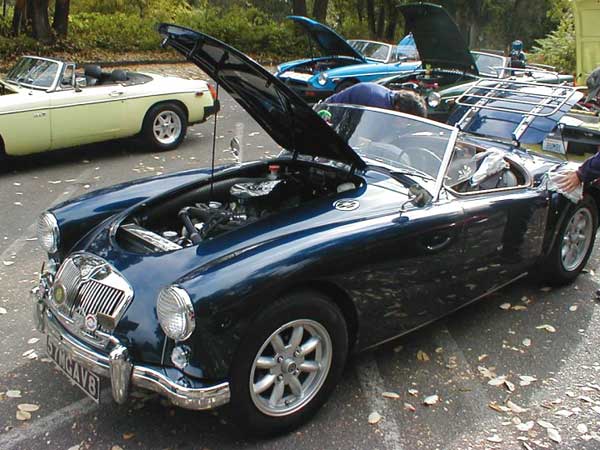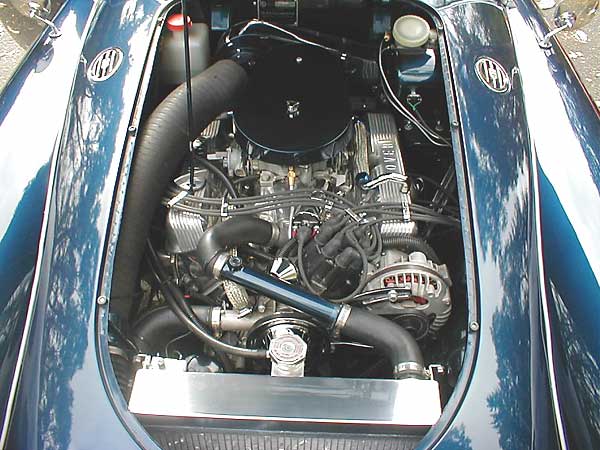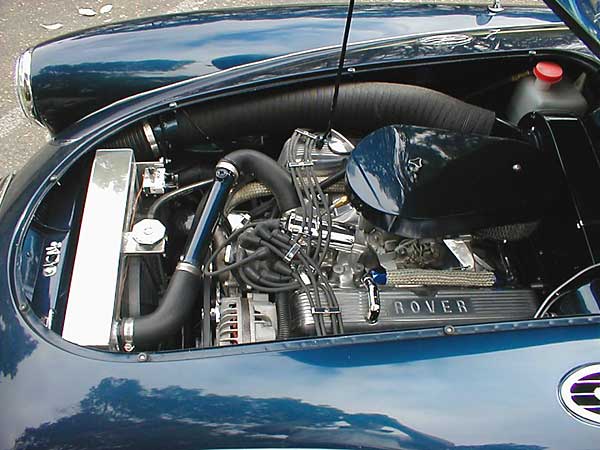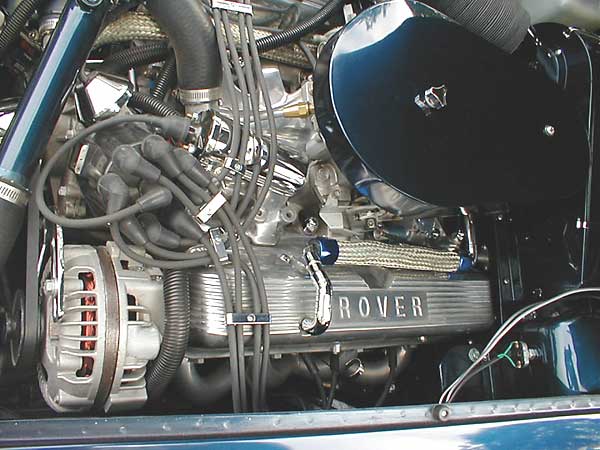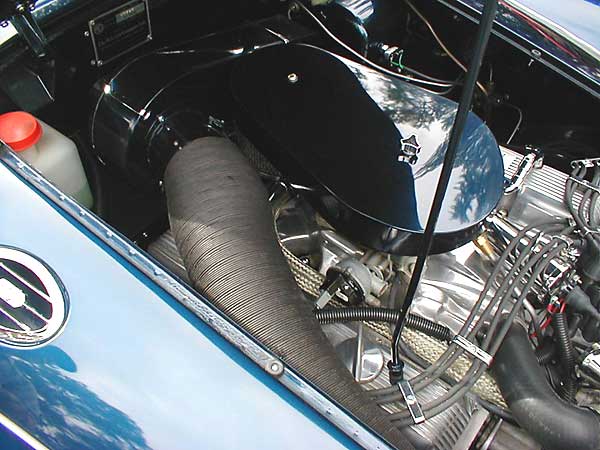 Polished intake and original carburetor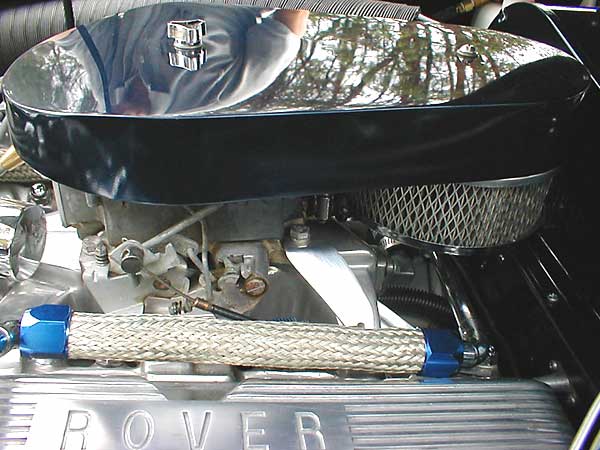 Custom air cleaner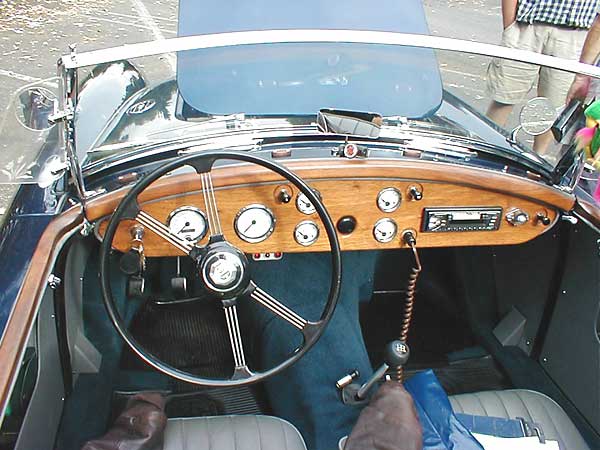 Pictures sent in by Bill Jacobson: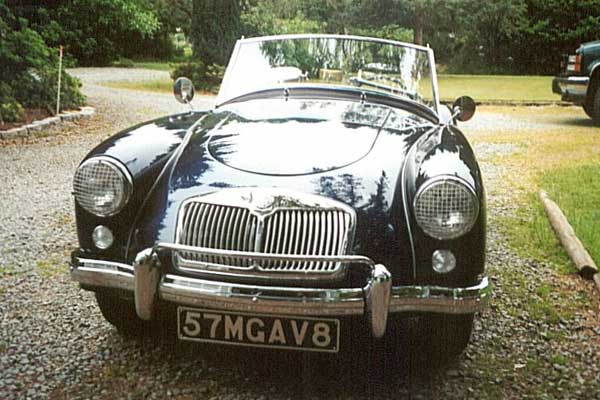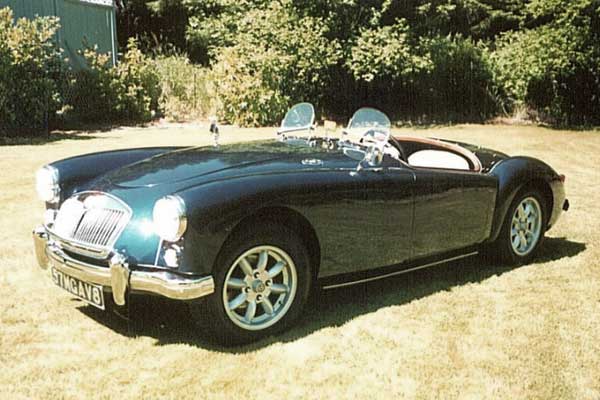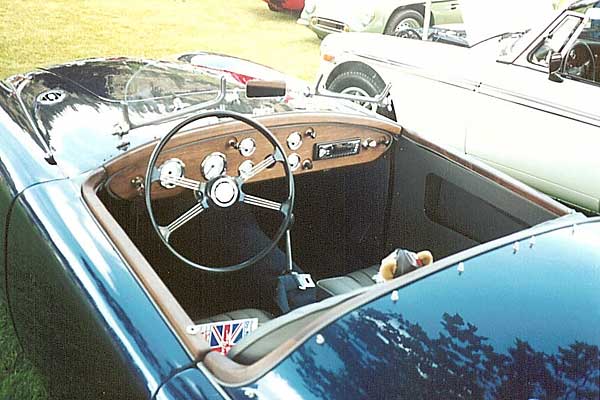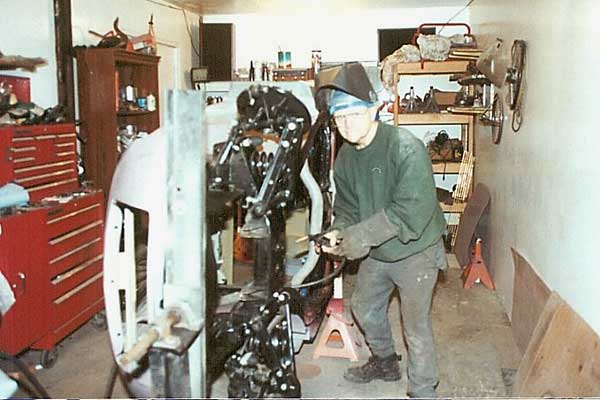 The man behind the beauty.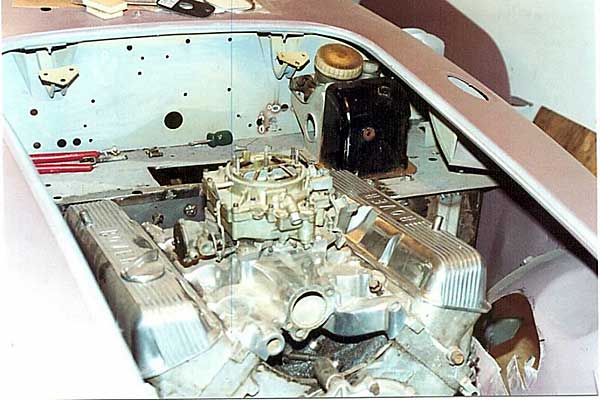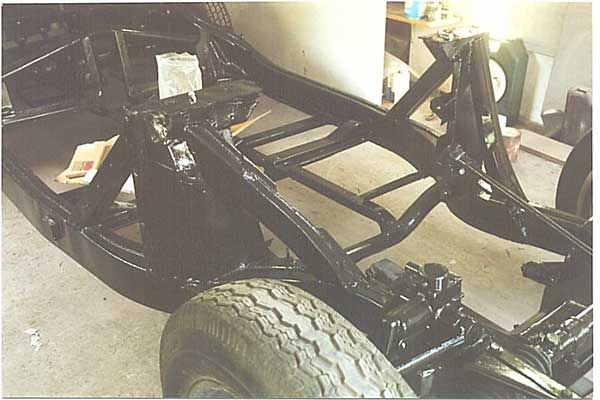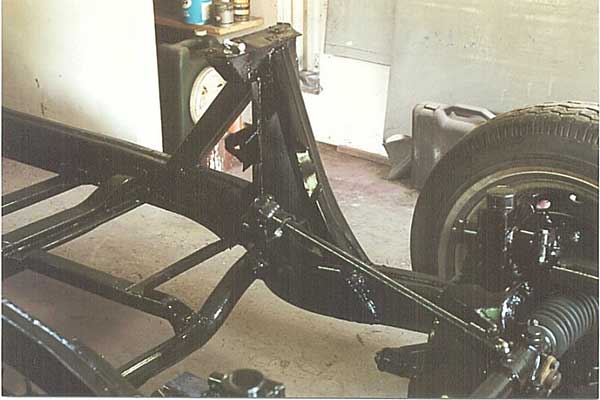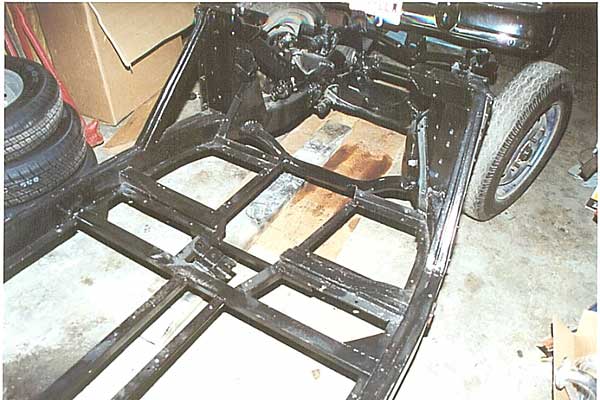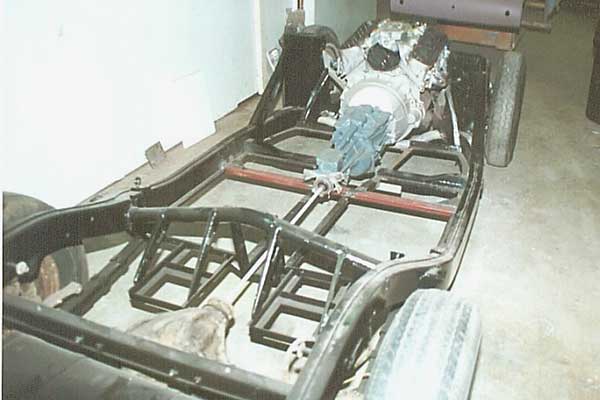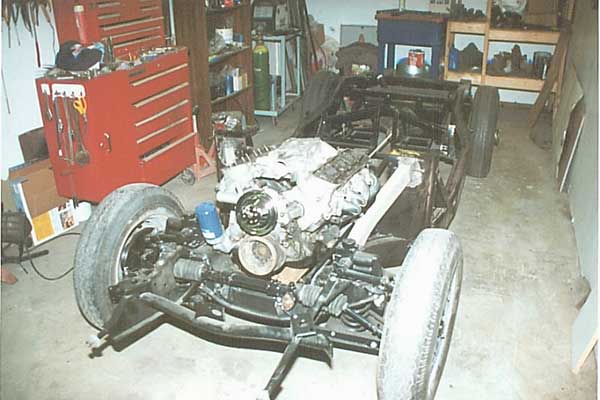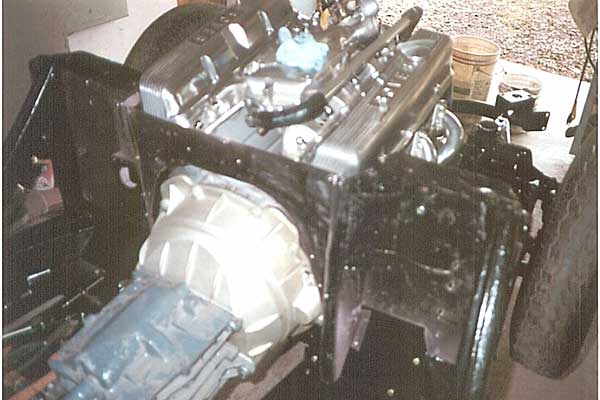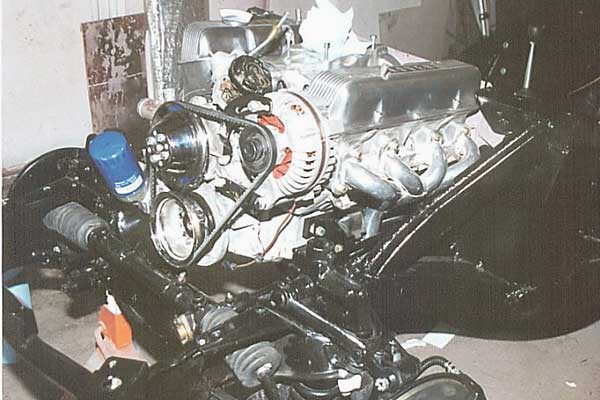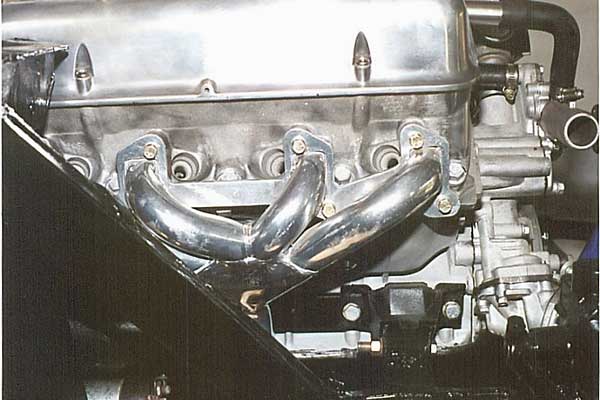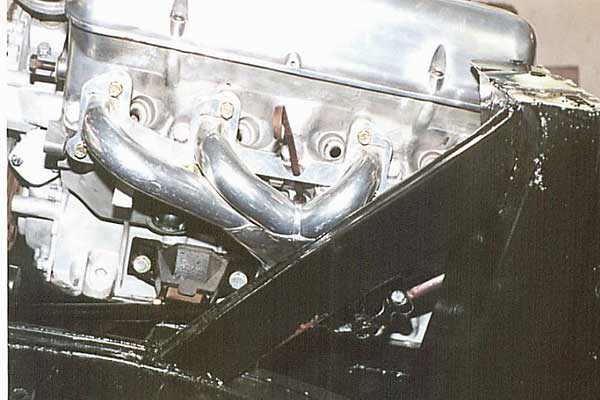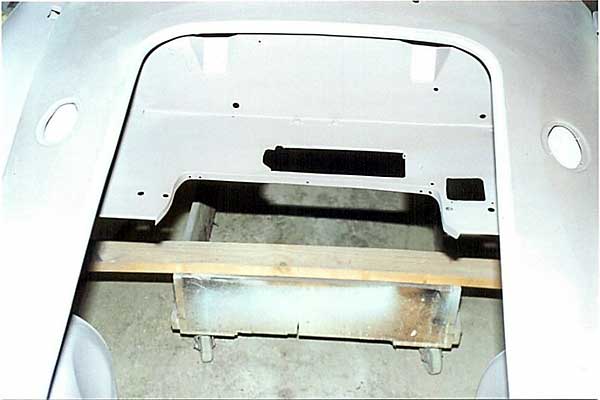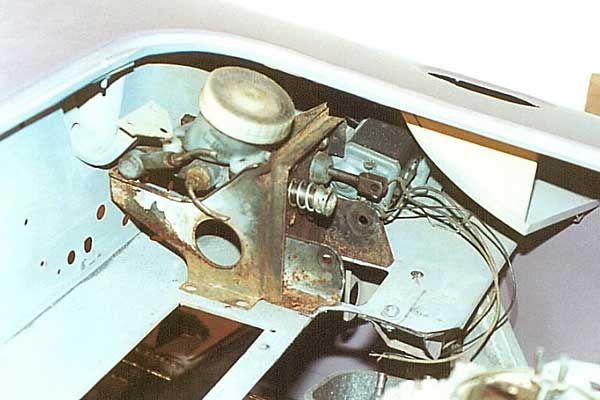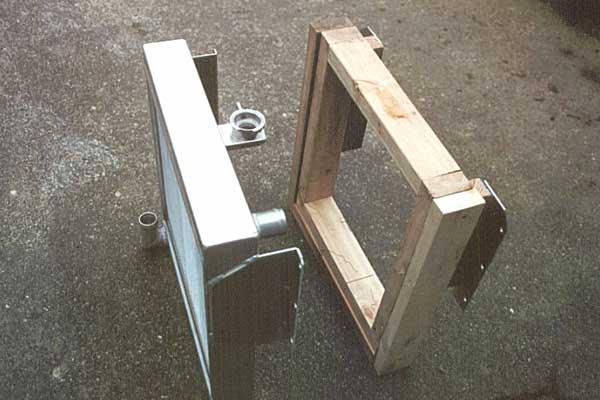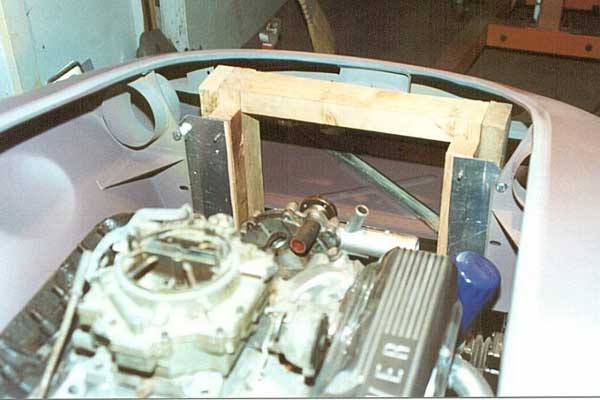 Wood radiator mock-up