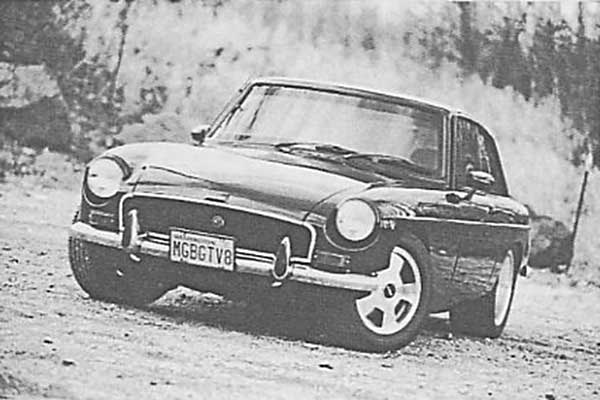 345 H.P. MGB Outruns Porsche Turbo Carreras at Portland International Raceway: Les Anderson's fantastic GT.

Les Anderson's 1970 MGB/GT with Chevrolet 350 V8
by Kurt Schley
(originally published in MG-V-8 Newsletter, Volume 4 Issue 1)

Owner: Les Anderson
City: Vancouver, WA
Model: 1970 MGB/GT
Engine: Chevrolet 350 V8


| | |
| --- | --- |
| Engine: | 1993 350 H.O. (high output) "crate motor" (ZZ3), 345 HP |
| Transmission: | 1993 GM TH700R4 automatic, 4 speed + 1 (electric lockup), from Chevy van, shift kit for crisp 1-2 shift, changed shift point to 5500 rpm under w.o.t., new driveline with all new u-joints. |
| Flywheel: | stock GM flexplate. |
| Exhaust: | Sanderson cast-iron headers. |
| Brakes: | Rear - Mopar 11" drums. Took some of the braking material off to reduce over-braking in back. Installed driver-adjustable proportioning valve in cockpit. Used aftermarket CFC dual master cylinder, non-booster system. Front discs are stock. |
| Flywheel: | stock GM flexplate. |
| Tires/Wheels: | wanted 15" wheels/tires with 4.5" bolt circle lugs, so relocated lugs on Mopar axles to match MG front pattern. Eagle "Hammer Series" 15" x 6" FWD wheels in front with 195-60R15 tires. Eagle "Hammer Series" 15" x 8" RWD wheels in back with 225-50R15 tires. |
| Suspension: | Moss motors coil-over front suspension with Spax shocks. Converted rear to Monroe tube shocks. Lowered car approximately 2". |
| Cooling: | custom tilted radiator flowed for 350 H.O. motor. One electric cooling fan mounted behind radiator, thermostatically controlled. Stock short-shaft 350 Chevy water pump. Cools excellent. |
| Rear End: | Mopar 8.75" 3.55:1 narrowed Positraction unit. |
| Instruments: | cut out main instrument panel and relocated/installed VDO gauges. Replaced panel in stock location. Installed "Vintage Air" heating controls for under-fender heat/defrost. Custom stereo and indicators. |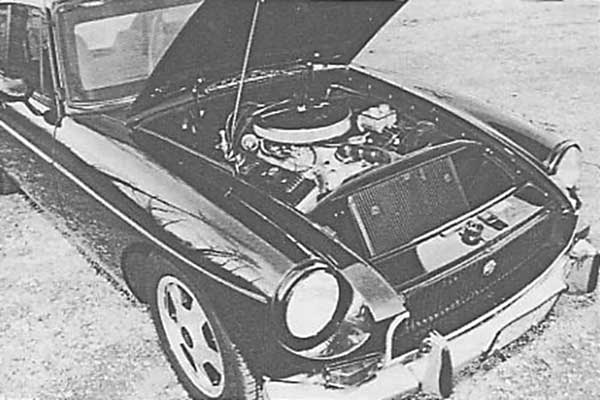 Additional modifications: heater and fan relocated under left front fender for engine clearance. Custom console, handbrake, shift lever,. The underpan was tubbed for large rear wheels. All new fuel tank. Corvair fuel inlet assembly in left rear fender. 1968 Cadillac tilt-telescopic steering column. 1973 dashboard (has glove box). Inflatable spare behind passenger seat. Window tinting. All badges removed. Triumph Spitfire seats. Custom storage area in original battery area. 1993 VW dark green metallic paint with clear coat.
Parts/Info Sources: all parts obtained from readily available dealers and/or recycle yards.
Conversion recommendations: unless you are determined to make your conversion reflect the original MGB/GT V8, I recommend the Chevy small block (283-400 c.i.). Spend the money to make the car correct and safe. I recommend the automatic transmission which avoids dozens of hassles. It works! Take your time, don't rush. Talk to all involved personnel before you move to the next step; get several opinions.
Future changes: if the budget allows, I would replace the MG front steering/brake/hub assembly with an aftermarket unit (JFZ, etc.) properly sized to give better front wheel offset and wheel choices. Better brakes, suspension, etc. comes with it.
Estimated Cost of Conversion (excluding original car): $25,000 due to labor.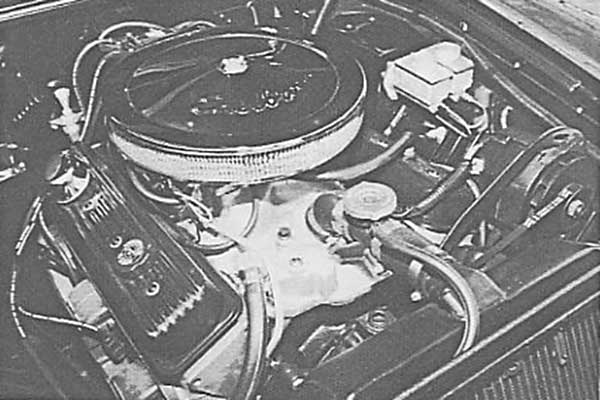 Les wrote:
I have built several MG conversions, utilizing the traditional 215 Buick, a 3.8L Buick V6, a Mazda rotary, and now the 350 High Output Chevrolet. This latest one was built with one goal in mind: since this was to be my personal car, it had to be the best of everything with the finest craftsmanship that I could buy. After spending considerable time designing the project, I decided that the air conditioning and electric windows would be overkill, so these were removed from the list. We would spare no expense to make the car fast, predictable, clean, and above all - safe to drive at any reasonable speed. It also had to pass our local DEQ requirements.
The High Output 350 Chevy motor was selected for several reasons: I had resisted this motor for several years simply because "everyone uses them and I want to be different." However, I now know why everyone uses this motor. It has unlimited horsepower potential, parts are available anywhere in the world, costs for parts are a fraction of everything else, and it is dimensionally only slightly larger than the 215 Buick/Rover V8. Everyone will immediately ask, "What did you do to overcome the huge weight increase?" Not to worry... This motor has a large amount of aluminum components and weighs less than 100 pounds more than the MGB motor it replaces. This, combined with the setback achieved with the removal of the heater assembly gives the driver the feel that it is the same as the MGB in terms of weight distribution, and the horsepower gains are............... well, I'm sure you can imagine!
I recommend the ZZ3 motor (350 High Output "Crate" motor) that you can buy from any Chevrolet dealer in your town. I wrote a check ($2612.50) for mine in Portland Oregon. This is an awesome motor. It is not available in any vehicle, but is manufactured by Chevrolet for the aftermarket enthusiast who doesn't want to build his own motor, but does want high horsepower (345) in a factory built motor that has all the normal hot-rodding tricks done to it and comes with a WARRANTY. The motor is nearly complete when you take it home in your pickup truck. IT has a new HEI ignition, the Corvette aluminum heads, steel crank, "pink" rods, high performance cam, special pistons, plugs are installed, aluminum intake manifold, and has a test-run tag attached. It is even full of oil! All you do is add a carburetor of your choice, a fan if you're going to use one, a set of exhaust manifolds to suit your installation and fire it up.
As you can see from the pictures, the motor looks as if it were born there. The obvious question which inevitably comes up is: "How does it all work?" Let me say this. Of all the cars I have put together, this is the one that gets my juices going every time I step into it, even if it is only to go to the grocery store. The way it looks, the way it sounds, and the overall impression it gives causes people of all ages and genders to stop me wherever I go to tell me what a beautiful ride it is and "Could you please lift the hood for me?" and then comes the... "Oh my God, look at that thing! That thing must absolutely fly!" And I say: "Well, yes, it does."

To put it into perspective from a performance standpoint, I have not run it through the quarter mile, however I am certain that it is somewhere in the 13 second range and could probably do better with a set of slicks. Top speed is well out of my range of willingness to go that fast. I would estimate around 150 or more, however I would not recommend trying it due to aerodynamic problems. Handling is superb and it is a very reliable car. I have had no problems with it whatsoever, other than my Summit Racing mini-starter failed, but they covered it under warranty. (It was defective.)

I did have an unusual opportunity this last weekend to attend the Alpha Romeo Track Day at Portland International Raceway. I was allowed to run it around the 1.9 mile racetrack. You first go around at reduced speed with a professional driver monitoring your abilities, and then slowly you move up the ranks and are allowed to run on your own and/or with other cars of various styles and performance. My thrill was to run with about 25 other cars at the end of the day at full speeds, although for safety, passing was only allowed in the corners. What a thrill!!!! I was dicing it up with the killer Porsches, Alphas, Corvettes, and everything else you could think of, all at the same time. To my surprise, I could keep up with and in some cases pass the Porsche Turbo Carreras. They would get me in the corners, but I had the torque and acceleration to spare. In fact this car wants to run so hard that I found that it shifted INTO OVERDRIVE at above 110 mph and then wanted to run harder, but I chickened out because I saw the first turn coming at me extremely fast. On one run I had a friend videotaping the whole event from inside the car, capturing the sounds and sights of running at high speed. Can't wait to get my copy of the tape!

Well, I could babble on about this car forever. The message I want to leave your readers with is that the 350 Chevy option is probably little or no more expensive than the higher output 215 option, and you end up with a more reliable car with gobs more performance. The parts are a lot less expensive and more readily available and the car is an unending kick in the pants to drive, even with the automatic transmission. A Borg Warner 5 or 6 speed would be great also.

Before I close, I want to give special accolades to my design and building partners at Time Machines Northwest in Vancouver, WA (phone: 360-573-2457) for their outstanding job in preparing this car. Jan Waird and Len Darnell are perfectionists and it is tribute to their craftsmanship that I have had no problems with this car and it has been on the road for two years. Should any of your readers have the capability to provide the basic car (GT or roadster), I would suggest Time Machines NW as the place to have it converted, even with the labor and the shipping costs, as the end products will be worth the extra expense. If interested, readers may call them direct, or you may contact me at MGB-PLUS (8408 NW 15th Court, Vancouver, WA 98665). Best of luck to all of your V8 conversion enthusiasts! Once you get the bug, it never goes away. Build it and enjoy it!

Copyright: 1996 (text and photos). All rights reserved.
Use by written permission from "britishv8.org" only.