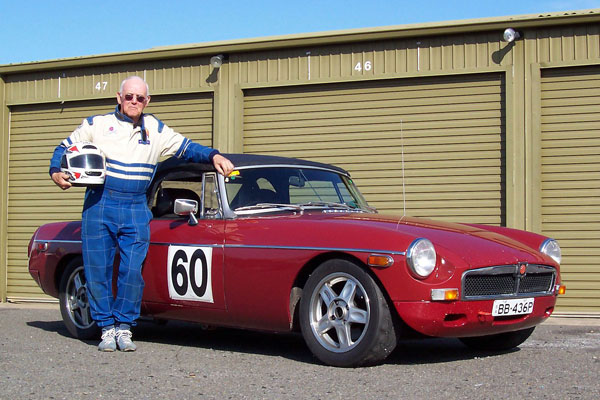 Laurie Houghton's 1973 MGB with Rover 3.9L V8
as published in BritishV8 Magazine, Volume XVII Issue 1, July 2009
Owner: Laurie Houghton
City: Adelaide, South Australia
Model: 1973 MGB
Engine: Rover 3.9L V8
Conversion by: owner
Engine:
Range Rover Discovery 3.9L V8 with 8.1:1 compression ratio. Aftermarket cam, slightly improved from the standard grind (280 degree duration and 0.450" lift.) Deeper baffled Range Rover sump and larger bore oil pick-up pipe. Modified Rover (3.9) intake manifold to fit under the bonnet. Carter lift pump to a fuel surge tank mounted in the RH side battery box. Bosch high pressure EFI fuel pump. EFI injector and ancillary wiring are from a Discovery loom. Haltech F9 programmable electronic fuel injection computer. Standard electronic SDI distributor.

Cooling:
custom aluminium radiator and single electric cooling fan.

Exhaust:
4-into-1 headers exiting through the inner guards. Single collector and 2.5" inch pipes into dual mufflers.

Transmission:
Toyota W58 5-speed with 0.78:1 5th gear. Australian made "Dellow" bell housing. Standard Range Rover clutch and pressure plate. Fork type release. Toyota slave cylinder. Custom built Toyota-to-Ford driveshaft.

Rear Axle:
Ford 8 inch center section with 3.27:1 gears and limited slip differential, married to MGB (Salisbury) tubes. Custom axle shafts.

Front Susp.:
650 lb. lowered competition springs. 7/8" diameter sway bar.

Rear Susp.:
stock MGB roadster springs with Koni telescopic shocks, anti-tramp rods, and a Panhard rod.

Brakes:
Front: BMW Mini Cooper S vented brake rotors (294mm outside diameter by 22mm thick) with Nissan GTR (R33) 4-piston aluminum calipers. (As originally reported in 2009: Peugeot 504 vented 273mm x 20mm rotors with Rover SDI 4-piston calipers.)
Rear: Mitsubishi rotors, used with Nissan R31 calipers. MGB hand brake lever.

Wheels/Tires:
(circuit/hillclimb) Volk Racing 15 x 6.5 wheels with Silverstone 195x55x15 road legal race tyres.
(street) 15 x 6.0 Nissan Silvia wheels.

Chassis:
firewall mods to suit the V8 engine and steering column. Custom fabricated and installed (rubber bumper type) radiator supports and V8 engine mounts. Enlarging radiator "splash panel" area.

Body:
"Sebring style" front and rear "valances".

Interior:
roll hoop and 6-point racing harness for the driver seat. Standard MGB instruments except for a VDO electronic speedometer.

Weight:
1980 pounds.

Performance:
120 KW at the rear wheels. 394NM Torque on 98 octane unleaded pump fuel. The engine is rev-limited at 5400rpm by the computer. At the Philip Island International racing circuit in Victoria I was reaching 5100 rpm in 5th gear on the main straight at the braking point for turn 1, estimated 130mph.

Completed:
January 2008. (Only 200 - 250 miles driven so far, since it's only used at competition events.)

Comments:
I started with a 1973 MGB, imported from California in 1993. Having the engine low in the engine bay introduced a problem with the steering column: the original collapsible part under the dash had to be shortened, a new firewall "pocket" made and welded-in and a rubber bumper long shaft rack installed. There is still very little clearance between the steering shaft and the rear extractor from #8 cylinder. In hindsight I would have angled the steering column lower and altered the angle of the steering rack mounts. This would have meant modifying the RH engine mount. Other than that, it's pretty much a breeze.

I already had the 5 speed Toyota gearbox behind the 4 cylinder engine, so I used it for the V8 too. My preference would have been a Tremec T5 with the 2.95:1 first gear, which would be better for hillclimbing, but that's the only reason.

My next project is fitting 20mm larger diameter front rotors from the Cooper-spec BMW Mini, Nissan 300 ZX 4 piston callipers, (much lighter than the Rover 4-pots) or AP if I can afford them, and twin brake master cylinders with bias-bar adjustment. (I'm currently using the original dual circuit master cylinder with a Tilton proportioning valve on the rear brake circuit.)

The low compression engine was supplied here in OZ for some Rover Discoverys. Maybe one day when the engine needs an overhaul, I'll fit high compression pistons to raise the compression. When I had the 2-litre 4-cylinder, there was always something to fix! When I installed the 3.9, I wanted a trouble-free engine. The performance improvement over the 4-cylinder is still tremendous.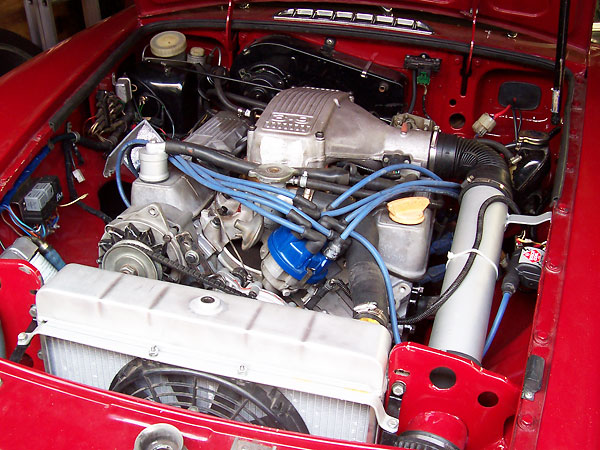 The Haltech programmable fuel injection system doesn't require a hot-wire airflow sensor.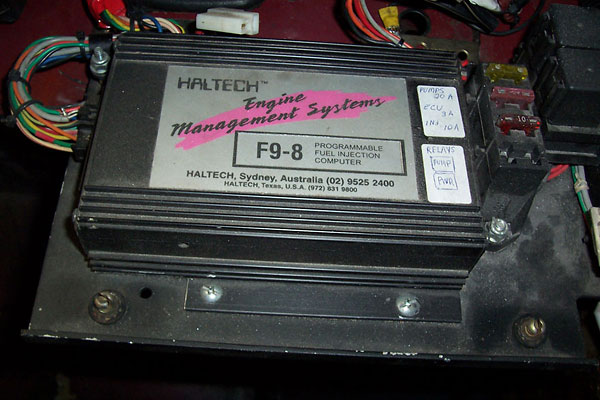 The Haltech EFI control unit is mounted on a drop down panel under the glove box. You can see
the multi-pin connector by the rubber firewall plug in the engine bay photo above. The MAP
sensor is to the left of it (by the bonnet hinge) next to the heater, which is not connected.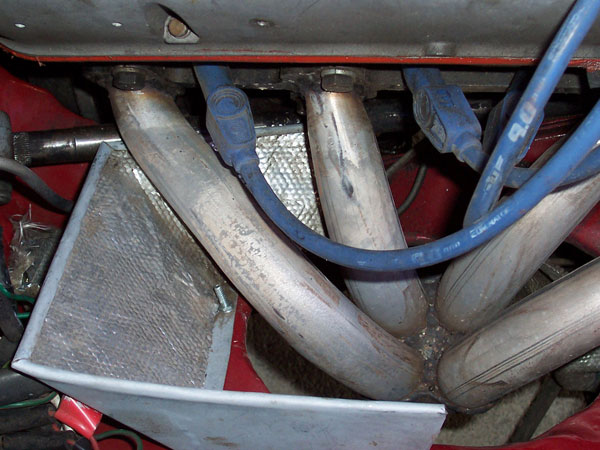 Installing "RV8 style" through-the-wing headers has the additional benefit of venting hot air from
the engine compartment. Heat shields help to keep the pedal box and brake system cool.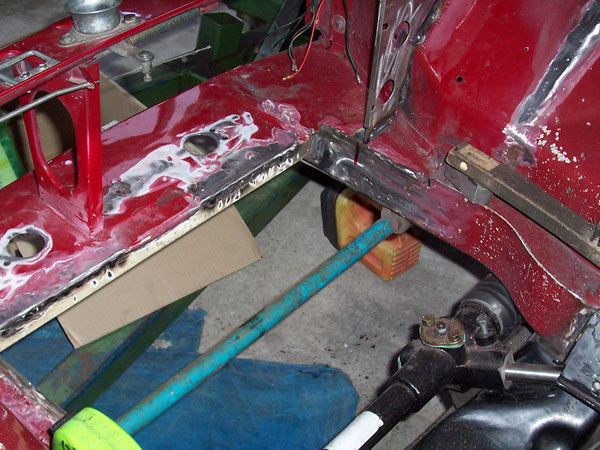 This photo shows body modifications required when relocating the radiator forward of the anti-sway bar.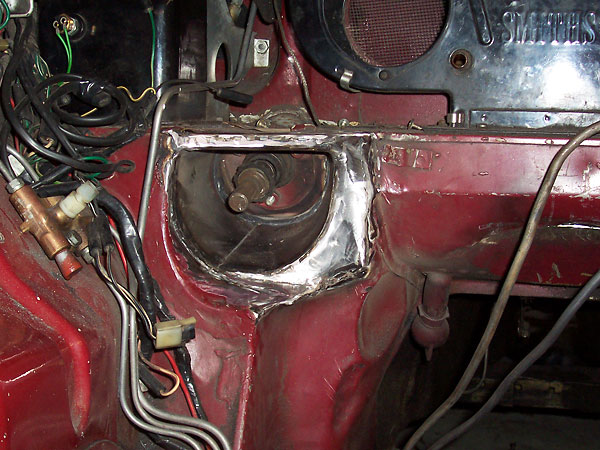 To accomodate a very low mounting of the engine, I shortened the collapsible part of the steering
column (under the dashboard) and rebuilt the firewall "pocket". A rubber-bumper (longer) steering
rack was installed to relocate the u-joint rearward and create clearance at the #8 cylinder.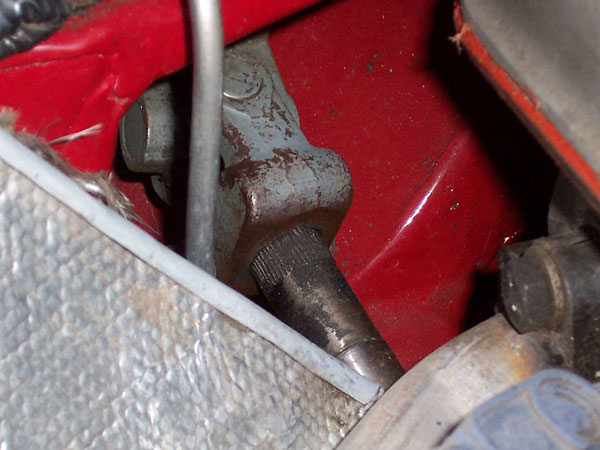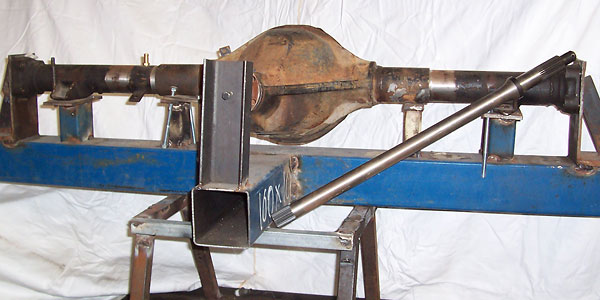 Ford 8 inch center and limited slip differential, married to MGB (Salisbury) tubes.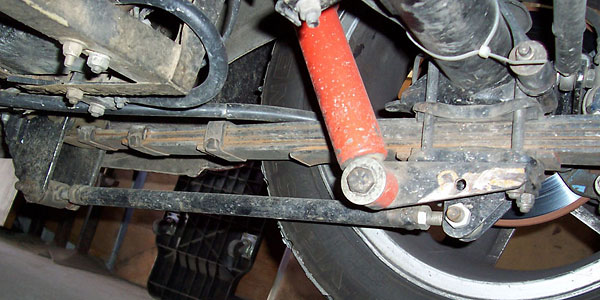 Anti-tramp bar and telescoping shock.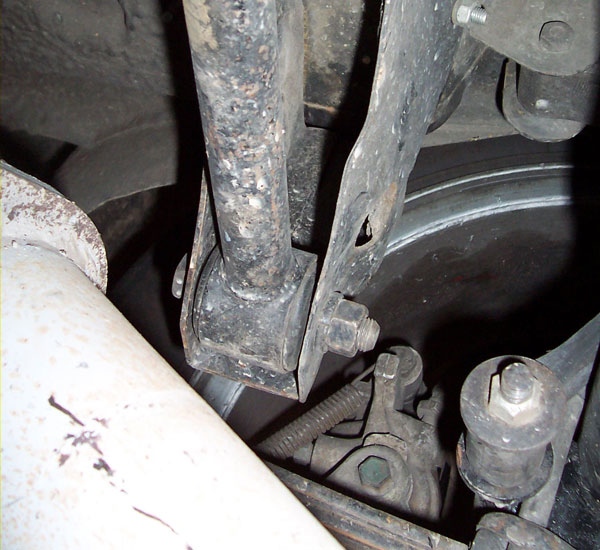 Panhard rod mount.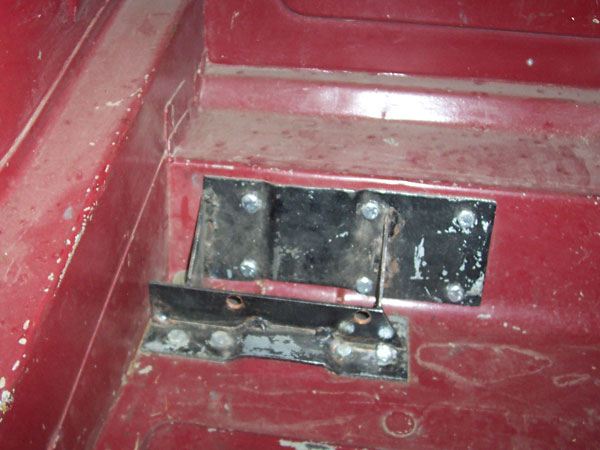 Reinforcements in the boot floor for the Panhard rod installation.


2010 Updates
Since originally appearing in a "How It Was Done" article, I have uprated my front brakes again. The latest improvement includes fitment of 294mm OD x 22mm thick vented rotors from the BMW Mini Cooper S brake upgrade and Nissan GTR (R33) 4-piston aluminum calipers and stainless steel braided brake lines. This all just fits inside 15 X 6.5 Volk Racing wheels. I'm using Hawk HP+ pads. The braking effect is now spectacular.

All this comes with a price, I have had anti-tramp bars on the car for some time and now have uncovered the downside of a big torque engine and flimsy rear forward spring mounts. The torque force pushing the tramp bar forward have produced serious sheetmetal failure in the floor pan and in the front spring mount. MG obviously recognised weakness in this part of the body, and on the RV8 they redesigned the floor area with a box section welded between the crossmember and the spring mount, plus two reinforcing plates either side from the spring pivot bolt and the torque control arm (tramp bar) carried forward and bolted through the new box section transferring and spreading the forces into the crossmember. I have fabricated a similar reinforcement and welded it into the floor.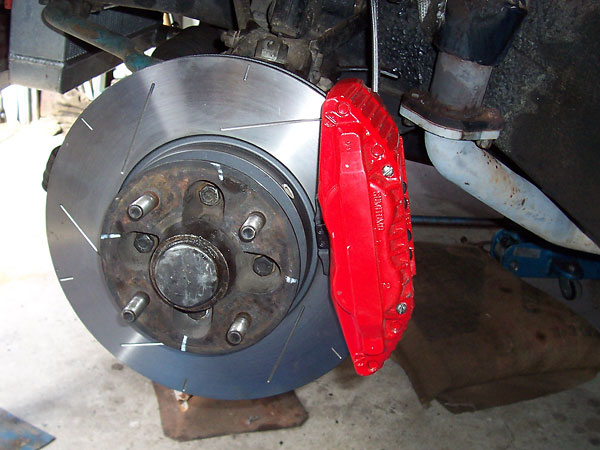 BMW Mini Cooper S vented brake rotors (294mm outside diameter by 22mm thick.)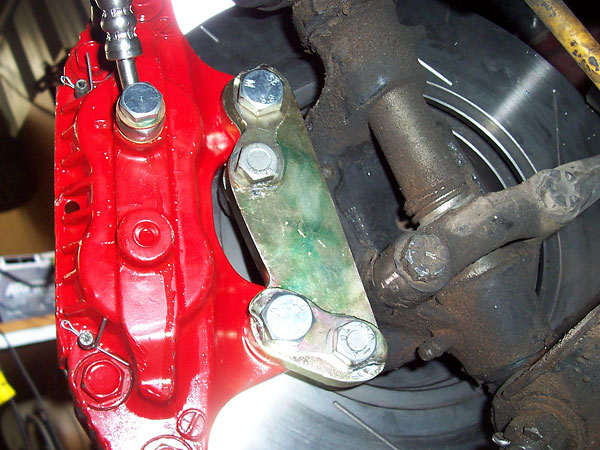 Nissan GTR (R33) 4-piston aluminum calipers.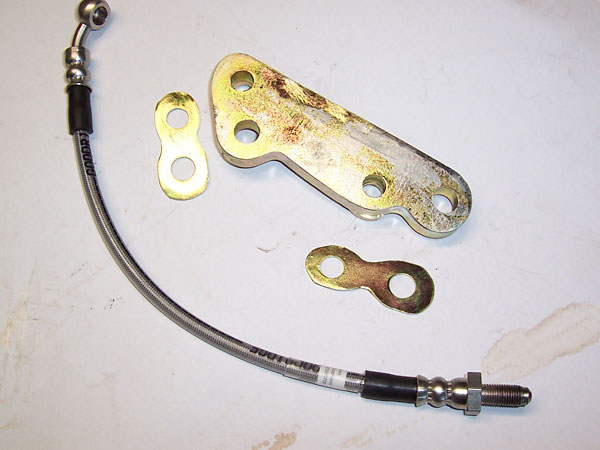 Stainless steel braided brake lines, and caliper adapter brackets.