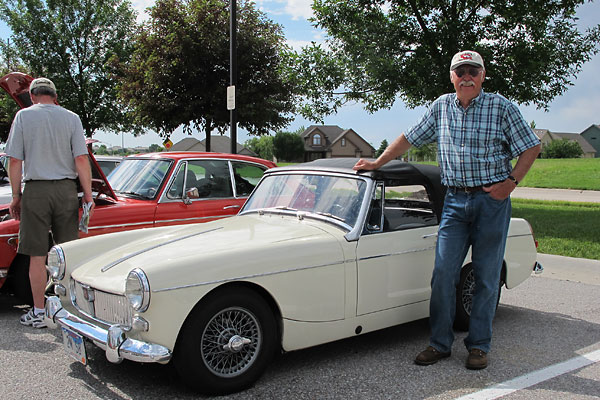 Kurt Appley's 1965 MG Midget with Nissan A15 Four Cylinder Engine
as published in BritishV8 Magazine, Volume XXI Issue 1, July 2013
Owner: Kurt Appley
City: Southeast, Nebraska
Model: 1965 MG Midget
Engine: Nissan A15 four cylinder
Built by: owner
How It Was Done
Kurt Appley purchased this MG Midget as a "barn find" approximately six years ago. Judging by its registration, it had been parked there since 1976. Raccoons had evidently nested in its engine compartment, and a lot of work was required to remove their detritus and scent. However, the speedometer indicated only ~36,000 miles and the whole car was largely intact. Kurt got the engine running. He registered the car and drove it for awhile, but the original 1098cc engine had evidently been damaged by being operated without a properly installed oil filter. It didn't have good oil pressure. Kurt decided to perform an engine swap.

The Datsun A15 engine is a fairly straightforward swap. There are just a few tricky areas. Its overall length is a little longer than an original BMC A Series engine, so Kurt sectioned the car's front crossmember, rotated the center portion 180 degrees to shift it forward, and then welded it back together. The stock intake manifold from a Datsun 210 places the carburetor too high, so Kurt built a custom manifold for an S.U. carburetor. (Certain performance twin-carb intake manifolds for Datsun engines would probably have worked without modification.)

Kurt enjoys Spridgets so much - and indeed he enjoys wrenching on Spridgets so much - that he has plans to complete two more Spridget/Datsun engine swaps. Like BMC A Series engines, Datsun's A Series engines have been used in a great many racecars over the years, so a diverse variety of performance parts may be found if you're patient and know what to look for.


Features and Specifications
| | |
| --- | --- |
| Engine: | rebuilt Nissan A15 1487cc four cylinder engine. Japanese Domestic Market eight-port aluminum cylinder head. ~9.5:1 static compression ratio. Custom intake manifold. Single S.U. HS6 carburetor. K&N gauze air filter. Stock Nissan electronic ignition. Modified oil pan. |
| Cooling: | later model MG Midget (1500cc) radiator. Electric cooling fan, pushing. Thermostatic fan controller. |
| Exhaust: | modified MGB header. |
| Transmission: | Nissan 5-speed manual gearbox. |
| Rear End: | stock MG Midget rear axle. |
| Front Susp.: | stock MG Midget control arms, uprights, and shock absorbers. Moss Motors uprated front springs. 3/4" diameter anti-sway bar. |
| Rear Susp.: | stock MG Midget semi-elliptic springs and lever shock absorbers. Polyurethane bushings. Panhard rod. |
| Brakes: | stock MG Midget master cylinder. MG MGB front brake calipers. EBC Green Stuff brake pads. Stock MG Midget front brake rotors. Stock MG Midget rear drum brakes. |
| Wheels/Tires: | stock MG Midget (Dunlop) 60-spoke wire wheels. Falken Sincera AN-807 tires, size 155/80R15. |
| Body: | stock MG Midget. |
| Electrical: | Nissan alternator. Nissan starter. |
| Instruments: | stock MG Midget. |
| Interior: | stock MG Midget. |
| Performance: | this engine is believed to produce approximately 80 horsepower, though it hasn't been tested. The car cruises comfortably at 85 miles per hour. |
Engine Installation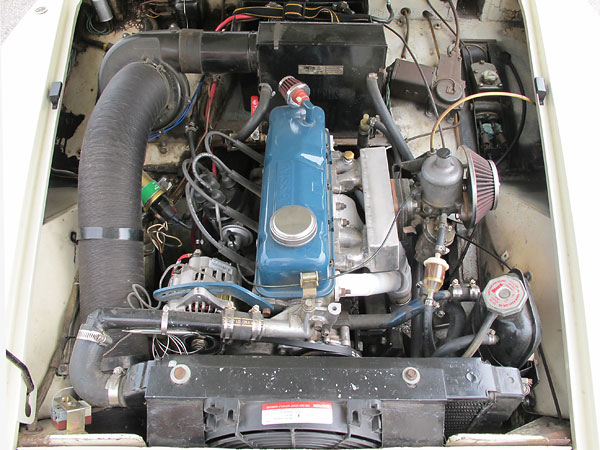 Rebuilt Nissan A15 four cylinder engine (1487cc displacement, 76mm bore, 82mm stroke.)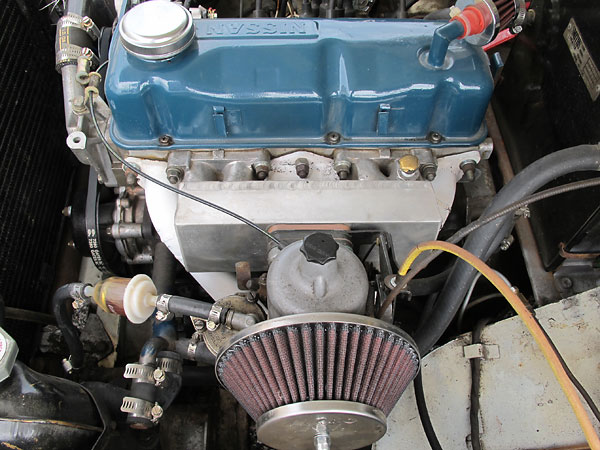 Custom intake manifold. Single S.U. HS6 carburetor. K&N gauze air filter.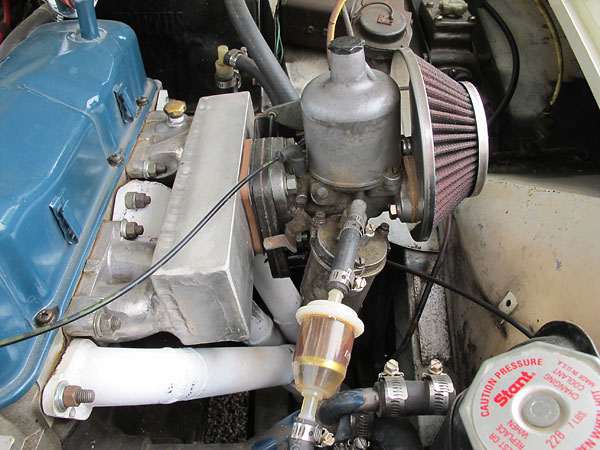 Kurt purchased a used MGB header for $75 and modified it to fit the Nissan engine.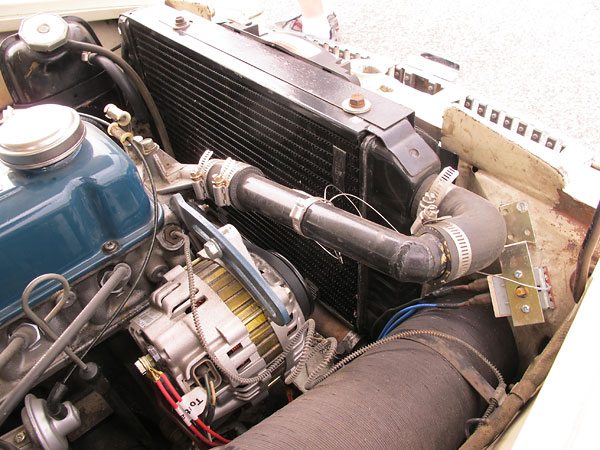 MG Midget 1500cc radiator, inverted (for clearance to the steering rack) and mounted
off center. The electric cooling fan is controlled by a thermostat.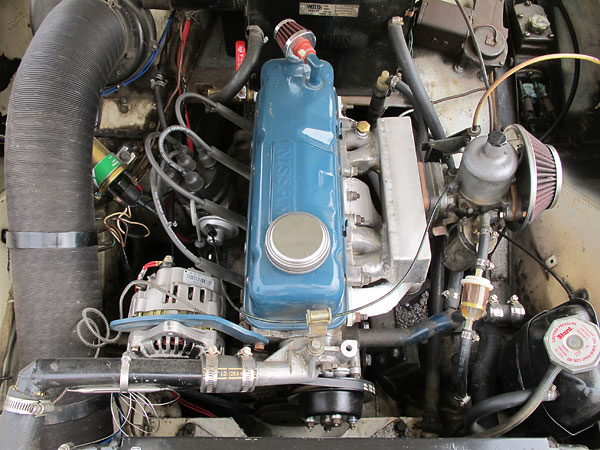 British Motor Corporation's A Series engine design was licensed by Nissan in the 1950s.
Starting in 1958, Nissan began producing engines of their own design. These were still quite
similar to BMC's A Series engines. Later in 1967, Nissan bagan phasing in a new family of
engines. In an act of remarkably bold originality, Nissan named their new engine "A Series".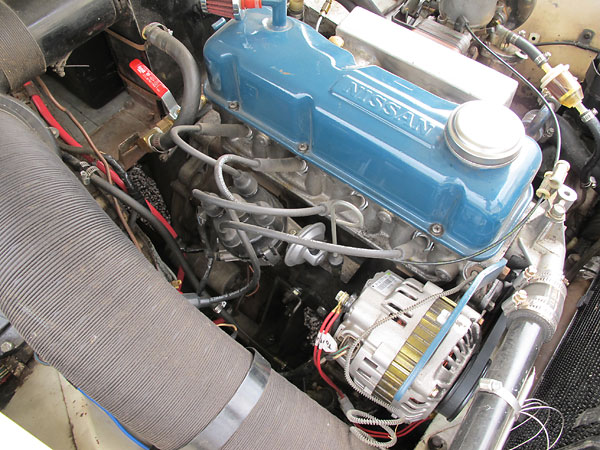 Nissan's A Series feature relatively lightweight (thin wall iron) block castings, aluminum
cylinder heads, and pushrod actuated valves. Nissan's A Series was initially launched in a
three main bearing version with 988cc displacement. Five main bearing variants soon came.
So did larger displacements. The A15 variant is largest, with a displacement of 1487cc.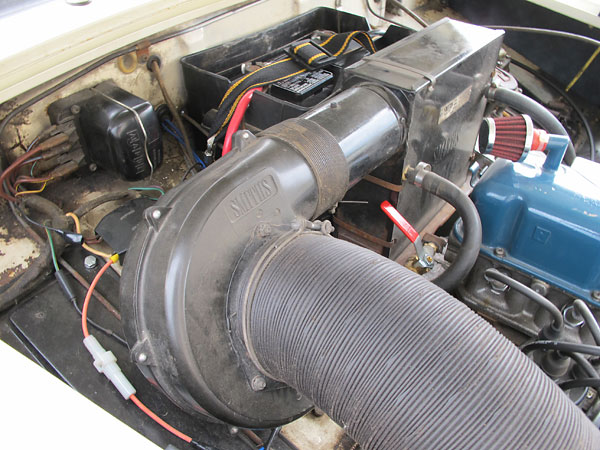 The A15 engine entered production in 1979 and wasn't completely phased out until 2010.
In the U.S. market, A15s are found in some Datsun 210 model cars (offered 1980-1982).
Nissan decided to discontinue use of the familiar tradename "Datsun" in autumn 1981.


Front Suspension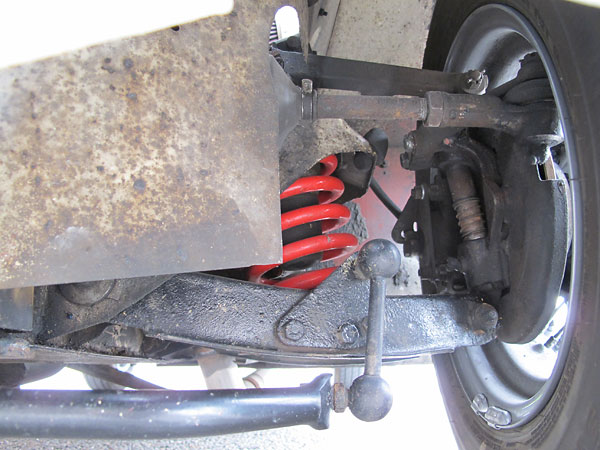 Moss Motors uprated front springs. 3/4" diameter anti-sway bar.


Rear Suspension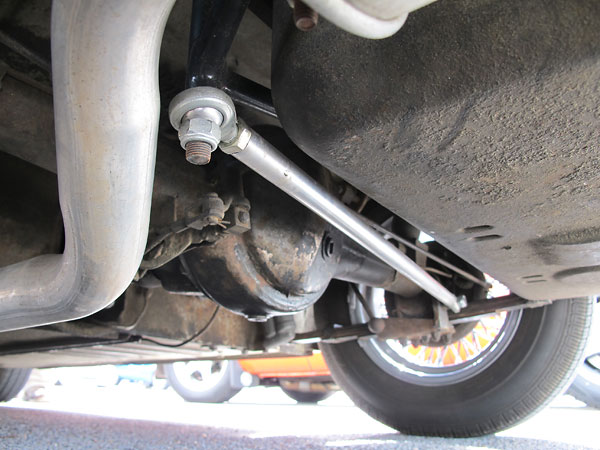 Kurt purchased this Panhard rod second hand. He isn't sure who manufactured it.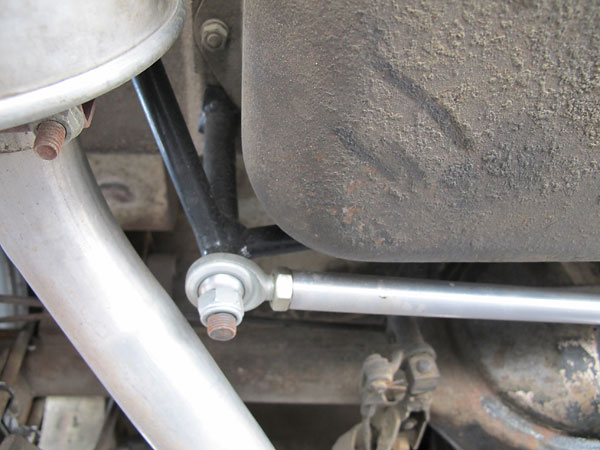 Panhard rods keep the rear axle centered relative to the body. A secondary benefit of
this Panhard rod is that its installation has lowered the rear suspension's roll center.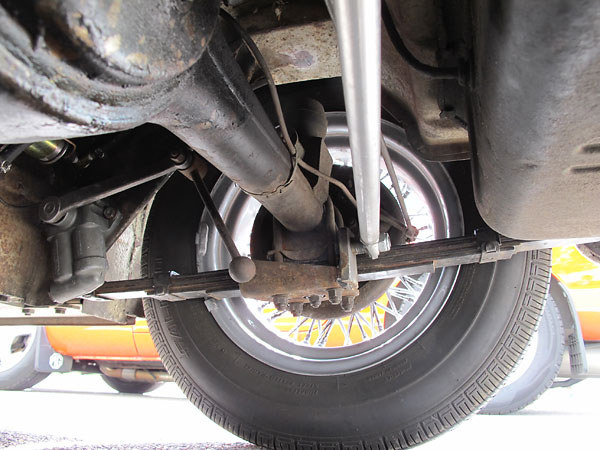 Armstrong lever shock absorbers.


Interior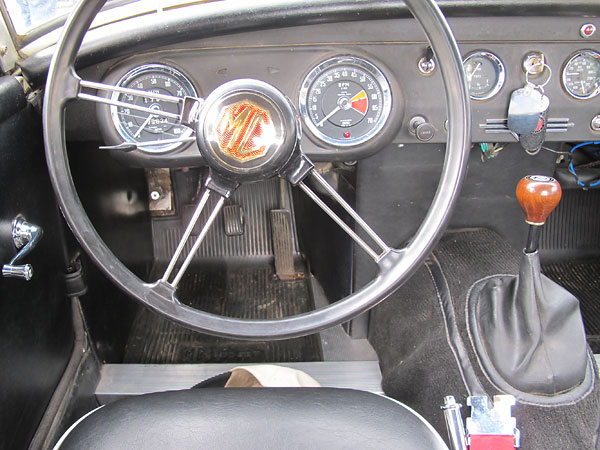 Stock MG Midget steering wheel and gauges.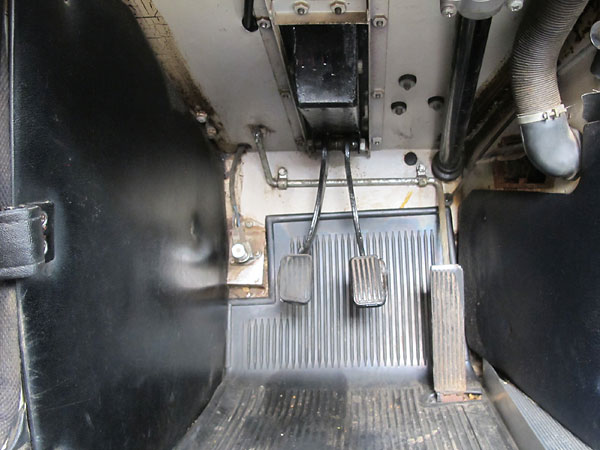 Stock MG Midget pedals and footbox.


Enjoying this article? Our magazine is funded through the generous support of readers like you!
To contribute to our operating budget, please click here and follow the instructions.
(Suggested contribution is twenty bucks per year. Feel free to give more!)
Exterior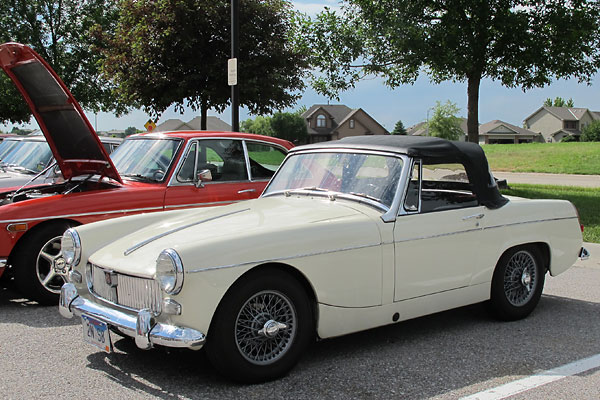 MG Midget MkII (1964-66, ~26,600 built) featured a slightly uprated engine, semi-elliptic
rear springs in lieu of quarter-elliptics, new wind-up door windows with swivelling quarter
lights, external door handles and separate locks, and an upgraded windshield.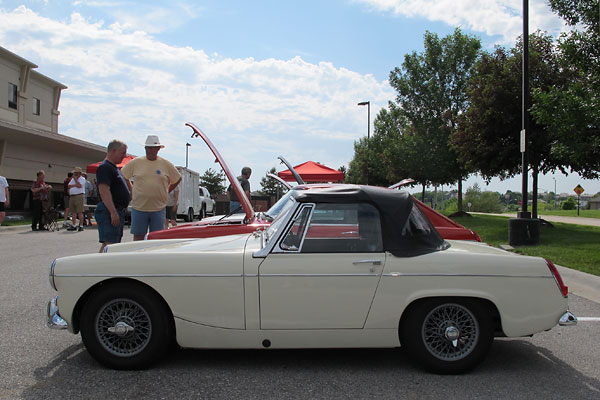 Rather than folding rearward and stowing flat, the top comes off and stows in the trunk
leaving the Midget MkII with a particularly clean and streamlined appearance.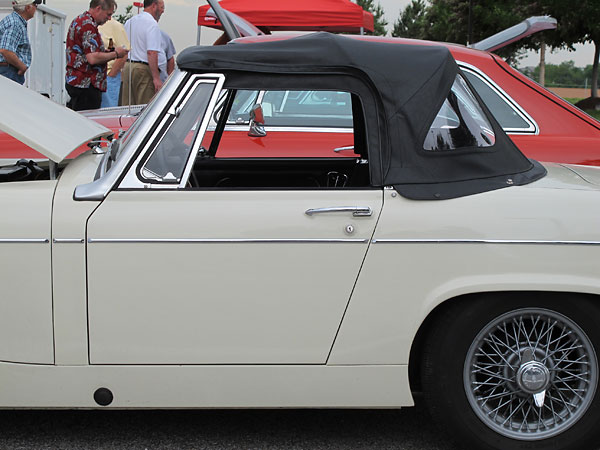 MG Midget MkII cars have roll-up door windows.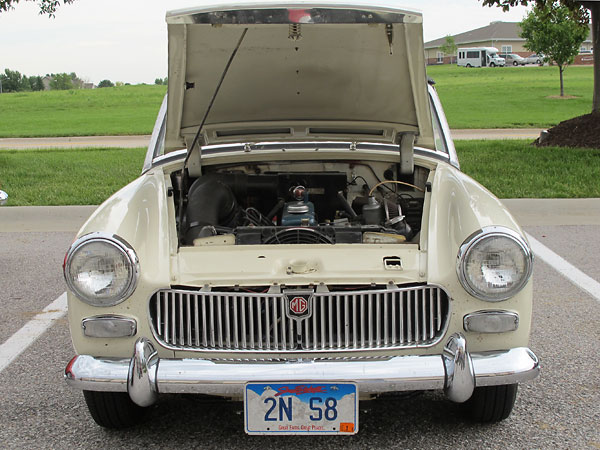 MG Midget MkII is approximately equal to Austin Healey Sprite MkIII.
The difference boils down to bolt-on trim items, such as front grilles and badges.
Produced on the same assembly line but sold through a different dealer network,
the MG Midget commanded a small price premium over the Austin Healey Sprite.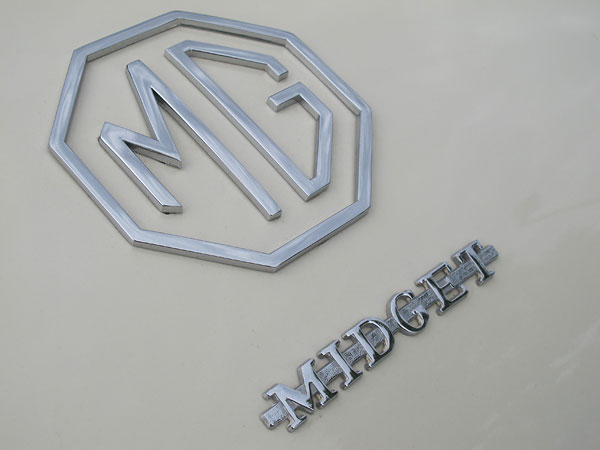 MG Midget badges.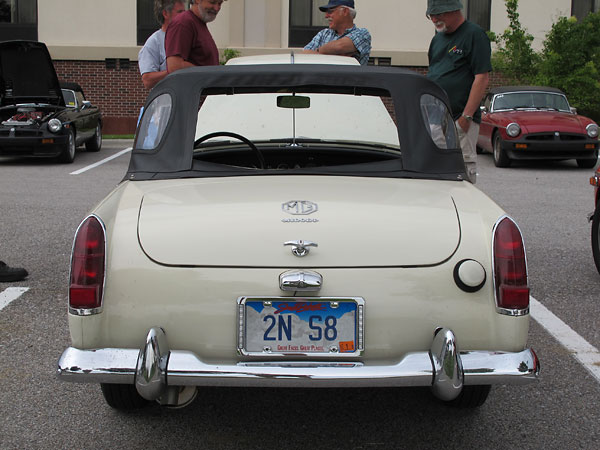 Chrome license plate frame with white LED back-up lights.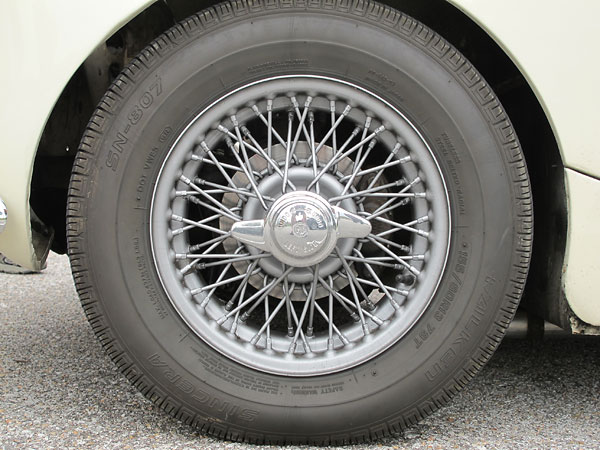 MG Midget (Dunlop) 60-spoke wire wheels.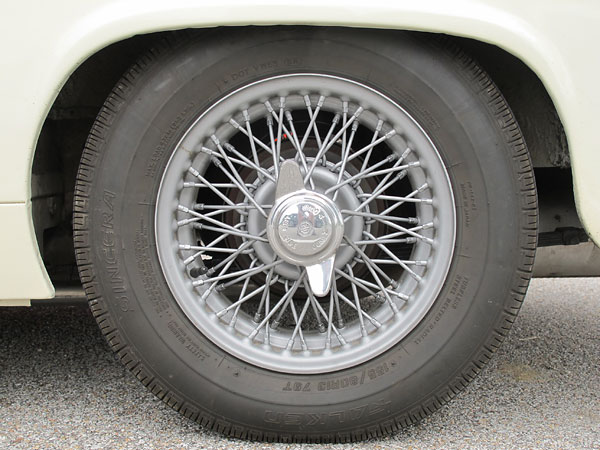 Falken Sincera AN-807 tires, size 155/80R15.