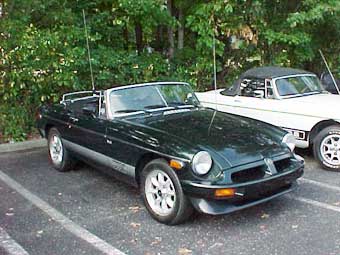 Kieran Anderson's 1980 MGB with Rover 3.5L V8
as published in British V8 Newsletter, Volume VIII Issue 3, September 2000

Owner: Kieran Anderson
City: Wurtsboro, NY
Model: 1980 MGB
Engine: Rover 3.5L V8
Conversion By: Owner
Engine:
1970 Rover 3.SL, SilvoLite pistons, Iskenderian lifters, pushrods and super cam, Offenhauser 7001 intake manifold with 390cfm Holley 4bbl carburetor. High volume oil pump with remote filter.

Transmission:
Triumph TR-8 5-speed manual. Completely rebuilt with all new bearings, seals, pump and gaskets.

Bellhousing:
1980 Rover.

Clutch Actuator:
Triumph TR-8.

Clutch:
B&B Rover clutch and a strengthened clutch fork.

Flywheel:
Lightened Rover 3.5L.

Exhaust:
Stainless steel block hugger headers with complete Falcon dual stainless steel system.

Brakes:
Cross drilled front rotors with Mintex pads and stainless steel braided hoses.

Wheels/Tires:
185-70R14 XGT4 Michelin tires on Minilite wheels.

Suspension:
Lowered (2") front and rear springs.

Cooling:
MGB radiator turned around with repositioned inlet and outlets. I made the outlet smaller to keep the coolant in the radiator longer so it will dissipate more heat. Three cooling fans.

Rear End:
MGB with Mike Satur 3.07:1 ring and pinion gearset, machining required.

Instruments:
Recalibrated tach and 120 mph speedometer. VDO voltmeter in place of cigar lighter.

Information Sources:
I spent a day with Glen Towery in Delaware. Best place for parts, ideas and know how. Also used TS Imported Automotive, D&D Fabrications, Ian Pender, and of course the MG V8 Newsletter.

Recommendations:
Before you start, make sure you know where to get most of the parts and the whereabouts of a GOOD machine shop. Have lots of time, patience and, of course, money. Being in the automotive business helps too. Also, I installed most electrical components using fuses and relays.
I have driven my V8 500 miles so far (only on weekends) with no problems. It is a real pleasure to drive and to look at. THERE IS NOTHING LIKE A V8 UNDER YOUR FOOT, especially when it is in an MG.

Cost of Conversion:
(Excluding Original Car): $15,000 and three years.